New Children's Book Sheds Light on Trailblazing Black Ballerina Raven Wilkinson
Raven Wilkinson in "Les Sylphides" as illustrated by Leda Schubert. Photos Courtesy Wilkinson.
When children's book writer and illustrator Leda Schubert first reached out to Raven Wilkinson about writing a book on her life, Wilkinson had qualms. She was worried that the racism she experienced as an African American dancer touring the South with the Ballet Russe de Monte Carlo in the 1960s might scare the intended audience of 6-9 year olds. With time, Wilkinson came to an understanding. "If we keep hiding everything from our children we'll never get these things solved," she told me in an interview. The result is a picture book, released earlier this month, titled Trailblazer: The Story of Ballerina Raven Wilkinson.
Trailblazer opens with a foreword by Misty Copeland, who has has often cited Wilkinson as a mentor. Copeland's words are accompanied by a photo of Wilkinson presenting her with a bouquet onstage after her Swan Lake debut with American Ballet Theatre. "Since learning about Raven, sharing her journey and those of the many black ballerinas who have paved the way has become part of my mission," writes Copeland. And indeed, Copeland's fame and success has pushed Wilkinson's story into the public eye.
---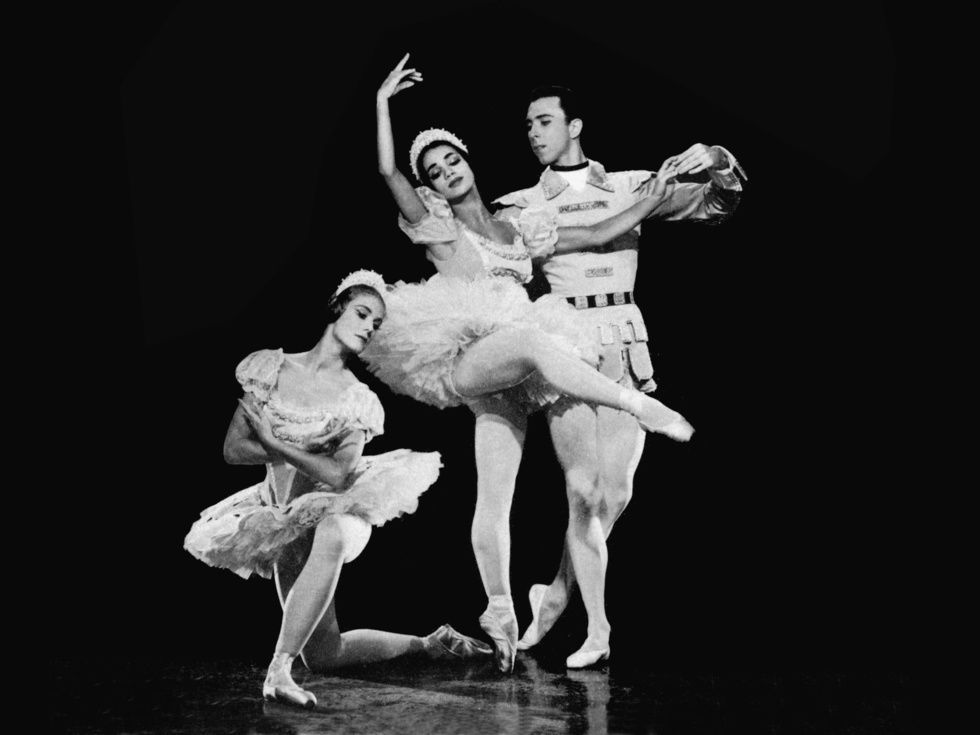 Wilkinson, center, with the Ballet Russe. Photo Courtesy Wilkinson.
Wilkinson was born in New York City in 1935 and started ballet classes at age 9. Schubert depicts the young Wilkinson arriving for her first classes in a tank top and athletic shorts, a touching parallel to Copeland's description of her own early ballet attire in her memoir Life in Motion. From the very start, the ballet world seemed unsure of where to place Wilkinson. With very light skin, Wilkinson was often mistaken for Spanish. "I think they thought I was exotic, from another country," Wilkinson says. She remembers going shopping with her mother fending off questions about where they were from. Her mother would firmly reply that they were American. "All of that questioning and prompting was to get you in the right box and get the lid on it," says Wilkinson.
Read the full story at pointemagazine.com.
Rehearsal of Yvonne Rainer's Parts of Some Sextets. Photo by Paula Court, Courtesy Performa.
Yvonne Rainer's Parts of Some Sextets (AKA "the mattress dance") hasn't been revived since it premiered in 1965. Nor has Rainer had any wish to do it again, to ask performers to heave 10 mattresses around while carrying out 31 tasks that changed every 30 seconds. It was an unwieldy, difficult dance. (Even the title is unwieldy.) But Emily Coates, who has danced in Rainer's work for 20 years, became curious about this piece and was determined to see it again—and to dance in it. She will get her wish November 15–17, when the mattress dance will be performed as part of the Performa 19 Biennial.
Keep reading...
Show less
Ailey II artistic director Troy Powell teaching an Ailey Workshop at NYCDA. Courtesy NYCDA
Back in 2011 when Joe Lanteri first approached Katie Langan, chair of Marymount Manhattan College's dance department, about getting involved with New York City Dance Alliance, she was skeptical about the convention/competition world.
"But I was pleasantly surprised by the enormity of talent that was there," she says. "His goal was to start scholarship opportunities, and I said okay, I'm in."
Today, it's fair to say that Lanteri has far surpassed his goal of creating scholarship opportunities. But NYCDA has done so much more, bridging the gap between the convention world and the professional world by forging a wealth of partnerships with dance institutions from Marymount to The Ailey School to Complexions Contemporary Ballet and many more. There's a reason these companies and schools—some of whom otherwise may not see themselves as aligned with the convention/competition world—keep deepening their relationships with NYCDA.
Now, college scholarships are just one of many ways NYCDA has gone beyond the typical weekend-long convention experience and created life-changing opportunities for students. We rounded up some of the most notable ones:
Keep reading...
Show less
Left: Hurricane Harvey damage in Houston Ballet's Dance Lab; Courtesy Harlequin. Right: The Dance Lab pre-Harvey; Nic Lehoux, Courtesy Houston Ballet.
"The show must go on" may be a platitude we use to get through everything from costume malfunctions to stormy moods. But when it came to overcoming a literal hurricane, Houston Ballet was buoyed by this mantra to go from devastated to dancing in a matter of weeks—with the help of Harlequin Floors, Houston Ballet's longstanding partner who sprang into action to build new floors in record time.
Keep reading...
Show less