What It's Like to Choreograph The Nutcracker Four Different Times
Snow Scene in Val Caniparoli's The Nutcracker for Louisville Ballet. Photography by Wade Bell
Choreographer Val Caniparoli started his ballet career by performing in Lew Christensen's The Nutcracker with San Francisco Ballet in 1971. Today, he still performs with SFB as Drosselmeir, in the company's current version by Helgi Tomasson.
It takes Caniparoli a lot of concentration to stick to the choreography.
"I have the four versions that I choreographed of the role in my head, plus the original I danced for years by Lew," he says. "That's a lot of versions to keep straight."
---
In October, Royal New Zealand Ballet premiered Caniparoli's fourth production of Nutcracker. Grand Rapids Ballet and Louisville Ballet both dance other versions by him, and Cincinnati Ballet performed his first version from 2001-2010. There are some similarities in the productions, mainly in the corps choreography in snow and flowers, but each production reimagines the various divertissement, the party scene and the story arc for Marie, the Prince and Drosselmeir.
We caught up with Caniparoli to find out how (and why) he reinvented this classic so many times and how he copes with Nutcracker fatigue.
Four Nutcrackers...But Why?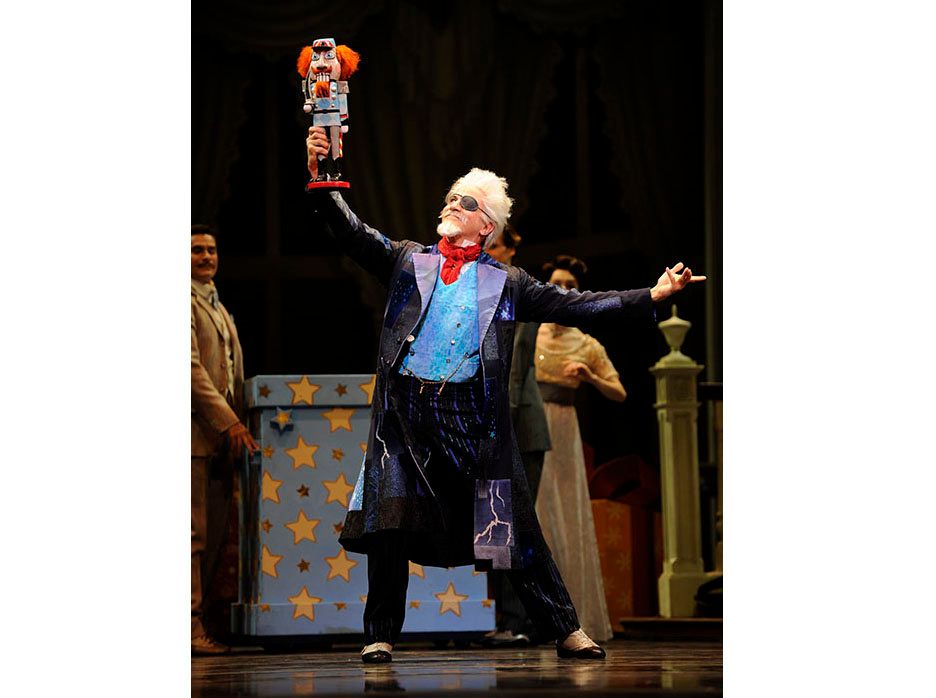 Val Caniparoli as Drosselmeyer in Helgi Tomasson's The Nutcracker at San Francisco Ballet. Photograph by Erik Tomasson
When Victoria Morgan, artistic director of Cincinnati Ballet, approached Caniparoli about choregraphing his first version, he was excited. "I always thought about doing one, but I never thought I'd be asked to," he says. He was a theater major in college before turning to ballet, so he relishes the rare opportunities to create full-length story ballets.
He drew on the influence of the Christensen version, including its use of children and framing the party scene as a precursor for the rest of the story. But he put his own spin on it by making the Marie role an adult who dances the party scene, the snow and grand pas de deux.
After Cincinnati, he thought he was done with choreographing Nutcracker. But in 2009, Louisville Ballet director Bruce Simpson offered the opportunity to collaborate from the start on new sets and costumes—a thrilling prospect Caniparoli didn't have in Cincinnati. He also worked with a special effects designer on tricks such as the Arabian dancer levitating in the air and a floating table manipulated by Drosselmeir in the party scene. He opted once again for adults playing Marie and the Prince but added a Sugar Plum and Cavalier for the second act pas de deux.
He definitely thought he was finished with the ballet in 2013 when Patricia Barker, then director of Grand Rapids ballet and a long-time friend, asked for a new production. "She said, 'I'm not taking no for answer.' So I fell in line," he jokes.
This time, he added a scene set to the overture music where Drosselmeir breaks through the clock and plants fake magic acts before the party scene. "It made him more humorous and mischievous," he says.
He also cast Marie as a young teenage girl in the party scene who turns into an adult for the snow and grand pas de deux. The Sugar Plum leads the Walt of the Flowers, so there's no cavalier.
When Barker assumed her new post as director in New Zealand this year, she wanted a new production from Caniparoli to match. "When she called me, I was like, Are you kidding? I never in my dreams thought I'd be doing another one," Caniparoli says.
But he's always up for a challenge and used the opportunity to try new things, like having the Christmas tree grow by projection and having kids play mice and adults play soldiers, the opposite of how he'd done it the last three times. He had the Sugar Plum and Cavalier make an appearance in the party scene as the dolls, something he tried and liked in Louisville.
For each production, he's added local touches—the Polichenelles in Louisville are dressed as lawn jockeys, and the Pohutukawa flower, common in New Zealand, are incorporated in the designs there.
The Upside of So Many Versions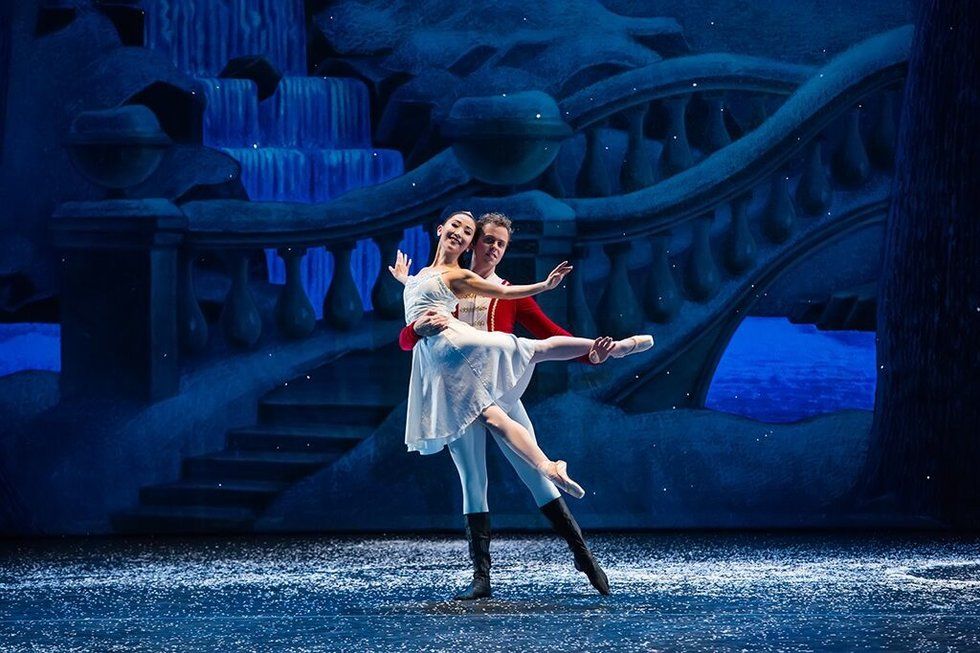 Yuka Oba and Nicholas Schultz in Val Caniparoli's The Nutcracker at Grand Rapids Ballet. Photo by Tim Motley, courtesy Caniparoli.
Ballet choreographers don't usually get a preview period or out-of-town tryouts like in theater. Everything is expected to work on opening night. But Nutcracker offers a rare opportunity for a choreographer because it runs every year. Caniparoli continues developing each production for years beyond opening night.
This year, he's returning to Louisville to add a magic trick that involves fireflies that float in the air and interact with Drosselmeier and the Sugar Plum Fairy. "There wasn't the time or budget the first time around. It takes restaging of the first 10 minutes of the second act," he says.
Making changes is satisfying artistically for Caniparoli, but it also helps with ticket sales.
"I need to find ways to keep it fresh for the audience," he says.
The Fight Against Nutcracker Fatigue
As much as he enjoys reinventing the ballet and continuing to perform in it, Caniparoli tires of Nutcracker like every ballet dancer.
"When I hear Nut music playing in a store two months before Christmas, I walk out," he says.
The cult status of Nutcracker also presents challenges for him. If he deviates too much from what audiences are used to, they aren't shy about telling him.
"You get that fight from parents and audience members. They come up to me, 'That's not how it ended before,' or 'My favorite part is missing,' " he says. "But if you replace it with something better, slowly but surely, you become the tradition."
He'd also love the chance to create a contemporary version of the ballet, but he's not holding his breath.
"Nutcracker is too important for the health of companies," he says. "It's an enormous amount of pressure budget-wise, so you can't take big chances."
Despite all this, he's not done with Nutcracker yet. As long as companies keep asking for new versions, he'll keep creating.
"I'm in talks to create a fifth production," he says. "I'm a Nutcracker machine."
Courtesy Boneau/Bryan-Brown
If "Fosse/Verdon" whet your appetite for the impeccable Gwen Verdon, then Merely Marvelous: The Dancing Genius of Gwen Verdon is the three-course meal you've been craving. The new documentary—available now on Amazon for rental or purchase—dives into the life of the Tony-winning performer and silver-screen star lauded for her charismatic dancing.

Though she's perhaps most well-known today as Bob Fosse's wife and muse, that's not even half of her story. For starters, she'd already won four Tonys before they wed, making her far more famous in the public eye than he was at that point in his career. That's just one of many surprising details we learned during last night's U.S. premiere of Merely Marvelous. Believe us: You're gonna love her even more once you get to know her. Here are eight lesser-known tidbits to get you started.
Keep reading...
Show less
Lindsay Thomas
Every dancer knows that how you fuel your body affects how you feel in the studio. Of course, while breakfast is no more magical than any other meal (despite the enduring myth that it's the most important one of the day), showing up to class hangry is a recipe for unproductive studio time.
So what do your favorite dancers eat in the morning to set themselves up for a busy rehearsal or performance day?
Keep reading...
Show less
News
Sep. 20, 2019 09:17AM EST
Simon Soong, Courtesy DDT
When it comes to dance in the U.S., companies in the South often find themselves overlooked—sometimes even by the presenters in their own backyard. That's where South Arts comes in. This year, the regional nonprofit launched Momentum, an initiative that will provide professional development, mentorship, touring grants and residencies to five Southern dance companies.
Keep reading...
Show less
News
Sep. 19, 2019 12:46PM EST
Alice Pennefather, Courtesy ROH
You ever just wish that Kenneth MacMillan's iconic production of Romeo and Juliet could have a beautiful love child with the 1968 film starring Olivia Hussey? (No, not Baz Luhrmann's version. We are purists here.)
Wish granted: Today, the trailer for a new film called Romeo and Juliet: Beyond Words was released, featuring MacMillan's choreography and with what looks like all the cinematic glamour we could ever dream of:
Keep reading...
Show less