The Summer Intensive Where Students Become a Choreographer's Muse
Alexander Iziliaev, courtesy MCB
It's the second week of Miami City Ballet School's Choreographic Intensive, and the students stand in a light-drenched studio watching as choreographer Durante Verzola sets a pas de trois. "Don't be afraid to look at the ceiling—look that high," Verzola shows one student as she holds an arabesque. "That gives so much more dimension to your dancing." Other students try the same movement from the sidelines.
When Arantxa Ochoa took over as MCB School's director of faculty and curriculum two years ago, she decided to add a second part to the summer intensive: five weeks focused on technique would be followed by a new two-week choreography session. The technique intensive is not a requirement, but students audition for both at the same time and many attend the two back-to-back.
---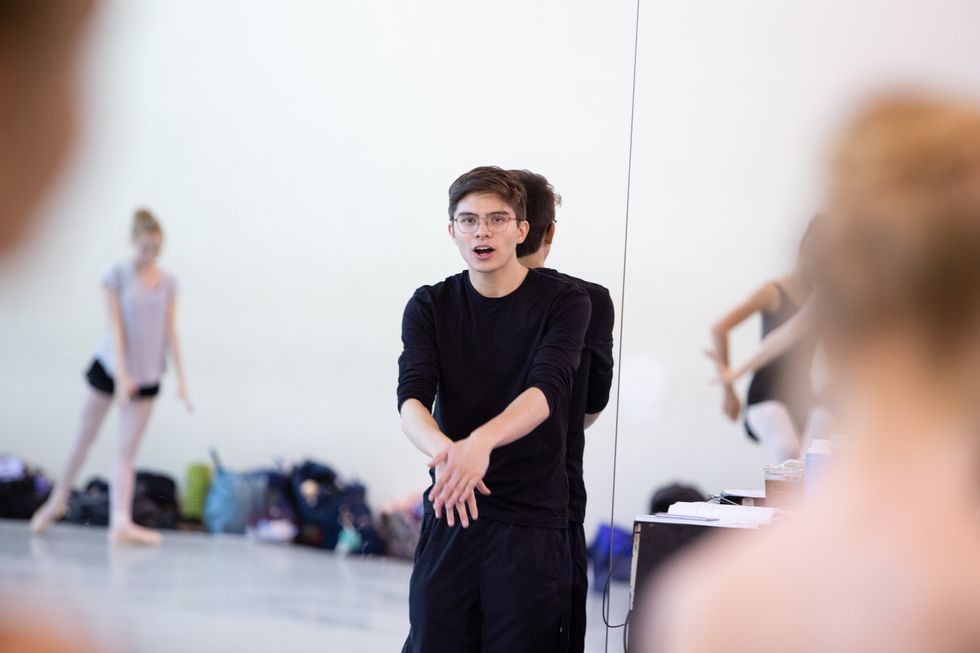 Durante Verzola. Photo by Alexander Iziliave, courtesy MCB
After morning technique class on pointe, students work with Verzola as he creates new phrases, or in smaller groups with Ochoa, polishing sections from one of the three pieces Verzola is setting. Spirited Syncopations, which features the pas de trois, was choreographed before the intensive and uses a jazzy Leroy Anderson score to create a quirky, showbiz feel. In a rehearsal, Verzola urges the dancers to let the movement flow.
"It has to be a little bit more Bob Fosse," he says. "Don't make the next pose you're going to so obvious."
Verzola got his start choreographing at MCB School, graduating in 2014. He then went on to dance with Pennsylvania Ballet's second company, and has worked as a freelance choreographer with schools like Central Pennsylvania Youth Ballet and The School of Pennsylvania Ballet.
"I love working with students because they're usually willing to try any step you throw at them, at any tempo," he says. "However, since they are constantly working on their technique, they can sometimes get sidetracked from what dance is all about. They can't forget to bring personality and feeling."
Verzola is making two new pieces on the students: Classical Symphony, a large-scale ensemble piece for all 58 students, and Liebtänze, a quieter piece composed of three pas de deux and a pas de trois. It's a rare opportunity for students to have work created on them.
"Some dancers have to wait until they get into a company to get that," Ochoa says. "Also, it's done in a very short amount of time, so they have to learn to pick up choreography very quickly. It teaches them what they're going to have to go through when they get into a company."
For some students, the experience has opened up fresh possibilities. "Working with Durante inspired many of us to give choreographing a try," says Sarah Gavilla, an 18-year-old student who attends the Miami City Ballet School year-round.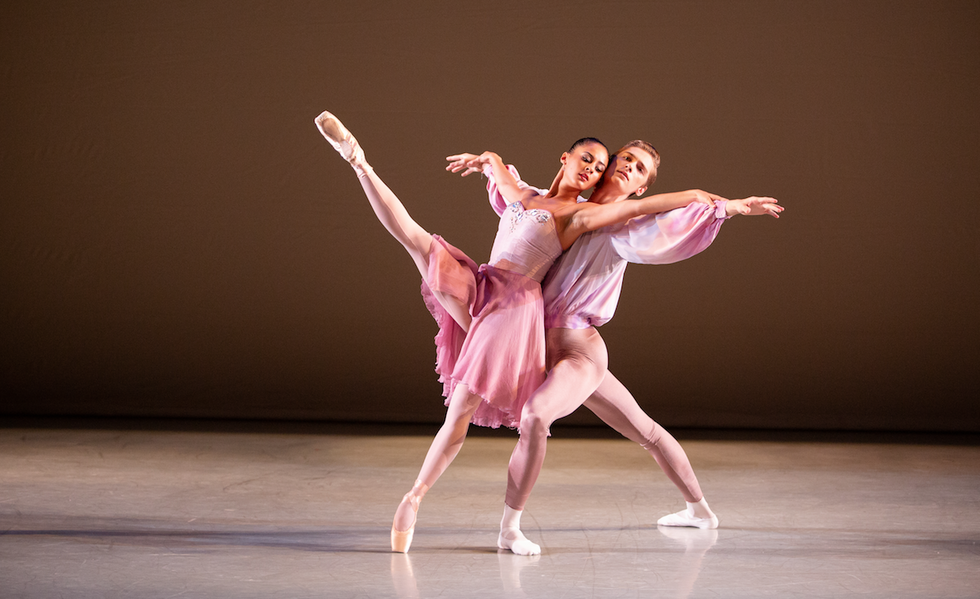 Alexander Iziliaev, courtesy MCB
For next year's Choreographic Intensive, Ochoa plans to invite several choreographers to create work. She believes that the process prepares students in ways that aren't simply about learning new movement.
"They have to act professionally because they have nine days to put this onstage," she says. She also encourages the students to attend rehearsals for a piece even if they are not cast. "We want them to learn as many parts as possible, just like in a company setting."
For Gavilla, that taste of company life is what has meant the most. "It gave me a glimpse of what life is like working in a ballet company," she says. "That's really rare to get out of a summer program."
The Details
Attendance: 58 last summer
Auditions: U.S. audition tour; video submissions accepted
Timeline: Two weeks
Ages: 14–18
Housing: Residence hall available two blocks away
From Your Site Articles
Related Articles Around the Web
Ailey II artistic director Troy Powell teaching an Ailey Workshop at NYCDA. Courtesy NYCDA
Back in 2011 when Joe Lanteri first approached Katie Langan, chair of Marymount Manhattan College's dance department, about getting involved with New York City Dance Alliance, she was skeptical about the convention/competition world.
"But I was pleasantly surprised by the enormity of talent that was there," she says. "His goal was to start scholarship opportunities, and I said okay, I'm in."
Today, it's fair to say that Lanteri has far surpassed his goal of creating scholarship opportunities. But NYCDA has done so much more, bridging the gap between the convention world and the professional world by forging a wealth of partnerships with dance institutions from Marymount to The Ailey School to Complexions Contemporary Ballet and many more. There's a reason these companies and schools—some of whom otherwise may not see themselves as aligned with the convention/competition world—keep deepening their relationships with NYCDA.
Now, college scholarships are just one of many ways NYCDA has gone beyond the typical weekend-long convention experience and created life-changing opportunities for students. We rounded up some of the most notable ones:
Keep reading...
Show less
We knew that Ivo van Hove and Anne Teresa de Keersmaeker's production of West Side Story would challenge our preconceived notions about the show.
But a recent Vogue story gives us a taste of just how nontraditional the Broadway revival will be. Most notably, van Hove is cutting "I Feel Pretty" and the "Somewhere" ballet, condensing the show into one act to better reflect the urgency of the 48-hour plot. (The choice has been approved by the West Side Story estate, including Sondheim, who has "long been uncomfortable" with some of the "I Feel Pretty" lyrics.)
Keep reading...
Show less
Left: Hurricane Harvey damage in Houston Ballet's Dance Lab; Courtesy Harlequin. Right: The Dance Lab pre-Harvey; Nic Lehoux, Courtesy Houston Ballet.
"The show must go on" may be a platitude we use to get through everything from costume malfunctions to stormy moods. But when it came to overcoming a literal hurricane, Houston Ballet was buoyed by this mantra to go from devastated to dancing in a matter of weeks—with the help of Harlequin Floors, Houston Ballet's longstanding partner who sprang into action to build new floors in record time.
Keep reading...
Show less