How One Dancer Found a Healthier Relationship to Dance
Christopher Bloom in CARMEN.manquia. Photo by Paula Lobo, Courtesy Ballet Hispanico
Do you feel like your obsession with dance has gone too far? You're not alone. Many dancers find themselves laser focused on dance to an unhealthy degree. But that doesn't mean you won't ever be able to find a more balanced life.
Ballet Hispánico dancer Christopher Bloom is a great example. When he started training seriously at age 15, he put every ounce of concentration into dance. In many ways, it served his swift improvement. But an overly obsessive tendency emerged: "When I went on vacation for a week when I was 17, I was so antsy and upset," he admits. "I thought I'd lose everything."
---
Once he started dancing professionally, he maintained this approach, working on 20 different projects in two years. He assumed his life would calm down significantly when he nabbed his spot with Ballet Hispánico in 2013.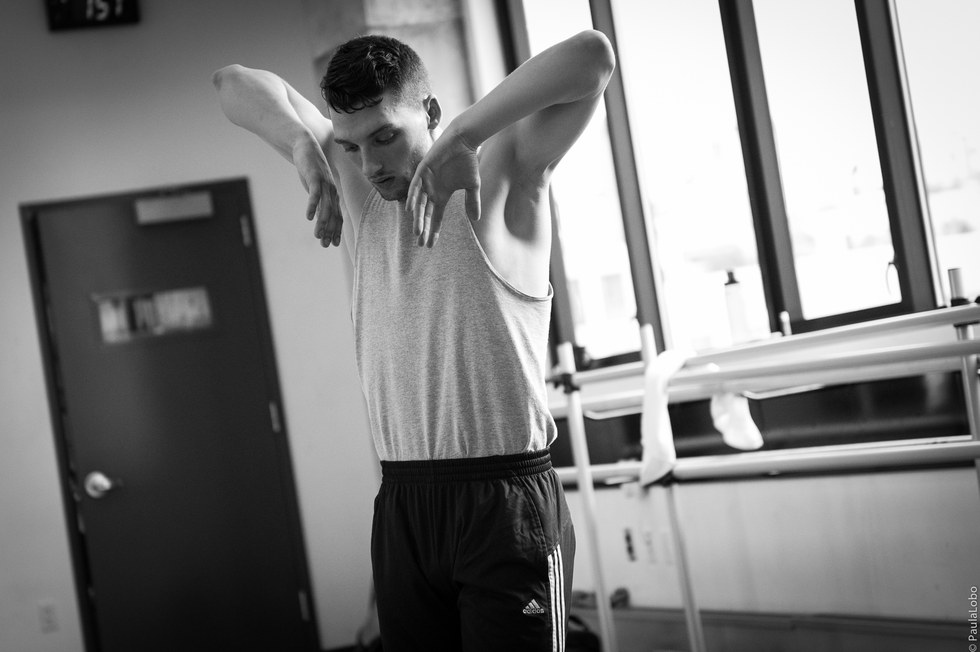 Bloom in rehearsal. Photo by Paula Lobo, courtesy Ballet Hispanico
But it actually took a few years to find that balance. "Gradually my girlfriend started asking if I could focus on something else," Bloom admits. "We broke up for a while. Much of it had to do with how much my obsession was dragging me down. It took a lot of work—journaling, therapy, seeking advice."
Now, he's realized that his body is happiest when he dances just five days a week. He enjoys time with his now-fiancée, reading, hiking and visiting the gym, which serves as a meditative stress-reliever.
"As an artist, it's my responsibility to experience the wider world—and then bring that to the stage," he says. "If you have no life outside the studio, how can you portray a person of broad experience?"
Maria Kochetkova blatantly breaks the not-eating-in-your-
Serenade
-costume rules with a personal pint backstage. Photo via
Instagram
One of the biggest myths about ballet dancers is that they don't eat. While we all know that, yes, there are those who do struggle with body image issues and eating disorders, most healthy dancers love food—and eat plenty of it to fuel their busy schedules.
Luckily for us, they're not afraid to show it:
Keep reading...
Show less
Popular
Apr. 24, 2018 03:00PM EST
Looking for your next audition shoe? Shot at and in collaboration with Broadway Dance Center, Só Dança has launched a new collection of shoes working with some pretty famous faces of the musical theater world! Offered in two different styles and either 2.5" or 3" heels, top industry professionals are loving how versatile and supportive these shoes are! Pro tip: The heel is centered under the body so you can feel confident and stable!
StockSnap
When I wrote about my struggle with depression, and eventual departure from dance because of it, I expected criticism. I was prepared to be challenged. But much to my relief, and horror, dancers from all over the world responded with support and stories of solidarity. The most critical response I saw was this one:
"Dance isn't for everyone."
This may as well be a mantra in the dance world. We have become entrenched in the Darwinian notion that the emotionally weak will be weeded out. There is no room for them anyway.
Keep reading...
Show less
Name calling, physical intimidation and cyberbullying are all-too-common experiences among male dancers. Photo by Goh Rhy Yan/Unsplash
Growing up in a family-owned dance studio in Missouri had its perks for tap dancer Anthony Russo. But it also earned him constant taunting, especially in high school.
"There was a junior in my sophomore year health class who was absolutely relentless," he says. "I'd get tripped on my way to the front of the classroom and he'd say, 'Watch out, twinkle toes.' If I raised my hand and answered a question incorrectly, I'd hear a patronizing 'Nice one, Bojangles.' "
Keep reading...
Show less
Acosta Danza in Jorge Crecis' Twelve. Photo by Johan Persson, Courtesy Sadler's Wells
What does a superstar like Carlos Acosta do after bidding farewell to his career in classical ballet? In Acosta's case, he returns to his native country, Cuba, to funnel his fame, connections and prodigious energies back into the dance scene that formed him. Because of its top-notch, state-supported training programs and popular embrace of the art of dance, Cuba is brimming with talented dancers. What it has been short on, until recently, are opportunities outside of the mainstream companies, as well as access to a more international repertoire. That is changing now, and, with the creation of Acosta Danza, launched in 2016, Acosta is determined to open the doors even wider to new ideas and audiences.
Keep reading...
Show less
University of Kentucky students travel to Arts Advocacy Day in DC each year. PC Dana Rogers Photography
There's so much more to the dance world than making and performing dances. Arts administrators do everything from raising money to managing companies to building new audiences. With the growing number of arts administration programs in colleges, dancers have an opportunity to position themselves for a multifaceted career on- or offstage—and to bring their unique perspective as artists to administrative work.
Keep reading...
Show less


Get Dance Magazine in your inbox