This Choreographer's Work Got An Emmy Nod—But a Flight Attendant Made His Steps Go Viral
"So You Think You Can Dance" choreographer Christopher Scott woke up one morning last month, rolled over like he usually does to check his iPhone—and found a barrage of text messages and notifications. The very first text he read was from fellow "SYTYCD" choreographer Mandy Moore: "Congratulations!"
It turned out that he'd just gotten his third Emmy nomination for choreography. (Moore had received one, too.) "We find out at the same time as everyone else," says Scott. "Everything official from the television academy comes through the mail weeks later."
---
Scott recently spoke to Dance Magazine about the two pieces he was nominated for this year—and how he feels about a surprise viral video that features his choreography for Virgin America from five years ago.
About Those Two Dances He Was Nominated For
"Say You Won't Let Go was something I'd been working on for awhile. I'm always trying to find routines that show what romance and chivalry mean to me. I was raised by my mom and sister, so I was always taught to be romantic. I listened to the song hundreds of times, and let the music drive it. Then we used Logan's b-boy background to find tricks that matched the music, and Allison was totally gung-ho about jumping in and trying stuff, too."
"Prism started because a friend of mine was training his dog, and he was so proud that he got his dog to sit. And it got me thinking about how trained human beings are—we stop at red lights, we wait in line. I went with that concept, and the blocks gave the dancers a task, something to manipulate."
Why It's Important that Dance Gets an Emmy
"In film and TV, we're always fighting for better rates and working conditions, more respect. I've learned that if I go on set with people who haven't worked with a choreographer, there's always this awkward moment where I'm talking to the wardrobe department, the art department, the stunt coordinator and people look at me like, Why are you telling me what to do? Then they see rehearsals and the level of responsibility we have, and that starts to change. Emmy nominations help them understand that what we're doing is real, it pushes the story forward, it has a place in the industry."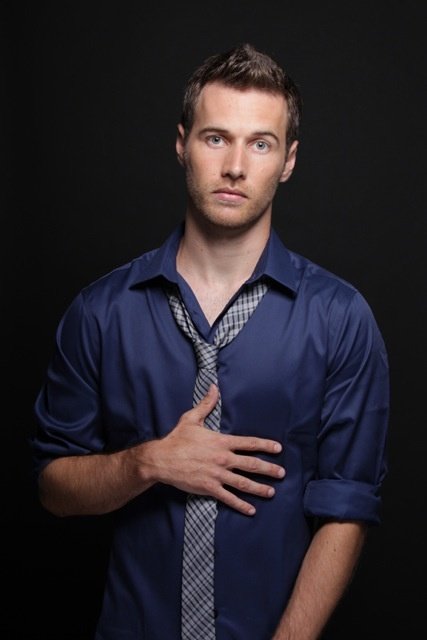 Christopher Scott
The Effect Of SYTYCD After 15 Seasons
"Nowadays, every time I have an audition, I get more guys than girls. That was never the case before. These young boys have been just completely liberated to dance. It went from getting bullied in school to being the coolest kid at the lunch table. What a big deal that is. So many kids I meet now tell me they started dancing because they saw 'So You Think You Can Dance.' "
How He Feels About That Viral Video of the Flight Attendant Performing His Steps From the Virgin America Safety Film
"I love it. I believe everybody in the world should dance as much as they can. When we get to create something that inspires people to actually listen to a safety instruction video and enjoy it enough to want to imitate it, that's a beautiful thing."
His Advice for Others Who Hope to One Day Get an Emmy Nod
"The best thing I got out of 'So You Think You Can Dance' was failing on that show. When I failed that first time, it devastated me. You get judged and go home and think, This sucks. But what I learned from that, now I get to put in into another routine. That's our goal—to experiment and keep pushing forward, because there really are no limits to what we can create in dance."
From Your Site Articles
Related Articles Around the Web
Alice Sheppard/Kinetic Light in DESCENT, which our readers chose as last year's "Most Moving Performance." Photo by Jay Newman, courtesy Kinetic Light
Yes, we realize it's only August. But we can't help but to already be musing about all the incredible dance happenings of 2019.
We're getting ready for our annual Readers' Choice feature, and we want to hear from you about the shows you can't stop thinking about, the dance videos that blew your mind and the artists you discovered this year who everyone should know about.
Keep reading...
Show less
The USC Kaufman graduating class with Mikhail Baryshnikov. Gus Ruelas/USC
Just four years ago, the University of Southern California's Glorya Kaufman School of Dance welcomed its first class of BFA students. The program—which boasts world-class faculty and a revolutionary approach to training focused on collaboration and hybridity—immediately established itself as one of the country's most prestigious and most innovative.
Now, the first graduating class is entering the dance field. Here, six of the 33 graduates share what they're doing post-grad, what made their experience at USC Kaufman so meaningful and how it prepared them for their next steps:
Keep reading...
Show less
Courtesy Chiara Valle
Chiara Valle is just one of many dancers heading back to the studio this fall as companies ramp up for the season. But her journey back has been far more difficult than most.
Valle has been a trainee at The Washington Ballet since 2016, starting at the same time as artistic director Julie Kent. But only a few months into her first season there, she started experiencing excruciating pain high up in her femur. "It felt like someone was stabbing me 24/7," she says. Sometimes at night, the pain got so bad that her roommates would bring her dinner to the bathtub.
Keep reading...
Show less
A Ladies of Hip-Hop battle. Photo by Loreto Jamlig, Courtesy Ladies of Hip-Hop
Michele Byrd-McPhee's uncle was a DJ for the local black radio station in Philadelphia, where she was born. As a kid she was always dancing to the latest music, including a new form of powerful poetry laid over pulsing beats that was the beginning of what we now call hip hop.
Byrd-McPhee became enamored of the form and went on to a career as a hip-hop dancer and choreographer, eventually founding the Ladies of Hip-Hop Festival and directing the New York City chapter of Everybody Dance Now!. Over the decades, she has experienced hip hop's growth from its roots in the black community into a global phenomenon—a trajectory she views with both pride and caution.
On one hand, the popularity of hip hop has "made a global impact," says Byrd-McPhee. "It's provided a voice for so many people around the world." The downside is "it's used globally in ways that the people who made the culture don't benefit from it."
Keep reading...
Show less