This Mediator—And Former Forsythe Dancer—Uses Dance to Address Conflict
Dana Caspersen. Photo by Dominik Mentzos, courtesy Caspersen.
Can choreography solve social conflict? Dana Caspersen thinks it might. A veteran dancer with Ballett Frankfurt—which was run by her husband, William Forsythe—Caspersen now uses movement to help people around the world navigate disputes.
She promotes conflict resolution through teaching, writing and coaching, and develops choreographic methods that let groups address differences in nonverbal ways. Many of her projects center on participatory "action dialogues," which allow groups as large as 250 to tackle fraught issues like racism and polarization.
She recently spoke to Dance Magazine about her work, and why she sees choreography as an appropriate vehicle to change minds.
---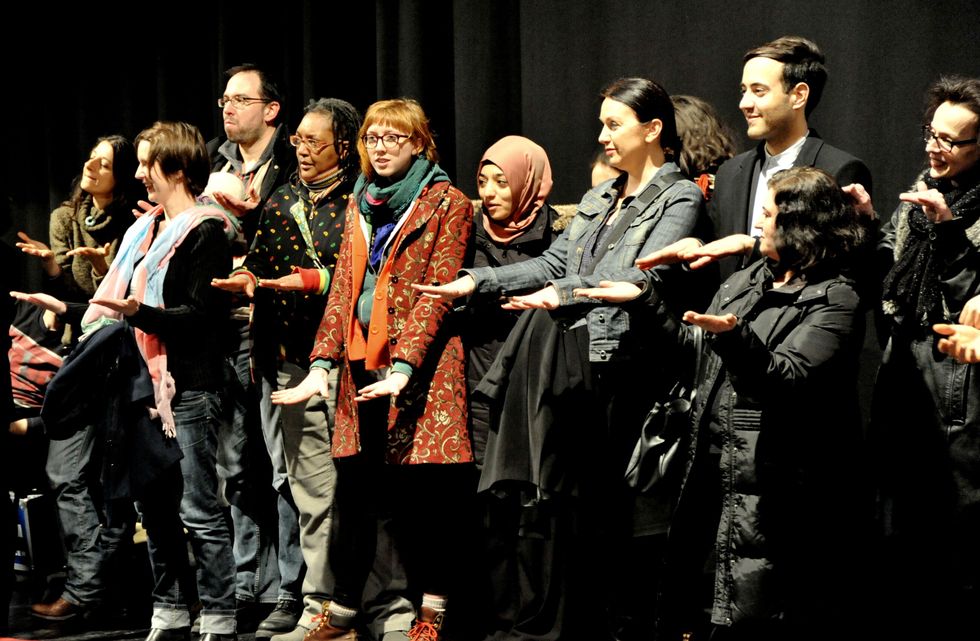 Caspersen's project Knotunknot. Photo by Marion Borriss, courtesy Caspersen
Why she thinks we need to rethink conflict:
"We get stuck when we think of conflict as only a destructive thing. I think of conflict as the friction that occurs when we come together. It can arise in how you deal with other drivers, or handle the dishes with the person you live with. I'm interested in helping people build a capacity to be curious."
How her work works:
"Theater works for a reason. The structures, the formality, the containment it brings, the conscious shaping of a vehicle for experience—these help people shift their thinking."
"The work I'm doing is not dancing; it doesn't require any skill. I work on larger structural questions—the organization of the room, context in the room. What's a choreographic setup that functions as a system for communication—that enables anyone to step into it and not be wrong?"
"Think of choreography as organizing ideas physically. Any situation is organized physically, but we don't always notice it, or choose those mechanisms. If you walk into a bank, for example, it's organized physically in ways that prevent or enable certain actions."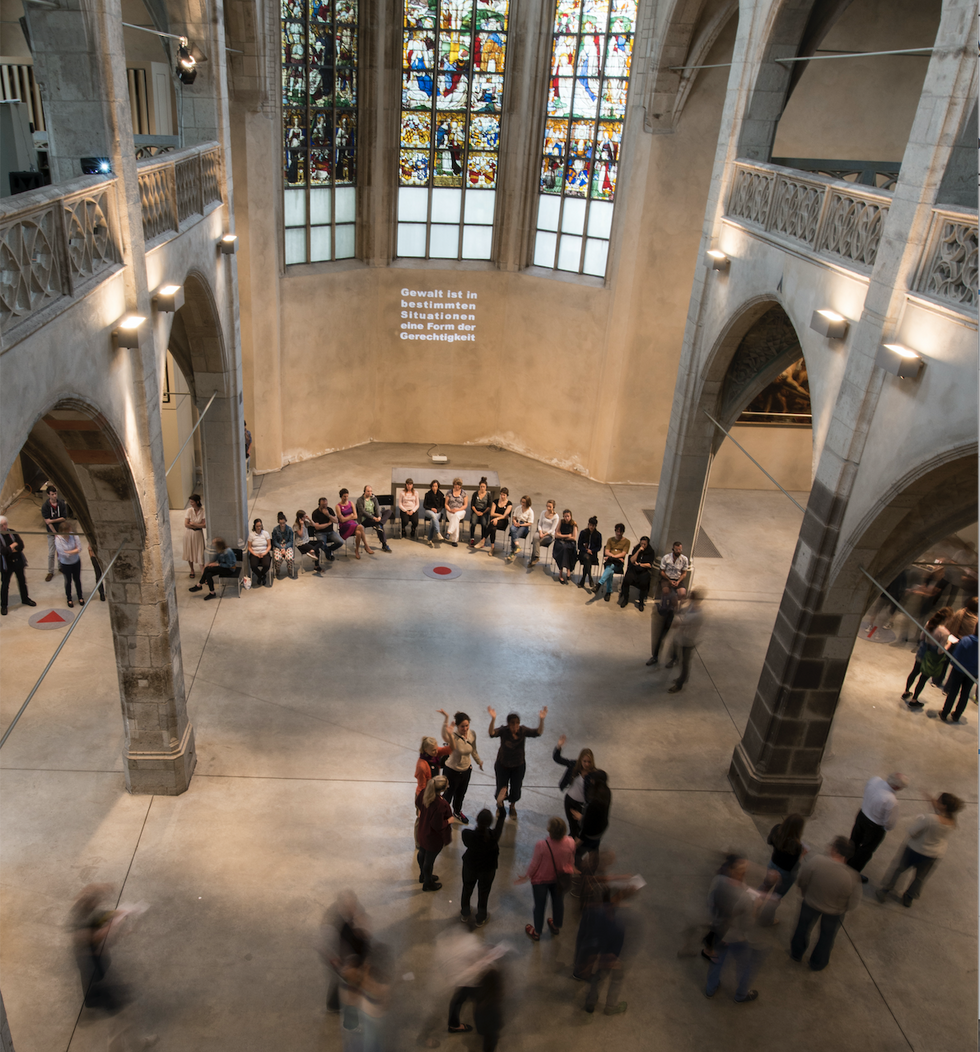 Caspersen's project The Exchange. Photo by Almut Elhardt, courtesy Caspersen.
Ways that movement can change minds:
"With movement, we can create metaphoric relationships that allow people to understand things differently. It's a more nuanced, internal experience. Sometimes the action provides an intimacy; sometimes it's an abstraction that's necessary. Sometimes, if you're using physicality, you can get a sense of what everyone in the room is thinking."

"A simple example is when people are walking together. The act of walking side by side, instead of sitting facing each other, allows them to have a proximity that is not confronting."
"In our racism project, Under|Stand, there's a section where people do physical mirroring. One person is answering questions with gestures, and the other people are taking on their actions. So you receive information that can't be argued with, but you learn something from them."
Why her background as a performer enriches her:
"I'm finding more and more that I'm valuing my experience as a performer. Performers hold seemingly contradictory truths together. Their job is to find a thread that allows a pathway through different layers of friction, direction and intention in an overall work—to be certain that there is a way forward."
Rachel Papo
In the middle of one of New York City Center's cavernous studios, Misty Copeland takes a measured step backwards. The suggestion of a swan arm ripples before she turns downstage, chest and shoulders unfurling as her legs stretch into an open lunge. She piqués onto pointe, arms echoing the sinuous curve of her back attitude, then walks out of it, pausing to warily look over her shoulder. As the droning of Ryuichi Sakamoto and Alva Noto's mysterious "Attack/Transition" grows more insistent, her feet start to fly with a rapidity that seems to almost startle her.
And then she stops mid-phrase. Copeland's hands fall to her hips as she apologizes. Choreographer Kyle Abraham slides to the sound system to pause the music, giving Copeland a moment to remind herself of a recent change to the sequence.
"It's different when the sound's on!" he reassures her. "And it's a lot of changes."
The day before was the first time Abraham had seen Copeland dance the solo in its entirety, and the first moment they were in the studio together in a month. This is their last rehearsal, save for tech, before the premiere of Ash exactly one week later, as part of the opening night of City Center's Fall for Dance festival.
Keep reading...
Show less
Ailey II artistic director Troy Powell teaching an Ailey Workshop at NYCDA. Courtesy NYCDA
Back in 2011 when Joe Lanteri first approached Katie Langan, chair of Marymount Manhattan College's dance department, about getting involved with New York City Dance Alliance, she was skeptical about the convention/competition world.
"But I was pleasantly surprised by the enormity of talent that was there," she says. "His goal was to start scholarship opportunities, and I said okay, I'm in."
Today, it's fair to say that Lanteri has far surpassed his goal of creating scholarship opportunities. But NYCDA has done so much more, bridging the gap between the convention world and the professional world by forging a wealth of partnerships with dance institutions from Marymount to The Ailey School to Complexions Contemporary Ballet and many more. There's a reason these companies and schools—some of whom otherwise may not see themselves as aligned with the convention/competition world—keep deepening their relationships with NYCDA.
Now, college scholarships are just one of many ways NYCDA has gone beyond the typical weekend-long convention experience and created life-changing opportunities for students. We rounded up some of the most notable ones:
Keep reading...
Show less
Getty Images
Dancers are understandably obsessed with food. In both an aesthetic and athletic profession, you know you're judged on your body shape, but you need proper fuel to perform your best. Meanwhile, you're inundated with questionable diet advice.
"My 'favorite' was the ABC diet," says registered dietitian nutritionist Kristin Koskinen, who trained in dance seriously but was convinced her body type wouldn't allow her to pursue it professionally. "On the first day you eat only foods starting with the letter A, on the second day only B, and so on."
Keep reading...
Show less
Left: Hurricane Harvey damage in Houston Ballet's Dance Lab; Courtesy Harlequin. Right: The Dance Lab pre-Harvey; Nic Lehoux, Courtesy Houston Ballet.
"The show must go on" may be a platitude we use to get through everything from costume malfunctions to stormy moods. But when it came to overcoming a literal hurricane, Houston Ballet was buoyed by this mantra to go from devastated to dancing in a matter of weeks—with the help of Harlequin Floors, Houston Ballet's longstanding partner who sprang into action to build new floors in record time.
Keep reading...
Show less