This Mediator—And Former Forsythe Dancer—Uses Dance to Address Conflict
Dana Caspersen. Photo by Dominik Mentzos, courtesy Caspersen.
Can choreography solve social conflict? Dana Caspersen thinks it might. A veteran dancer with Ballett Frankfurt—which was run by her husband, William Forsythe—Caspersen now uses movement to help people around the world navigate disputes.
She promotes conflict resolution through teaching, writing and coaching, and develops choreographic methods that let groups address differences in nonverbal ways. Many of her projects center on participatory "action dialogues," which allow groups as large as 250 to tackle fraught issues like racism and polarization.
She recently spoke to Dance Magazine about her work, and why she sees choreography as an appropriate vehicle to change minds.
---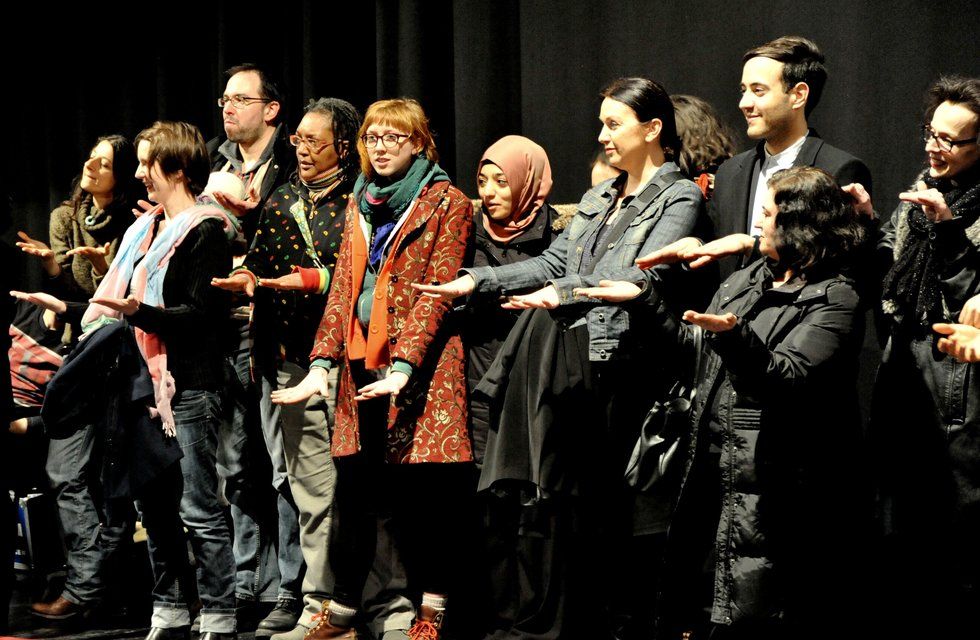 Caspersen's project Knotunknot. Photo by Marion Borriss, courtesy Caspersen
Why she thinks we need to rethink conflict:
"We get stuck when we think of conflict as only a destructive thing. I think of conflict as the friction that occurs when we come together. It can arise in how you deal with other drivers, or handle the dishes with the person you live with. I'm interested in helping people build a capacity to be curious."
How her work works:
"Theater works for a reason. The structures, the formality, the containment it brings, the conscious shaping of a vehicle for experience—these help people shift their thinking."
"The work I'm doing is not dancing; it doesn't require any skill. I work on larger structural questions—the organization of the room, context in the room. What's a choreographic setup that functions as a system for communication—that enables anyone to step into it and not be wrong?"
"Think of choreography as organizing ideas physically. Any situation is organized physically, but we don't always notice it, or choose those mechanisms. If you walk into a bank, for example, it's organized physically in ways that prevent or enable certain actions."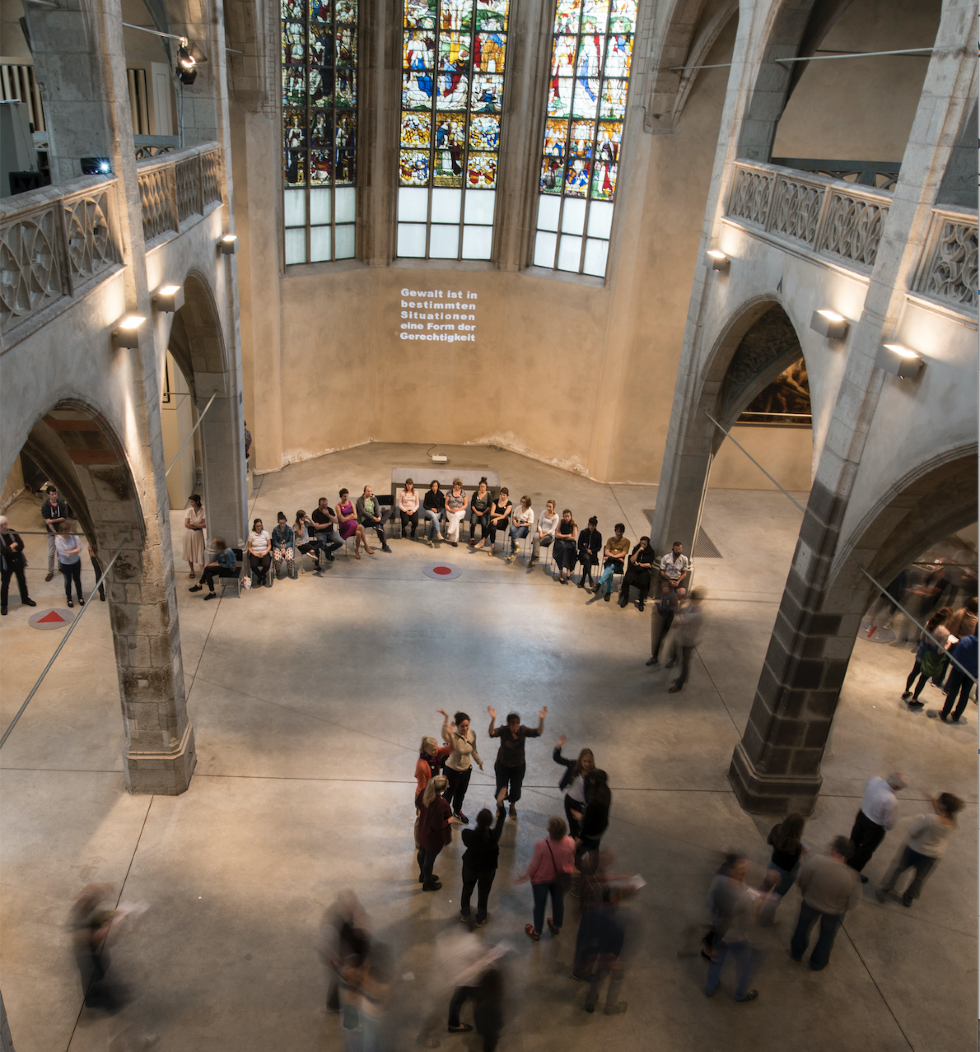 Caspersen's project The Exchange. Photo by Almut Elhardt, courtesy Caspersen.
Ways that movement can change minds:
"With movement, we can create metaphoric relationships that allow people to understand things differently. It's a more nuanced, internal experience. Sometimes the action provides an intimacy; sometimes it's an abstraction that's necessary. Sometimes, if you're using physicality, you can get a sense of what everyone in the room is thinking."

"A simple example is when people are walking together. The act of walking side by side, instead of sitting facing each other, allows them to have a proximity that is not confronting."
"In our racism project, Under|Stand, there's a section where people do physical mirroring. One person is answering questions with gestures, and the other people are taking on their actions. So you receive information that can't be argued with, but you learn something from them."
Why her background as a performer enriches her:
"I'm finding more and more that I'm valuing my experience as a performer. Performers hold seemingly contradictory truths together. Their job is to find a thread that allows a pathway through different layers of friction, direction and intention in an overall work—to be certain that there is a way forward."
Michelle Dorrance. Photo by Jayme Thornton
What do Percy Jackson, Princess Diana and Tina Turner have in common? They're all characters on Broadway this season. Throw in Michelle Dorrance's choreographic debut, Henry VIII's six diva-licious wives and the 1990s angst of Alanis Morissette, and the 2019–20 season is shaping up to be an exciting mix of past-meets-pop-culture-present.
Here's a look at the musicals hitting Broadway in the coming months. We're biding our time until opening night!

Keep reading...
Show less
UA Dance Ensemble members Candice Barth and Gregory Taylor in Jessica Lang's "Among the Stars." Photo by Ed Flores, courtesy University of Arizona
If you think becoming a trainee or apprentice is the only path to gaining experience in a dance company environment, think again.
The University of Arizona, located in the heart of Tucson, acclimates dancers to the pace and rigor of company life while offering all the academic opportunities of a globally-ranked university. If you're looking to get a head-start on your professional dance career—or to just have a college experience that balances company-level training and repertory with rigorous academics—the University of Arizona's undergraduate and graduate programs have myriad opportunites to offer:
Keep reading...
Show less
Alice Sheppard/Kinetic Light in DESCENT, which our readers chose as last year's "Most Moving Performance." Photo by Jay Newman, courtesy Kinetic Light
Yes, we realize it's only August. But we can't help but to already be musing about all the incredible dance happenings of 2019.
We're getting ready for our annual Readers' Choice feature, and we want to hear from you about the shows you can't stop thinking about, the dance videos that blew your mind and the artists you discovered this year who everyone should know about.
Keep reading...
Show less
Getty Images
Ah, stretching. It seems so simple, and is yet so complicated.
For example: You don't want to overstretch, but you're not going to see results if you don't stretch enough. You want to focus on areas where you're tight, but you also can't neglect other areas or else you'll be imbalanced. You were taught to hold static stretches growing up, but now everyone is telling you never to hold a stretch longer than a few seconds?
Considering how important stretching correctly is for dancers, it's easy to get confused or overwhelmed. So we came up with 10 common stretching scenarios, and gave you the expert low-down.
Keep reading...
Show less