This Mediator—And Former Forsythe Dancer—Uses Dance to Address Conflict
Dana Caspersen. Photo by Dominik Mentzos, courtesy Caspersen.
Can choreography solve social conflict? Dana Caspersen thinks it might. A veteran dancer with Ballett Frankfurt—which was run by her husband, William Forsythe—Caspersen now uses movement to help people around the world navigate disputes.
She promotes conflict resolution through teaching, writing and coaching, and develops choreographic methods that let groups address differences in nonverbal ways. Many of her projects center on participatory "action dialogues," which allow groups as large as 250 to tackle fraught issues like racism and polarization.
She recently spoke to Dance Magazine about her work, and why she sees choreography as an appropriate vehicle to change minds.
---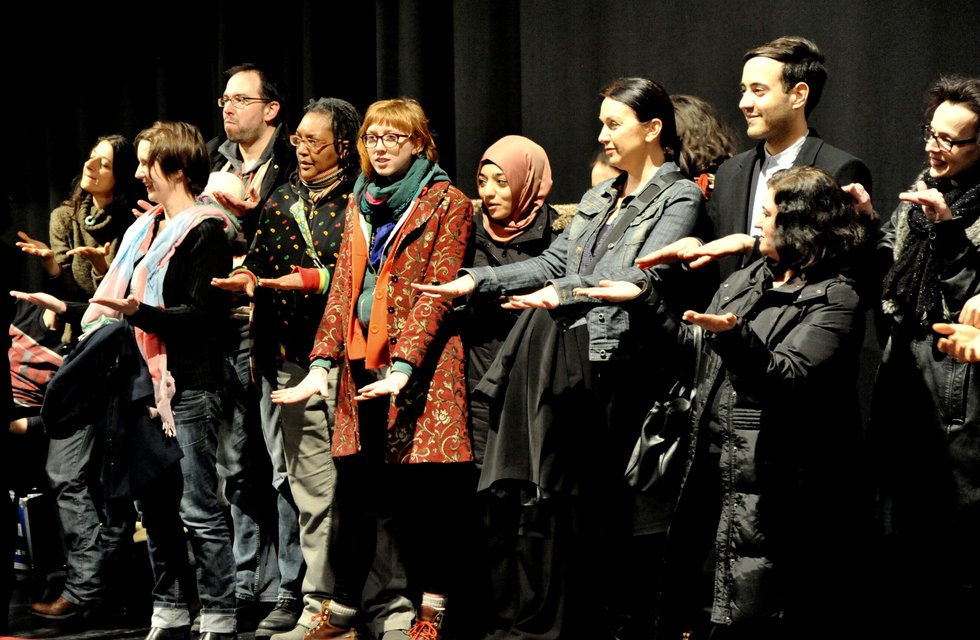 Caspersen's project Knotunknot. Photo by Marion Borriss, courtesy Caspersen
Why she thinks we need to rethink conflict:
"We get stuck when we think of conflict as only a destructive thing. I think of conflict as the friction that occurs when we come together. It can arise in how you deal with other drivers, or handle the dishes with the person you live with. I'm interested in helping people build a capacity to be curious."
How her work works:
"Theater works for a reason. The structures, the formality, the containment it brings, the conscious shaping of a vehicle for experience—these help people shift their thinking."
"The work I'm doing is not dancing; it doesn't require any skill. I work on larger structural questions—the organization of the room, context in the room. What's a choreographic setup that functions as a system for communication—that enables anyone to step into it and not be wrong?"
"Think of choreography as organizing ideas physically. Any situation is organized physically, but we don't always notice it, or choose those mechanisms. If you walk into a bank, for example, it's organized physically in ways that prevent or enable certain actions."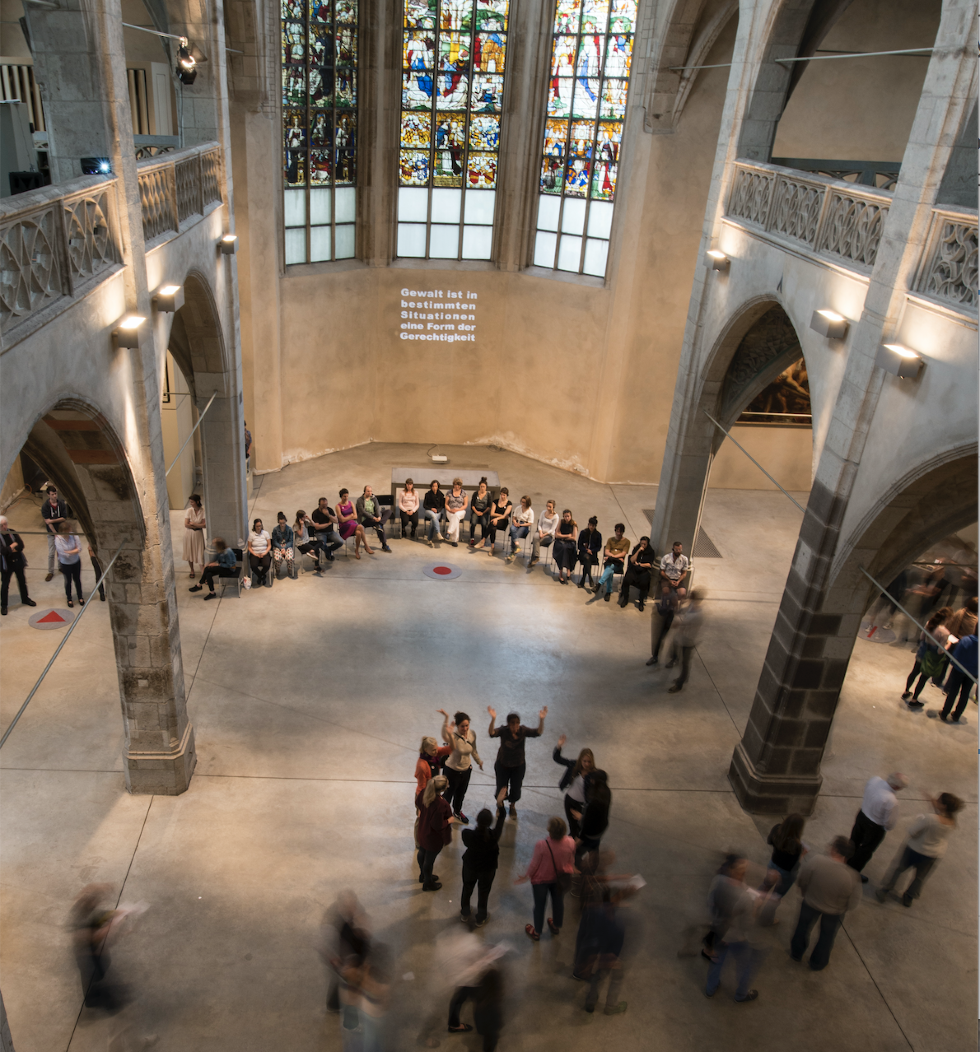 Caspersen's project The Exchange. Photo by Almut Elhardt, courtesy Caspersen.
Ways that movement can change minds:
"With movement, we can create metaphoric relationships that allow people to understand things differently. It's a more nuanced, internal experience. Sometimes the action provides an intimacy; sometimes it's an abstraction that's necessary. Sometimes, if you're using physicality, you can get a sense of what everyone in the room is thinking."

"A simple example is when people are walking together. The act of walking side by side, instead of sitting facing each other, allows them to have a proximity that is not confronting."
"In our racism project, Under|Stand, there's a section where people do physical mirroring. One person is answering questions with gestures, and the other people are taking on their actions. So you receive information that can't be argued with, but you learn something from them."
Why her background as a performer enriches her:
"I'm finding more and more that I'm valuing my experience as a performer. Performers hold seemingly contradictory truths together. Their job is to find a thread that allows a pathway through different layers of friction, direction and intention in an overall work—to be certain that there is a way forward."
Alice Sheppard/Kinetic Light in DESCENT, which our readers chose as last year's "Most Moving Performance." Photo by Jay Newman, courtesy Kinetic Light
Yes, we realize it's only August. But we can't help but to already be musing about all the incredible dance happenings of 2019.
We're getting ready for our annual Readers' Choice feature, and we want to hear from you about the shows you can't stop thinking about, the dance videos that blew your mind and the artists you discovered this year who everyone should know about.
Keep reading...
Show less
The USC Kaufman graduating class with Mikhail Baryshnikov. Gus Ruelas/USC
Just four years ago, the University of Southern California's Glorya Kaufman School of Dance welcomed its first class of BFA students. The program—which boasts world-class faculty and a revolutionary approach to training focused on collaboration and hybridity—immediately established itself as one of the country's most prestigious and most innovative.
Now, the first graduating class is entering the dance field. Here, six of the 33 graduates share what they're doing post-grad, what made their experience at USC Kaufman so meaningful and how it prepared them for their next steps:
Keep reading...
Show less
Courtesy Chiara Valle
Chiara Valle is just one of many dancers heading back to the studio this fall as companies ramp up for the season. But her journey back has been far more difficult than most.
Valle has been a trainee at The Washington Ballet since 2016, starting at the same time as artistic director Julie Kent. But only a few months into her first season there, she started experiencing excruciating pain high up in her femur. "It felt like someone was stabbing me 24/7," she says. Sometimes at night, the pain got so bad that her roommates would bring her dinner to the bathtub.
Keep reading...
Show less
A Ladies of Hip-Hop battle. Photo by Loreto Jamlig, Courtesy Ladies of Hip-Hop
Michele Byrd-McPhee's uncle was a DJ for the local black radio station in Philadelphia, where she was born. As a kid she was always dancing to the latest music, including a new form of powerful poetry laid over pulsing beats that was the beginning of what we now call hip hop.
Byrd-McPhee became enamored of the form and went on to a career as a hip-hop dancer and choreographer, eventually founding the Ladies of Hip-Hop Festival and directing the New York City chapter of Everybody Dance Now!. Over the decades, she has experienced hip hop's growth from its roots in the black community into a global phenomenon—a trajectory she views with both pride and caution.
On one hand, the popularity of hip hop has "made a global impact," says Byrd-McPhee. "It's provided a voice for so many people around the world." The downside is "it's used globally in ways that the people who made the culture don't benefit from it."
Keep reading...
Show less