When the COVID-19 pandemic forced the Broadway revival of West Side Story to close on March 12, just three weeks after its official opening, cast member Michelle Mercedes was thrown for a loop. "I made my Broadway debut in the show, and to have that ripped away was very jarring," she says. "I'm continuing to go through a spectrum of emotions." Like all dancers, Mercedes has spent the last several months enduring various levels of lockdown, trying to keep fit and healthy while coming to terms with opportunities the pandemic has stolen.
That level of stress, combined with Zoom-class boredom and uncertainty about when normal life might resume, is a recipe for burnout: a combination of emotional exhaustion, physical fatigue and loss of motivation to pursue your goals. But even in these challenging times, it's possible to prevent burnout, or recover from it, and keep on dancing.
---
What Is This Feeling?
Before COVID-19, you couldn't wait to take class, rehearse for hours and then meet up with friends. These days, though, you can't bear another Zoom session, and even though you feel lonely, you'd rather not connect on FaceTime yet again. You may even wonder if there's any reason to keep training, because will there even be jobs in the post-pandemic future?
Sinking spirits and flagging energy are red flags that you're heading for burnout or already feeling it, says psychologist and dance therapist Anginese Phillips, MS, LCAT, BC-DMT, co-founder of Full Force Wellness Repertory in Manhattan.
"Burnout is a loss of motivation, lack of inspiration, and a sense of anxiety and depression linked to something you genuinely love to do," she says. "And you find yourself distancing from people you know would make you feel good." An ongoing, stressful situation over which we have little control is a setup for burnout—and if there's anything we can't control, it's the course of a worldwide pandemic.
Mercedes has felt it all. "I was really sad, kind of angry at people—like, 'Please wear a mask so we can get back to doing our art,' " she says. "There are days when I just want to be onstage, or with my castmates, or sweaty in a dance class. I miss it a lot—probably every day."
Acknowledge the losses and express your grief. "Maybe this could have been your breakout year, and it wasn't because of the pandemic," says Phillips. "Allow yourself to feel it." Journaling or talking with a compassionate friend or counselor can bring relief.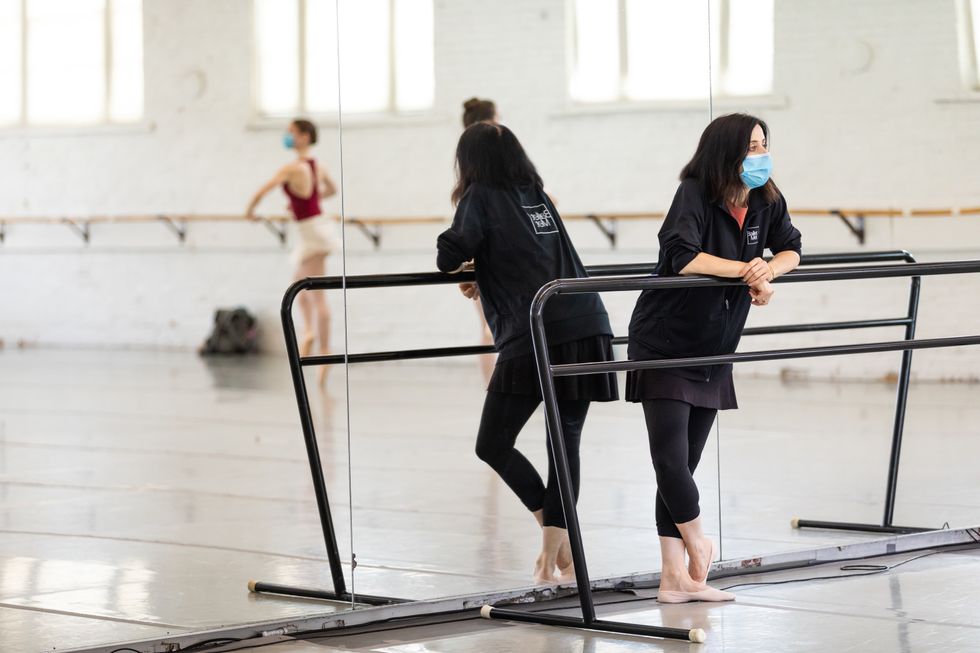 Maria Torija teaching at BalletMet Dance Academy
Jennifer Zmuda, Courtesy BalletMet
Give It a Rest
Rest is a key tool for recovering from and preventing burnout. Dancers are used to a varied schedule throughout the year, with periods of intensity followed by downtime: Students might spend summers at intensives and then vacation with family, while company dancers can use off-seasons to travel and do guest performances. Sheltering in place is not normal, so dancers need to take mental and physical breaks that add refreshing variety and counteract the draining routine.
Braeden Barnes, a contemporary dancer with Visceral Dance Chicago, has experienced burnout at various times in his career. So as he goes through his daily quarantine schedule of taking company class, teaching on Zoom and doing online workouts, like Animal Flow, he pays attention to signals of boredom or frustration. When they crop up, he takes a two- or three-day staycation: "I watch TV, go for a run or do yard work with my family. I'll turn off social media. I just allow myself to break out of the routine, and afterward I'm ready to go back."
If you're not enjoying dancing, or if training feels kind of pointless, give yourself a break. It could be as simple as watching a movie instead of taking class, or as substantial as taking a week off from dance to sleep in, meditate and do yoga—whatever feels restorative and fun. Release any self-imposed pressure to maintain a particular level of technique and fitness. "You have to accept where you are," says BalletMet Dance Academy director Maria Torija. "You'll get the technique back. This is giving us a little bit of introspection, and that's what makes you become a better artist."
Moving Meditation
If you're feeling uninspired, Phillips suggesting trying to reconnect with your love for dance with this exercise:
Call to mind a favorite dance class, teacher or performance—something that reminds you of why you love to dance. "What did it feel like to discover that you wanted to dance? Can you put that experience to movement?" Move in silence or to music that feels meaningful to you, and observe your thoughts and feelings without judgment. "It's about tapping into the imagination, which is the connection to your unconscious, to feel what it ignites."
Growing Beyond Burnout
The next step in staving off burnout is taking action: Reframe the frustrating limitations of COVID-19 as creative challenges that can help you grow. "As human beings, we don't necessarily grow from a place of stillness," Phillips says. "We grow from things evolving and changing, and from moving through our resistance. It's your decision whether to experience it as something bad or something good."
Barnes is inspired by Move, an improv class he teaches on Zoom. "We focus on little movements, breathing, relaxing—stuff that wouldn't get as much attention in a big studio," he says. "I'm learning for myself how I can feel all these details when I'm performing in the future." He's also exploring other art forms, like literature and music, that he usually doesn't have time for. "What's really helped my mindset is, What can I learn during this period? What can I take with me back to the studio and the stage?"
Torija has seen similar transformation in her students. "They have a deeper understanding of themselves," she says, adding that she's gained insight into herself, as well. "I have more kindness, I'm being more creative, I have to solve things I never thought I could figure out. I've found things in myself that I didn't know I had."
Leaning into these unexpected growth opportunities is a powerful antidote to burnout. "It's been a time for self-reflection," says Mercedes. "I can't wait to get back to being onstage and running around the city. But trying to find the joy in simple things, because that's pretty much all we have right now, has been a huge help in getting myself out of the rut and moving forward on a positive note."