The Creative Process
Apr. 30, 2018 02:00PM EST
Even Crystal Pite Gets Nervous Before a First Rehearsal
Crystal Pite rehearsing at National Ballet of Canada. Photo by Karolina Kuras, courtesy NBoC
Crystal Pite is a busy woman.
While her company, Kidd Pivot, toured the globe recently performing Betroffenheit—its acclaimed collaboration with Jonathon Young and fellow Canadians Electric Company Theatre—Pite herself launched three productions at three of the world's foremost dance companies: Nederlands Dans Theater (The Statement, February 2016), the Paris Opéra Ballet (The Seasons' Canon, fall 2016), and London's Royal Ballet (Flight Pattern, spring 2017).
---
Increasingly, her projects are at a scale to match their prestige, with roles for as many as 54 dancers (The Seasons' Canon) or, in the case of Polaris, more than 60. We caught up with Pite while she was at home in Vancouver.

It must be nice to be home. You've been quite busy.
It was intense, but wonderful. I kept pinching myself and thinking, Is this for real? After every hurdle, I had to just say, "Check. Done. Survived that. What's next?"
Does it still feel like the first day of school, to begin with a company that's new to you?
On my way up to the Paris Opéra studios I was so nervous! Literally shaking. But within about eight minutes, I was reminded, "Oh, yeah: This is the same old thing. It's just dancers in a studio, dancing." [Laughs]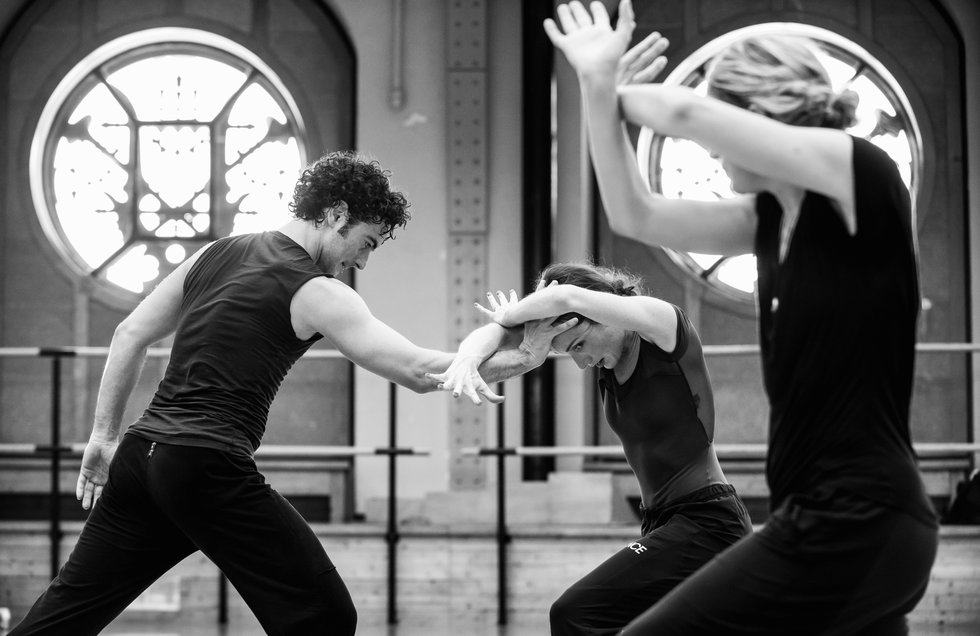 Crystal Pite rehearsing with Paris Opera Ballet dancers. Photos by Julien Benhamou, courtesy POB
It must've helped that the other pieces on that program were contemporary.
I always benefit from being at a company during or right after the dancers have been immersed in contemporary work. They had just recently worked with Bill Forsythe in Paris when I started The Seasons' Canon; in London, for Flight Pattern, I had the benefit of following Hofesh Shechter.
I noticed that there was an openness, a willingness, a kind of articulation and understanding in their bodies that maybe would not have been there otherwise. Dancers just keep growing, keep gaining more information and dimension; the more people they work with, the better they get. It really is that simple.
True, but the body can only adapt so quickly.
That's an important point too. When I was in London, they were with me during the day but performing The Sleeping Beauty at night. I would literally have dancers running into the studio for my rehearsals and taking their pointe shoes off at the same time—hopping in on one foot, shimmying out of a practice tutu, throwing on a pair of socks and sliding into the center of the room into some deep, deep position, with their weight completely dropped and a rounded spine.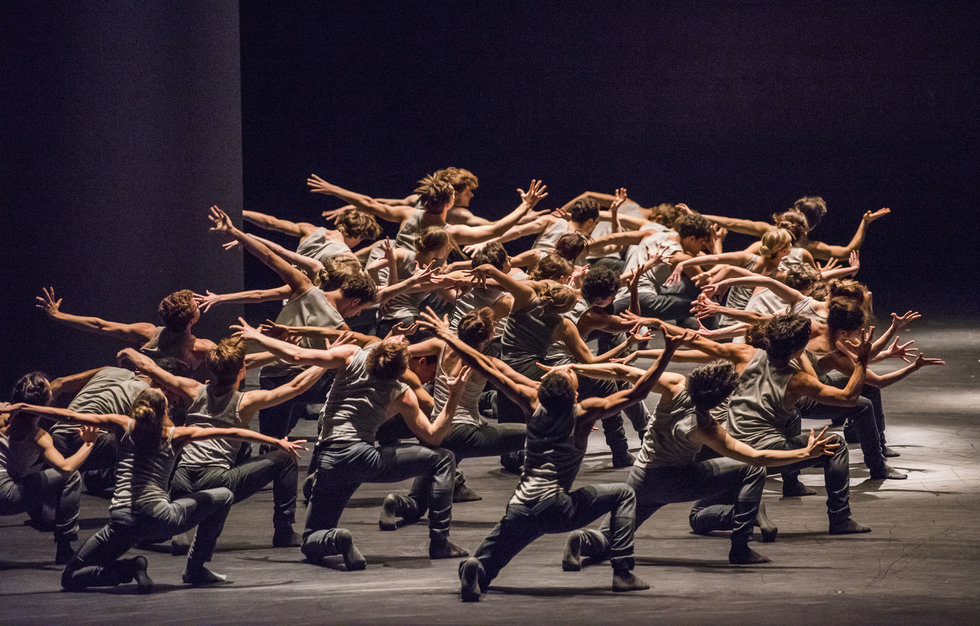 Royal Ballet dancers in Flight Pattern. Photo by Tristram Kenton, courtesy Royal Opera House
The Royal Ballet's dancers and the artists of the Paris Opéra are like the Swiss Army knives of dancers.
That's such a good way to put it. Which part of the Swiss Army knife do you think I am? The toothpick, maybe? The scissors? Oh, I'm the corkscrew, aren't I? [Laughs]
What do you fear?
Laziness, I suppose. That doesn't mean I'm not willing to sit with an idea for a while and give it time to evolve if it needs to, but laziness—complacency—is something else. It would be easy at this point for me to rely on what I already know. But I can't allow myself to be lazy.
What are you reading?
Jonathon Young gave me these great books by Robert Bringhurst; one of them is called Everywhere Being is Dancing: Twenty Pieces of Thinking. He has beautiful things to say about polyphony and polyphonic music, which have to do with coexisting differences and equal valuation of all voices.
There's something profound there, something to aspire to, that polyphony is possible, beautiful—and demanding. Worth striving for in our work and in our world.
Where are you today in terms of collaborating on new choreography and music at the same time, versus interpreting a score that already exists?

I really like working with existing music as a script, following its lead and dreaming of how I might bring it to life inside a body. I also love the experience of creating work together in parallel, from the first impulse right through to the very end. With a new work, it's a lot more work to build something from scratch, but that also leaves space for new discoveries and being nimble for new decisions. This month I have a new creation at NDT to the music of Caroline Shaw, who wrote an incredible piece for eight voices called Partita.
A theme that's emerged for me, especially in your bigger pieces, is that of the individual within the group; of the ensemble as a "body" of its own.
There's something energizing in that tension. It stems from my interest in connection, my desire to connect with the people I'm working with, for them to connect to each other, and then, also, for them to connect to the audience. I want to cultivate the sense that we're all one and that we're all connected.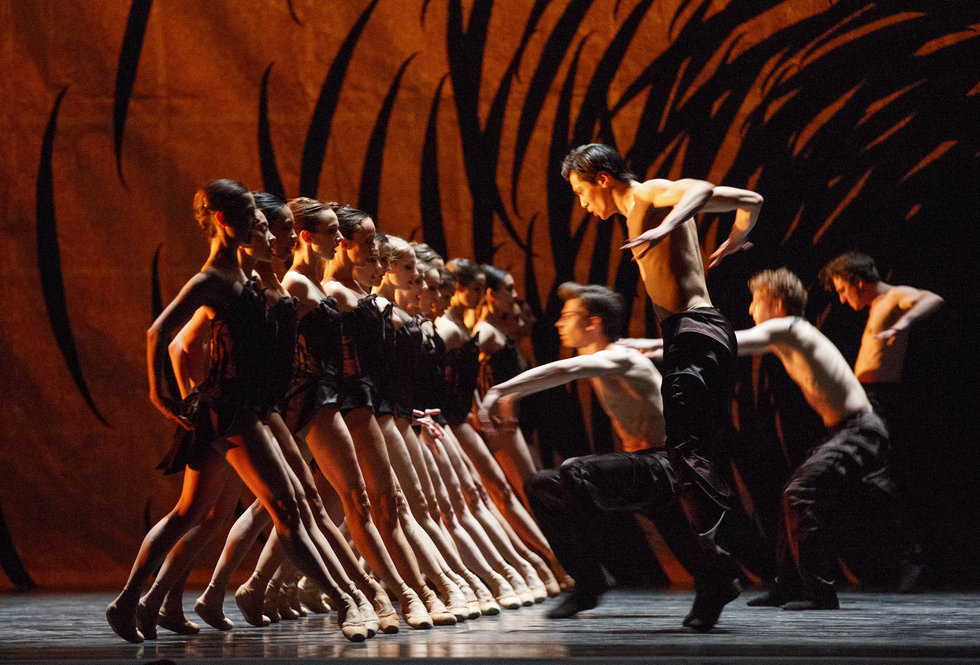 National Ballet of Canada in Emergence. Photo by Bruce Zinger, courtesy NBoC
As in nature. Vancouver is so beautiful—do you consider yourself outdoorsy?
I should do something sporty. It might be time for me to try rock climbing or swimming or martial arts or something—to change it up. I'm in this weird limbo, no-man's-land with my body, where I feel like I've lost touch and connection with my dancing self, and feel like I have to rediscover my relationship with the physical in a new way, or in a parallel way. Maybe skiing—cross-country, though. Not downhill. I don't like to go too fast.
Anything we should keep an eye out for next season?
I'm looking forward to Revisor, which Kidd Pivot premieres in February 2019 in Vancouver. It bubbles away as I go about my day.
What Wendy's Watching
May. 22, 2018 02:50PM EST
PC Paul Kolnik
New York City Ballet is celebrating the Jerome Robbins Centennial with twenty (20!) ballets. The great American choreographer died in 1998, so very few of today's dancers have actually worked with him. There are plenty of stories about how demanding (at times brutally so) he could be in rehearsal. But Peter Boal has written about Robbins in a more balanced, loving way. In this post he writes about how Robbins' crystal clear imagery helped him approach a role with clarity and purpose.
Keep reading...
Show less
92Y Harkness Dance Center is hosting the first festival dedicated to dance films captured on mobile devices. Photo by Adam Grannick, Courtesy 92Y
Who says you need fancy equipment to make a festival-worthy dance film? Right now, two New York City–based dance film festivals are calling for aspiring filmmakers to show their stuff—and you don't need anything more cumbersome than a smartphone to get in on the action.

Here's everything you need to know about how to submit:
Keep reading...
Show less
News
May. 18, 2018 12:05PM EST
The inimitable Alicia Alonso, now 97, remains at the helm of Ballet Nacional de Cuba. Photo by Leysis Quesada, Courtesy BNC
On the occasion of its 70th anniversary, the Ballet Nacional de Cuba tours the U.S. this spring with the resolute Cuban prima ballerina assoluta Alicia Alonso a the helm. Named a National Hero of Labor in Cuba, Alonso, 97, has weathered strained international relations and devastating fiscal challenges to have BNC emerge as a world-class dance company. Her dancers are some of ballet's best. On offer this time are Alonso's Giselle and Don Quixote. The profoundly Cuban company performs in Chicago May 18–20, Tampa May 23, Washington, D.C., May 29–June 3 and Saratoga, New York June 6–8.
Dance in Pop Culture
May. 17, 2018 10:12AM EST
Participants show off their plié. Screenshot via YouTube
We all know that the general population's knowledge of ballet is sometimes...a bit skewed. (See: people touching their fingertips to the top of their head, and Kendall Jenner hopping around at the barre.)
Would your average Joe know how to do ballet's most basic step: a plié? Or, more to the point, even know what it is?
SELF decided to find out.
Keep reading...
Show less
Lisset Santander is adding more contemporary works to her repertoire. Here with Jarrett Reimers in Christopher Wheeldon's Fools Paradise. Photo by Jennifer Zmuda, Courtesy BalletMet.
When Lisset Santander bourréed onstage as Myrtha in BalletMet's Giselle this past February, her consummate portrayal of the Queen of the Wilis was marked by steely grace and litheness. The former Cuban National Ballet dancer had defected to the U.S. at 21, and after two years with the Ohio company, she's now closer to the dance career she says she always wanted: one of limitless possibilities.
Keep reading...
Show less
James Samson in Three Dubious Memories. Photo by Paul B. Goode, courtesy Paul Taylor Dance Company
For 17 years, James Samson has been the model Paul Taylor dancer. There is something fundamentally decent about his stage persona. He's a tall dancer—six feet—but never imposes himself. He's muscular, but gentle. And when he moves, it is his humanity that shines through, even more than his technique.
But all dancing careers come to an end, and James Samson's is no exception; now 43, he'll be retiring in August, after a final performance at the Teatro Romano in Verona, where he'll be dancing in Cloven Kingdom, Piazzolla Caldera and Promethean Fire.
Keep reading...
Show less


Get Dance Magazine in your inbox