Congratulations to Dance Magazine Award Honoree Crystal Pite
Crystal Pite, photo by Michael Slobodian, courtesy Kidd Pivot
She may not be the first choreographer to claim that movement is her first language, but when Crystal Pite says it, it's no caveat: She's as effective and nuanced a communicator as the writers who often inspire her dances.
Her globally popular Emergence, for instance, was provoked in part by science writer Steven Johnson's hypotheses; The Tempest Replica refracts and reimagines Shakespeare. Recently, her reading list includes essays by fellow Canadian Robert Bringhurst, likewise driven by a ravenous, wide-ranging curiosity.
---
The two categories into which most of her creations fall—intimate shows for her own company and large-scale guest premieres—have proven to be mutually beneficial. Kidd Pivot, founded in 2002 in her native British Columbia, is a "long-term relationship," she says, with a small cohort of trusted partners. One of those is director-playwright Jonathon Young, with whom she has deepened the narrative, theatrical and character-driven aspects of her work. (Revisor, their second collaboration, premieres in early 2019.) Meanwhile, Pite experiments with elaborate stagecraft through high-profile commissions from major companies, sometimes with casts of three dozen dancers or more, introducing her work to new audiences worldwide.
Crystal Pite & Jonathon Young - Betroffenheit - Trailer (Sadler's Wells) www.youtube.com
No matter what she's creating, she's prone to coaching her material by explaining its physics or how it should employ specific parts of the body. Yet even her straightforward notes ring with a keen sense of the poetic.

"See if you can fight for that moment," she told dancers in rehearsal for Flight Pattern, her 2017 premiere for The Royal Ballet. It was at once just encouragement about a simple step and a reminder of every artist's lifelong test. Another observation, given to the same group within minutes—"Because of that tension, your head has no choice but to change"—spoke not only to the physical logic of Pite's choreography, but also to the shifts in our perspectives prompted by extreme circumstances.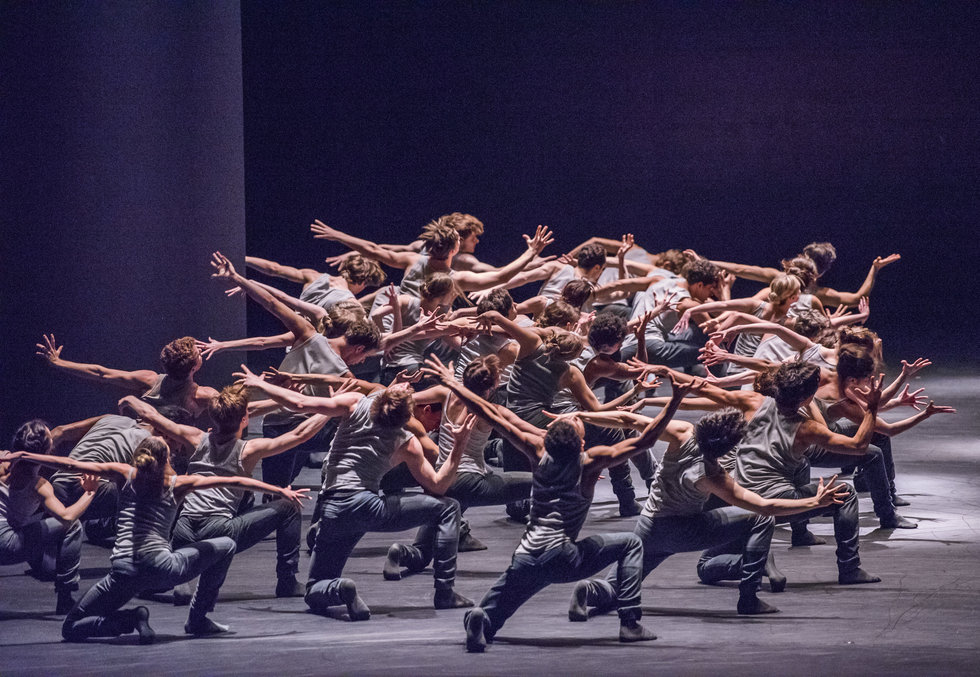 The Royal Ballet in Crystal Pite's Flight Pattern. Photo by Tristram Kenton, courtesy Royal Opera House
In conversation, Pite can slide effortlessly from one idea into its opposite, not unlike how torsion and oppositional force provide equilibrium within her movement. "I've been interested lately in old-school truths of choreography," she says. "Shifts in scale, unison, canon, entrances and exits, and so on. I've been enjoying thinking of the need for traditional ways, and also the need to subvert them. It's good to push against the conventions that you know, against the things that are familiar."

Get your tickets to the Dance Magazine Awards.
From Your Site Articles
Related Articles Around the Web
A Ladies of Hip-Hop battle. Photo by Loreto Jamlig, Courtesy Ladies of Hip-Hop
Michele Byrd-McPhee's uncle was a DJ for the local black radio station in Philadelphia, where she was born. As a kid she was always dancing to the latest music, including a new form of powerful poetry laid over pulsing beats that was the beginning of what we now call hip hop.
Byrd-McPhee became enamored of the form and went on to a career as a hip-hop dancer and choreographer, eventually founding the Ladies of Hip-Hop Festival and directing the New York City chapter of Everybody Dance Now!. Over the decades, she has experienced hip hop's growth from its roots in the black community into a global phenomenon—a trajectory she views with both pride and caution.
On one hand, the popularity of hip hop has "made a global impact," says Byrd-McPhee. "It's provided a voice for so many people around the world." The downside is "it's used globally in ways that the people who made the culture don't benefit from it."
Keep reading...
Show less
The USC Kaufman graduating class with Mikhail Baryshnikov. Gus Ruelas/USC
Just four years ago, the University of Southern California's Glorya Kaufman School of Dance welcomed its first class of BFA students. The program—which boasts world-class faculty and a revolutionary approach to training focused on collaboration and hybridity—immediately established itself as one of the country's most prestigious and most innovative.
Now, the first graduating class is entering the dance field. Here, six of the 33 graduates share what they're doing post-grad, what made their experience at USC Kaufman so meaningful and how it prepared them for their next steps:
Keep reading...
Show less
Rena Most at work backstage. Photo courtesy ABT
Every dancer knows there's as much magic taking place backstage as there is in what the audience sees onstage. Behind the scenes, it takes a village, says American Ballet Theatre's wig and makeup supervisor, Rena Most. With wig and makeup preparations happening in a studio of their own as the dancers rehearse, Most and her team work to make sure not a single detail is lost.
Dance Magazine recently spoke to Most to find out what actually goes into the hair and makeup looks audiences see on the ABT stage.
Keep reading...
Show less