Damian Woetzel Named Juilliard's New President
Damian Woetzel rehearsing Misty Copeland at Vail Dance Festival. Photo by Erin Baiano, courtesy Vail
A dancer is taking over Juilliard: Damian Woetzel will be the school's next president, starting in July 2018.
It's just the latest feat for the former New York City Ballet star who's racked up an impressive list of accomplishments since retiring from the stage in 2008. After earning a master's degree in public administration from the John F. Kennedy School of Government at Harvard (while still dancing), he became director of both the Aspen Institute Arts Program and the Vail Dance Festival. He's also taken on wide-ranging side projects—from producing shows featuring Lil Buck, to being a visiting lecturer at Harvard Law School, to serving on President Obama's Committee on the Arts and Humanities.
Now, he'll be leading the country's most prestigious performing arts conservatory and its $110 million annual budget. He's only the seventh person in Juilliard's 112-year history to hold this position—and the first to come from the dance world. We spoke to him today to learn more.
---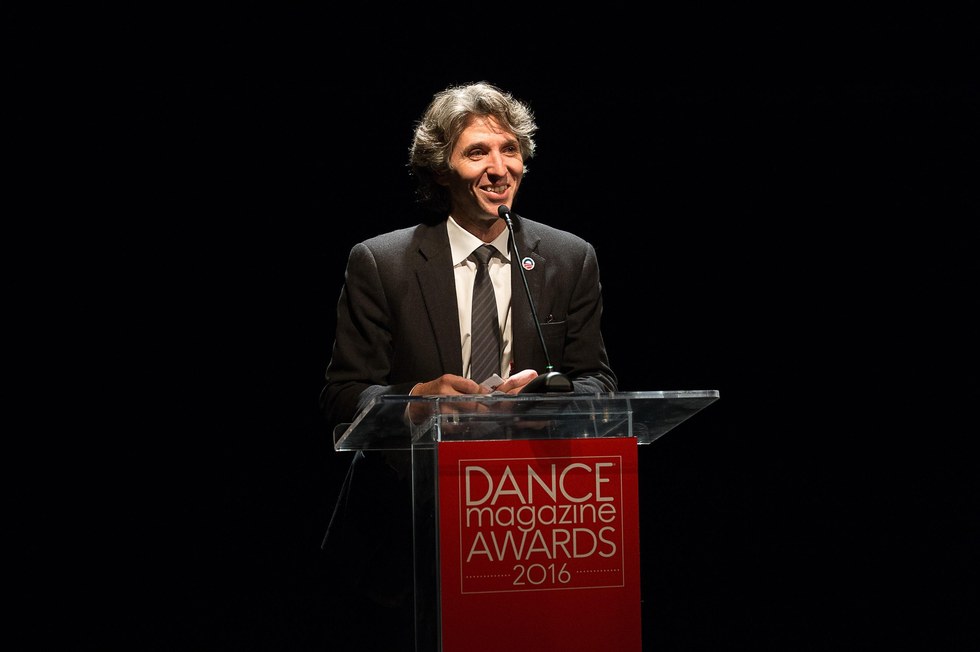 Woetzel at last year's Dance Magazine Awards. Photo by Christopher Duggan.
Congratulations! How did this opportunity come about?
I've known Juilliard my whole life, essentially. I took my first class at School of American Ballet when it was still in the Juilliard building, and it's been ever-present in many ways ever since. I've had quite a lot of intersection with Joseph Polisi, the Juilliard president for last three decades. In fact, his book "The Artist as Citizen" inspired my going to the Kennedy School and a lot of the work I've done.
The school asked what I thought about taking on this position. My instant reaction was that this is an unbelievable culmination of so many different things I'm passionate about.
What excites you about Juilliard?
The combination of music and dance and drama in one place. And training the new creative forces of tomorrow, working towards what I would consider the golden age of creativity. I believe passionately that collaboration is how we are at our most creative. We can do things together that we cannot do alone.
I remember being in the cafeteria when I was at SAB, and the music and the acting and the people rehearsing in the common rooms. The feeling that it was all part of one big creative enterprise always stuck with me as some sort of beautiful ideal.
Will you still be involved with Vail or Aspen Institute at all?
Over the next year, I will be listening and learning and discussing strategies for the future here at Juilliard. But I will stay with Aspen until June 2018.And I'm going to do Vail this year and next year as planned, and am in conversations to see if there are ways to maintain my relationship with the festival in a new form in the future.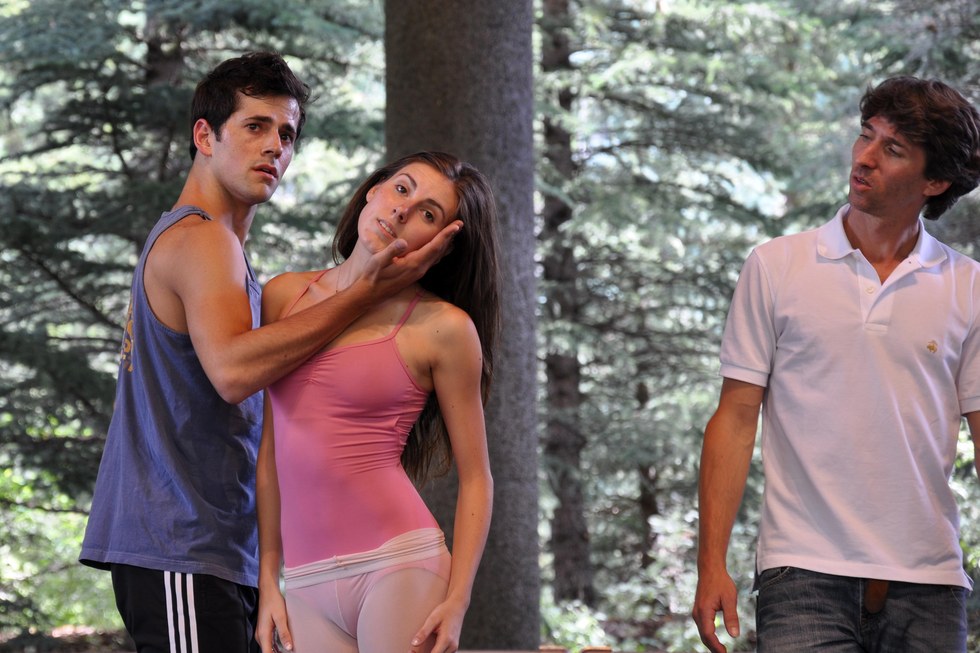 Tiler Peck and Robert Fairchild rehearse at the 2009 Vail International Dance Festival with Damian Woetzel. Photo by Caitlin Kakigi, courtesy Vail.
Any ideas yet about what you want to bring to Juilliard?
My focus is very much on maintaining the incredible level of both excellence and citizenship that Dr. Polisi has created here. I want to take the history that is embodied in this building and in Lincoln Center and work toward creating a new generation of citizen artists.
You have created such an incredible post-performing career, and have been such an example for other dancers in that way. Do you feel any pressure?
Not so much pressure as fortune. I feel so incredibly lucky in have had these opportunities. And frankly, that is a huge part of the philosophy I bring to the arts education work I've done: Providing opportunities, because the possibilities are exponential the more opportunities there are.
I always think that I just happened to be introduced to ballet. And if I hadn't, I would have been walking around my whole life with this thing that I was ultimately so suited for. And I think we all have those things within us that we don't even know about.
The opportunities of learning, of experience, of experimentation, inquiry and being curious, providing those platforms is what I dream about doing here.
What does it feel like to be back in the Juilliard building again?
I stood on the stage today to greet the faculty, staff and students, and I remembered that I did my workshop performance here 32 years ago this month before joining City Ballet. And I just remember the magic of the place. It feels extraordinarily inspiring.
Indumba investigates an African cleansing ritual. Photo by Ken Carl, via
bam.org
When Kevin "Iega" Jeff saw Fana Tshabalala's Indumba at the annual JOMBA! Contemporary Dance Experience in South Africa, he immediately knew he would ask Tshabalala to set the work on his company.

"There's an ancient energy in Fana's movement, a deep and trusted knowing," says Jeff, director of the Chicago-based Deeply Rooted Dance Theater. "Because I witnessed the raw humanity of his dancer's souls, I wanted my dancers to have that experience."
Keep reading...
Show less
Name calling, physical intimidation and cyberbullying are all-too-common experiences among male dancers. Photo by Goh Rhy Yan/Unsplash
Growing up in a family-owned dance studio in Missouri had its perks for tap dancer Anthony Russo. But it also earned him constant taunting, especially in high school.
"There was a junior in my sophomore year health class who was absolutely relentless," he says. "I'd get tripped on my way to the front of the classroom and he'd say, 'Watch out, twinkle toes.' If I raised my hand and answered a question incorrectly, I'd hear a patronizing 'Nice one, Bojangles.' "
Keep reading...
Show less
StockSnap
When I wrote about my struggle with depression, and eventual departure from dance because of it, I expected criticism. I was prepared to be challenged. But much to my relief, and horror, dancers from all over the world responded with support and stories of solidarity. The most critical response I saw was this one:
"Dance isn't for everyone."
This may as well be a mantra in the dance world. We have become entrenched in the Darwinian notion that the emotionally weak will be weeded out. There is no room for them anyway.
Keep reading...
Show less
News
Apr. 16, 2018 02:42PM EST
Maria Kochetkova in Helgi Tomasson's Trio // © Erik Tomasson
San Francisco Ballet star Maria Kochetkova just announced that she'll be leaving the company at the end of this season, after the much-anticipated Unbound Festival. The exact date will be announced later.
Keep reading...
Show less
Dance on Broadway
Apr. 21, 2018 09:30AM EST
PC Kevin Berne, courtesy Boneau/Bryan-Brown
Choreographer Sergio Trujillo asked the women auditioning for ensemble roles in his newest musical to arrive in guys' clothing—"men's suits, or blazers and ties," he says. He wasn't being kinky or whimsical. The entire ensemble of Summer: The Donna Summer Musical is female, playing men and women interchangeably as they unfold the history of the chart-busting, Grammy-winning, indisputable Queen of Disco.
courtesy www.today.com
Keep reading...
Show less
Dance in Pop Culture
Apr. 20, 2018 12:37PM EST
Ballet Zaida; Courtesy Agnes Muljadi
Have a scroll through Agnes Muljadi's Instagram feed (@artsyagnes), and you'll notice that in between her ballet shots is a curated mix of lifestyle pics. So what exactly sets her apart from the other influencers you follow? Muljadi has made a conscious effort to only feature natural beauty products, sustainable fashion and vegan foods. With over 500k followers, her social strategy (and commitment to making ethical choices) is clearly a hit. Ahead, learn why Muljadi switched to a vegan lifestyle, and the surprising way it's helped her dance career.
Keep reading...
Show less


Get Dance Magazine in your inbox