As Archives Become More Accessible, More Dancers Are Diving in to Research the History Behind their Roles
Martha Graham in Spectre-1914 from Martha Graham's Chronicle. Courtesy of Martha Graham Resources.
Paul Taylor's Post Meridian was last performed 30 years ago, which is well before any of the company's current dancers joined Paul Taylor Dance Company. In fact, it's before some of the dancers were even born. Every step and extreme angle of the body in the dream-like world of the 1965 work will be fine-tuned in the studio for PTDC's upcoming Lincoln Center season. However, the Taylor archive is where Post Meridian began for Eran Bugge.
---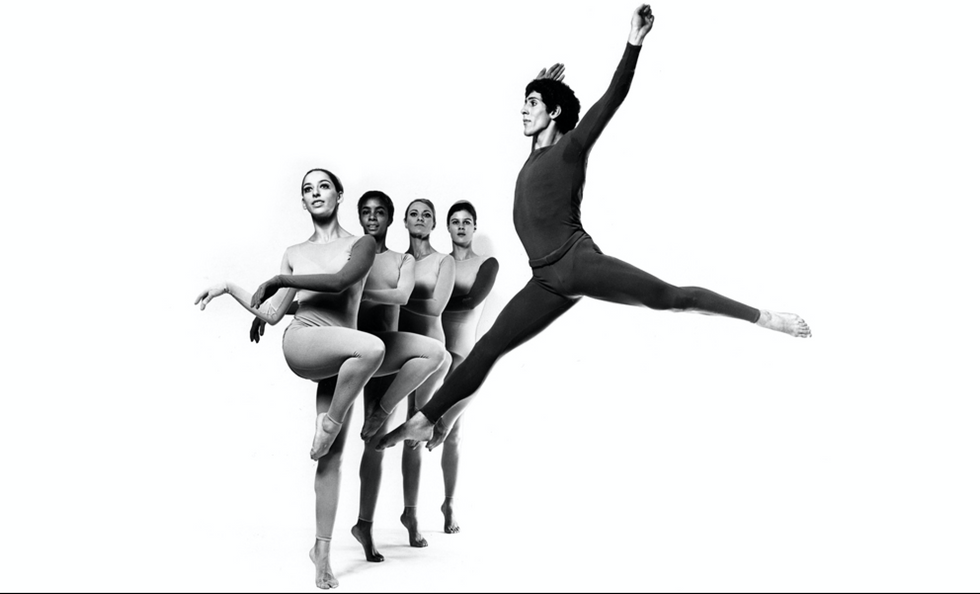 Paul Taylor Dance Company in Post Meridian. L-R: Jane Kominsky, Carolyn Adams, Eileen Croplet, Senta Driver and Danny Williams Grossman
Jack Mitchell, Courtesy PTDC
By immersing themselves in the history of the choreography, through photographs, notations and video, dancers can perform important works like these with more impact. "The dances have so much detail in them," Bugge explains. "So it is always fun to go back and say, 'Oh my gosh I never noticed this tiny hand gesture.'"
A dancer with PTDC since 2005, Bugge has worked in the company's video archives since 2008 when Paul Taylor personally asked her to take on the responsibility. Some years ago, she was the first to identify and digitize several tapes of Post Meridian for their archives. "At that time, everything was a little less accessible in a lot of ways," she says. "I was all by myself in this back room with all the videos and I just got to watch everything."
The digitized films and organized inventory system have made these videos a regular and crucial part of the rehearsal process. When learning a role, the dancers always reference past performances—in the case of Post Meridian, looking back decades—which encourages discussion about the incredibly nuanced choreography.
Xin Ying, a principal with Martha Graham Dance Company, also turns to her company's archive for debuts, and she even visits when returning to something familiar. By referencing stunning black and white photos, literature and videos (films dating back from the 1930s have all been digitized), she is able to explore the impulse behind each movement.
Xin was recently in the Graham archive researching Chronicle (1936) ahead of Fall for Dance. She has danced this masterpiece before, but she's always striving to reveal more layers. "You get a lot of information in the archives, and especially when it's being passed down through the generations," she says, "I always want to go back to see the original. See what was Graham's intention, what was she thinking?"
Martha Graham Resources is located in the same building as the company studios, and contains a vast collection of materials—among them are rehearsal and performance videos, photographs, notations, interviews, audio, programs and revelatory early technique tutorials voiced by Graham. Her original costume from Episodes: Part I (1959), a darkly elegant and imposing gown, is poised towards the back of the room.
Research, guided by Oliver Tobin (who has been overseeing Graham Resources for the past four years), is an important part of company life at every rank. Director Janet Eilber encourages dancers and choreographers to utilize the collection, and time is specifically designated for Graham Resources on the dancers' schedules by rehearsal director Denise Vale. These hours in the archive are so constructive that many dancers carve out their own additional moments to visit as well.
This process has been important to Xin's own development and rise within the company. "I think that's the only way to translate the character well—you have to go study it," she says. When preparing for a role she'll find time to read the original Greek plays and myths, channeling Graham's own interest in iconic epics, like Cave of the Heart (1946) and the chilling and agonizing pain of characters like Medea.
Archived materials can also be a powerful source of inspiration for choreographers. Pam Tanowitz, who has created works for major companies including The Royal Ballet, New York City Ballet and PTDC, spent time in Graham Resources while working on Untitled (Souvenir) for the Graham company.
Her favorite spot in New York City is the dance division of the New York Public Library for the Performing Arts. But not everything that informs Tanowitz's choreographic vision is found in films and books. Earlier in her career while working at New York City Center she was able to watch Paul Taylor in action during dress rehearsals, and companies like Alvin Ailey American Dance Theater. She's held on tightly to these experiences.
"I just love dance history," says Tanowitz. "So I read, go to the library, and see as much as possible. It's part of my life work and deep love of dance. It's integrated into all my work for the past 25 years."
For Bugge, the research for Post Meridian will continue up until final touches with the rehearsal director and mentors, including former company members like Sharon Kinney, who originated the role Bugge will dance. Each performance is an opportunity to sharpen her instincts. "We're so lucky because we have such a rich history, and you can see many interpretations of the same role. Having all those options to inspire you is really exciting."
From Your Site Articles
Related Articles Around the Web
Rachel Papo
In the middle of one of New York City Center's cavernous studios, Misty Copeland takes a measured step backwards. The suggestion of a swan arm ripples before she turns downstage, chest and shoulders unfurling as her legs stretch into an open lunge. She piqués onto pointe, arms echoing the sinuous curve of her back attitude, then walks out of it, pausing to warily look over her shoulder. As the droning of Ryuichi Sakamoto and Alva Noto's mysterious "Attack/Transition" grows more insistent, her feet start to fly with a rapidity that seems to almost startle her.
And then she stops mid-phrase. Copeland's hands fall to her hips as she apologizes. Choreographer Kyle Abraham slides to the sound system to pause the music, giving Copeland a moment to remind herself of a recent change to the sequence.
"It's different when the sound's on!" he reassures her. "And it's a lot of changes."
The day before was the first time Abraham had seen Copeland dance the solo in its entirety, and the first moment they were in the studio together in a month. This is their last rehearsal, save for tech, before the premiere of Ash exactly one week later, as part of the opening night of City Center's Fall for Dance festival.
Keep reading...
Show less
Ailey II artistic director Troy Powell teaching an Ailey Workshop at NYCDA. Courtesy NYCDA
Back in 2011 when Joe Lanteri first approached Katie Langan, chair of Marymount Manhattan College's dance department, about getting involved with New York City Dance Alliance, she was skeptical about the convention/competition world.
"But I was pleasantly surprised by the enormity of talent that was there," she says. "His goal was to start scholarship opportunities, and I said okay, I'm in."
Today, it's fair to say that Lanteri has far surpassed his goal of creating scholarship opportunities. But NYCDA has done so much more, bridging the gap between the convention world and the professional world by forging a wealth of partnerships with dance institutions from Marymount to The Ailey School to Complexions Contemporary Ballet and many more. There's a reason these companies and schools—some of whom otherwise may not see themselves as aligned with the convention/competition world—keep deepening their relationships with NYCDA.
Now, college scholarships are just one of many ways NYCDA has gone beyond the typical weekend-long convention experience and created life-changing opportunities for students. We rounded up some of the most notable ones:
Keep reading...
Show less
Getty Images
Dancers are understandably obsessed with food. In both an aesthetic and athletic profession, you know you're judged on your body shape, but you need proper fuel to perform your best. Meanwhile, you're inundated with questionable diet advice.
"My 'favorite' was the ABC diet," says registered dietitian nutritionist Kristin Koskinen, who trained in dance seriously but was convinced her body type wouldn't allow her to pursue it professionally. "On the first day you eat only foods starting with the letter A, on the second day only B, and so on."
Keep reading...
Show less
Left: Hurricane Harvey damage in Houston Ballet's Dance Lab; Courtesy Harlequin. Right: The Dance Lab pre-Harvey; Nic Lehoux, Courtesy Houston Ballet.
"The show must go on" may be a platitude we use to get through everything from costume malfunctions to stormy moods. But when it came to overcoming a literal hurricane, Houston Ballet was buoyed by this mantra to go from devastated to dancing in a matter of weeks—with the help of Harlequin Floors, Houston Ballet's longstanding partner who sprang into action to build new floors in record time.
Keep reading...
Show less