Why More and More Mainstream Musicians Are Composing Scores for Dance
Glenn Kotche of Wilco created and performed the score for Danielle Agami's calling glenn. Photo by Cheryl Mann, courtesy Ate9
Balanchine and Stravinsky. Cunningham and Cage. Graham and Copland. Twentieth-century dance was dotted with memorable partnerships between musicians and choreographers that wrought magical, full-bodied, brilliant works.
Today's composer-dancemaker duos, though, have gone in a decidedly different direction. In ever-growing numbers, mainstream musicians are this century's dance collaborators. Sufjan Stevens has aligned himself with New York City Ballet's Justin Peck; Bon Iver's brought his signature indie folk to Minnesota contemporary troupe TU Dance; and even Sia's getting in on the act, working with Akram Khan on a dance theater piece premiering this summer.
What is it that's drawing pop artists to the dance floor?
---
Glenn Kotche, Drummer for Wilco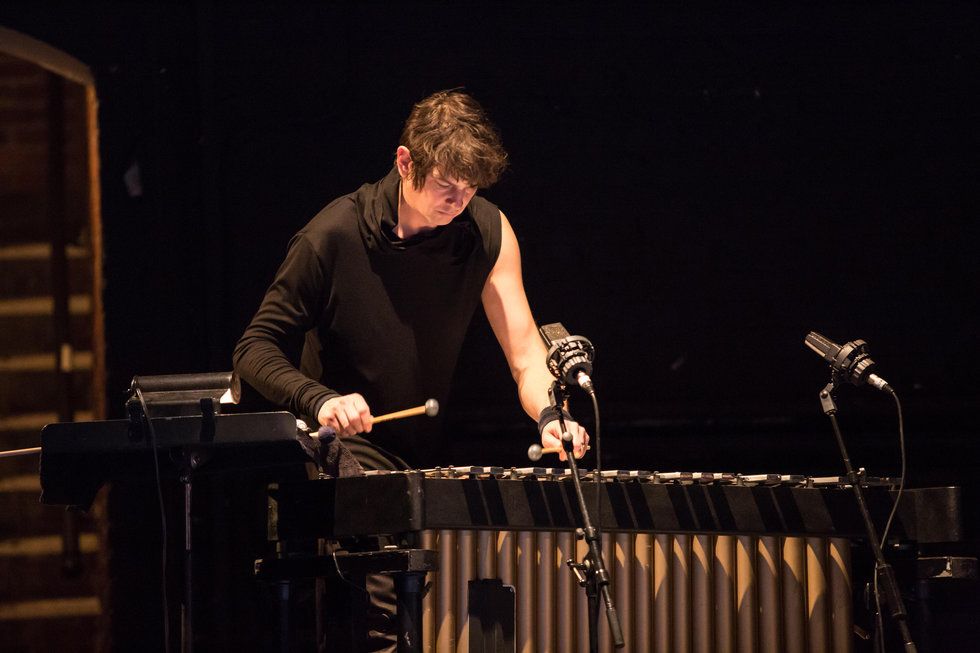 Wilco's Glenn Kotche performing onstage in Danielle Agami's calling glenn. Photo by Cheryl Mann, courtesy Ate9.
Notable dance projects: Danielle Agami's calling glenn (2017)

Glenn Kotche didn't just compose the score for Danielle Agami's calling glenn—he also performs it live with the Ate9 dancers, playing drums, viola and even the glockenspiel onstage. But he doesn't think it's actually much of a stretch for him. "As a drummer, my whole life has been about sound and motion," says Kotche. "It's such a physical action just to make a sound on my instrument. When all four of my limbs are moving at the same time, it's very similar to dance, in a way."
That doesn't mean he wasn't surprised by the dancers' intensity in rehearsal. "They are full-on physical, falling on the floor," he says. "In a rock band setting, rehearsals are where I block out ideas, get it in place, figure it out and save the performance for the show, when I can really exhaust everything." Now, as an integral part of the performance, Kotche understands why the dancers give so much: It's about consistency. "With Wilco," he says, "I like to switch stuff up onstage as much as possible—we've played some songs a few hundred times. But with this, the dancers rely on certain cues and such a regimented, steady beat, because they can get hurt, if not."
He's settled comfortably into the back-and-forth collaborative process he's found with Agami. Initially, "it was a lot of me sending her music, her choosing bits of it and asking, 'Can you make something like this?' " he says. When writing music for non-dance projects, it's more often "I write it, and that's it," says Kotche. "With Danielle, it's always evolving."
Nico Muhly, Contemporary Classical Composer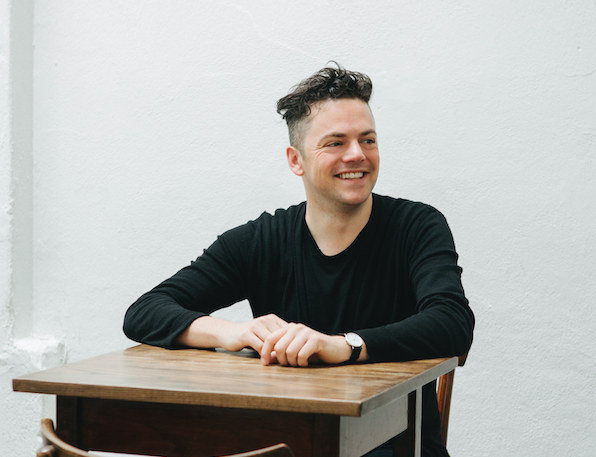 Nico Muhly is a frequent collaborator of Benjamin Millepied. Photo by Ana Cuba, courtesy Muhly.
Notable dance projects: Benjamin Millepied's From Here On Out (2007), Two Hearts (2012) and Clear, Loud, Bright, Forward (2015)
It only took eight years of working together for Nico Muhly and choreographer Benjamin Millepied to really figure out how they gelled. At the stage rehearsal for their fourth major collaboration, Clear, Loud, Bright, Forward with the Paris Opéra Ballet, Muhly remembers they looked at each other and realized "we'd finally become fluent in each other's languages. We'd figured out our process from beginning to end: knowing when to freak out, when to make changes, how to make changes, how to make MIDI demos of what the dancers are going to want to latch on to."
For Muhly, who studied composition at The Juilliard School while very much surrounded by dance, much of his fascination with the art form lies in the dual mastery of the body and mind. "The way dancers learn phrases with a combination of mimicry and figuring out their own weird thing lightning-quick—the whole thing is built on these cells of memorization," he says. "Which somehow, overnight, they remember." And the inherent beauty of dance is a far cry from musicianship, in his opinion. "Playing instruments is ugly," says Muhly. "There's spit everywhere, condensation, people's fingers are bloody, you've got violin hickeys. We've just trained our minds to think it's this super-beautiful thing."
He's quick to acknowledge how fortunate he is to have had commissions from organizations with more money to offer him, like the New York Philharmonic and the Barbican, but says he genuinely tries not to know how much he's getting paid for anything, if he can. "If you find yourself making decisions based on that, it limits you," he says. "Part of the reason I grew as an artist was by saying yes to anything I wanted." And he's stayed true to that practice. "Right now," he says, "I have a project I can tell you about in six months with a choreographer who's using a preexisting work of mine. He's missing a chunk of funding, but I'm going to do it—and they'll find the money—because I want the project to work."
Bryce Dessner, Guitarist for The National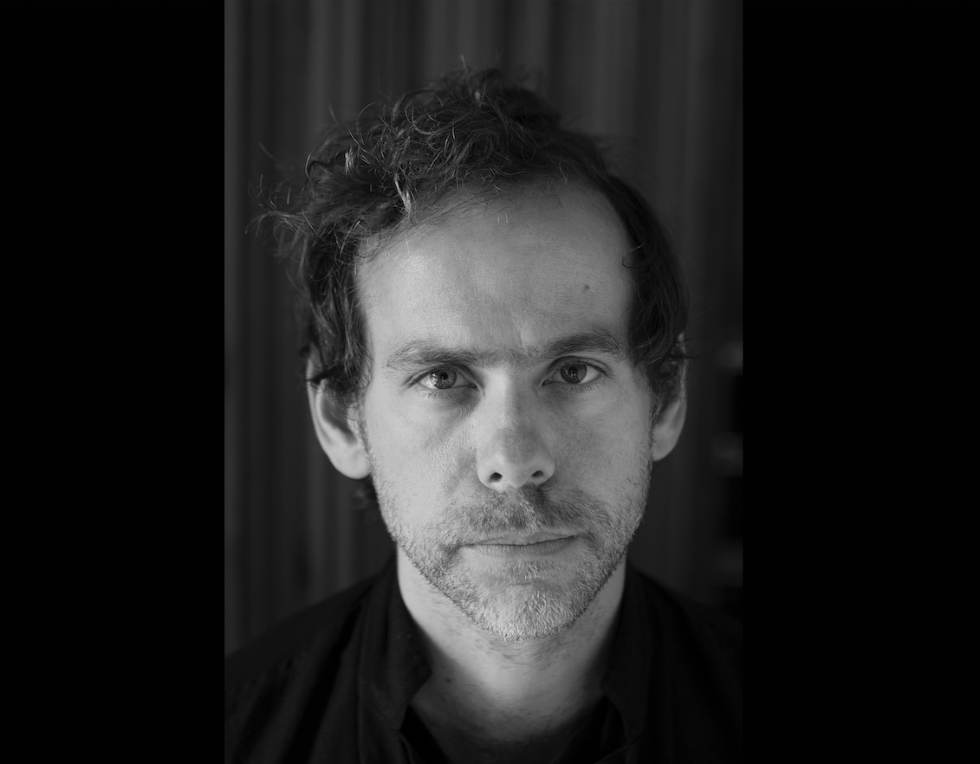 The National's Bryce Dessner sits on the board of NYC dance venue The Kitchen. Photo by Graham MacIndoe, courtesy Dessner.
Notable dance works: Rafael Bonachela's Frame of Mind (2015), Justin Peck's The Most Incredible Thing (2016), Iceland Dance Company's No Tomorrow (2017)
"I grew up around dance my whole life," says Bryce Dessner. His older sister Jessica studied at the Cincinnati Ballet, and when Dessner moved to New York, he frequented the Brooklyn Academy of Music, watching performances from Pina Bausch, Ballett Frankfurt, Batsheva and Sarah Michelson. (He currently sits on the board for downtown dance bastion The Kitchen.) Creating music for dance, he says, felt only natural.
He's observed subtle differences in how he composes orchestral works versus music for dance. "When I'm writing in a chamber music or orchestral setting," says Dessner, "I might indulge certain ideas further—push the music further out. Whereas with dance, I'm much more aware of what would work with movement—the economy of it, the energy of it."
He thinks there's a distinction, too, between a dancer's and a musician's musicality. "Because dancers do every-thing from memory," says Dessner, "they have this hyperdeveloped sense of rhythm. It's really interesting the way they think about mixed meter and dropped beats. They're able to internalize it, even in the most classical scores. You don't ever see orchestras take everything from memory like that."
Devonté Hynes, Indie R&b Singer-Songwriter Who Performs as "Blood Orange"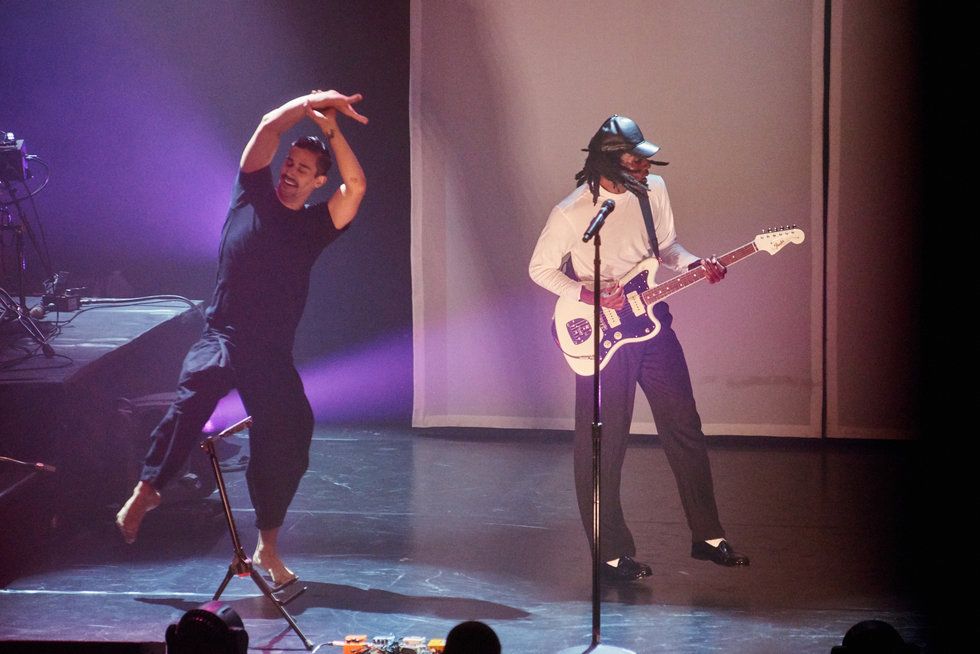 Devonté Hynes has hired modern dancers to perform at his concerts. Photo by Jim Lafferty.
Notable dance works: Lil Buck and Jon Boogz's There Was Nothing and Emma Portner's
For All Its Fury (2018)
When writing the music for Emma Portner, Lil Buck and Jon Boogz's joint program for Hubbard Street Dance Chicago, Devonté Hynes struggled. "It's 75 minutes long," he says. "I'd have to work on it, and then I'd leave it, and then I'd work on it. Which I hope wasn't too frustrating for people." Though his direct interactions with the creative team were limited, he did receive periodic recordings from Third Coast Percussion—who performed his music live onstage—and got to see a few clips from Portner and Buck. "It was crazy for me, as a fan and someone who goes to a lot of dance performances," says Hynes, who's worked with concert dancers and choreographers on his own for music videos and live shows, but had never before been commissioned for dance.
Hynes has a long history with dance. He learned how to break-dance while attending Christian camps as a kid and then dabbled in tap and ballet. "When I moved to New York," he says, "I was 20, 21, and taking classes and falling into vogue culture." For the music video of "I Know," from his 2016 album Freetown Sound, Hynes skillfully partnered ballet star Maria Kochetkova.
Though he's not necessarily thinking consciously about dance when he's writing music, he always starts with rhythm. "Even if the song doesn't have drums in the end, everything I write, I create drums first," he says. "I need a rhythm to play off." For the Hubbard Street collaboration, he found himself concentrating on rhythm and mood. "I wanted it to have this really wide feeling—kind of catastrophic," he says. "I wanted it to feel overwhelming."
From Your Site Articles
Related Articles Around the Web
Gettty Images
It's a cycle familiar to many: First, a striking image of a lithe, impossibly fit dancer executing a gravity-defying développé catches your eye on Instagram. You pause your scrolling to marvel, over and over again, at her textbook physique.
Inevitably, you take a moment to consider your own body, in comparison. Doubt and negative self-talk first creep, and then flood, in. "I'll never look like that," the voice inside your head whispers. You continue scrolling, but the image has done its dirty work—a gnawing sensation has taken hold, continually reminding you that your own body is inferior, less-than, unworthy.
It's no stretch to say that social media has a huge effect on body image. For dancers—most of whom already have a laser-focus on their appearance—the images they see on Instagram can seem to exacerbate ever-present issues. "Social media is just another trigger," says Nadine Kaslow, a psychologist who works with the dancers of Atlanta Ballet. "And dancers don't need another trigger." In the age of Photoshop and filters, how can dancers keep body dysmorphia at bay?
Keep reading...
Show less
Courtesy Boneau/Bryan-Brown
If "Fosse/Verdon" whet your appetite for the impeccable Gwen Verdon, then Merely Marvelous: The Dancing Genius of Gwen Verdon is the three-course meal you've been craving. The new documentary—available now on Amazon for rental or purchase—dives into the life of the Tony-winning performer and silver-screen star lauded for her charismatic dancing.

Though she's perhaps most well-known today as Bob Fosse's wife and muse, that's not even half of her story. For starters, she'd already won four Tonys before they wed, making her far more famous in the public eye than he was at that point in his career. That's just one of many surprising details we learned during last night's U.S. premiere of Merely Marvelous. Believe us: You're gonna love her even more once you get to know her. Here are eight lesser-known tidbits to get you started.
Keep reading...
Show less
Lindsay Thomas
Every dancer knows that how you fuel your body affects how you feel in the studio. Of course, while breakfast is no more magical than any other meal (despite the enduring myth that it's the most important one of the day), showing up to class hangry is a recipe for unproductive studio time.
So what do your favorite dancers eat in the morning to set themselves up for a busy rehearsal or performance day?
Keep reading...
Show less
News
Sep. 20, 2019 09:17AM EST
Simon Soong, Courtesy DDT
When it comes to dance in the U.S., companies in the South often find themselves overlooked—sometimes even by the presenters in their own backyard. That's where South Arts comes in. This year, the regional nonprofit launched Momentum, an initiative that will provide professional development, mentorship, touring grants and residencies to five Southern dance companies.
Keep reading...
Show less