Back in 2012, after 14 years dancing with Mark Morris Dance Group, choreographer John Heginbotham ventured out on his own. Don't think of it as going solo, though.
Almost from the outset, Heginbotham has embarked on a series of fruitful collaborations with other artists, via his namesake company, Dance Heginbotham, and through a stream of independent projects. His creative partners have covered a range of talents and genres: illustrator Maira Kalman (in 2017's The Principles of Uncertainty), opera director Peter Sellars (for Girls of the Golden West, which debuted at San Francisco Opera in November), and contemporary-music luminaries such as Tyondai Braxton and Alarm Will Sound.
Here's What He Has To Say: About starting his company, his rehearsal process and why he's drawn to creative mash-ups.

---
Starting A Company He Didn't Want
"When I left Mark Morris, I very specifically did not want to have my own company. But I found I was happy to work with the same people, have them consistently on the road with me, evolving together, developing aesthetic ideas."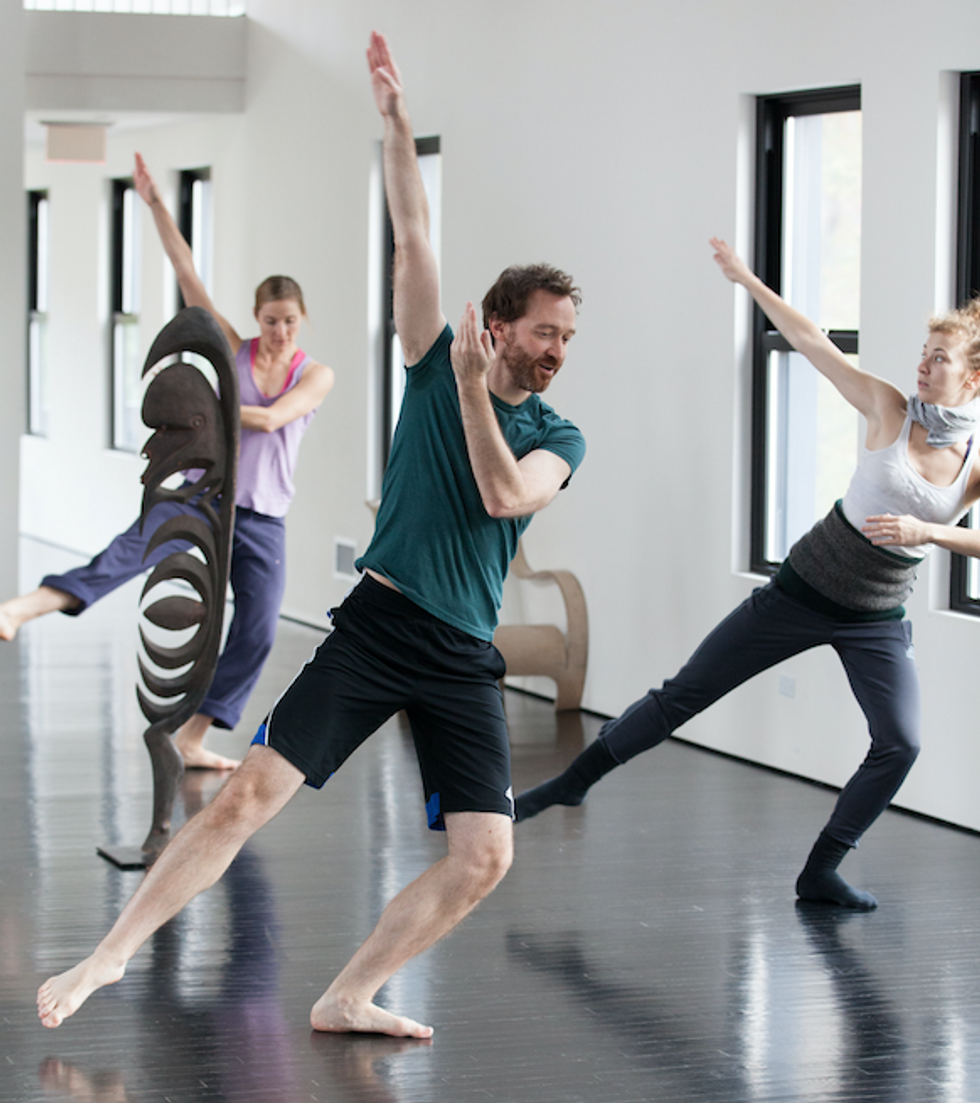 Heginbotham loves working with a familiar group of dancers. Photo by Janelle Jones, courtesy the Watermill Center
Coming Up With a "Band Name"
"We got a show at Jacob's Pillow, and they asked us to call ourselves something. We spent hours trying to come up with a name. I didn't want it to have my name, and I didn't want the word 'dance.' I wanted a band name, like Radiohead. But after talking to people whose advice I trust, I was convinced to call the dances exciting names, and leave the company name as something that people would understand."
Why He Loves Creative Collaborators
"I didn't know I'd be so focused on equal collaborators. And yet I've really welcomed that opportunity. If you're reacting to something—whether it's text, a piece of music, a painting—you can go with it or go against it, but there is something really solid to respond to. There are rules, and you can decide to break them or follow them.
"With Principles of Uncertainty, there weren't any rules. We were deciding what the boundaries were. It can become the opposite of liberating—just a free-for-all. Often those obstacles force you to make decisions that are better."
His Pre-Rehearsal Prep
"It makes me uncomfortable to walk into the studio with nothing prepared. I don't have to have everything—just something. Often the other people in the room will have the better solution to what I'm looking for.
"I really do trust that there will be a right answer, that there will be a solution—there's never been a time where we put a piece onstage and I felt, Wow, we had nothing for that little part."
Why His Snapchat-Like Memory Is An Advantage
"I forget things very quickly. I will make up a phrase, and I'll be able to hold on to it basically for the amount of time for someone else in the room to hold it. It's like Snapchat. I think it works to my advantage, though—it gives me an opportunity for some objectivity."
Inventing New Ways to be An Artist
"As the presentation of artistic work keeps changing, you see more nontraditional venues. Money is scarce, and institutions are finding challenges—but people are inventing new ways to be an artist. We're seeing all the other people doing the same thing, encountering each other—and collaboration is the beautiful, organic product of that."