This Museum Exhibit Shows How Dance Has Become a Form of Political Protest
From Dance of Urgency. © Ekvidi
When the going gets tough, the tough start dancing: That's the premise behind "Dance of Urgency," a recently opened exhibit at MuseumsQuartier Vienna that features photos, video and other documentary material relating to the use of dance as political protest or social uprising.
The groups featured in the show, largely based around clubs and electronic dance music scenes, span the globe and respond to a variety of issues—from inequality and social stratification to racial divides to crackdowns on club culture itself.
---
The curator behind the exhibit, which runs through September 1, is Bogomir Doringer, a Serbian-Dutch multimedia artist whose own work, "I Dance Alone," filmed crowds of dancers inside nightclubs. Doringer spoke with us about the emergence of dance as popular protest.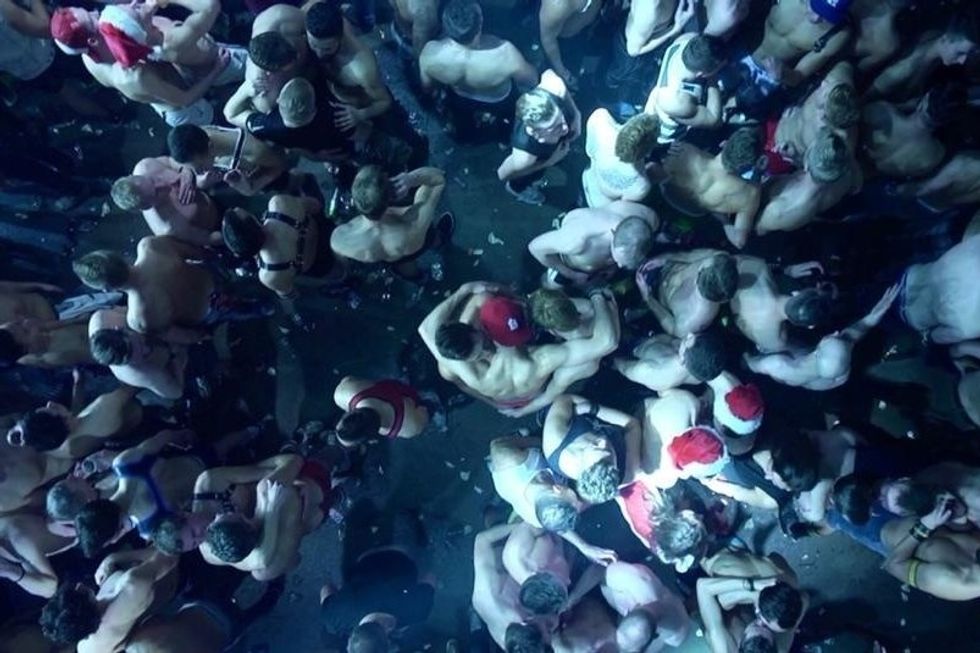 Fun House party, Amsterdam 2014, from "I Dance Alone"
Your studies were focused on film and multimedia work. How did you get interested in dance?
I'm from a generation that grew up during the war in Yugoslavia. I was always into topics that were socially or politically engaged. And I was always attracted to crowds and bodies and people.
In Belgrade, during the NATO bombing in '99, we didn't have schools, but we had free culture. I was 16 and hanging out on the dance floor of a techno club, Industrija.
Dancing has this mirroring effect: You collect the moves and reflect the moves around you. You were against Milosevic, but also against the bombings, which were frightening you. I became obsessed with the idea of looking at the dance floor as mirroring, as a social environment.
So when did you start filming dance clubs?
I started in 2014, looking at how the crowds were moving. I wanted to understand the crowd's character—when the synchronicity of bodies happens, whether people are moving together or not—and understand the diversity of the crowds.
Often it starts from an individual action and goes into a synchronized move. There are no instructions, just an environment where you give yourself away. It becomes extremely primitive, ritualistic.
These are nonprofessional dancers—that is very important.
How exactly does dance and club culture take on socio-political movements?
Even before Trump, before #MeToo, topics like female empowerment, sexual harassment, inclusivity/exclusivity were already being discussed at different conferences on club culture.
I see 9/11 as a trigger for change in society; it really did change the public space. In the context of dance, it changed the way that we are choreographed, both as individuals and in groups.
Can you give some examples?
One is Mamba Negra in Sao Paulo. Before it emerged, clubs were quite elitist. There was checking at the door; if you were a black person, you couldn't enter the club. At one techno club you had to use your fingerprint to enter.
So in reaction to the social layers, the divisions, younger groups of people started gathering in abandoned places, dead zones. The party was called Mamba Negra—it started as small groups of people, but now it's thousands. It wasn't necessarily coming from politics. But it created a counterculture.
Another one: Bassiani, a club in Tbilisi, became a space for experimentation, and created a political opposition to the more conservative, orthodox society. When the club was attacked by police last year, people gathered on the streets to protest. It became two days of dancing in the street.
And then there was an anti-fascist dance protest in Berlin—just two weeks later.
Raves are now becoming a protest format.
Do you see connections between club dance and choreographed performances?
We see dance as art when happens on stage, or in a museum context—but many of these individuals, and groups, have quite high artistic expression on the dance floor. There are clubs that curate an environment where such experiences are possible: There is light, there is music and smoke; there is role playing; there is masquerade. These are a lot of the elements we use when we describe an art performance.
From Your Site Articles
Related Articles Around the Web
Rehearsal of Yvonne Rainer's Parts of Some Sextets. Photo by Paula Court, Courtesy Performa.
Yvonne Rainer's Parts of Some Sextets (AKA "the mattress dance") hasn't been revived since it premiered in 1965. Nor has Rainer had any wish to do it again, to ask performers to heave 10 mattresses around while carrying out 31 tasks that changed every 30 seconds. It was an unwieldy, difficult dance. (Even the title is unwieldy.) But Emily Coates, who has danced in Rainer's work for 20 years, became curious about this piece and was determined to see it again—and to dance in it. She will get her wish November 15–17, when the mattress dance will be performed as part of the Performa 19 Biennial.
Keep reading...
Show less
Ailey II artistic director Troy Powell teaching an Ailey Workshop at NYCDA. Courtesy NYCDA
Back in 2011 when Joe Lanteri first approached Katie Langan, chair of Marymount Manhattan College's dance department, about getting involved with New York City Dance Alliance, she was skeptical about the convention/competition world.
"But I was pleasantly surprised by the enormity of talent that was there," she says. "His goal was to start scholarship opportunities, and I said okay, I'm in."
Today, it's fair to say that Lanteri has far surpassed his goal of creating scholarship opportunities. But NYCDA has done so much more, bridging the gap between the convention world and the professional world by forging a wealth of partnerships with dance institutions from Marymount to The Ailey School to Complexions Contemporary Ballet and many more. There's a reason these companies and schools—some of whom otherwise may not see themselves as aligned with the convention/competition world—keep deepening their relationships with NYCDA.
Now, college scholarships are just one of many ways NYCDA has gone beyond the typical weekend-long convention experience and created life-changing opportunities for students. We rounded up some of the most notable ones:
Keep reading...
Show less
Left: Hurricane Harvey damage in Houston Ballet's Dance Lab; Courtesy Harlequin. Right: The Dance Lab pre-Harvey; Nic Lehoux, Courtesy Houston Ballet.
"The show must go on" may be a platitude we use to get through everything from costume malfunctions to stormy moods. But when it came to overcoming a literal hurricane, Houston Ballet was buoyed by this mantra to go from devastated to dancing in a matter of weeks—with the help of Harlequin Floors, Houston Ballet's longstanding partner who sprang into action to build new floors in record time.
Keep reading...
Show less