This Museum Exhibit Shows How Dance Has Become a Form of Political Protest
From Dance of Urgency. © Ekvidi
When the going gets tough, the tough start dancing: That's the premise behind "Dance of Urgency," a recently opened exhibit at MuseumsQuartier Vienna that features photos, video and other documentary material relating to the use of dance as political protest or social uprising.
The groups featured in the show, largely based around clubs and electronic dance music scenes, span the globe and respond to a variety of issues—from inequality and social stratification to racial divides to crackdowns on club culture itself.
---
The curator behind the exhibit, which runs through September 1, is Bogomir Doringer, a Serbian-Dutch multimedia artist whose own work, "I Dance Alone," filmed crowds of dancers inside nightclubs. Doringer spoke with us about the emergence of dance as popular protest.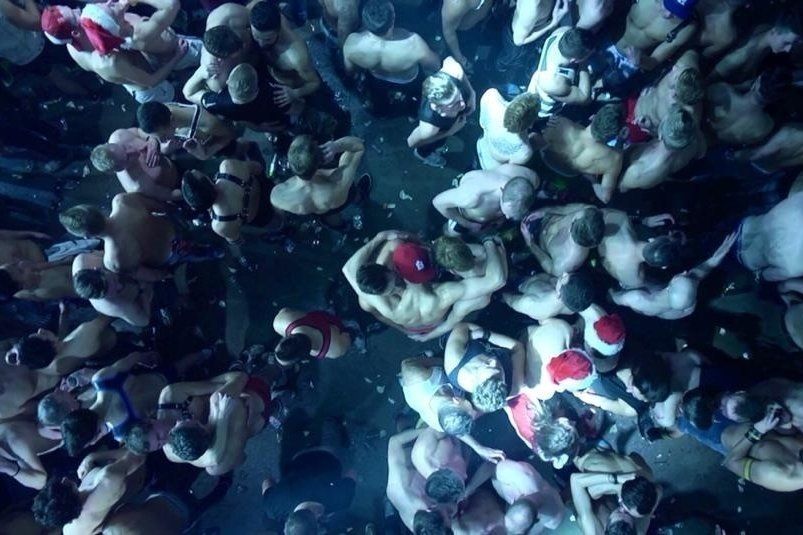 Fun House party, Amsterdam 2014, from "I Dance Alone"
Your studies were focused on film and multimedia work. How did you get interested in dance?
I'm from a generation that grew up during the war in Yugoslavia. I was always into topics that were socially or politically engaged. And I was always attracted to crowds and bodies and people.
In Belgrade, during the NATO bombing in '99, we didn't have schools, but we had free culture. I was 16 and hanging out on the dance floor of a techno club, Industrija.
Dancing has this mirroring effect: You collect the moves and reflect the moves around you. You were against Milosevic, but also against the bombings, which were frightening you. I became obsessed with the idea of looking at the dance floor as mirroring, as a social environment.
So when did you start filming dance clubs?
I started in 2014, looking at how the crowds were moving. I wanted to understand the crowd's character—when the synchronicity of bodies happens, whether people are moving together or not—and understand the diversity of the crowds.
Often it starts from an individual action and goes into a synchronized move. There are no instructions, just an environment where you give yourself away. It becomes extremely primitive, ritualistic.
These are nonprofessional dancers—that is very important.
How exactly does dance and club culture take on socio-political movements?
Even before Trump, before #MeToo, topics like female empowerment, sexual harassment, inclusivity/exclusivity were already being discussed at different conferences on club culture.
I see 9/11 as a trigger for change in society; it really did change the public space. In the context of dance, it changed the way that we are choreographed, both as individuals and in groups.
Can you give some examples?
One is Mamba Negra in Sao Paulo. Before it emerged, clubs were quite elitist. There was checking at the door; if you were a black person, you couldn't enter the club. At one techno club you had to use your fingerprint to enter.
So in reaction to the social layers, the divisions, younger groups of people started gathering in abandoned places, dead zones. The party was called Mamba Negra—it started as small groups of people, but now it's thousands. It wasn't necessarily coming from politics. But it created a counterculture.
Another one: Bassiani, a club in Tbilisi, became a space for experimentation, and created a political opposition to the more conservative, orthodox society. When the club was attacked by police last year, people gathered on the streets to protest. It became two days of dancing in the street.
And then there was an anti-fascist dance protest in Berlin—just two weeks later.
Raves are now becoming a protest format.
Do you see connections between club dance and choreographed performances?
We see dance as art when happens on stage, or in a museum context—but many of these individuals, and groups, have quite high artistic expression on the dance floor. There are clubs that curate an environment where such experiences are possible: There is light, there is music and smoke; there is role playing; there is masquerade. These are a lot of the elements we use when we describe an art performance.
From Your Site Articles
Related Articles Around the Web
Gettty Images
It's a cycle familiar to many: First, a striking image of a lithe, impossibly fit dancer executing a gravity-defying développé catches your eye on Instagram. You pause your scrolling to marvel, over and over again, at her textbook physique.
Inevitably, you take a moment to consider your own body, in comparison. Doubt and negative self-talk first creep, and then flood, in. "I'll never look like that," the voice inside your head whispers. You continue scrolling, but the image has done its dirty work—a gnawing sensation has taken hold, continually reminding you that your own body is inferior, less-than, unworthy.
It's no stretch to say that social media has a huge effect on body image. For dancers—most of whom already have a laser-focus on their appearance—the images they see on Instagram can seem to exacerbate ever-present issues. "Social media is just another trigger," says Nadine Kaslow, a psychologist who works with the dancers of Atlanta Ballet. "And dancers don't need another trigger." In the age of Photoshop and filters, how can dancers keep body dysmorphia at bay?
Keep reading...
Show less
Courtesy Boneau/Bryan-Brown
If "Fosse/Verdon" whet your appetite for the impeccable Gwen Verdon, then Merely Marvelous: The Dancing Genius of Gwen Verdon is the three-course meal you've been craving. The new documentary—available now on Amazon for rental or purchase—dives into the life of the Tony-winning performer and silver-screen star lauded for her charismatic dancing.

Though she's perhaps most well-known today as Bob Fosse's wife and muse, that's not even half of her story. For starters, she'd already won four Tonys before they wed, making her far more famous in the public eye than he was at that point in his career. That's just one of many surprising details we learned during last night's U.S. premiere of Merely Marvelous. Believe us: You're gonna love her even more once you get to know her. Here are eight lesser-known tidbits to get you started.
Keep reading...
Show less
Lindsay Thomas
Every dancer knows that how you fuel your body affects how you feel in the studio. Of course, while breakfast is no more magical than any other meal (despite the enduring myth that it's the most important one of the day), showing up to class hangry is a recipe for unproductive studio time.
So what do your favorite dancers eat in the morning to set themselves up for a busy rehearsal or performance day?
Keep reading...
Show less
News
Sep. 20, 2019 09:17AM EST
Simon Soong, Courtesy DDT
When it comes to dance in the U.S., companies in the South often find themselves overlooked—sometimes even by the presenters in their own backyard. That's where South Arts comes in. This year, the regional nonprofit launched Momentum, an initiative that will provide professional development, mentorship, touring grants and residencies to five Southern dance companies.
Keep reading...
Show less