Yup, Dance Is The Best Workout. Science Says So.
Danza Contemporanéa de Cuba. Photo by Quinn Wharton
We already know that dancing is basically the greatest thing you could do for yourself. (Even if, ahem, your feet end up without toenails during sandal season.)
But it's always great when science proves us right.
---
A small study out of the University of Brighton in the UK shows that dancing burns about 600 calories per hour, which is about the same or more than going for a swim or a run for the same amount of time. Of course, an hour of grand allegro is going to push your body much harder than an hour of your grandfather's two-step. But researchers say that even tamer styles of dance can burn about the same number of calories as cycling.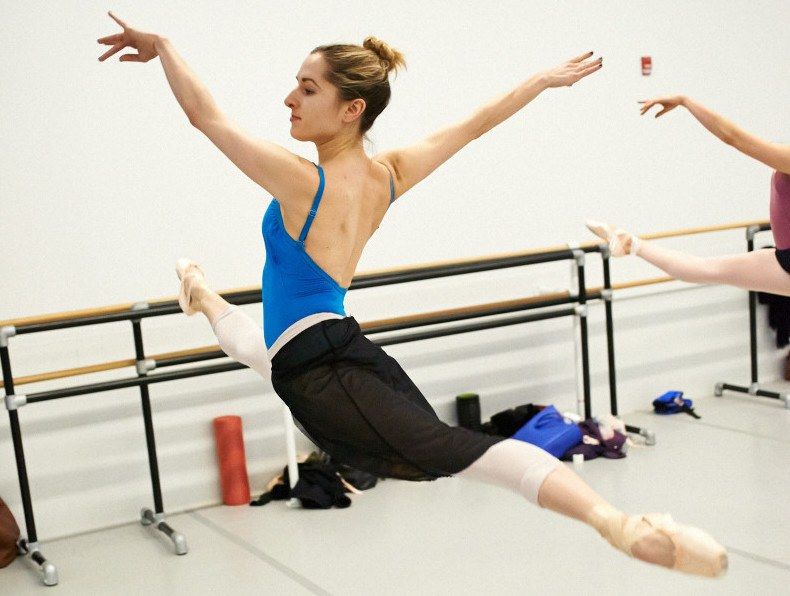 Pennsylvania Ballet's Adrianna de Svastich. Photo by Jim Lafferty.
Nick Smeeton, a coauthor of the report, told Time magazine that all the changes of directions, accelerating and decelerating, and stopping and starting challenges your body in a way that a straightforward run around the park never will. You can't just coast by on momentum when you're dancing. And more of the little support muscles get activated—and strengthened—because your body moves in so many different ways.
But let's not forget that dance is worth much more than calorie burn and muscle building. Research has also shown that it improves mood, lowers stress, boosts energy, curbs anxiety, slows cognitive decline, increases confidence—we could go on and on.
Let's just say, dance for the win!
Getty Images
It's hour three of an intense rehearsal, you're feeling mentally foggy and exhausted, and your stomach hurts. Did you know the culprit could be something as simple as dehydration?
Proper hydration helps maintain physical and mental function while you're dancing, and keeps your energy levels high. But with so many products on the market promising to help you rehydrate more effectively, how do you know when it's time to reach for more than water?
Keep reading...
Show less
James Beaudreau, Courtesy Lara
Inside a bustling television studio in Los Angeles, Lindsay Arnold Cusick hears the words "Five minutes to showtime." While dancers and celebrities covered head to toe in sequins whirl around preparing for their live performances on "Dancing with the Stars," Cusick pauses to say a prayer to God and express her gratitude.
"I know that it's not a given, and I'm grateful for the opportunity to do what I love for a living," says Cusick, a member of The Church of Jesus Christ of Latter-day Saints. For her, prayer is a ritualized expression of her faith that she has maintained since she was a girl in Provo, Utah. Even with her seven-plus years of industry experience, she always takes a moment to steady herself and close her prayer in Christ's name before rushing onto the stage.
Keep reading...
Show less
The hotly-debated Michael Jackson biomusical is back on. Not that it was ever officially off, but after its pre-Broadway Chicago run was canceled in February, its future seemed shaky.
Now, the show has secured a Broadway theater, with previews starting July 6 at the Neil Simon Theater.
Keep reading...
Show less
Jacques d'Amboise leading a National Dance Institute class. Photo by Lois Greenfield, Courtesy DM Archives
In the October 1969 issue of Dance Magazine, we spoke with Jacques d'Amboise, then 20 years into his career with New York City Ballet. Though he became a principal dancer in 1953, the star admitted that it hadn't all been smooth sailing.
Keep reading...
Show less