Our 2018 Cover Stars Shared Their Biggest Hopes for the Year Ahead
Outtakes from Dance Magazine cover shoots, shot by Nathan Sayers, Jayme Thornton and Quinn Wharton
It's that time again: Everyone's looking at the year to come and thinking about what they might want to get out of it.
So we asked our cover stars from Dance Magazine's 2018 issues what they're hoping for. Their answers spanned everything from more growth and more touring, to more family time and more rest.
---
Emma Portner, October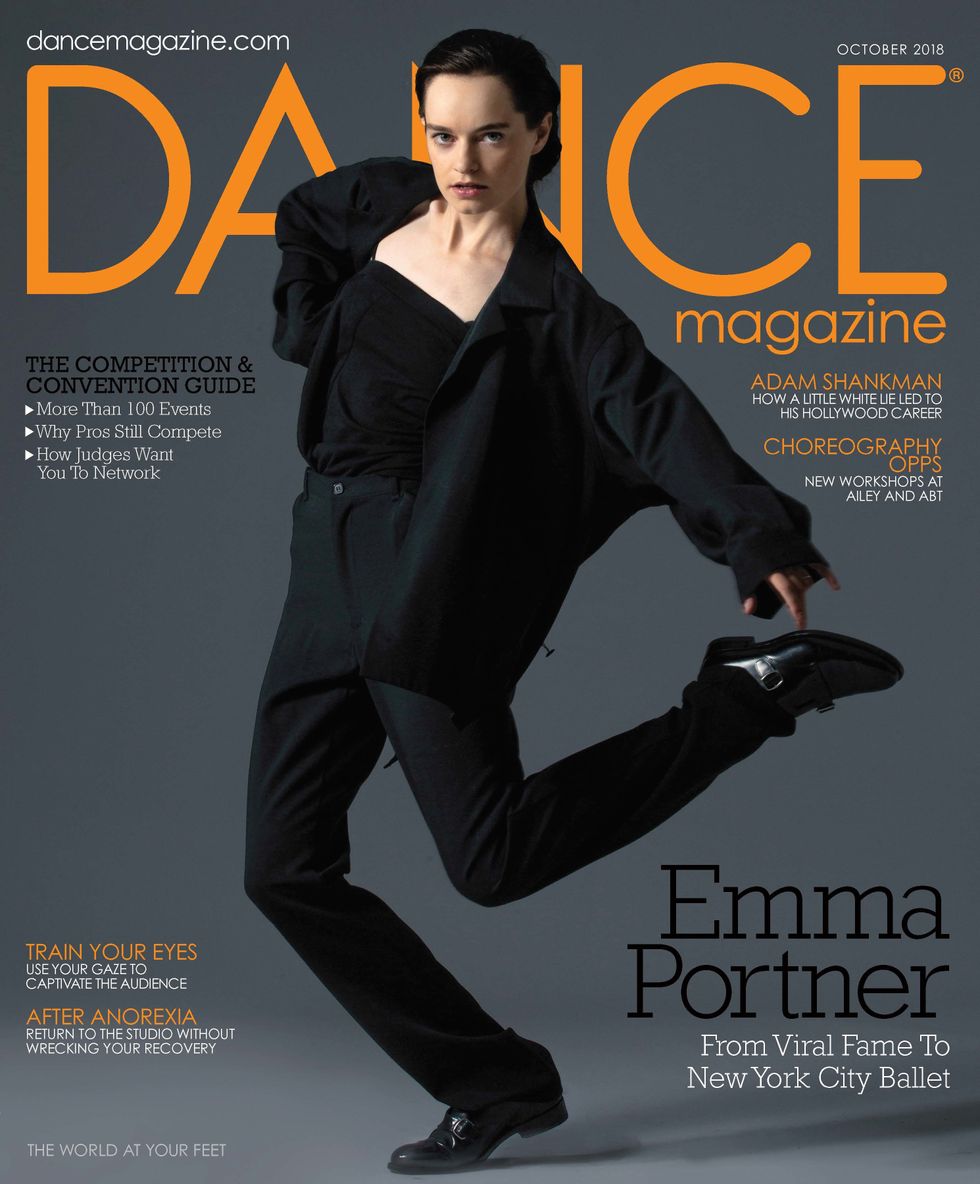 "I would like to be directed by, work for and collaborate with others much more. To 'be my own boss' much less. I hope to perform. I will continue starting an organic farming operation and I will build my forever studio space on a river (that is not a joke). I will start acting. I will continue working on my mental and physical health in order to sustain my career. Mostly, I hope to be healthier so that I can keep up with the demands of my dreams."
Adji Cissoko, December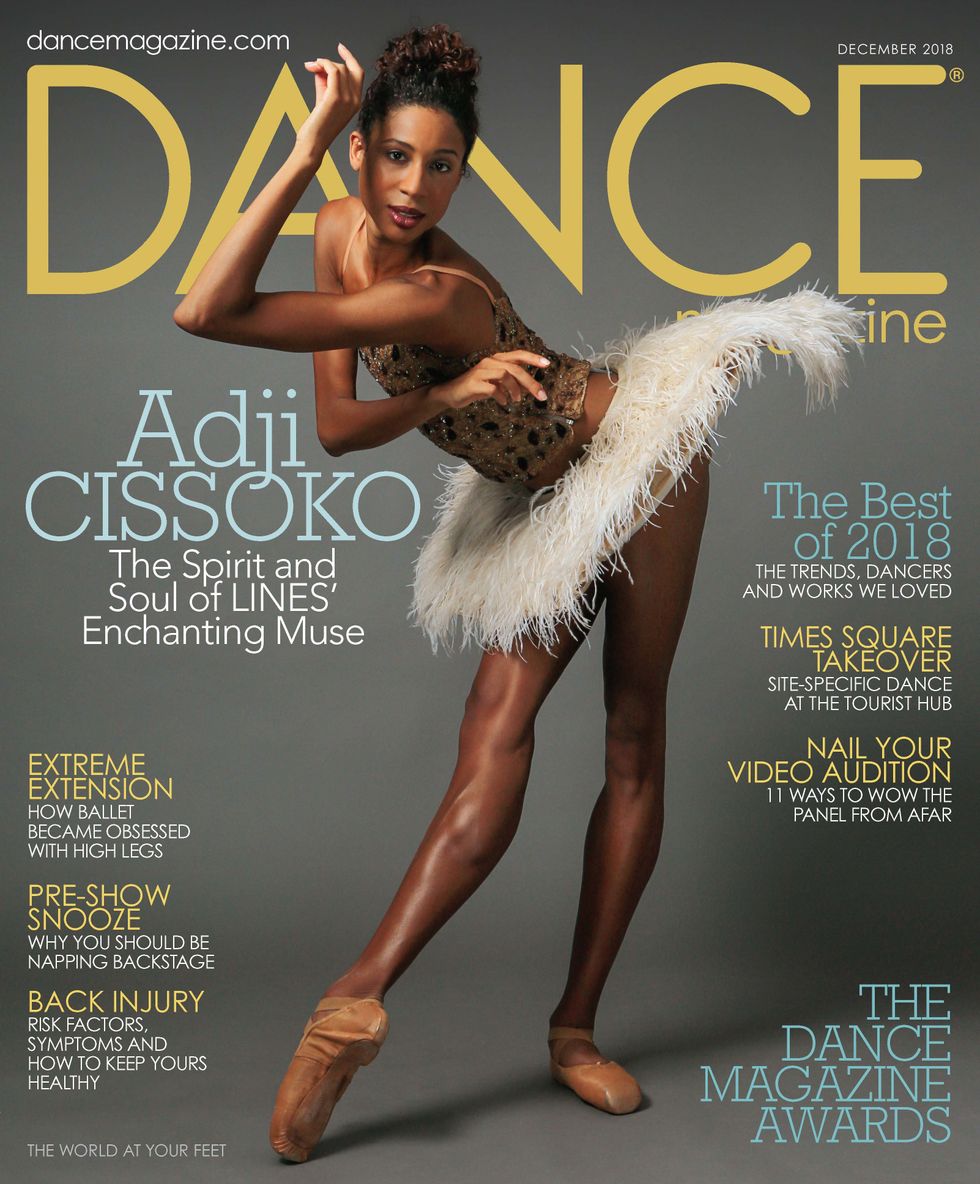 "I'm so grateful for my family and my boyfriend who have been supporting me from afar while I'm living my dream in California, dancing with LINES Ballet and seeing the world. So I'm excited our 2019 touring schedule includes multiple trips to Germany, which means my family and friends will get to see me perform.
"My goal is to keep growing as an artist and as a person, which go hand-in-hand really. I'm happy and proud of my achievements so far, but I know there's always more and further to go and I can't wait to start another year of curious exploring."

Alice Sheppard, July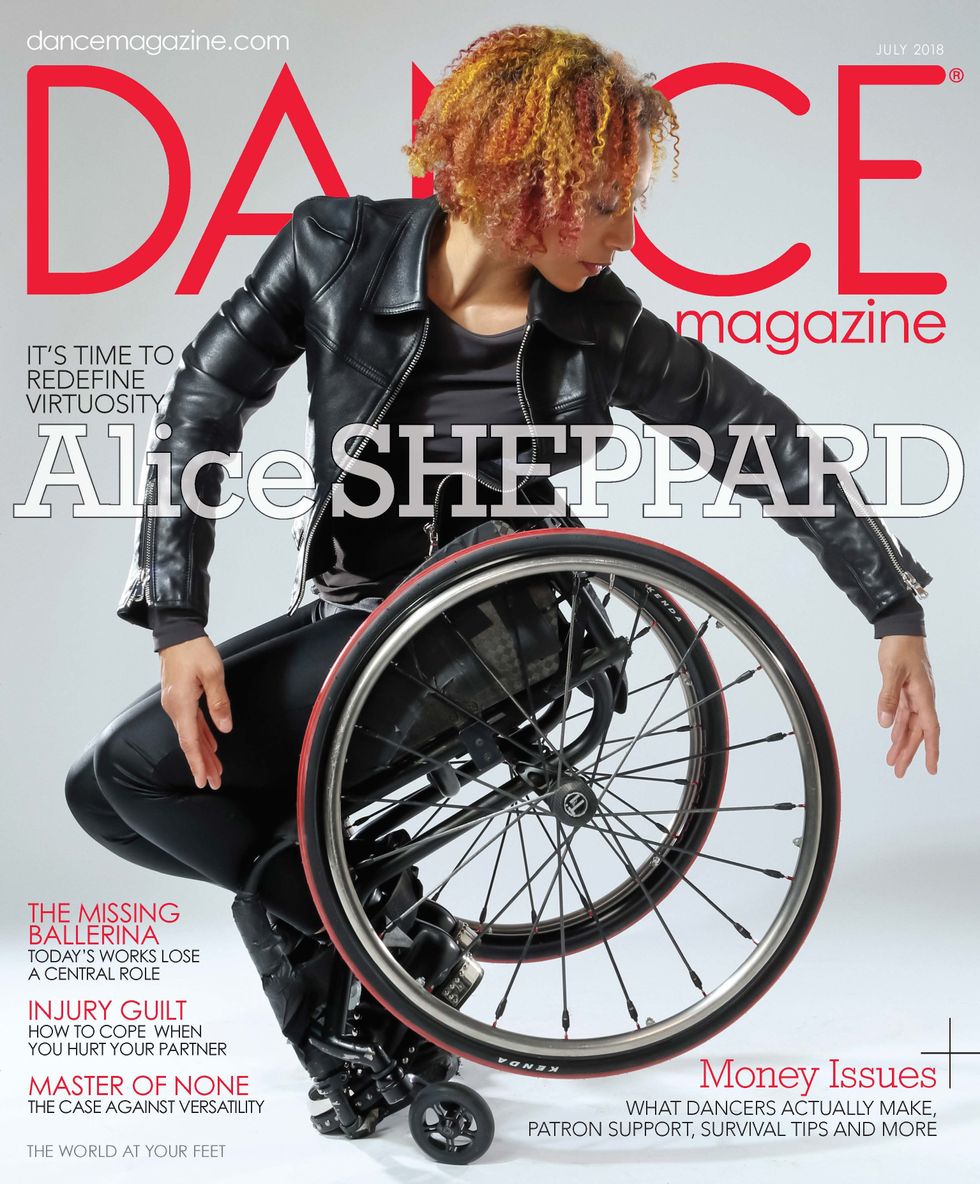 "Some years are so wonder-filled that they could not be imagined and wished for at all: 2018 was one. I am hesitant to dream ahead for 2019. It's almost as if naming something jinxes it. And yet for all of the magic moments of 2018, I do want 2019 to be different. I hope for space and time to think, breathe and work differently onstage and in the world. I am reducing some of my work commitments so that I can spend more time being human. I lost touch with people I care about; I am actively making sure that doesn't happen again. I am also giving myself the personal challenge of learning new and non-dance-specific things. I've been horse riding horses now for several years; I find it simultaneously exhilarating and restoring. This year, I want to learn to jump. I'm also giving myself space and time to build my resilience. I don't know how to change the world, but I do know that the first step is to enhance my skill set by sharing what I know and learning from others. I am curious to see how these joys and learnings will affect my creative practice."
Leal Zielińska and Erica Lall, January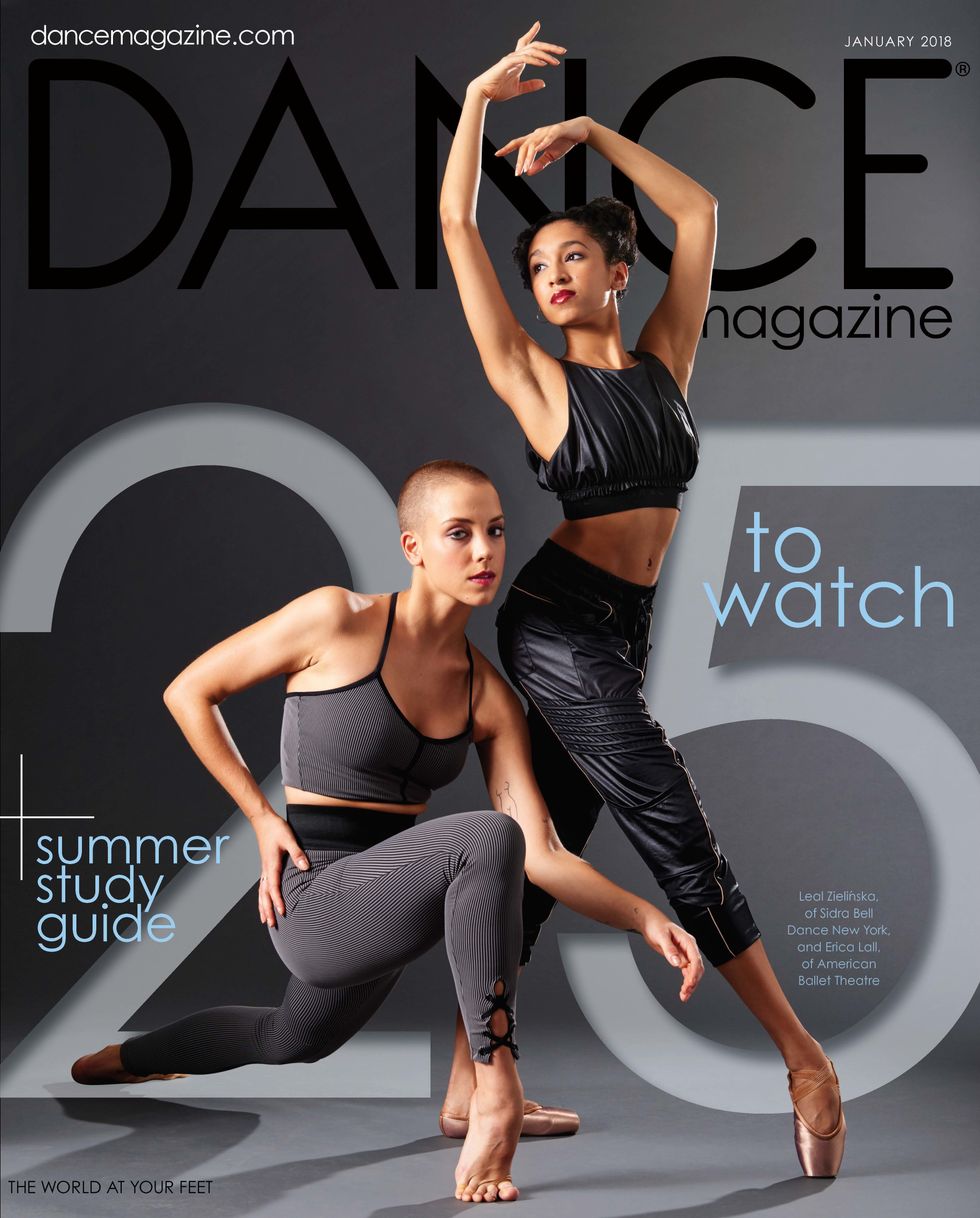 Leal Zielińska: "2018, to me, has been a year full of surprises and nurturing opportunities. I've received a tremendous amount, all for which I am continuously grateful. Moving forward, aside from tackling the everyday pleasures and challenges of dancing full-time, I'm creating an advocacy project under the wings of Gibney Dance Company. It's been a goal of mine for a while, and now I'm finally empowered to act, focusing on mental health and how we as dance artists address it. It's something I'm very passionate about, and I can't wait to see my efforts around it flourish in the new year!"
Erica Lall: "Because I lived on my own from the age of 15 and started my professional career when I joined American Ballet Theatre at 17, there is a lot that I would like to achieve in 2019 in the area of rounding out the person that I am. I hope the new year brings me many opportunities to enrich my mind and soul with knowledge and wisdom to take me forward into my 21st year and the years ahead as a better person who is ready for the bends and twists of my path, ready to serve, and able to shine my light even brighter to my audiences.

"I also hope that we can, as a nation, find more love for one another and have greater appreciation of our differences in all aspects of life."
James Whiteside, August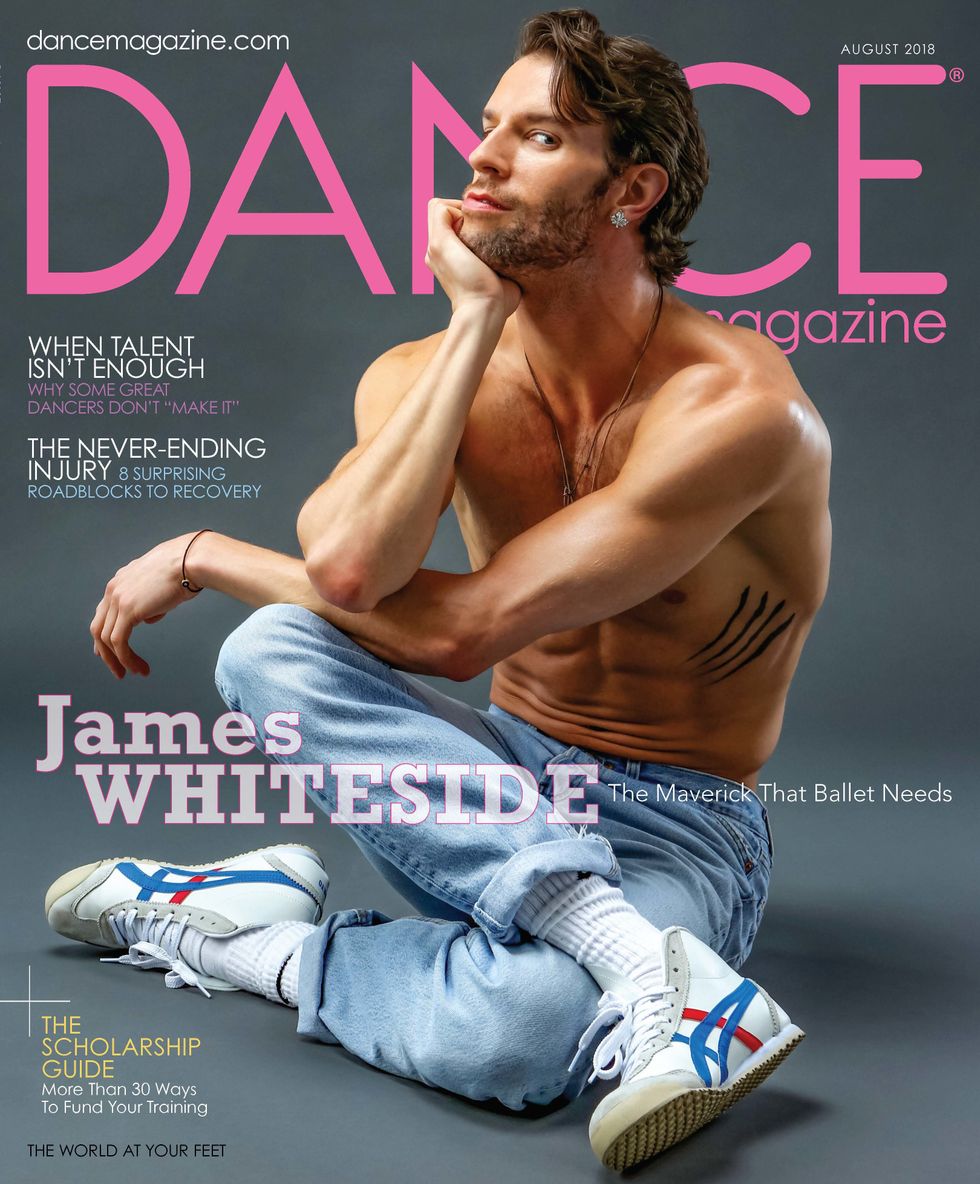 "I'd like 2019 to be a year of creative expression, opportunity and growth. I want to find new ways to give back to the dance world for all it's given me. I'm going to be making new music as my alter ego, JBDUBS, and exploring choreography in a way I have not been able to in the past. Most importantly, I'd like to dance often and well, in New York City and around the world. I'd love to be a guest artist at The Royal Ballet in London or the Paris Opéra Ballet in Paris. Don't dream it, BE IT!"
Camille A. Brown, April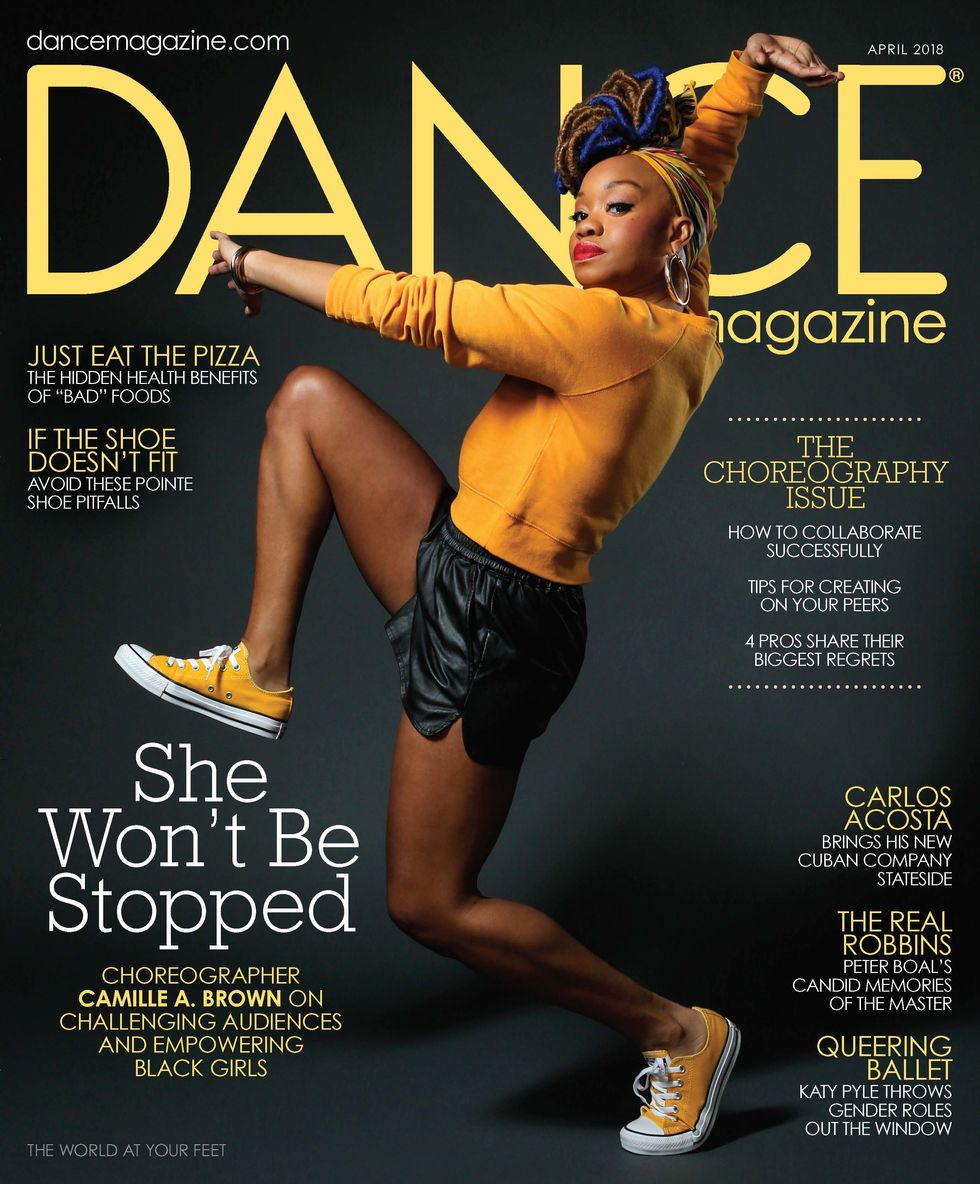 "I want to lift up my community! My dancers, musicians and administrative staff are also choreographers, teachers, educators, composers and directors. With all of their workload, they still give so much to my company and are a solid foundation for me. May all of their wildest dreams come true in 2019!
"Personally, I want to continue to listen, love, learn and always stay true to myself. To continue building stamina, courage and strength. To keep self-care at the top of my priority list as I climb the hills leading to my goals! Cheers to 2019! Let's do this!"
Laura Halzack, February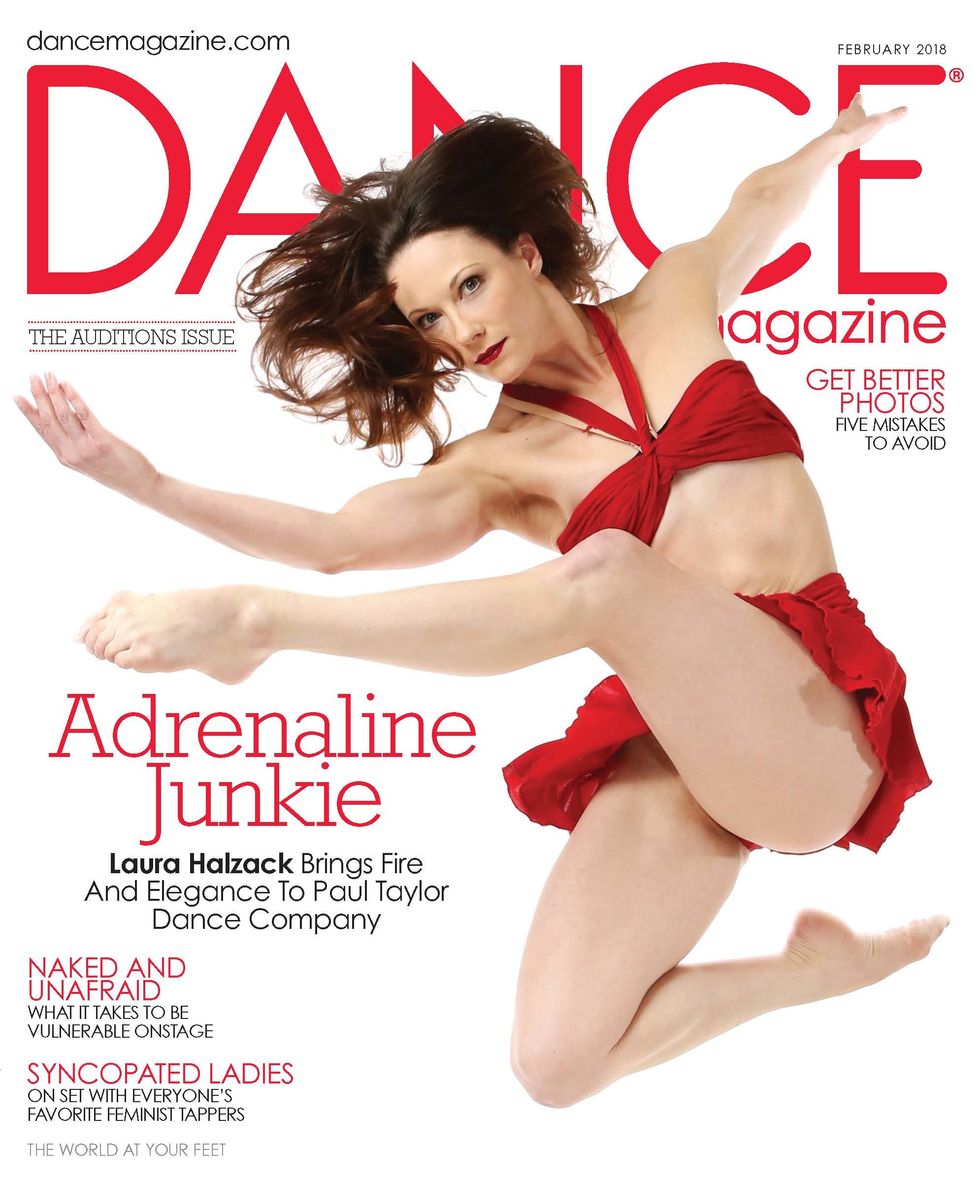 "As 2018 comes to a close I can't help but first feel especially humbled and grateful to be a part of the Taylor family. We lost our fearless and ever-inventive leader this year. Losing Mr. Taylor has made me feel even more connected to his beautiful canon and to the incredible individuals that I get to share this dance journey with.
"My first wish for 2019 is to continue to find an even deeper courage to explore the plethora of emotional and physical nuances in Mr. Taylor's work. I hope the joy that my colleagues and I feel engaging in this creative and sacred process continues to honor his work for years to come and bring joy to audiences old and new.
"Beyond that, I hope for 2019 to be a year filled with more love, more tolerance, more generosity of spirit and less hate. I hope that our incredible dance community will have opportunities to continue to be at the forefront of being positive, provocative and proactive as we all seek happiness in a hopefully more tolerant world."
Jason Samuels Smith, June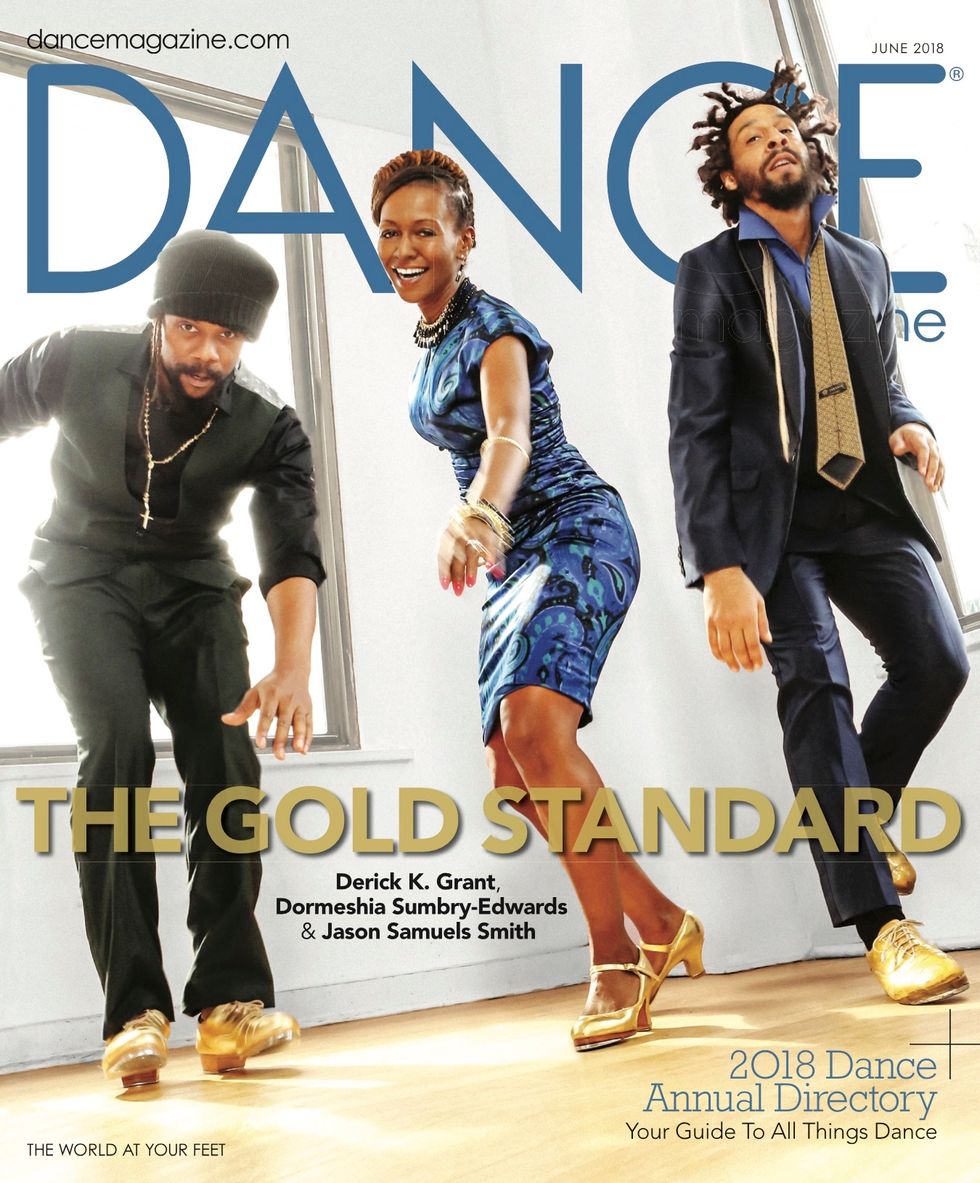 "I would love to see the Super Villainz (Jason, Dormeshia and Derick) do a tour of some sort, teaching and performing together. There is a lot of talent in the pool of tap dance that extends beyond just dance—I would love to see more dancers, including myself, writing more stories. I want to personally record more tap dance as music and begin being more of a presence in the recording world.
"I am also working on a new show, and planning to launch a new youth company in the near future. There is a lot of work to do, but it's exciting to continue to collaborate and work on new projects and visualize another phase for tap dance for 2019."
Robbie Fairchild, May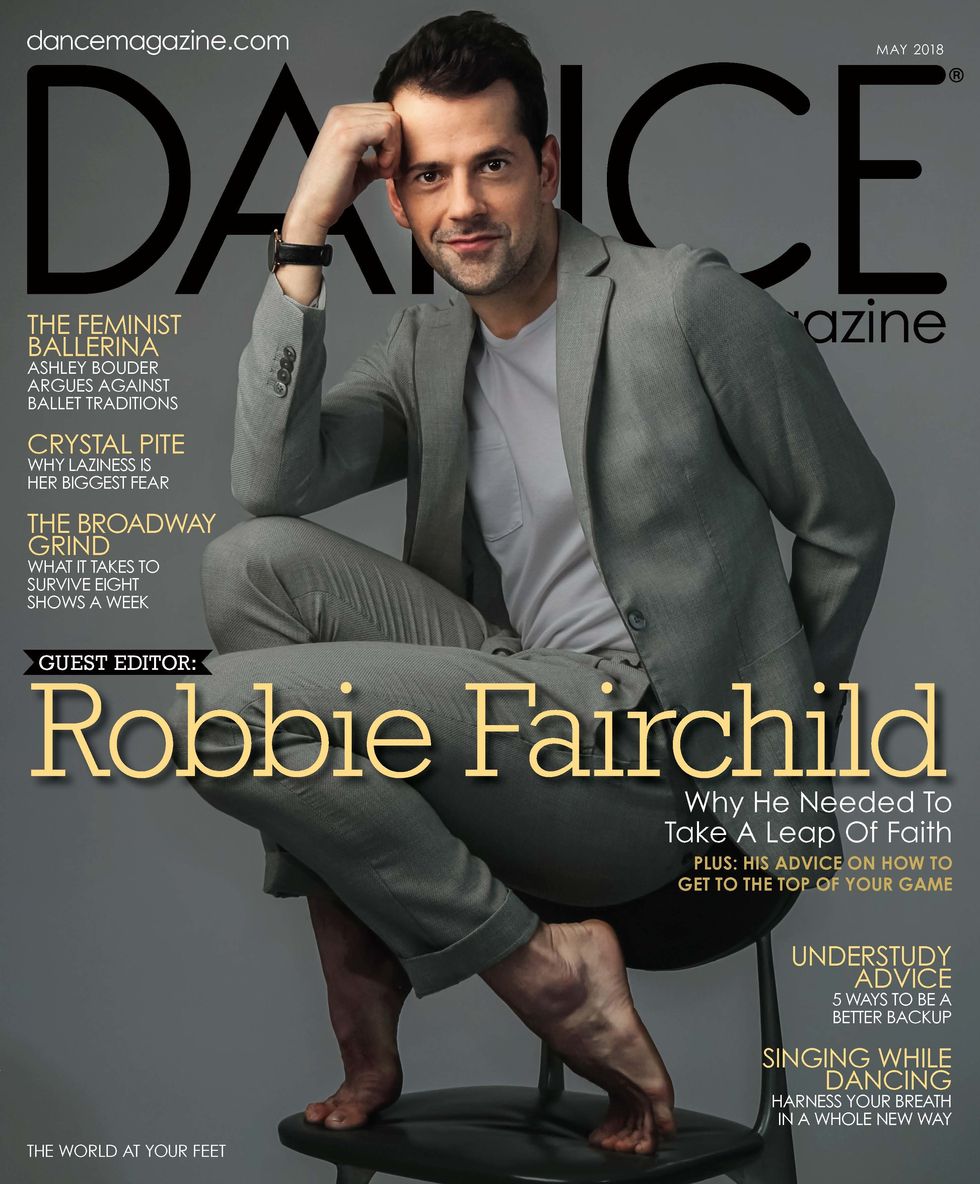 "My hope for the year ahead is that we stop living in our phones so much. Social media can be toxic if it's not kept at a balance. I believe class and performances are more important than your social media posts. No matter how many followers you have or how many likes you get on a post, the only lasting validation you can get is from yourself. Let's all love ourselves a bit more and be our own cheerleaders this year. If we love and support ourselves we can love and support those around us better."
From Your Site Articles
Related Articles Around the Web
Rachel Papo
In the middle of one of New York City Center's cavernous studios, Misty Copeland takes a measured step backwards. The suggestion of a swan arm ripples before she turns downstage, chest and shoulders unfurling as her legs stretch into an open lunge. She piqués onto pointe, arms echoing the sinuous curve of her back attitude, then walks out of it, pausing to warily look over her shoulder. As the droning of Ryuichi Sakamoto and Alva Noto's mysterious "Attack/Transition" grows more insistent, her feet start to fly with a rapidity that seems to almost startle her.
And then she stops mid-phrase. Copeland's hands fall to her hips as she apologizes. Choreographer Kyle Abraham slides to the sound system to pause the music, giving Copeland a moment to remind herself of a recent change to the sequence.
"It's different when the sound's on!" he reassures her. "And it's a lot of changes."
The day before was the first time Abraham had seen Copeland dance the solo in its entirety, and the first moment they were in the studio together in a month. This is their last rehearsal, save for tech, before the premiere of Ash exactly one week later, as part of the opening night of City Center's Fall for Dance festival.
Keep reading...
Show less
Ailey II artistic director Troy Powell teaching an Ailey Workshop at NYCDA. Courtesy NYCDA
Back in 2011 when Joe Lanteri first approached Katie Langan, chair of Marymount Manhattan College's dance department, about getting involved with New York City Dance Alliance, she was skeptical about the convention/competition world.
"But I was pleasantly surprised by the enormity of talent that was there," she says. "His goal was to start scholarship opportunities, and I said okay, I'm in."
Today, it's fair to say that Lanteri has far surpassed his goal of creating scholarship opportunities. But NYCDA has done so much more, bridging the gap between the convention world and the professional world by forging a wealth of partnerships with dance institutions from Marymount to The Ailey School to Complexions Contemporary Ballet and many more. There's a reason these companies and schools—some of whom otherwise may not see themselves as aligned with the convention/competition world—keep deepening their relationships with NYCDA.
Now, college scholarships are just one of many ways NYCDA has gone beyond the typical weekend-long convention experience and created life-changing opportunities for students. We rounded up some of the most notable ones:
Keep reading...
Show less
Getty Images
Dancers are understandably obsessed with food. In both an aesthetic and athletic profession, you know you're judged on your body shape, but you need proper fuel to perform your best. Meanwhile, you're inundated with questionable diet advice.
"My 'favorite' was the ABC diet," says registered dietitian nutritionist Kristin Koskinen, who trained in dance seriously but was convinced her body type wouldn't allow her to pursue it professionally. "On the first day you eat only foods starting with the letter A, on the second day only B, and so on."
Keep reading...
Show less
Left: Hurricane Harvey damage in Houston Ballet's Dance Lab; Courtesy Harlequin. Right: The Dance Lab pre-Harvey; Nic Lehoux, Courtesy Houston Ballet.
"The show must go on" may be a platitude we use to get through everything from costume malfunctions to stormy moods. But when it came to overcoming a literal hurricane, Houston Ballet was buoyed by this mantra to go from devastated to dancing in a matter of weeks—with the help of Harlequin Floors, Houston Ballet's longstanding partner who sprang into action to build new floors in record time.
Keep reading...
Show less