Op-Ed: It's Time to Stop Dancing to Michael Jackson
I was on my favorite treadmill when it happened.
My best running buddy was on my left. To my right, a total stranger with whom I'd suddenly become competitive. As the 15-person group headed into a two-minute push, the instructor got hyped, and the remix blasting Rihanna's "We Found Love" transitioned to "Smooth Criminal."
---
At the first familiar beat, I felt sick. I waited for the instructor to stop circling the room and to hustle back to the iPhone dock to advance the playlist. Surely she wasn't going to let us keep running to the beat of Michael Jackson, right?
No. Not only did she not change the song, she danced along to it. She loved it.
Maybe she didn't notice. Maybe she hadn't seen Leaving Neverland. Maybe she'd never even heard of it. Or, the thought I simply couldn't fathom: Maybe she had seen it, had heard of it, and simply didn't care.
I vaguely remember watching Michael Jackson perform at the Super Bowl Halftime Show in 1993. I was 7 at the time, and even then, I remember being creeped out by the one-gloved man on the screen. This was, of course, long before the internet, but I remember people calling him a pedophile; a creep; sick. Joking about how he "loved little boys."
But still, I listened to his music. I performed a tap routine to "They Don't Really Care About Us," and who among my generation didn't dance a lyrical number to "Heal the World" at some point?
I remember being in third or fourth grade, and my tap/ballet combo class at Miss Pam's dance studio was set to perform our recital piece to a Michael Jackson song. At the last minute, we were told we'd be dancing to a different song. No one told us why, but I remember the moms in the lobby talking about how it was because of the accusations.
That was 1993.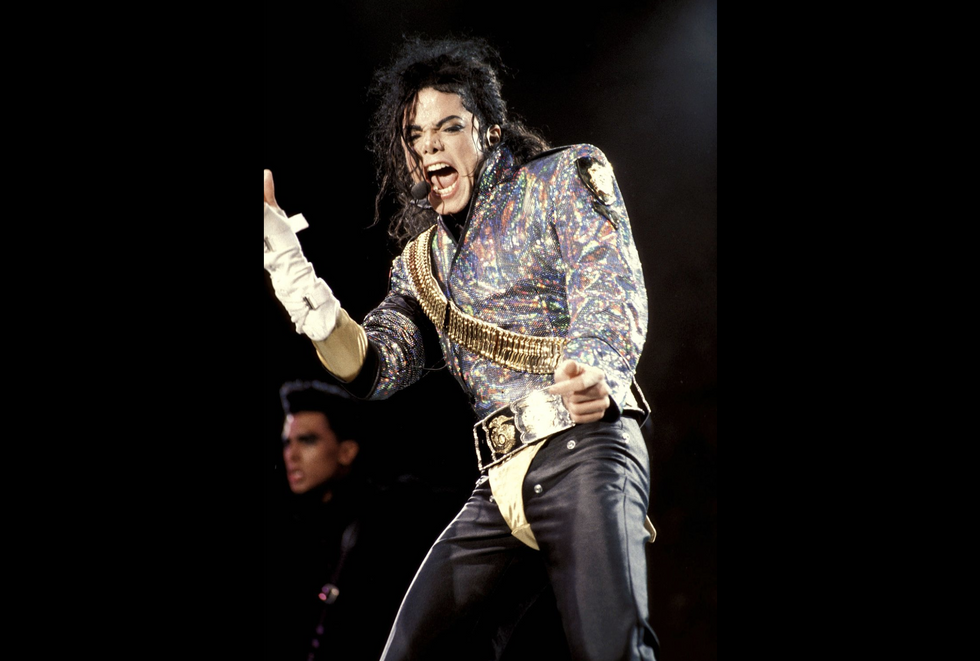 Wikimedia Commons
But his music was so good, and we all listened. "Man in the Mirror" was my jam on dramatic high school days, and I rocked out to "Don't Stop Till You Get Enough" while driving to my dance competitions at 7 AM. I loved the music, even if the man behind the beat made me uncomfortable.
But I can't do it anymore.
I spent five hours last weekend watching Leaving Neverland and Oprah's post-show interview with Wade Robson, James Safechuck and the film's director, Dan Reed. For five hours, I cried.
I cried watching my teenage dance idol, Wade Robson, recall moments of abuse and confusion from his past. I cried tears of horror, of shock, of sadness. When I was 16 years old, I decided I wanted to grow up and work at Dance Spirit magazine because I wanted to get to write about Wade Robson. His March 2003 cover is still hanging on my childhood bedroom wall. (DON'T TAKE IT DOWN, MOM. Not ever!)
And then I cried, scrolling Twitter, assuming I would find hoards of people like myself, who were equally horrified by the film—but instead, I found an endless scroll of defenders. People calling Wade and James liars, saying they were trying to profit off Michael Jackson because he's dead. Fans announcing they were going to listen to more MJ than ever before.
People can debate over Leaving Neverland all they want. I believe Wade. I believe James. And I believe, so strongly, that Michael Jackson's music has no place in fitness or dance classes. Jackson was a brilliant performer and entertainer. By those measures, he was world-class; he was the very best.
In my career as a dance writer, I've interviewed hundreds of dancers. And while the choreography, the costumes, and the stage makeup have changed, one thing has no doubt united generations of dancers: Michael.

I've talked to pre-teen dancers whose first memories of dancing are trying to replicate that iconic moonwalk, which Jackson debuted to rabid fanfare during a performance of "Billie Jean" in 1983. (Though Jackson didn't invent the move, he helped take it mainstream, and it became his signature.)
For dancers now in their thirties and forties, Jackson's entire discography was the soundtrack to recitals, competitions, high school dances.
Beyond his music, Jackson could legitimately dance, and so the industry clung to him. In the span of seconds, Jackson could transition from that moonwalk into a 360-degree spin, topping it off with a toe stand that seemed to linger for days. He was smoothly robotic, precisely well-rehearsed, and impossible not to imitate. And he didn't go it alone: Jackson was often backed by entire ensembles, like in the "Thriller" video. As the often-dubbed King of Pop, his legacy transcended the music industry.
As a human, though, he's unforgivable. People have known that Jackson was acting inappropriately for decades. You cannot defend an adult man having behind-locked-doors sleepovers with boys as young as 7.
This morning, I talked to an internet friend who told me she "heard about all the Leaving Neverland stuff," but that she "can't quit her MJ." I asked how that's possible, and she said that, to her, the man and the music are separate. I vehemently disagree. The man is the music.
From Your Site Articles
Related Articles Around the Web
Rachel Papo
In the middle of one of New York City Center's cavernous studios, Misty Copeland takes a measured step backwards. The suggestion of a swan arm ripples before she turns downstage, chest and shoulders unfurling as her legs stretch into an open lunge. She piqués onto pointe, arms echoing the sinuous curve of her back attitude, then walks out of it, pausing to warily look over her shoulder. As the droning of Ryuichi Sakamoto and Alva Noto's mysterious "Attack/Transition" grows more insistent, her feet start to fly with a rapidity that seems to almost startle her.
And then she stops mid-phrase. Copeland's hands fall to her hips as she apologizes. Choreographer Kyle Abraham slides to the sound system to pause the music, giving Copeland a moment to remind herself of a recent change to the sequence.
"It's different when the sound's on!" he reassures her. "And it's a lot of changes."
The day before was the first time Abraham had seen Copeland dance the solo in its entirety, and the first moment they were in the studio together in a month. This is their last rehearsal, save for tech, before the premiere of Ash exactly one week later, as part of the opening night of City Center's Fall for Dance festival.
Keep reading...
Show less
Ailey II artistic director Troy Powell teaching an Ailey Workshop at NYCDA. Courtesy NYCDA
Back in 2011 when Joe Lanteri first approached Katie Langan, chair of Marymount Manhattan College's dance department, about getting involved with New York City Dance Alliance, she was skeptical about the convention/competition world.
"But I was pleasantly surprised by the enormity of talent that was there," she says. "His goal was to start scholarship opportunities, and I said okay, I'm in."
Today, it's fair to say that Lanteri has far surpassed his goal of creating scholarship opportunities. But NYCDA has done so much more, bridging the gap between the convention world and the professional world by forging a wealth of partnerships with dance institutions from Marymount to The Ailey School to Complexions Contemporary Ballet and many more. There's a reason these companies and schools—some of whom otherwise may not see themselves as aligned with the convention/competition world—keep deepening their relationships with NYCDA.
Now, college scholarships are just one of many ways NYCDA has gone beyond the typical weekend-long convention experience and created life-changing opportunities for students. We rounded up some of the most notable ones:
Keep reading...
Show less
Getty Images
Dancers are understandably obsessed with food. In both an aesthetic and athletic profession, you know you're judged on your body shape, but you need proper fuel to perform your best. Meanwhile, you're inundated with questionable diet advice.
"My 'favorite' was the ABC diet," says registered dietitian nutritionist Kristin Koskinen, who trained in dance seriously but was convinced her body type wouldn't allow her to pursue it professionally. "On the first day you eat only foods starting with the letter A, on the second day only B, and so on."
Keep reading...
Show less
Left: Hurricane Harvey damage in Houston Ballet's Dance Lab; Courtesy Harlequin. Right: The Dance Lab pre-Harvey; Nic Lehoux, Courtesy Houston Ballet.
"The show must go on" may be a platitude we use to get through everything from costume malfunctions to stormy moods. But when it came to overcoming a literal hurricane, Houston Ballet was buoyed by this mantra to go from devastated to dancing in a matter of weeks—with the help of Harlequin Floors, Houston Ballet's longstanding partner who sprang into action to build new floors in record time.
Keep reading...
Show less