Brad Harris, courtesy Big Dance Theater
What is "dance theater"? Is it Pina Bausch's raw examinations of everyday life? Is it performance that mixes movement and text? Is it dance that tells a story? Dance Magazine talked with four choreographers who use elements of dance and theater—but whose work escapes easy categorization—about playing with narrative, integrating movement and words, and what "dance theater" means to them.
Annie-B Parson
Dance theater, to me personally, means that there's no hierarchy of materials you can use to make a piece. Movement is not more important; text and narrative aren't more important. I feel this complete free range as I try to express something, to use a whole variety of theatrical elements, like relationship, cause and effect, clothes, dance, singing, talking, found text, plays, literature—this cornucopia of theatrical possibilities.
---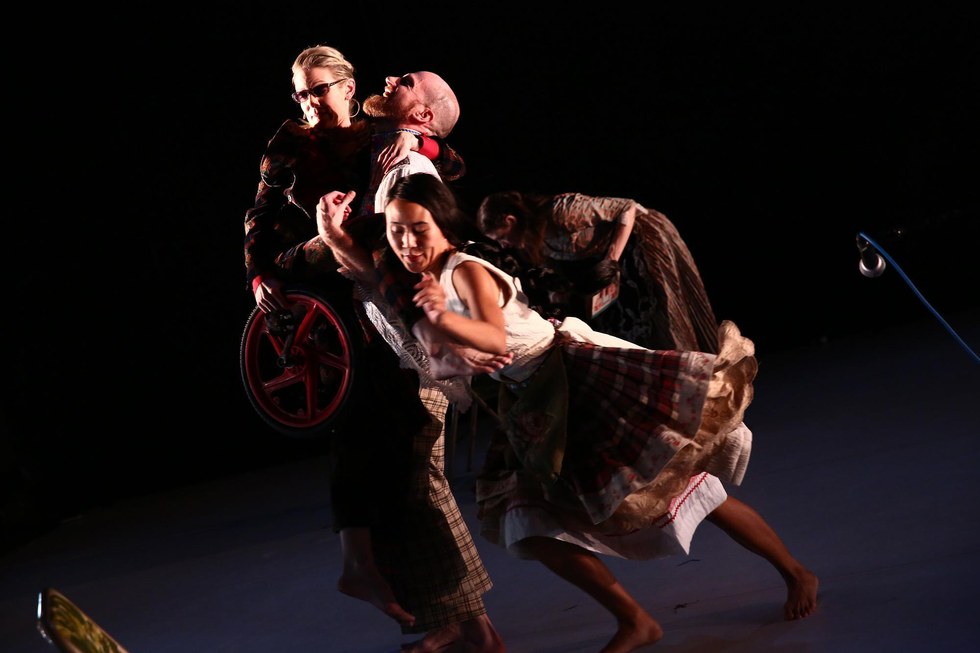 Parson's Big Dance: Short Form. Photo by Paula Court, courtesy of The Kitchen.
Having said that, the contradiction is that I think dance is the most important thing. Dance is sacred. So even though everything's equal, what really needs to be preserved is dance, because it's the most fundamental element at hand.
I don't know why dance and theater ever separated in the first place. Since the ancient Greeks, they've been united. That theater became this thing where people sit on couches and move their mouths—to me it's insane, so unexpressive. One thing that attracted me to Samuel Pepys [the 17-century English diarist and inspiration for Big Dance Theater's new work, 17c] is that when he went to the theater, he described the dances. He's seeing Shakespeare, first- and second-generation Shakespeare, and he's saying, "Well, the play was bad, but the dances were really good." It didn't look like theater does now. They danced!
Okwui Okpokwasili
I don't call my work dance theater, but I am borrowing super-liberally from both disciplines. Both have to do with language, embodied language, these multiple utterances that have different forms and shapes that I hope will collide with each other.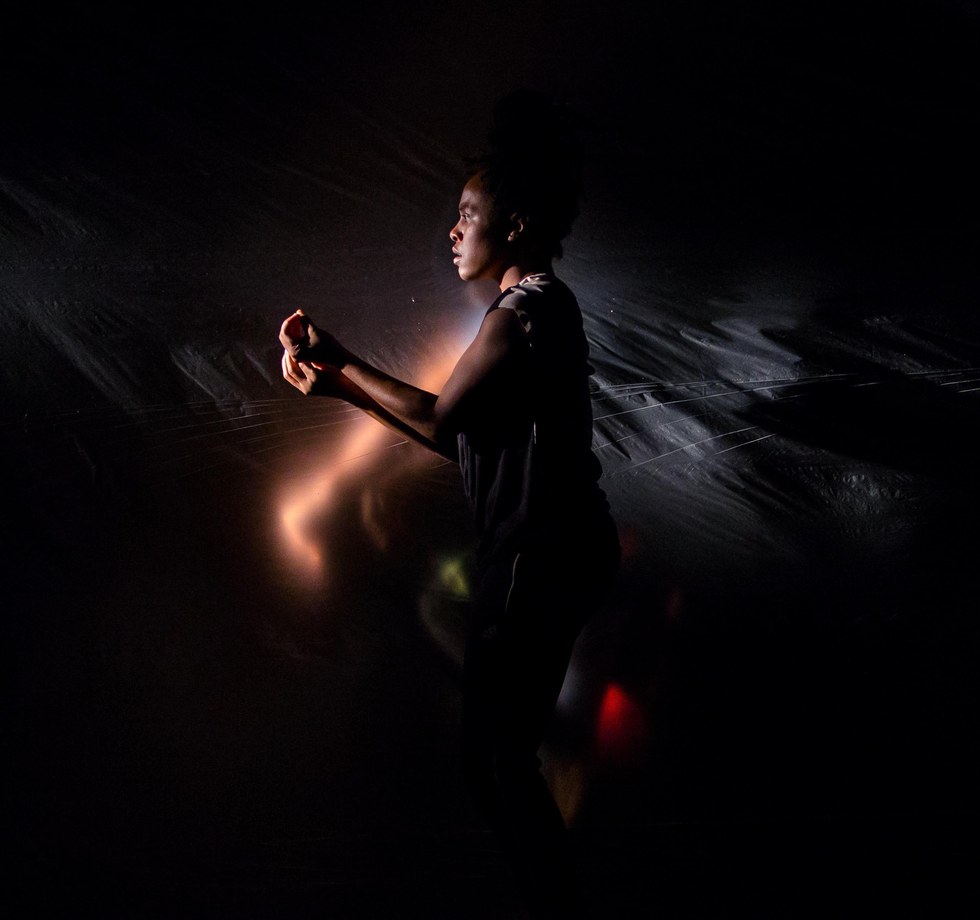 Okpokwasili in her Poor People's TV Room. Photo by Mena Burnette.
Generally I start with text. Once I've written something, I try to think about particular gestures or if there's some kind of movement that resonates with what I've been writing. In working on my piece Bronx Gothic, I came out with this vibrating gesture, something related to a twerk and a twerk gone wrong and the question of how long can that be sustained.

When I move away from written language and go into a space of movement, it's a very open and yummy space where I just follow my body, but it's anchored somewhere in this text that I have floating in the back of my mind, a word or an idea. It's like going into a really wide field, and you don't know which way you're going to go. You can stay in one place, but it's quite spacious.
Faye Driscoll
I find dance theater to be a difficult term. When theater-based people use movement, they don't call it "theater dance." They might say "physical theater" or "experimental theater." It's funny, the qualifications that seem to happen when dance-based artists work outside of dance. I relate more to the word performance—it's more open—and the idea of grabbing from whatever's needed to make the work.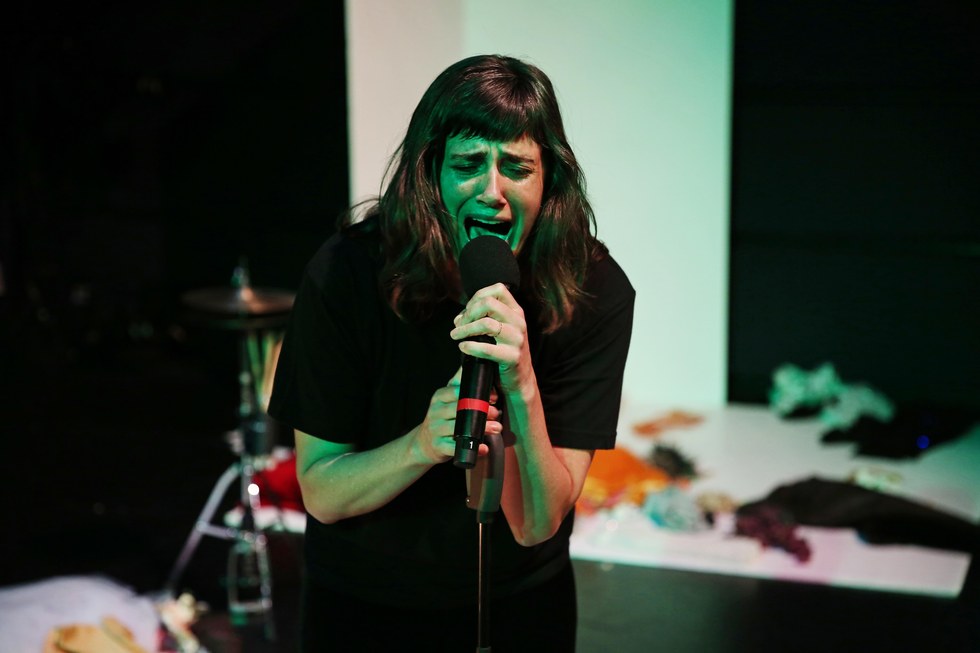 Faye Driscoll's PLAY. Photo by Julieta Cervantes.
Whether there are words or no words, music or no music, it's all interrelated and coming from a similar source of a desire to create. I'm really interested in story, but I have very little interest in plot or telling a story. I'm more concerned with the efforts of storytelling, the labor to convey meaning, the sense of going on a journey through something and just riding that feeling, without necessarily a linear comprehension of it.
Patricia Hoffbauer
When I came here [to New York, from Brazil] I started studying with the people from Twyla Tharp's company. The investigation of movement and the problems it would offer up, like your arms do 7 counts, your legs do 3, the impossibility of those coordinations—that was my first love.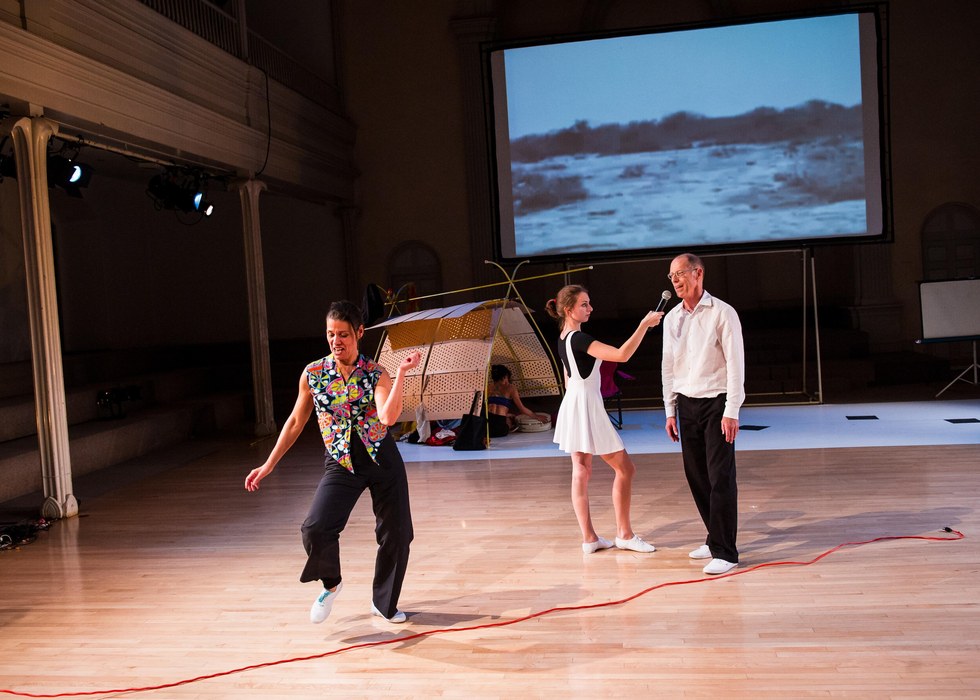 Patricia Hoffbauer in Para-Dice #2. Photo by Ian Douglas.
At the same time I was very attracted to humor and interested in process, exposing the process of making something and the accidents in a rehearsal and the absurdity of it. Early on I did a piece based on an Ionesco play, in which Peter Richards and I were two old ladies. We were looking at absurd theater as a way to break from formal movement, which seemed like it was done, exhausted. I don't know if you'd call what we did dance theater, but it was very theatrical.
If I wasn't borrowing from famous playwrights, I was repeating verbatim what had happened in the studio; I wasn't trying to be a writer. But in 1993 I got together with George [Emilio Sanchez], an actor and writer doing solo performance at this moment of identity politics. I was interested in that, too, so the work became much more political. We've worked together for over 20 years, and it's the most excruciating difficulty—the competition between us, and the difficulties of what's more important, the words or the movement?
Dance in Pop Culture
May. 25, 2018 01:48PM EST
Ne-Yo, Jennifer Lopez and Derek Hough return to "World of Dance" on May 29
Season 2 of World of Dance is almost here! The new season officially kicks off on Tuesday on NBC, and it's bringing a whole new crew of talented dancers with it (plus, some old favorites). Dance pro judges Jennifer Lopez, Derek Hough and Ne-Yo are back, too, with Jenna Dewan serving as the show's host.
Obviously we'll be watching, but just in case you're not completely sold, here's why you're not going to want to miss out:
JLo Might Be Performing
Earlier this week, JLo (who serves as the show's executive producer) posted this insane promo clip to her Instagram. Dancing to a mashup of Cardi B's "Bodak Yellow" and her new single "Dinero," JLo reminded us all of her dance skills while also leading us to believe she might just hit the stage herself for a performance.

Keep reading...
Show less
May. 25, 2018 12:14PM EST
Travis Wall draws inspiration from dancers Tate McCrae, Timmy Blankenship and more.
One often-overlooked relationship that exists in dance is the relationship between choreographer and muse. Recently two-time Emmy Award Winner Travis Wall opened up about his experience working with dancers he considers to be his muses.
"My muses in choreography have evolved over the years," says Wall. "When I'm creating on Shaping Sound, our company members, my friends, are my muses. But at this current stage of my career, I'm definitely inspired by new, fresh talent."
Wall adds, "I'm so inspired by this new generation of dancers. Their teachers have done such incredible jobs, and I've seen these kids grown up. For many of them, I've had a hand in their exposure to choreography."

Keep reading...
Show less
Rant & Rave
May. 23, 2018 04:25PM EST
Jessica Lang's Her Notes, one of ABT's few recent commissions from women. Photo by Rosalie O'Connor
A few weeks ago, American Ballet Theatre announced the A.B.T. Women's Movement, a new program that will support three women choreographers per season, one of whom will make work on the main company.
"The ABT Women's Movement takes inspiration from the groundbreaking female choreographers who have left a lasting impact on ABT's legacy, including Agnes de Mille and Twyla Tharp," said artistic director Kevin McKenzie in a press release.
Hypothetically, this is a great idea. We're all for more ballet commissions for women. But the way ABT has promoted the initiative is problematic.
Keep reading...
Show less
News
May. 18, 2018 12:05PM EST
The inimitable Alicia Alonso, now 97, remains at the helm of Ballet Nacional de Cuba. Photo by Leysis Quesada, Courtesy BNC
On the occasion of its 70th anniversary, the Ballet Nacional de Cuba tours the U.S. this spring with the resolute Cuban prima ballerina assoluta Alicia Alonso a the helm. Named a National Hero of Labor in Cuba, Alonso, 97, has weathered strained international relations and devastating fiscal challenges to have BNC emerge as a world-class dance company. Her dancers are some of ballet's best. On offer this time are Alonso's Giselle and Don Quixote. The profoundly Cuban company performs in Chicago May 18–20, Tampa May 23, Washington, D.C., May 29–June 3 and Saratoga, New York June 6–8.
Courtesy Soffe, Dicsount Dance Supply, Danskin. LeaMarie leotard photographed by Jayme Thornton
Considering we practically live in our dance clothes, there's really no such thing as having too many leotards, tights or leggings (no matter what our mom or friends say!). That's why we treat every sale as an opportunity to stock up. And thanks to the holiday weekend, you can shop all of your dancewear go-tos or try something totally new for as much as 50% less than the usual price.
Here are the eight sales we're most excited about—from online options to in-store retailers that will help you find the perfect fit. Happy Memorial Day (and shopping)!
Now through Monday, Danskin's site will automatically take 25% off your entire purchase at checkout. Even new items like their Pintuck Detail Floral Print Sports Bra and Pintuck Detail Legging (pictured here) are fair game.
Keep reading...
Show less
News
May. 25, 2018 12:38PM EST
Ailey dancers and stagehands rallied together yesterday. Photo by Jen Peters
"The sun may be shining brightly, but we are not in a very sunny mood today!" said New York State assemblywoman Linda Rosenthal during yesterday's rally for the Artists of Ailey.
The dancers and stage crew are demanding increased wages and more comprehensive benefits, what they have termed "reaching for the standard" and "fair wages."
Keep reading...
Show less


Get Dance Magazine in your inbox