What Dance Theatre of Harlem Means Today
DTH rehearsing a new work by Claudia Schreier. Photo by Rachel Papo
As Dance Theatre of Harlem turns 50, Arthur Mitchell's company has proven to be just as tenacious and resilient as he was. At times it looked like it wouldn't make it. But with the spirit of the phoenix it rises again.
---
Yet, as the company moves forward after Mitchell's passing, it battles with the expectations of what DTH should be, what it should look like and what stories it should tell. In effect, who does today's DTH belong to, and who does it serve? If ballet companies truly improve diversity, what would DTH's relevance be?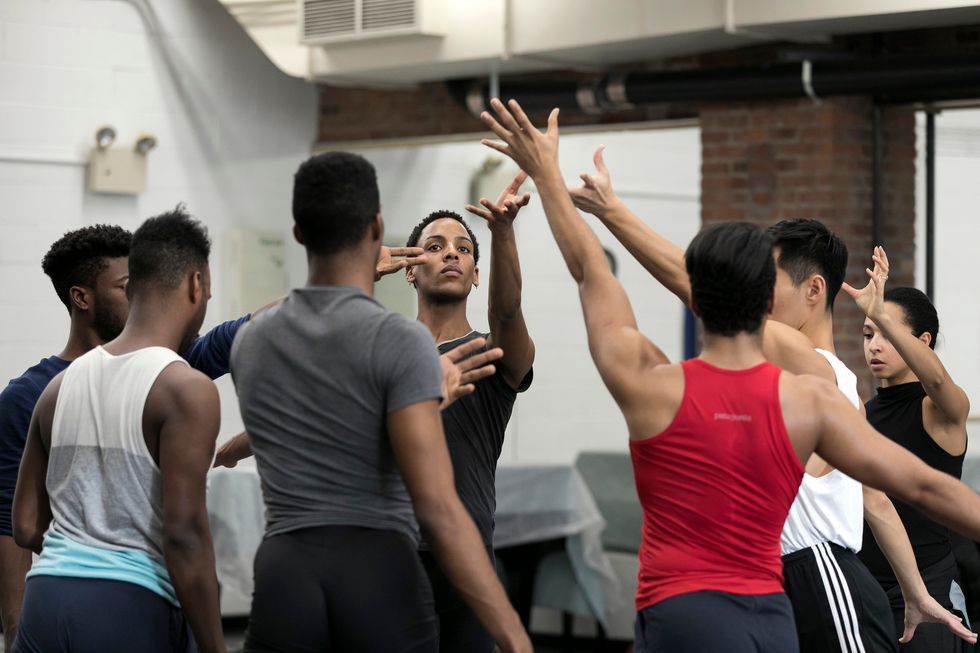 Rachel Papo
"I feel like we are still trying to live up to the legacy of the old company," says Da'Von Doane, who first joined in 2008 as a member of the DTH Ensemble. "We are trying to find ourselves as artists, and establish our own level of artistic excellence, but it's difficult to feel the weight of history. It's an incredible responsibility as black classical artists to forge a new identity for this company."
Mitchell began DTH—along with co-founder Karel Shook—as a response to the assassination of Martin Luther King Jr. He wanted to continue King's work for equality in his way: through the arts.
Not only would DTH show the world black elegance and artistic proficiency, it would be a lighthouse to the children of Harlem (and beyond), showcasing a world of possibilities beyond the stigmatization of their blackness. DTH served as an oasis of opportunity, for decades employing dancers other organizations would not entertain and training thousands who might not otherwise have had access.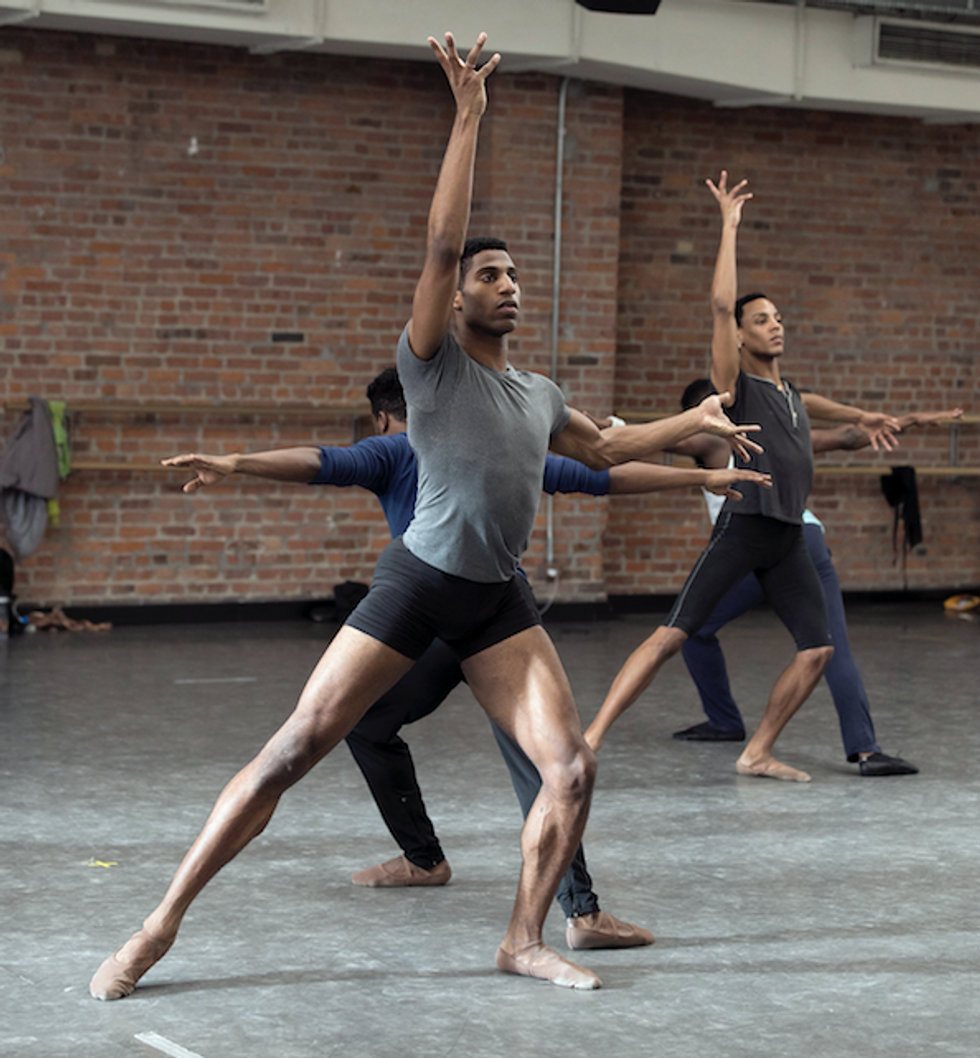 Derek Brockington (foreground) and Anthony Santos (in back)
Rachel Papo
Then, in 2004, the company was forced into hiatus due to a $2.3 million debt. Mitchell beseeched his former prima ballerina Virginia Johnson to reboot DTH five years later. "I never wanted to be an artistic director. But when Mr. Mitchell calls you and says he wants you to do it…" says Johnson with a chuckle.
The burning question was, What would the new iteration look like? What could it look like given the financial constraints?
DTH had built its brand on signature full-length ballets like Dougla, Firebird and Creole Giselle. But Johnson and then–executive director Laveen Naidu determined that the company could only hire 18 dancers.
"We couldn't be 50 dancers with two trucks' worth of scenery and costumes," says Johnson. "That world didn't exist anymore." To generate new rep, Johnson created Harlem Dance Works 2.0, a choreographic incubator which commissioned artists like Robert Garland, Darrell Grand Moultrie and Helen Pickett.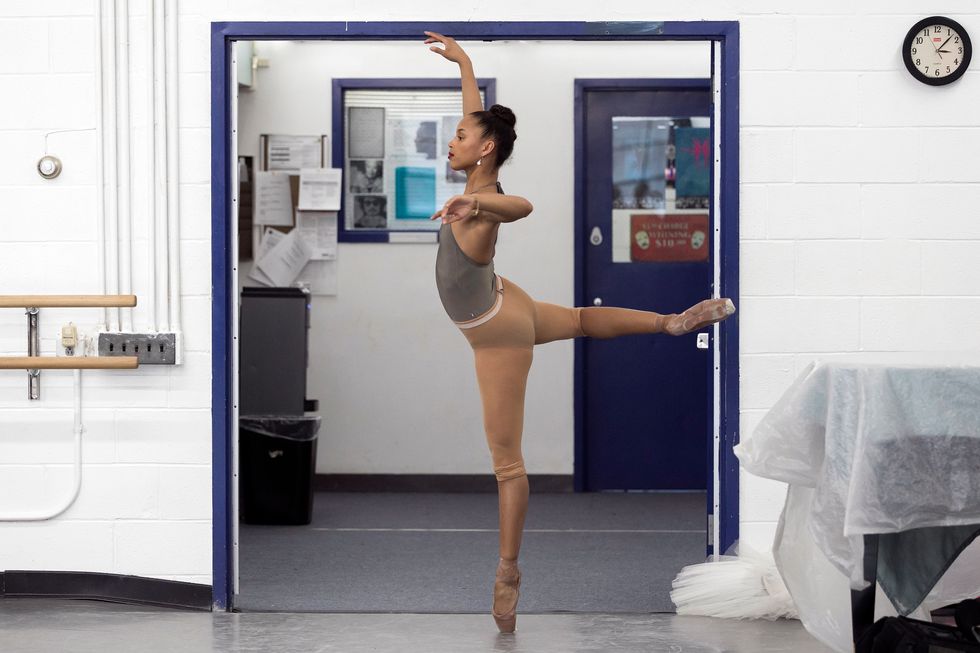 DTH dancer Amanda Smith
Rachel Papo
Johnson respects DTH's profound history—she helped write it, after all, having been a founding member and becoming its star until she retired in 1997. But for her, DTH is larger than its history. "I want to think about this art form of classical ballet. I love it. It's powerful and beautiful. But it's not fairies and princesses; it needs to talk to people now about the lives that they are living now. It needs to give them contemporary inspiration, not antique inspiration."
Yet one of the company's biggest recent hits was reviving Geoffrey Holder's Dougla from 1974—one of DTH's most culturally rooted works, rich with pageantry and mystic. This resonated with Johnson. "What I came to understand was that people wanted the more familiar kinds of ballets."
Today, DTH is once again a standard-bearer both as a diverse ballet company and as a leader in the diversity conversation. In partnership with the International Association of Blacks in Dance and Dance/USA, the company recently launched The Equity Project: Increasing the Presence of Blacks in Ballet, a three-year program to support the advancement of racial equity in professional ballet companies.
Still, even now that so many companies are working to increase diversity, dancer Amanda Smith says it feels very different to perform with DTH. "I love not feeling like a prize or a trophy in a company to show that they have diversity," says Smith, who auditioned for DTH five times before she landed a contract last season. "Sometimes you feel like a circus animal—'We have a black dancer.' When I came to DTH it was just like, 'I am just a dancer.' "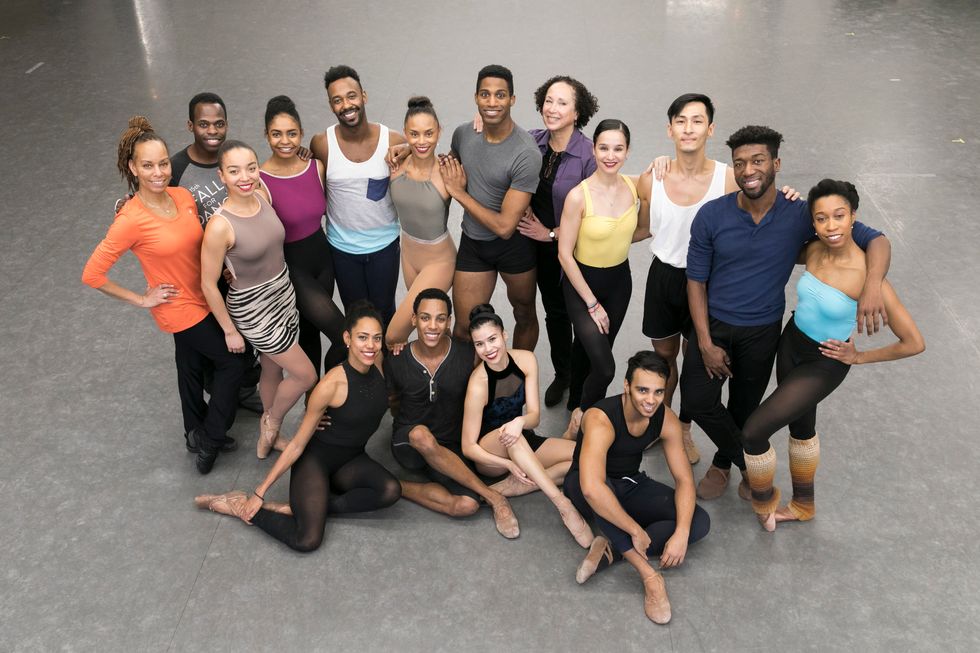 Clockwise from top left: Kellye Saunders, Christopher McDaniel, Stephanie Rae Williams, Alexandra Hutchinson, Dustin James, Amanda Smith, Derek Brockington, Virginia Johnson,Yinet Fernandez, Choong Hoon Lee, Da'Von Doane, Daphne Lee, Dylan Santos, Crystal Serrano, Anthony Santos, Lindsey Croop
Rachel Papo
Catch the Company in Action:
DTH is celebrating its 50th anniversary in style, touring 39 cities over 18 months. The company will present commissioned works by Robert Garland, Annabelle Lopez Ochoa, Pam Tanowitz and Claudia Schreier. The opening night celebration at New York City Center in April will highlight excerpts from some of the works that set DTH apart in its early days: Forces of Rhythm (Louis Johnson), Firebird (John Taras), Creole Giselle (Frederic Franklin after Jean Coralli and Jules Perrot) and Dougla (Geoffrey Holder), plus excerpts from new favorite Return (Robert Garland) and classics like Petipa's Le Corsaire and the work that put Mitchell on the map: George Balanchine's Agon. Tones II, a reimagining of a work Mitchell created in 1970—which he set on today's DTH dancers just prior to his passing last September—will also be performed during the City Center season.
From Your Site Articles
Related Articles Around the Web
Rehearsal of Yvonne Rainer's Parts of Some Sextets. Photo by Paula Court, Courtesy Performa.
Yvonne Rainer's Parts of Some Sextets (AKA "the mattress dance") hasn't been revived since it premiered in 1965. Nor has Rainer had any wish to do it again, to ask performers to heave 10 mattresses around while carrying out 31 tasks that changed every 30 seconds. It was an unwieldy, difficult dance. (Even the title is unwieldy.) But Emily Coates, who has danced in Rainer's work for 20 years, became curious about this piece and was determined to see it again—and to dance in it. She will get her wish November 15–17, when the mattress dance will be performed as part of the Performa 19 Biennial.
Keep reading...
Show less
Ailey II artistic director Troy Powell teaching an Ailey Workshop at NYCDA. Courtesy NYCDA
Back in 2011 when Joe Lanteri first approached Katie Langan, chair of Marymount Manhattan College's dance department, about getting involved with New York City Dance Alliance, she was skeptical about the convention/competition world.
"But I was pleasantly surprised by the enormity of talent that was there," she says. "His goal was to start scholarship opportunities, and I said okay, I'm in."
Today, it's fair to say that Lanteri has far surpassed his goal of creating scholarship opportunities. But NYCDA has done so much more, bridging the gap between the convention world and the professional world by forging a wealth of partnerships with dance institutions from Marymount to The Ailey School to Complexions Contemporary Ballet and many more. There's a reason these companies and schools—some of whom otherwise may not see themselves as aligned with the convention/competition world—keep deepening their relationships with NYCDA.
Now, college scholarships are just one of many ways NYCDA has gone beyond the typical weekend-long convention experience and created life-changing opportunities for students. We rounded up some of the most notable ones:
Keep reading...
Show less
Left: Hurricane Harvey damage in Houston Ballet's Dance Lab; Courtesy Harlequin. Right: The Dance Lab pre-Harvey; Nic Lehoux, Courtesy Houston Ballet.
"The show must go on" may be a platitude we use to get through everything from costume malfunctions to stormy moods. But when it came to overcoming a literal hurricane, Houston Ballet was buoyed by this mantra to go from devastated to dancing in a matter of weeks—with the help of Harlequin Floors, Houston Ballet's longstanding partner who sprang into action to build new floors in record time.
Keep reading...
Show less