What Dance Theatre of Harlem Means Today
DTH rehearsing a new work by Claudia Schreier. Photo by Rachel Papo
As Dance Theatre of Harlem turns 50, Arthur Mitchell's company has proven to be just as tenacious and resilient as he was. At times it looked like it wouldn't make it. But with the spirit of the phoenix it rises again.
---
Yet, as the company moves forward after Mitchell's passing, it battles with the expectations of what DTH should be, what it should look like and what stories it should tell. In effect, who does today's DTH belong to, and who does it serve? If ballet companies truly improve diversity, what would DTH's relevance be?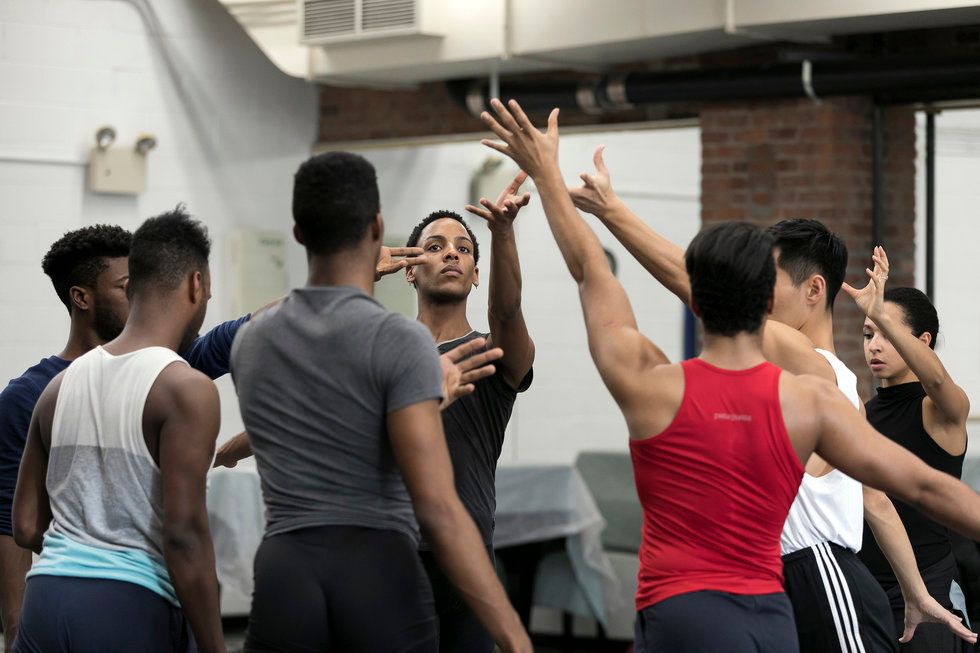 Rachel Papo
"I feel like we are still trying to live up to the legacy of the old company," says Da'Von Doane, who first joined in 2008 as a member of the DTH Ensemble. "We are trying to find ourselves as artists, and establish our own level of artistic excellence, but it's difficult to feel the weight of history. It's an incredible responsibility as black classical artists to forge a new identity for this company."
Mitchell began DTH—along with co-founder Karel Shook—as a response to the assassination of Martin Luther King Jr. He wanted to continue King's work for equality in his way: through the arts.
Not only would DTH show the world black elegance and artistic proficiency, it would be a lighthouse to the children of Harlem (and beyond), showcasing a world of possibilities beyond the stigmatization of their blackness. DTH served as an oasis of opportunity, for decades employing dancers other organizations would not entertain and training thousands who might not otherwise have had access.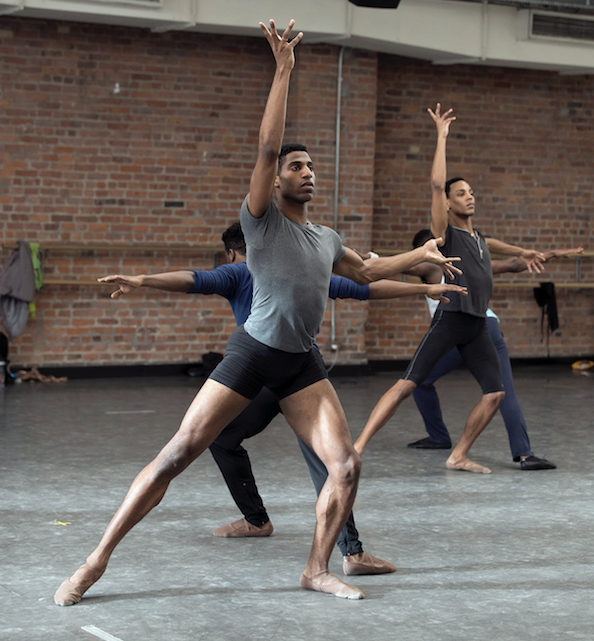 Derek Brockington (foreground) and Anthony Santos (in back)
Rachel Papo
Then, in 2004, the company was forced into hiatus due to a $2.3 million debt. Mitchell beseeched his former prima ballerina Virginia Johnson to reboot DTH five years later. "I never wanted to be an artistic director. But when Mr. Mitchell calls you and says he wants you to do it…" says Johnson with a chuckle.
The burning question was, What would the new iteration look like? What could it look like given the financial constraints?
DTH had built its brand on signature full-length ballets like Dougla, Firebird and Creole Giselle. But Johnson and then–executive director Laveen Naidu determined that the company could only hire 18 dancers.
"We couldn't be 50 dancers with two trucks' worth of scenery and costumes," says Johnson. "That world didn't exist anymore." To generate new rep, Johnson created Harlem Dance Works 2.0, a choreographic incubator which commissioned artists like Robert Garland, Darrell Grand Moultrie and Helen Pickett.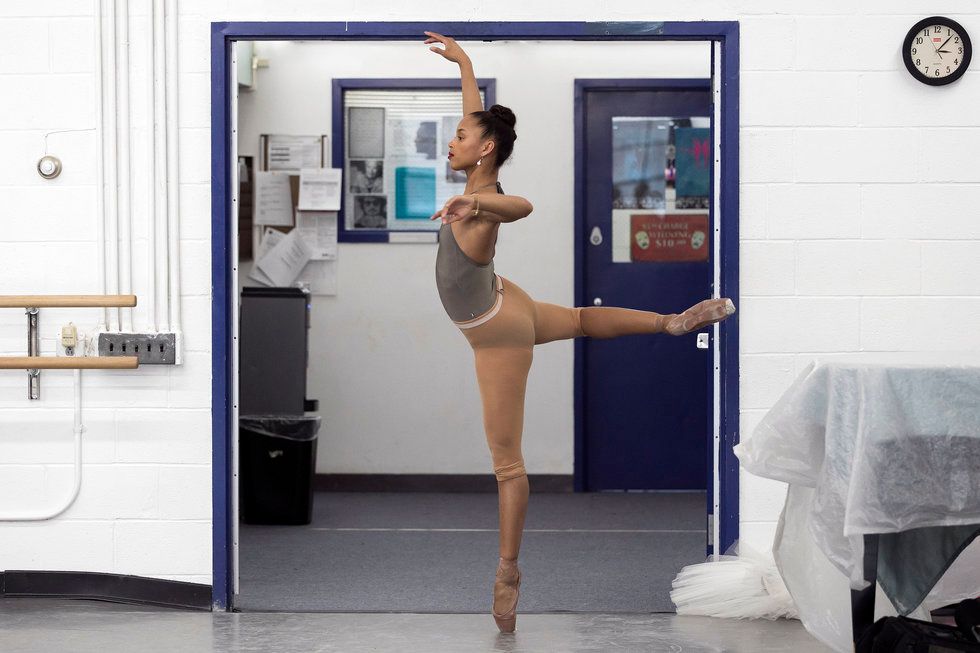 DTH dancer Amanda Smith
Rachel Papo
Johnson respects DTH's profound history—she helped write it, after all, having been a founding member and becoming its star until she retired in 1997. But for her, DTH is larger than its history. "I want to think about this art form of classical ballet. I love it. It's powerful and beautiful. But it's not fairies and princesses; it needs to talk to people now about the lives that they are living now. It needs to give them contemporary inspiration, not antique inspiration."
Yet one of the company's biggest recent hits was reviving Geoffrey Holder's Dougla from 1974—one of DTH's most culturally rooted works, rich with pageantry and mystic. This resonated with Johnson. "What I came to understand was that people wanted the more familiar kinds of ballets."
Today, DTH is once again a standard-bearer both as a diverse ballet company and as a leader in the diversity conversation. In partnership with the International Association of Blacks in Dance and Dance/USA, the company recently launched The Equity Project: Increasing the Presence of Blacks in Ballet, a three-year program to support the advancement of racial equity in professional ballet companies.
Still, even now that so many companies are working to increase diversity, dancer Amanda Smith says it feels very different to perform with DTH. "I love not feeling like a prize or a trophy in a company to show that they have diversity," says Smith, who auditioned for DTH five times before she landed a contract last season. "Sometimes you feel like a circus animal—'We have a black dancer.' When I came to DTH it was just like, 'I am just a dancer.' "
Clockwise from top left: Kellye Saunders, Christopher McDaniel, Stephanie Rae Williams, Alexandra Hutchinson, Dustin James, Amanda Smith, Derek Brockington, Virginia Johnson,Yinet Fernandez, Choong Hoon Lee, Da'Von Doane, Daphne Lee, Dylan Santos, Crystal Serrano, Anthony Santos, Lindsey Croop
Rachel Papo
Catch the Company in Action:
DTH is celebrating its 50th anniversary in style, touring 39 cities over 18 months. The company will present commissioned works by Robert Garland, Annabelle Lopez Ochoa, Pam Tanowitz and Claudia Schreier. The opening night celebration at New York City Center in April will highlight excerpts from some of the works that set DTH apart in its early days: Forces of Rhythm (Louis Johnson), Firebird (John Taras), Creole Giselle (Frederic Franklin after Jean Coralli and Jules Perrot) and Dougla (Geoffrey Holder), plus excerpts from new favorite Return (Robert Garland) and classics like Petipa's Le Corsaire and the work that put Mitchell on the map: George Balanchine's Agon. Tones II, a reimagining of a work Mitchell created in 1970—which he set on today's DTH dancers just prior to his passing last September—will also be performed during the City Center season.
From Your Site Articles
Related Articles Around the Web
Michelle Dorrance. Photo by Jayme Thornton
What do Percy Jackson, Princess Diana and Tina Turner have in common? They're all characters on Broadway this season. Throw in Michelle Dorrance's choreographic debut, Henry VIII's six diva-licious wives and the 1990s angst of Alanis Morissette, and the 2019–20 season is shaping up to be an exciting mix of past-meets-pop-culture-present.
Here's a look at the musicals hitting Broadway in the coming months. We're biding our time until opening night!

Keep reading...
Show less
UA Dance Ensemble members Candice Barth and Gregory Taylor in Jessica Lang's "Among the Stars." Photo by Ed Flores, courtesy University of Arizona
If you think becoming a trainee or apprentice is the only path to gaining experience in a dance company environment, think again.
The University of Arizona, located in the heart of Tucson, acclimates dancers to the pace and rigor of company life while offering all the academic opportunities of a globally-ranked university. If you're looking to get a head-start on your professional dance career—or to just have a college experience that balances company-level training and repertory with rigorous academics—the University of Arizona's undergraduate and graduate programs have myriad opportunites to offer:
Keep reading...
Show less
Alice Sheppard/Kinetic Light in DESCENT, which our readers chose as last year's "Most Moving Performance." Photo by Jay Newman, courtesy Kinetic Light
Yes, we realize it's only August. But we can't help but to already be musing about all the incredible dance happenings of 2019.
We're getting ready for our annual Readers' Choice feature, and we want to hear from you about the shows you can't stop thinking about, the dance videos that blew your mind and the artists you discovered this year who everyone should know about.
Keep reading...
Show less
Getty Images
Ah, stretching. It seems so simple, and is yet so complicated.
For example: You don't want to overstretch, but you're not going to see results if you don't stretch enough. You want to focus on areas where you're tight, but you also can't neglect other areas or else you'll be imbalanced. You were taught to hold static stretches growing up, but now everyone is telling you never to hold a stretch longer than a few seconds?
Considering how important stretching correctly is for dancers, it's easy to get confused or overwhelmed. So we came up with 10 common stretching scenarios, and gave you the expert low-down.
Keep reading...
Show less