Op-Ed: We Need to Set Some Boundaries on Class Videos
Suhyeon Choi/Unsplash
A few weeks ago, a friend of mine attended a professional contemporary class one morning, and later that evening perused Facebook to find that the teacher had shared a video of her dancing a phrase from class. A successful and professional working dancer, she was horrified to see a video of herself online that she had never given permission to be used, or even been approached about.
---
Naturally, being a self-critical dancer, she was not completely satisfied with her execution of the phrase. She was upset that it was on Facebook for the world to see, with her name attached to it. The teacher/choreographer had not only shared the video but also tagged everyone dancing in it.
The teacher had probably meant it as a compliment, but they missed a crucial step: asking for her consent.
In my experience with social media, if a photo or video of me is shared and I dislike the way I look, I've always told myself to not be that person who is obsessed with looking good. It's hard to accept sometimes, but that's life isn't it?
This approach is fine in day-to-day life, but as a dancer—when the topic of career and profession is involved—some boundaries need to be put in place.
As my friend pointed out, "Imagine if a choreographer was thinking about hiring me for a job, and then a video of me in class happens to pop up, and it was a bad dancing day for me, and the choreographer makes their decision based on that."
Life is vulnerable and challenging enough as it is as a dancer without our bad days being shared to the world with no permission asked of us.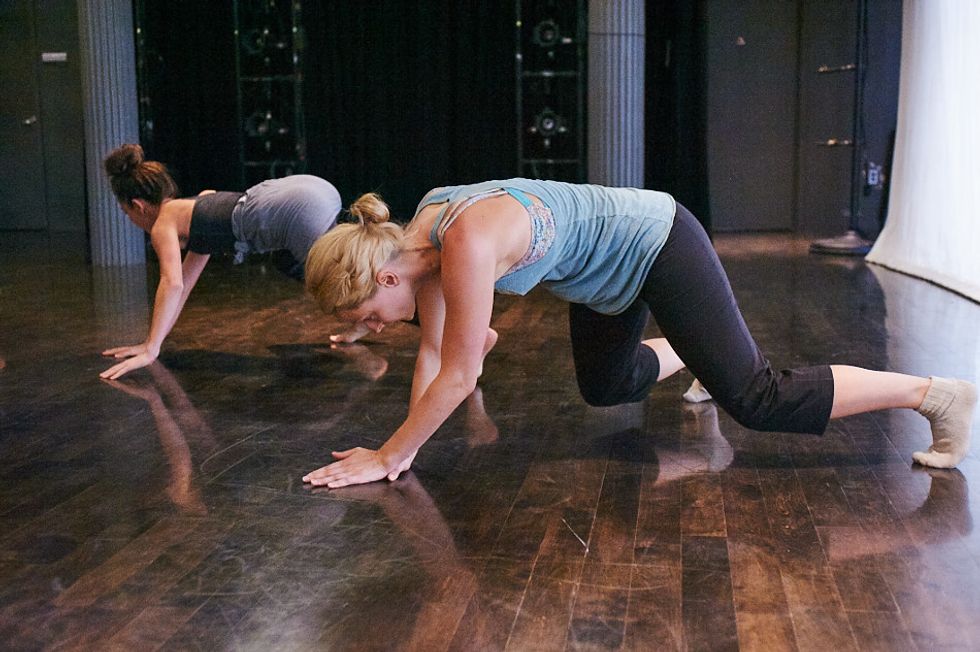 Jim Lafferty
We should be able to go to class and dance awfully sometimes. Our practice should involve going wrong, doing a phrase not so well 10 times or more before we "nail it." Being pressured to execute movement perfectly the first time in class interrupts the process of learning and growing.
It isn't said out loud, but the moment that camera comes out, the energy in the room shifts, awareness of performance and the desire to impress is heightened. Half the time, being filmed so quickly creates a subtle tension and, ironically, leads to a less authentic execution of the phrase.
My love for the contemporary dance practice has always been connected to it being a practice, not a constant picture-perfect moment. I feel the contemporary dance world is slowly shifting to focusing immediately on achieving performance standard, rather than the repetition of doing things wrong before they get oh so right.
I'm not suggesting that teachers are being intentionally malicious by sharing class footage, but they need to do it intelligently: ask permission, save it for company class instead of open class. Even then, give dancers time with the material before you put the pressure on.
It's a tough world out there, and everyone—including teachers—wants to appear to be constantly working, constantly succeeding, constantly in demand. But they need to think about what they are doing when they get that phone out to sell themselves.
You may call 'snowflake' on the whole affair but dancers are human beings with rights. Let's end this whimsical interruption to a dancer's right to pay for class to train for themselves and only themselves—without it ending up all over Facebook.
From Your Site Articles
Related Articles Around the Web
Getty Images
Dancers are understandably obsessed with food. In both an aesthetic and athletic profession, you know you're judged on your body shape, but you need proper fuel to perform your best. Meanwhile, you're inundated with questionable diet advice.
"My 'favorite' was the ABC diet," says registered dietitian nutritionist Kristin Koskinen, who trained in dance seriously but was convinced her body type wouldn't allow her to pursue it professionally. "On the first day you eat only foods starting with the letter A, on the second day only B, and so on."
Keep reading...
Show less
Ailey II artistic director Troy Powell teaching an Ailey Workshop at NYCDA. Courtesy NYCDA
Back in 2011 when Joe Lanteri first approached Katie Langan, chair of Marymount Manhattan College's dance department, about getting involved with New York City Dance Alliance, she was skeptical about the convention/competition world.
"But I was pleasantly surprised by the enormity of talent that was there," she says. "His goal was to start scholarship opportunities, and I said okay, I'm in."
Today, it's fair to say that Lanteri has far surpassed his goal of creating scholarship opportunities. But NYCDA has done so much more, bridging the gap between the convention world and the professional world by forging a wealth of partnerships with dance institutions from Marymount to The Ailey School to Complexions Contemporary Ballet and many more. There's a reason these companies and schools—some of whom otherwise may not see themselves as aligned with the convention/competition world—keep deepening their relationships with NYCDA.
Now, college scholarships are just one of many ways NYCDA has gone beyond the typical weekend-long convention experience and created life-changing opportunities for students. We rounded up some of the most notable ones:
Keep reading...
Show less
Rehearsal of Yvonne Rainer's Parts of Some Sextets. Photo by Paula Court, Courtesy Performa.
Yvonne Rainer's Parts of Some Sextets (AKA "the mattress dance") hasn't been revived since it premiered in 1965. Nor has Rainer had any wish to do it again, to ask performers to heave 10 mattresses around while carrying out 31 tasks that changed every 30 seconds. It was an unwieldy, difficult dance. (Even the title is unwieldy.) But Emily Coates, who has danced in Rainer's work for 20 years, became curious about this piece and was determined to see it again—and to dance in it. She will get her wish November 15–17, when the mattress dance will be performed as part of the Performa 19 Biennial.
Keep reading...
Show less
Left: Hurricane Harvey damage in Houston Ballet's Dance Lab; Courtesy Harlequin. Right: The Dance Lab pre-Harvey; Nic Lehoux, Courtesy Houston Ballet.
"The show must go on" may be a platitude we use to get through everything from costume malfunctions to stormy moods. But when it came to overcoming a literal hurricane, Houston Ballet was buoyed by this mantra to go from devastated to dancing in a matter of weeks—with the help of Harlequin Floors, Houston Ballet's longstanding partner who sprang into action to build new floors in record time.
Keep reading...
Show less