From coast to coast, choreographers have spent the first year of Donald Trump's presidency responding to the impact of his election and what it means for them as artists.
New York City's Dante Brown used rubber Trump masks in his work Package (revamped), which examines the monstrosities of power.
A video titled "Dancers vs. Trump Quotes" went viral last summer, showing dancers taking Trump's "locker-room" talk to task.
Alexis Convento, lead curator of the New York City–based Current Sessions, dedicated a whole program to the concept of resistance, while educator and interdisciplinary artist Jill Sigman has initiated a workshop called "Body Politic, Somatic Selves," as a space for movement research around questions of support, activism and solidarity.
In San Francisco, choreographer Margaret Jenkins facilitated a panel of artists about the role of activism within their work.
---
Dance has long been a haven for transgressive bodies, ideas and aesthetics. So it's no surprise that many artists feel the Trump administration's platform stands in direct opposition to their values.
"The election was absolutely horrifying for me," says Spectrum Dance Theater artistic director Donald Byrd. "Trump annihilated my beliefs about basic human characteristics, like kindness."
Filmmaker and choreographer Celia Rowlson-Hall adds, "I'd thought our moral arc was bending toward good. I feel distraught that the country I call mine is dominated by values rooted in fear and racism and hatred."
Some of the administration's proposals, like eliminating the National Endowment for the Arts, have yet to be realized, but that doesn't make them any less frightening. Nor does it blunt the impact of those that have been implemented—and which directly affect dancers—like rolling back protections for trans people, changing the tax code in a way that will likely reduce charitable giving and complicating access to health care.
In response, dancemakers are reconsidering how their work and their process can better reflect the state of today's politics.
Counter-Narrative and Solidarity
For some, dance is a way to give a voice to those who may otherwise go unheard. During a 2016 road trip, Minneapolis-based choreographer April Sellers began to consider how politicians use campaigning to collect and disperse versions of what it means to be an American.
"They're potential creators of our history and future," she says. So for her project Gay Patriot, Sellers felt that it was imperative for her dancers to speak for themselves onstage as a way to take control of their own stories.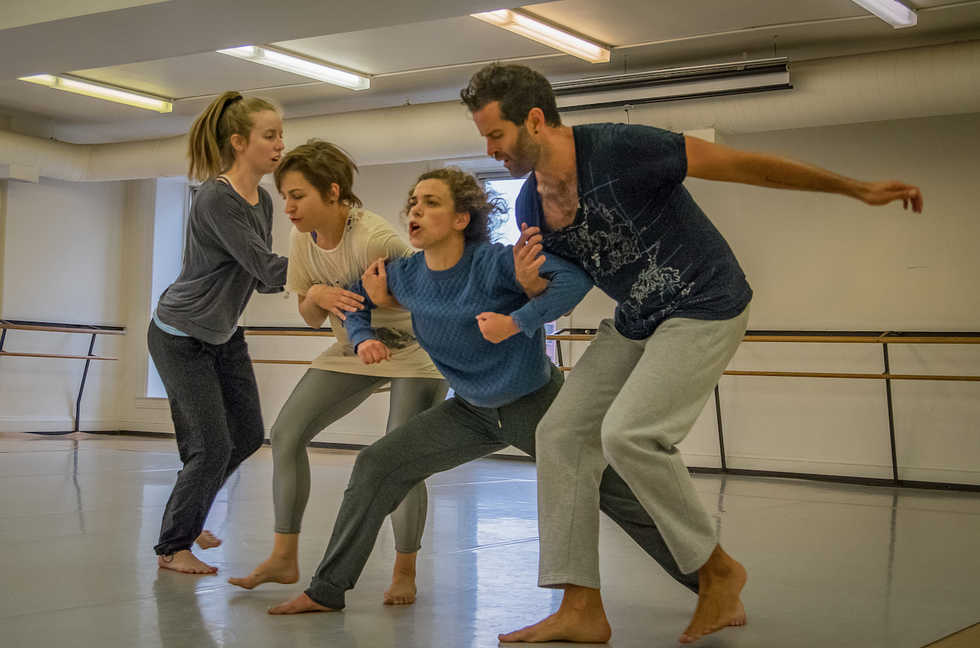 April Sellers' Gay Patriot rehearsal. Photo by Steven Lang
She adds that in the wake of the election, she and several of her dancers have disconnected from their biological families because of political tension. The experience has raised questions about who the work is for. "Do we only perform in theaters where people love us, or do we dance at family reunions?" she asks.
To avoid preaching to the choir, choreographer Danielle Russo is taking her work Sentinel, which responds to surveillance and social profiling, to public sites across the five boroughs of New York City. Russo is interested in seeing what happens as unsuspecting passersby encounter the dancers.
She hopes the heightened visibility of a public performance on a city street in daylight—a space that seems safe, but can be dangerous for marginalized people—will help her emphasize what she calls "the lived experiences of a targeted body."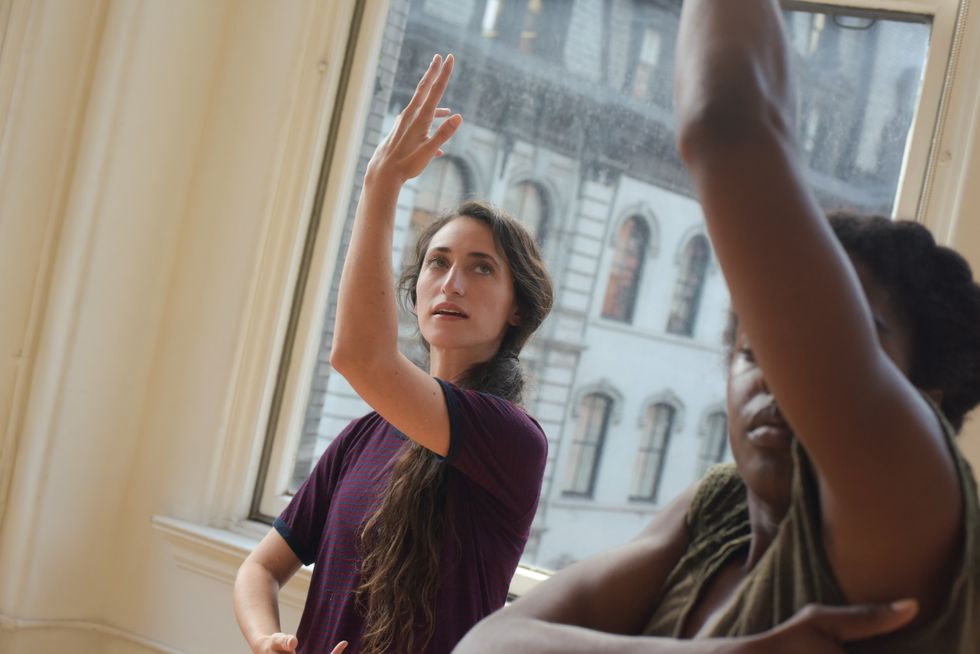 Danielle Russo working on Sentinel. Photo by Nir Arieli
Education and Community
Artists like San Francisco choreographer Keith Hennessy, who are deeply rooted as educators as well as creators, are developing specific teaching devices in response to the election. "Right now, the escalation toward the right has forced us to rethink the role of dance class, performance and how we're using choreography," he says.
How might the patience and willingness to experiment and fail, so necessary in dance improvisation, function in politics or social justice organizing? The workshop Hennessy teaches most frequently is called "Social Dancing (aka Negotiation)."
"I have a few exercises that reduce all touch to either pushing or pulling," he says. "The dancers create precarious and interdependent structures that become metaphors of community economics, power, failure, hierarchy and collaboration."
Though Dante Brown has long made work with social justice commentary, the aftermath of the election inspired him to create the kind of community he wanted to see, a space where people could come together in a commitment to movement and activism.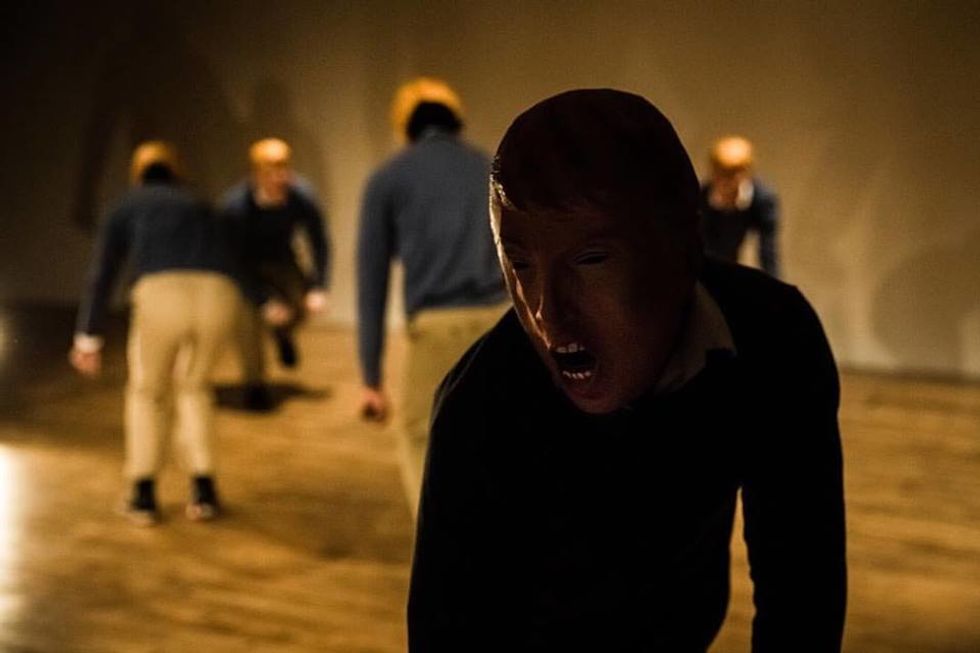 Dante Brown's Package (revamped) featured dancers in Trump masks. Photo by Ezra Goh, via Facebook
"The election made me care less about myself as an artist and more about platforms and programs for others," he says. For example, he organized a successful workshop series to raise money and awareness for Black Lives Matter.
The power to make change, according to New York dancer and choreographer Okwui Okpokwasili, is in the persistence. "The folks I know have been working to accommodate artistic practices that are generous, collaborative and non-authoritarian—a direct rebuke to the patriarchal violence, toxic masculinity and winner-take-all ethos that defines the Trumpian way," she says.
But, she adds, these practices have stretched for decades, and have long challenged the worldview that made Trump's election possible in the first place.
Committing to those values takes real work, especially in a world that, as Bill T. Jones points out, is experiencing a crisis of truth. He is astounded by the Trump administration's opportunistic relationship with facts, and worries that cynicism will replace skepticism. "Now, everything is suspect," he says, "and this is frustrating to artists who believe in ambiguity."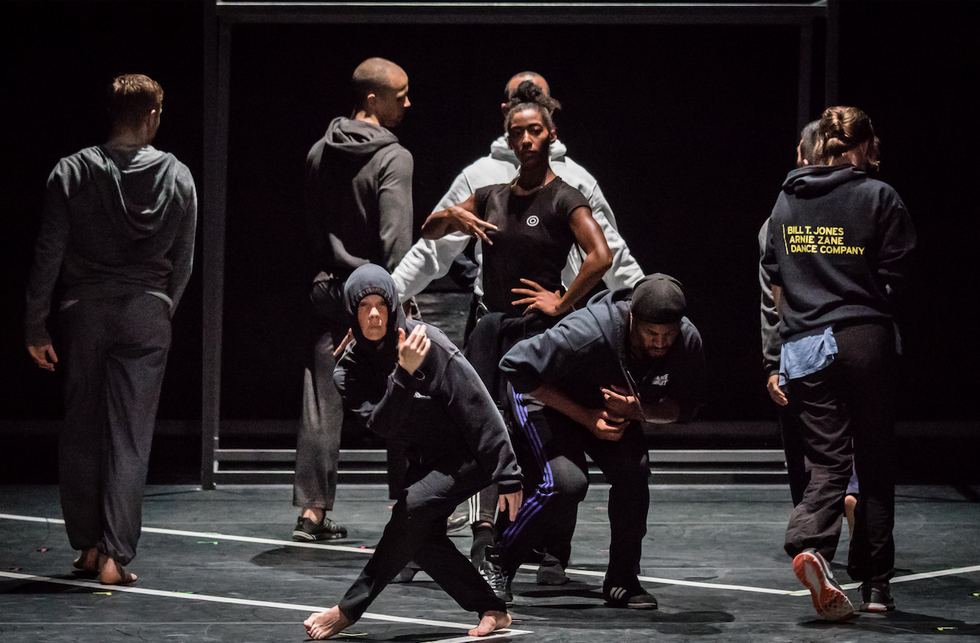 Bill T. Jones' A Letter to My Nephew. Photo by Bernie Ng.
Reverberations Within the Audience
Fans of Spectrum Dance Theater know to expect what Byrd calls "social/civic engagement" from the company, and he has long choreographed straight from the most difficult headlines. However, even in the firmly progressive city of Seattle, Byrd finds that his audience isn't always receptive to political content.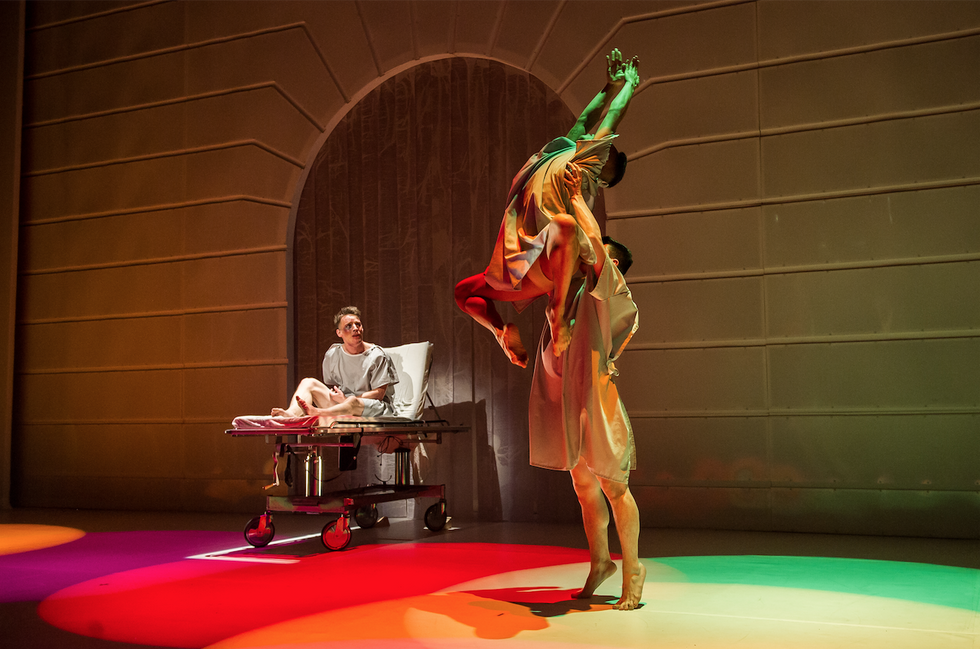 Donald Byrd's (IM)PULSE responds to aggression against the LGBTQ community. Photo by Nate Watters
"You want someone there to receive your work," he says. "I'm grappling with that fear and whether it will push me away from work that I feel is important."
Lately, Byrd has considered how the audience might become active, rather than passive, spectators, and how the work itself can instigate political engagement. "I wonder, though," he says, "if that desire might drive my audience away from participation because they feel alienated."
BalletX choreographer Matthew Neenan recently created Let mortal tongues awake, a contemporary ballet that uses images of silencing, control and bureaucratic power to hint at our political climate. It was a thematic departure for him, and Philadelphia audience members had strong reactions—not all of them positive.
"People found it shocking, but I told them I wouldn't apologize," he says. "Some people only want to see dance as beautiful and elite, and I truly believe you need to entertain your audience. Right now, though, we have no choice but to make work that responds to what's going on."
Love your audience, he suggests, but also challenge them.
Rowlson-Hall, whose first commission after the election was a short film investigating paranoia, isolation and nuclear fallout, sees dance as a way to unlock empathy in others. "I can't convince a white supremacist to change their views," she says. "But maybe they can see a performance or a film that will affect their heart. It's a little less locked than the mind."