Dance As Activism
Jan. 19, 2018 09:30AM EST
How Dancemakers Responded To The First Year Of The Trump Presidency
Matthew Neenan used images of silencing and control in let mortal tongues awake. Photo by Bill Herbert.
From coast to coast, choreographers have spent the first year of Donald Trump's presidency responding to the impact of his election and what it means for them as artists.
New York City's Dante Brown used rubber Trump masks in his work Package (revamped), which examines the monstrosities of power.
A video titled "Dancers vs. Trump Quotes" went viral last summer, showing dancers taking Trump's "locker-room" talk to task.
Alexis Convento, lead curator of the New York City–based Current Sessions, dedicated a whole program to the concept of resistance, while educator and interdisciplinary artist Jill Sigman has initiated a workshop called "Body Politic, Somatic Selves," as a space for movement research around questions of support, activism and solidarity.
In San Francisco, choreographer Margaret Jenkins facilitated a panel of artists about the role of activism within their work.
---
Dance has long been a haven for transgressive bodies, ideas and aesthetics. So it's no surprise that many artists feel the Trump administration's platform stands in direct opposition to their values.
"The election was absolutely horrifying for me," says Spectrum Dance Theater artistic director Donald Byrd. "Trump annihilated my beliefs about basic human characteristics, like kindness."
Filmmaker and choreographer Celia Rowlson-Hall adds, "I'd thought our moral arc was bending toward good. I feel distraught that the country I call mine is dominated by values rooted in fear and racism and hatred."
Some of the administration's proposals, like eliminating the National Endowment for the Arts, have yet to be realized, but that doesn't make them any less frightening. Nor does it blunt the impact of those that have been implemented—and which directly affect dancers—like rolling back protections for trans people, changing the tax code in a way that will likely reduce charitable giving and complicating access to health care.
In response, dancemakers are reconsidering how their work and their process can better reflect the state of today's politics.
Counter-Narrative and Solidarity
For some, dance is a way to give a voice to those who may otherwise go unheard. During a 2016 road trip, Minneapolis-based choreographer April Sellers began to consider how politicians use campaigning to collect and disperse versions of what it means to be an American.
"They're potential creators of our history and future," she says. So for her project Gay Patriot, Sellers felt that it was imperative for her dancers to speak for themselves onstage as a way to take control of their own stories.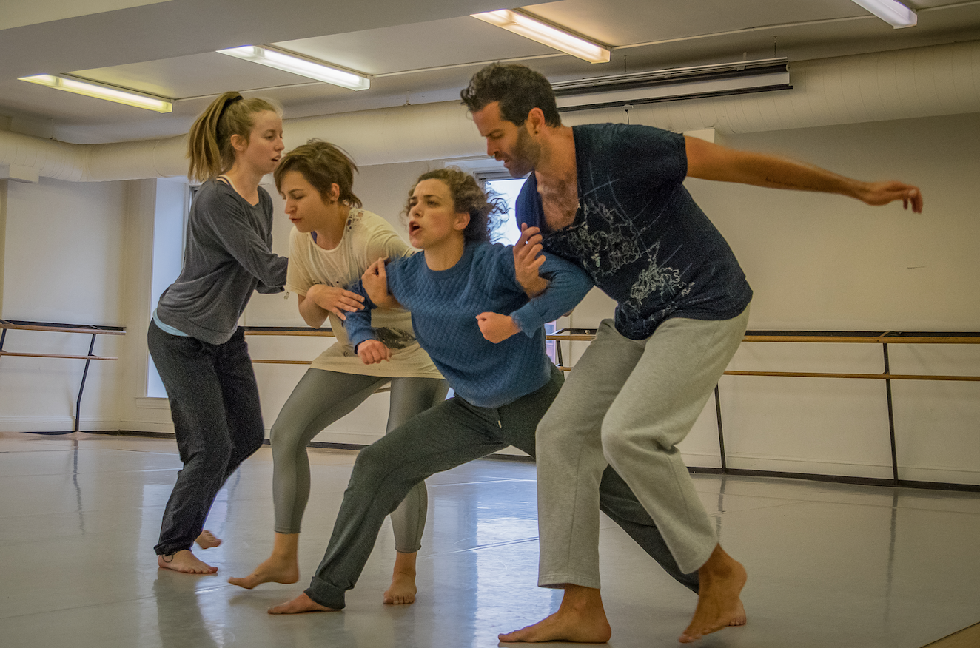 April Sellers' Gay Patriot rehearsal. Photo by Steven Lang
She adds that in the wake of the election, she and several of her dancers have disconnected from their biological families because of political tension. The experience has raised questions about who the work is for. "Do we only perform in theaters where people love us, or do we dance at family reunions?" she asks.
To avoid preaching to the choir, choreographer Danielle Russo is taking her work Sentinel, which responds to surveillance and social profiling, to public sites across the five boroughs of New York City. Russo is interested in seeing what happens as unsuspecting passersby encounter the dancers.
She hopes the heightened visibility of a public performance on a city street in daylight—a space that seems safe, but can be dangerous for marginalized people—will help her emphasize what she calls "the lived experiences of a targeted body."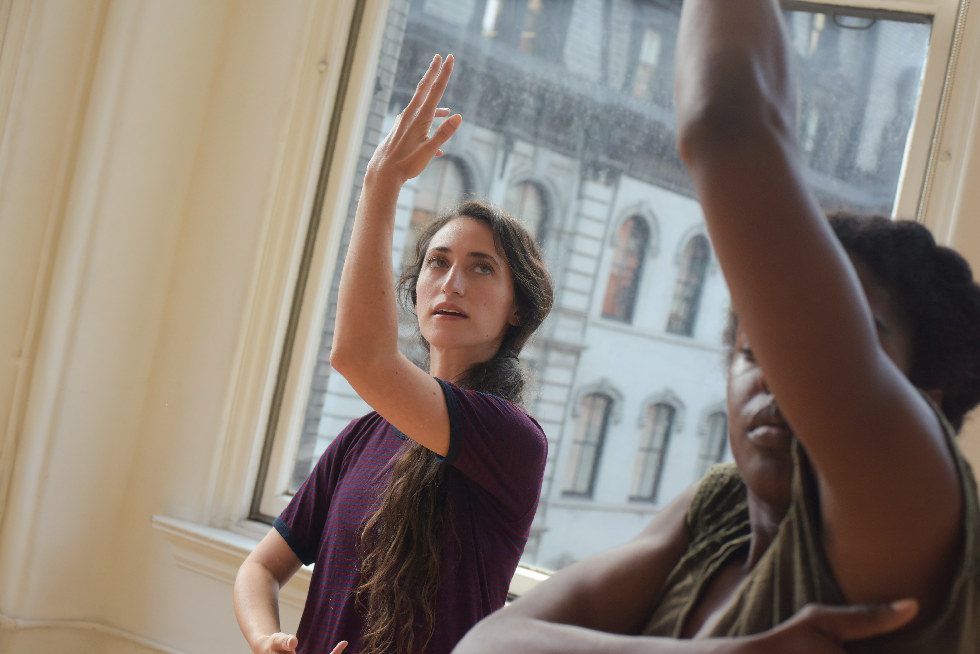 Danielle Russo working on Sentinel. Photo by Nir Arieli
Education and Community
Artists like San Francisco choreographer Keith Hennessy, who are deeply rooted as educators as well as creators, are developing specific teaching devices in response to the election. "Right now, the escalation toward the right has forced us to rethink the role of dance class, performance and how we're using choreography," he says.
How might the patience and willingness to experiment and fail, so necessary in dance improvisation, function in politics or social justice organizing? The workshop Hennessy teaches most frequently is called "Social Dancing (aka Negotiation)."
"I have a few exercises that reduce all touch to either pushing or pulling," he says. "The dancers create precarious and interdependent structures that become metaphors of community economics, power, failure, hierarchy and collaboration."
Though Dante Brown has long made work with social justice commentary, the aftermath of the election inspired him to create the kind of community he wanted to see, a space where people could come together in a commitment to movement and activism.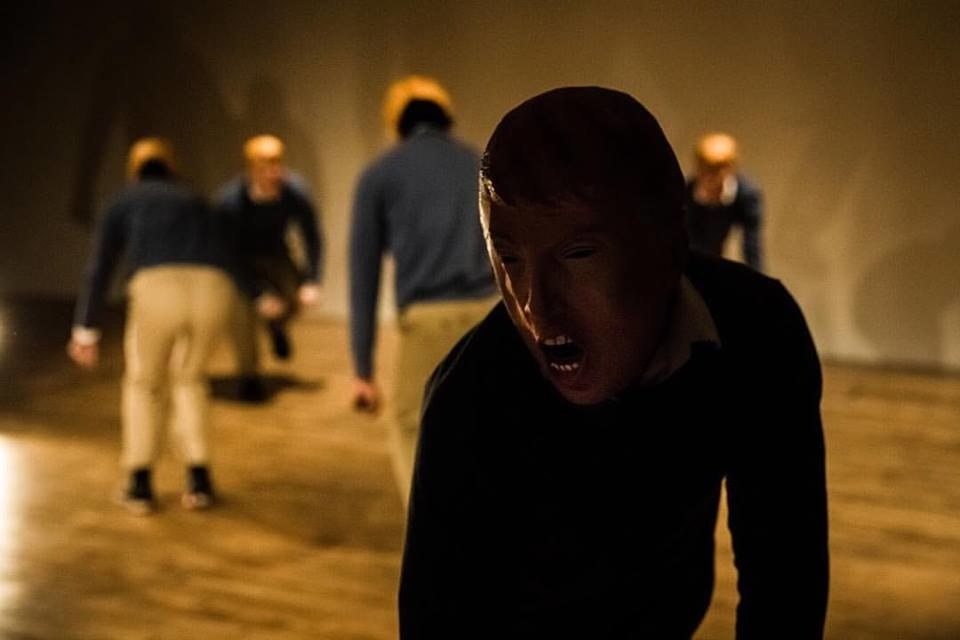 Dante Brown's Package (revamped) featured dancers in Trump masks. Photo by Ezra Goh, via Facebook
"The election made me care less about myself as an artist and more about platforms and programs for others," he says. For example, he organized a successful workshop series to raise money and awareness for Black Lives Matter.
The power to make change, according to New York dancer and choreographer Okwui Okpokwasili, is in the persistence. "The folks I know have been working to accommodate artistic practices that are generous, collaborative and non-authoritarian—a direct rebuke to the patriarchal violence, toxic masculinity and winner-take-all ethos that defines the Trumpian way," she says.
But, she adds, these practices have stretched for decades, and have long challenged the worldview that made Trump's election possible in the first place.
Committing to those values takes real work, especially in a world that, as Bill T. Jones points out, is experiencing a crisis of truth. He is astounded by the Trump administration's opportunistic relationship with facts, and worries that cynicism will replace skepticism. "Now, everything is suspect," he says, "and this is frustrating to artists who believe in ambiguity."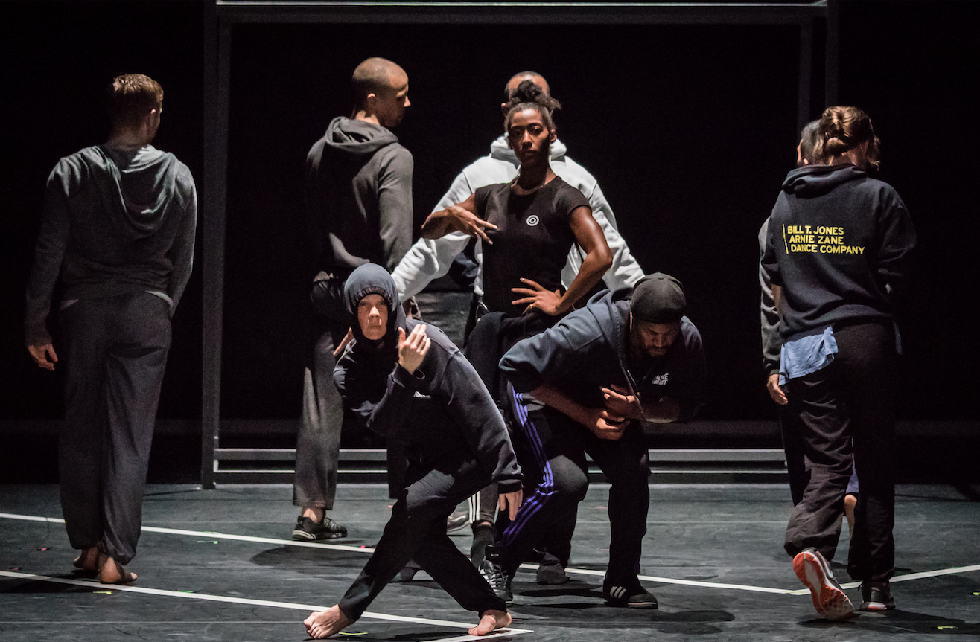 Bill T. Jones' A Letter to My Nephew. Photo by Bernie Ng.
Reverberations Within the Audience
Fans of Spectrum Dance Theater know to expect what Byrd calls "social/civic engagement" from the company, and he has long choreographed straight from the most difficult headlines. However, even in the firmly progressive city of Seattle, Byrd finds that his audience isn't always receptive to political content.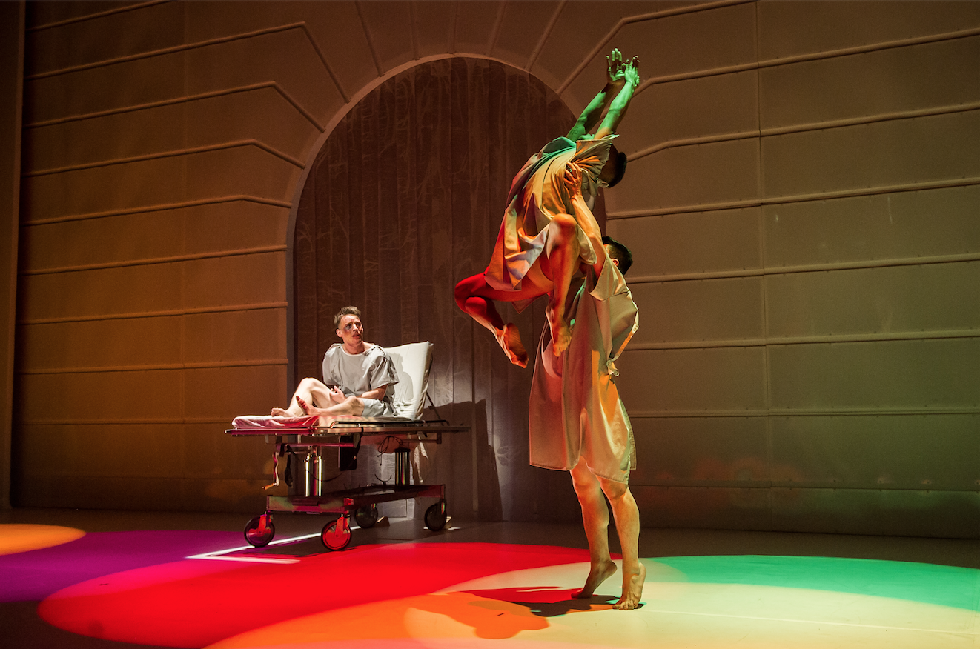 Donald Byrd's (IM)PULSE responds to aggression against the LGBTQ community. Photo by Nate Watters
"You want someone there to receive your work," he says. "I'm grappling with that fear and whether it will push me away from work that I feel is important."
Lately, Byrd has considered how the audience might become active, rather than passive, spectators, and how the work itself can instigate political engagement. "I wonder, though," he says, "if that desire might drive my audience away from participation because they feel alienated."
BalletX choreographer Matthew Neenan recently created Let mortal tongues awake, a contemporary ballet that uses images of silencing, control and bureaucratic power to hint at our political climate. It was a thematic departure for him, and Philadelphia audience members had strong reactions—not all of them positive.
"People found it shocking, but I told them I wouldn't apologize," he says. "Some people only want to see dance as beautiful and elite, and I truly believe you need to entertain your audience. Right now, though, we have no choice but to make work that responds to what's going on."
Love your audience, he suggests, but also challenge them.
Rowlson-Hall, whose first commission after the election was a short film investigating paranoia, isolation and nuclear fallout, sees dance as a way to unlock empathy in others. "I can't convince a white supremacist to change their views," she says. "But maybe they can see a performance or a film that will affect their heart. It's a little less locked than the mind."
Dance in Pop Culture
May. 25, 2018 01:48PM EST
Ne-Yo, Jennifer Lopez and Derek Hough return to "World of Dance" on May 29
Season 2 of World of Dance is almost here! The new season officially kicks off on Tuesday on NBC, and it's bringing a whole new crew of talented dancers with it (plus, some old favorites). Dance pro judges Jennifer Lopez, Derek Hough and Ne-Yo are back, too, with Jenna Dewan serving as the show's host.
Obviously we'll be watching, but just in case you're not completely sold, here's why you're not going to want to miss out:
JLo Might Be Performing
Earlier this week, JLo (who serves as the show's executive producer) posted this insane promo clip to her Instagram. Dancing to a mashup of Cardi B's "Bodak Yellow" and her new single "Dinero," JLo reminded us all of her dance skills while also leading us to believe she might just hit the stage herself for a performance.

Keep reading...
Show less
May. 25, 2018 12:14PM EST
Travis Wall draws inspiration from dancers Tate McCrae, Timmy Blankenship and more.
One often-overlooked relationship that exists in dance is the relationship between choreographer and muse. Recently two-time Emmy Award Winner Travis Wall opened up about his experience working with dancers he considers to be his muses.
"My muses in choreography have evolved over the years," says Wall. "When I'm creating on Shaping Sound, our company members, my friends, are my muses. But at this current stage of my career, I'm definitely inspired by new, fresh talent."
Wall adds, "I'm so inspired by this new generation of dancers. Their teachers have done such incredible jobs, and I've seen these kids grown up. For many of them, I've had a hand in their exposure to choreography."

Keep reading...
Show less
Rant & Rave
May. 23, 2018 04:25PM EST
Jessica Lang's Her Notes, one of ABT's few recent commissions from women. Photo by Rosalie O'Connor
A few weeks ago, American Ballet Theatre announced the A.B.T. Women's Movement, a new program that will support three women choreographers per season, one of whom will make work on the main company.
"The ABT Women's Movement takes inspiration from the groundbreaking female choreographers who have left a lasting impact on ABT's legacy, including Agnes de Mille and Twyla Tharp," said artistic director Kevin McKenzie in a press release.
Hypothetically, this is a great idea. We're all for more ballet commissions for women. But the way ABT has promoted the initiative is problematic.
Keep reading...
Show less
News
May. 18, 2018 12:05PM EST
The inimitable Alicia Alonso, now 97, remains at the helm of Ballet Nacional de Cuba. Photo by Leysis Quesada, Courtesy BNC
On the occasion of its 70th anniversary, the Ballet Nacional de Cuba tours the U.S. this spring with the resolute Cuban prima ballerina assoluta Alicia Alonso a the helm. Named a National Hero of Labor in Cuba, Alonso, 97, has weathered strained international relations and devastating fiscal challenges to have BNC emerge as a world-class dance company. Her dancers are some of ballet's best. On offer this time are Alonso's Giselle and Don Quixote. The profoundly Cuban company performs in Chicago May 18–20, Tampa May 23, Washington, D.C., May 29–June 3 and Saratoga, New York June 6–8.
Courtesy Soffe, Dicsount Dance Supply, Danskin. LeaMarie leotard photographed by Jayme Thornton
Considering we practically live in our dance clothes, there's really no such thing as having too many leotards, tights or leggings (no matter what our mom or friends say!). That's why we treat every sale as an opportunity to stock up. And thanks to the holiday weekend, you can shop all of your dancewear go-tos or try something totally new for as much as 50% less than the usual price.
Here are the eight sales we're most excited about—from online options to in-store retailers that will help you find the perfect fit. Happy Memorial Day (and shopping)!
Now through Monday, Danskin's site will automatically take 25% off your entire purchase at checkout. Even new items like their Pintuck Detail Floral Print Sports Bra and Pintuck Detail Legging (pictured here) are fair game.
Keep reading...
Show less
News
May. 25, 2018 12:38PM EST
Ailey dancers and stagehands rallied together yesterday. Photo by Jen Peters
"The sun may be shining brightly, but we are not in a very sunny mood today!" said New York State assemblywoman Linda Rosenthal during yesterday's rally for the Artists of Ailey.
The dancers and stage crew are demanding increased wages and more comprehensive benefits, what they have termed "reaching for the standard" and "fair wages."
Keep reading...
Show less


Get Dance Magazine in your inbox