This Dancer Almost Lost Her Leg to Cancer. Now She's Heading Back to The Washington Ballet
Courtesy Chiara Valle
Chiara Valle is just one of many dancers heading back to the studio this fall as companies ramp up for the season. But her journey back has been far more difficult than most.
Valle has been a trainee at The Washington Ballet since 2016, starting at the same time as artistic director Julie Kent. But only a few months into her first season there, she started experiencing excruciating pain high up in her femur. "It felt like someone was stabbing me 24/7," she says. Sometimes at night, the pain got so bad that her roommates would bring her dinner to the bathtub.
---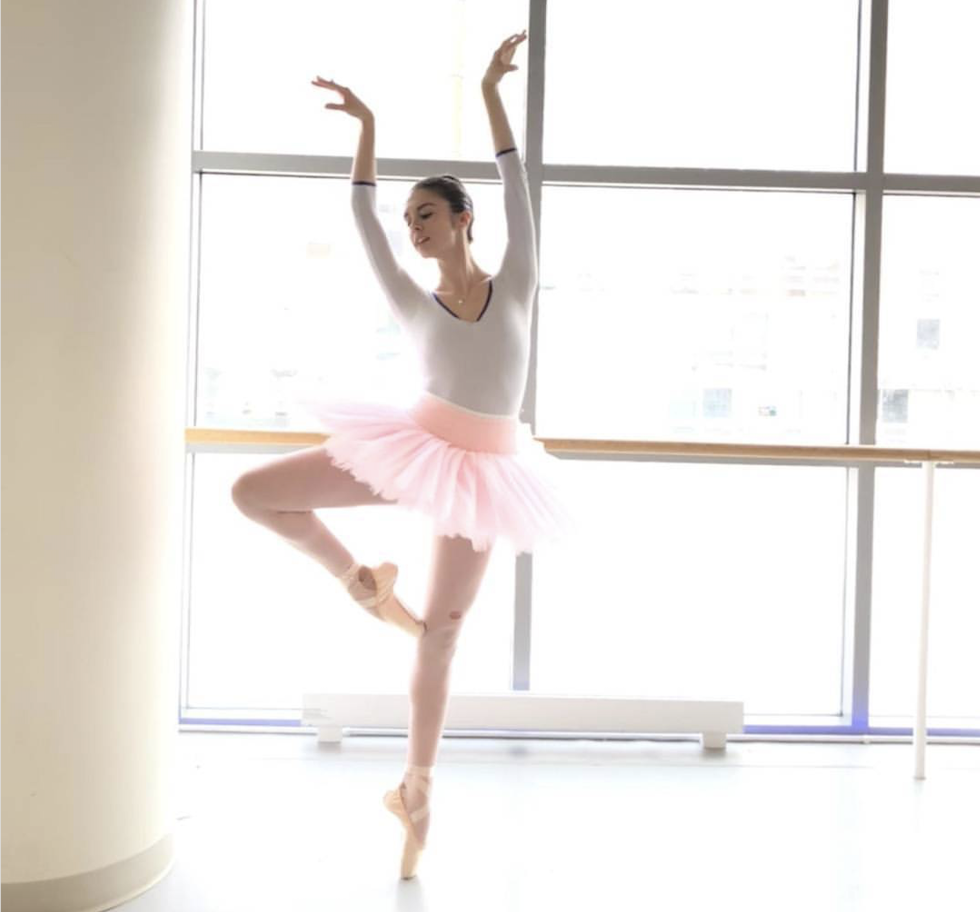 Courtesy Valle
Even so, the studio remained a safe space. "As long as I was moving, I didn't notice the pain," she says. Valle assumed she'd gotten a dance-related injury, like a labral tear. To her surprise, scans showed she had a tumor. A noninvasive surgery relieved the pain for a couple months, but it returned. So the doctors performed the procedure again. And again, the pain returned.
After a year of struggling, Valle went for a second opinion at the Children's Hospital at Montefiore in New York City, and in February 2018 finally got the correct diagnosis: Ewing sarcoma, a rare bone cancer.
The typical treatment? Amputation of the leg. But knowing that Valle was a ballet dancer, the doctors decided to go a different route, blasting the tumor with 14 rounds of chemotherapy—including one chemo that's so intense it's nicknamed "The Red Devil"—and 31 treatments of radiation.
As supportive as her colleagues were, Valle struggled. "A week after I was diagnosed I was set to be in Romeo and Juliet with The Washington Ballet. Before I knew how serious it was, I said to my doctor, 'Are you sure I can't go back to DC for a week and finish that?' "
She had to stop looking at social media, where she'd see her friends performing and continuing on with their lives while she was throwing up from the chemo.
But she realized she could use ballet as a motivator. Kent checked in regularly and sent along videos of Valle dancing—telling her that whenever she was ready to come back, her spot was there for her.
"She deserves to pick up where she left off, and pursue the life she wants for herself," says Kent. "We're all here to support her."
Kent says Valle's handled her cancer journey with aplomb. "When she came back from the first surgery, she was dancing so beautifully and had come such a long way since her first season. Then she got the more serious diagnosis," Kent says. "But she persevered—she's been grace under pressure."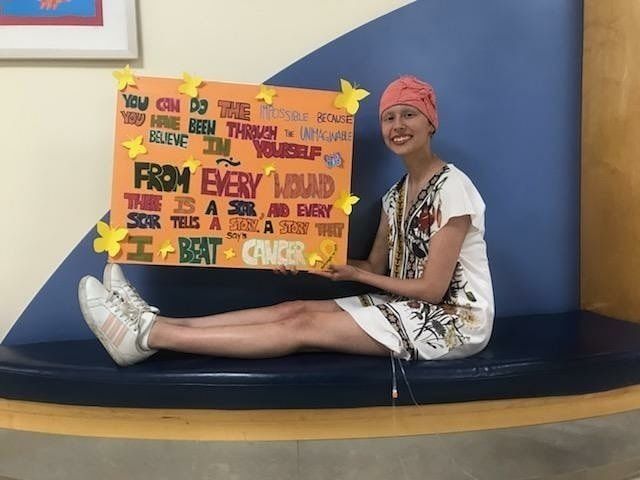 Chiara Valle on her last day of chemo
Courtesy Valle
On November 16, 2018, Valle was cleared as NED—no evidence of disease. Although it takes five years to be declared "cured" since there is a high rate of reoccurrence, Valle has finally, slowly been able to make her way back to the studio.
She took her first ballet barre in March. "I did the most emotional pliés of my life," she says, now laughing at how she cried through the entire combination.
Though she's still working on regaining her endurance and rebuilding her calf strength for pointe work, as she heads back to the TWB studios, she knows she's grown as a dancer. "I've learned not to worry about the little things, and I've learned patience," says Valle, now 21. "I hope to carry my story with me to the stage. And hopefully one day a little kid who's battling cancer can look up to me and know they can do it, too."
To that end, she's launched Wings for Ewing Sarcoma, a nonprofit dedicated to raising funds both for research and retreats for pediatric cancer patients.
"I just can't wait to see her in Waltz of the Flowers in Nutcracker," says Kent. "That's my last memory of her dancing. There's one part where the women jeté across the stage, and because Chiara's one of the taller dancers she's always last and does this big dramatic run. You could tell how much she enjoyed it. I can't wait to see her doing that—and can't imagine what she will feel when she arrives at that point again after all that she's been through."

From Your Site Articles
Related Articles Around the Web
Courtesy Boneau/Bryan-Brown
If "Fosse/Verdon" whet your appetite for the impeccable Gwen Verdon, then Merely Marvelous: The Dancing Genius of Gwen Verdon is the three-course meal you've been craving. The new documentary—available now on Amazon for rental or purchase—dives into the life of the Tony-winning performer and silver-screen star lauded for her charismatic dancing.

Though she's perhaps most well-known today as Bob Fosse's wife and muse, that's not even half of her story. For starters, she'd already won four Tonys before they wed, making her far more famous in the public eye than he was at that point in his career. That's just one of many surprising details we learned during last night's U.S. premiere of Merely Marvelous. Believe us: You're gonna love her even more once you get to know her. Here are eight lesser-known tidbits to get you started.
Keep reading...
Show less
Lindsay Thomas
Every dancer knows that how you fuel your body affects how you feel in the studio. Of course, while breakfast is no more magical than any other meal (despite the enduring myth that it's the most important one of the day), showing up to class hangry is a recipe for unproductive studio time.
So what do your favorite dancers eat in the morning to set themselves up for a busy rehearsal or performance day?
Keep reading...
Show less
News
Sep. 20, 2019 09:17AM EST
Simon Soong, Courtesy DDT
When it comes to dance in the U.S., companies in the South often find themselves overlooked—sometimes even by the presenters in their own backyard. That's where South Arts comes in. This year, the regional nonprofit launched Momentum, an initiative that will provide professional development, mentorship, touring grants and residencies to five Southern dance companies.
Keep reading...
Show less
News
Sep. 19, 2019 12:46PM EST
Alice Pennefather, Courtesy ROH
You ever just wish that Kenneth MacMillan's iconic production of Romeo and Juliet could have a beautiful love child with the 1968 film starring Olivia Hussey? (No, not Baz Luhrmann's version. We are purists here.)
Wish granted: Today, the trailer for a new film called Romeo and Juliet: Beyond Words was released, featuring MacMillan's choreography and with what looks like all the cinematic glamour we could ever dream of:
Keep reading...
Show less