This Dancer Almost Lost Her Leg to Cancer. Now She's Heading Back to The Washington Ballet
Courtesy Chiara Valle
Chiara Valle is just one of many dancers heading back to the studio this fall as companies ramp up for the season. But her journey back has been far more difficult than most.
Valle has been a trainee at The Washington Ballet since 2016, starting at the same time as artistic director Julie Kent. But only a few months into her first season there, she started experiencing excruciating pain high up in her femur. "It felt like someone was stabbing me 24/7," she says. Sometimes at night, the pain got so bad that her roommates would bring her dinner to the bathtub.
---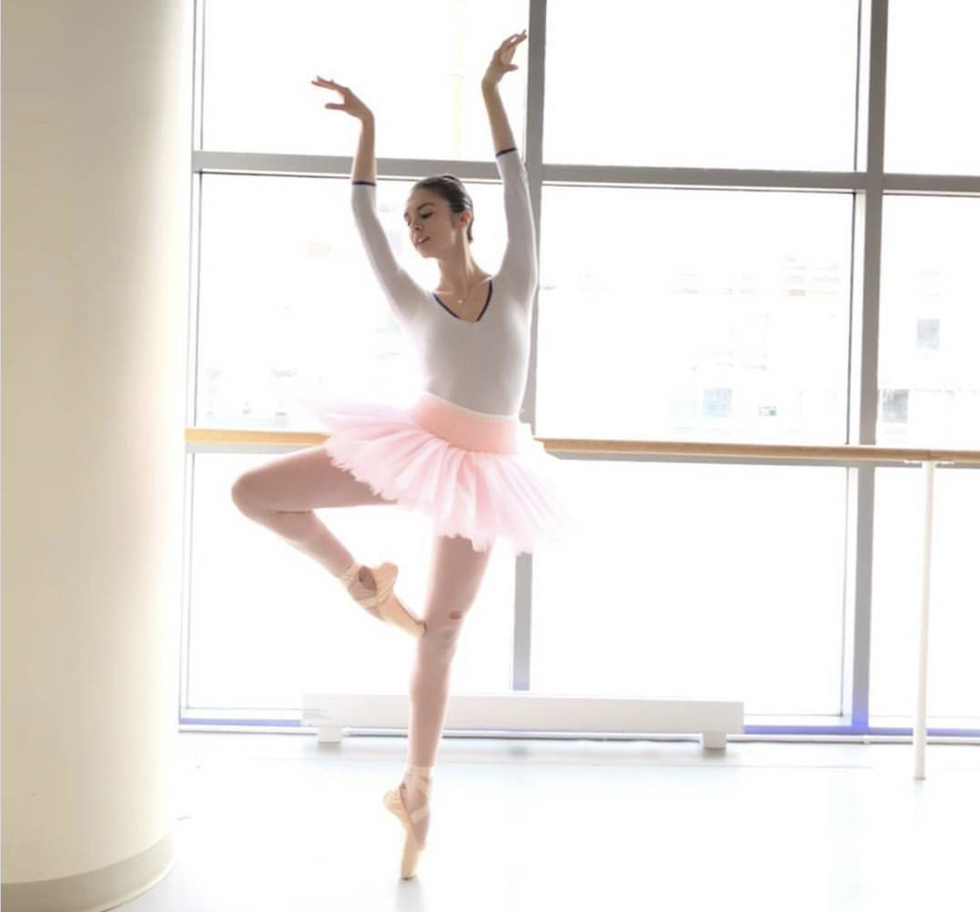 Courtesy Valle
Even so, the studio remained a safe space. "As long as I was moving, I didn't notice the pain," she says. Valle assumed she'd gotten a dance-related injury, like a labral tear. To her surprise, scans showed she had a tumor. A noninvasive surgery relieved the pain for a couple months, but it returned. So the doctors performed the procedure again. And again, the pain returned.
After a year of struggling, Valle went for a second opinion at the Children's Hospital at Montefiore in New York City, and in February 2018 finally got the correct diagnosis: Ewing sarcoma, a rare bone cancer.
The typical treatment? Amputation of the leg. But knowing that Valle was a ballet dancer, the doctors decided to go a different route, blasting the tumor with 14 rounds of chemotherapy—including one chemo that's so intense it's nicknamed "The Red Devil"—and 31 treatments of radiation.
As supportive as her colleagues were, Valle struggled. "A week after I was diagnosed I was set to be in Romeo and Juliet with The Washington Ballet. Before I knew how serious it was, I said to my doctor, 'Are you sure I can't go back to DC for a week and finish that?' "
She had to stop looking at social media, where she'd see her friends performing and continuing on with their lives while she was throwing up from the chemo.
But she realized she could use ballet as a motivator. Kent checked in regularly and sent along videos of Valle dancing—telling her that whenever she was ready to come back, her spot was there for her.
"She deserves to pick up where she left off, and pursue the life she wants for herself," says Kent. "We're all here to support her."
Kent says Valle's handled her cancer journey with aplomb. "When she came back from the first surgery, she was dancing so beautifully and had come such a long way since her first season. Then she got the more serious diagnosis," Kent says. "But she persevered—she's been grace under pressure."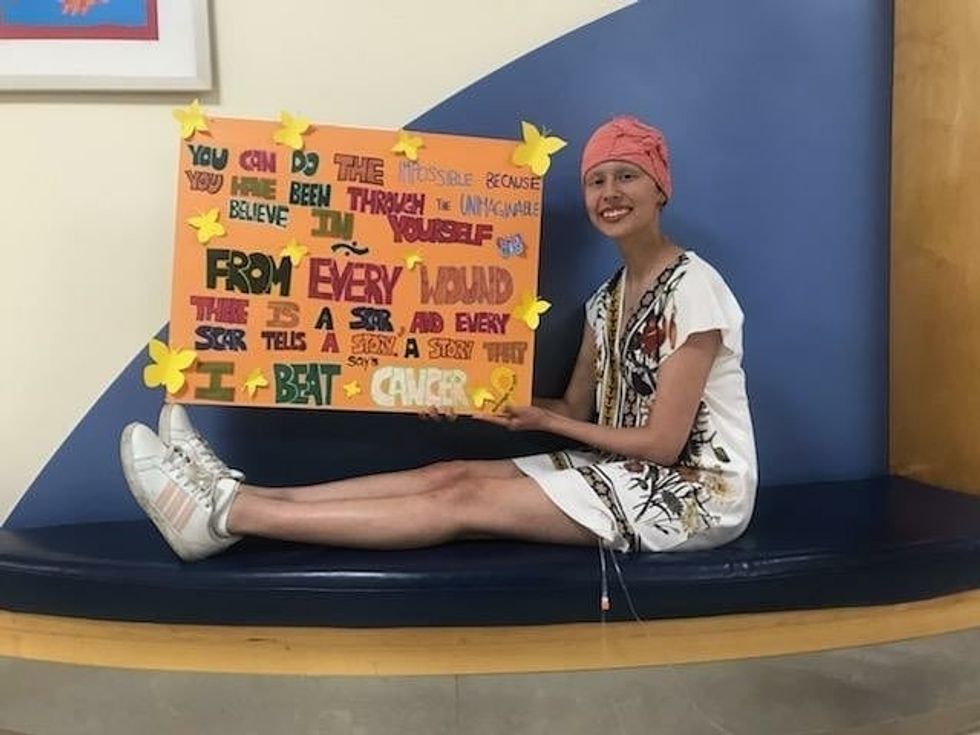 Chiara Valle on her last day of chemo
Courtesy Valle
On November 16, 2018, Valle was cleared as NED—no evidence of disease. Although it takes five years to be declared "cured" since there is a high rate of reoccurrence, Valle has finally, slowly been able to make her way back to the studio.
She took her first ballet barre in March. "I did the most emotional pliés of my life," she says, now laughing at how she cried through the entire combination.
Though she's still working on regaining her endurance and rebuilding her calf strength for pointe work, as she heads back to the TWB studios, she knows she's grown as a dancer. "I've learned not to worry about the little things, and I've learned patience," says Valle, now 21. "I hope to carry my story with me to the stage. And hopefully one day a little kid who's battling cancer can look up to me and know they can do it, too."
To that end, she's launched Wings for Ewing Sarcoma, a nonprofit dedicated to raising funds both for research and retreats for pediatric cancer patients.
"I just can't wait to see her in Waltz of the Flowers in Nutcracker," says Kent. "That's my last memory of her dancing. There's one part where the women jeté across the stage, and because Chiara's one of the taller dancers she's always last and does this big dramatic run. You could tell how much she enjoyed it. I can't wait to see her doing that—and can't imagine what she will feel when she arrives at that point again after all that she's been through."

From Your Site Articles
Related Articles Around the Web
Rachel Papo
In the middle of one of New York City Center's cavernous studios, Misty Copeland takes a measured step backwards. The suggestion of a swan arm ripples before she turns downstage, chest and shoulders unfurling as her legs stretch into an open lunge. She piqués onto pointe, arms echoing the sinuous curve of her back attitude, then walks out of it, pausing to warily look over her shoulder. As the droning of Ryuichi Sakamoto and Alva Noto's mysterious "Attack/Transition" grows more insistent, her feet start to fly with a rapidity that seems to almost startle her.
And then she stops mid-phrase. Copeland's hands fall to her hips as she apologizes. Choreographer Kyle Abraham slides to the sound system to pause the music, giving Copeland a moment to remind herself of a recent change to the sequence.
"It's different when the sound's on!" he reassures her. "And it's a lot of changes."
The day before was the first time Abraham had seen Copeland dance the solo in its entirety, and the first moment they were in the studio together in a month. This is their last rehearsal, save for tech, before the premiere of Ash exactly one week later, as part of the opening night of City Center's Fall for Dance festival.
Keep reading...
Show less
Ailey II artistic director Troy Powell teaching an Ailey Workshop at NYCDA. Courtesy NYCDA
Back in 2011 when Joe Lanteri first approached Katie Langan, chair of Marymount Manhattan College's dance department, about getting involved with New York City Dance Alliance, she was skeptical about the convention/competition world.
"But I was pleasantly surprised by the enormity of talent that was there," she says. "His goal was to start scholarship opportunities, and I said okay, I'm in."
Today, it's fair to say that Lanteri has far surpassed his goal of creating scholarship opportunities. But NYCDA has done so much more, bridging the gap between the convention world and the professional world by forging a wealth of partnerships with dance institutions from Marymount to The Ailey School to Complexions Contemporary Ballet and many more. There's a reason these companies and schools—some of whom otherwise may not see themselves as aligned with the convention/competition world—keep deepening their relationships with NYCDA.
Now, college scholarships are just one of many ways NYCDA has gone beyond the typical weekend-long convention experience and created life-changing opportunities for students. We rounded up some of the most notable ones:
Keep reading...
Show less
Getty Images
Dancers are understandably obsessed with food. In both an aesthetic and athletic profession, you know you're judged on your body shape, but you need proper fuel to perform your best. Meanwhile, you're inundated with questionable diet advice.
"My 'favorite' was the ABC diet," says registered dietitian nutritionist Kristin Koskinen, who trained in dance seriously but was convinced her body type wouldn't allow her to pursue it professionally. "On the first day you eat only foods starting with the letter A, on the second day only B, and so on."
Keep reading...
Show less
Left: Hurricane Harvey damage in Houston Ballet's Dance Lab; Courtesy Harlequin. Right: The Dance Lab pre-Harvey; Nic Lehoux, Courtesy Houston Ballet.
"The show must go on" may be a platitude we use to get through everything from costume malfunctions to stormy moods. But when it came to overcoming a literal hurricane, Houston Ballet was buoyed by this mantra to go from devastated to dancing in a matter of weeks—with the help of Harlequin Floors, Houston Ballet's longstanding partner who sprang into action to build new floors in record time.
Keep reading...
Show less