Meet the Ballet Dancer Who Started His Own Chimichurri & Salsa Company
Alberto spends his summer layoffs growing the business. Photos courtesy Alberto
A few years ago I was rehearsing with the Festival Ballet of Providence, attempting to remember a piece I'd choreographed almost a decade earlier. It wasn't going well, and in my frustration, I jokingly asked the dancers if anyone had savantish memory and could reverse movement phrases on the fly. Principal dancer Alan Alberto raised his hand. Alberto examined a video of the choreography and, within minutes, was able to set it on others as though he had performed it himself. I'd never seen someone able to synthesize and teach new material so dexterously.
A few months later I ran into him at Whole Foods, where he was standing behind a sample stand offering passersby a marinade by a company I'd never heard of: Mesa Fresca. I asked Alberto how long he had worked for the company. He paused, and remarked that, well, actually, he'd started it. I wasn't talking to an hourly worker; Alberto was a founder and CEO.
---
Today, Mesa Fresca sells products at over 30 locations, including Whole Foods. After our exchange (during which I bought a bottle of delicious chimichurri) I called Alberto to learn more about how he could be so masterful in the dance studio while also managing the demands of a startup.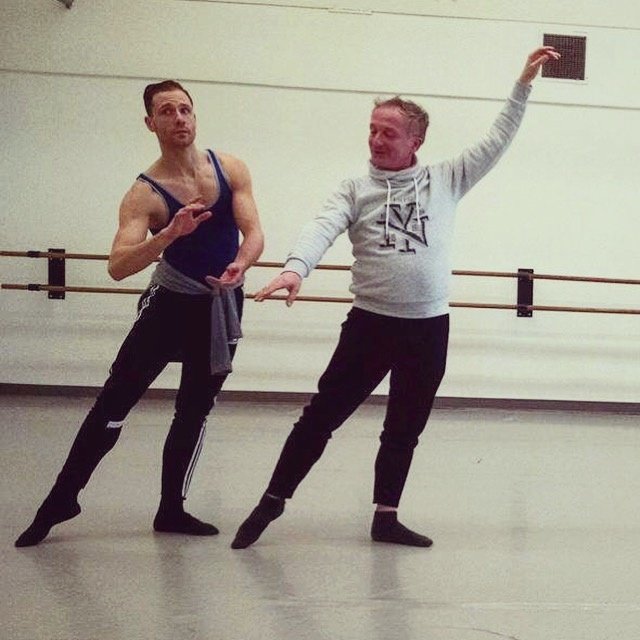 Alberto rehearsing at Festival Ballet Providence. Photo courtesy Alberto
How did you start Mesa Fresca?
My family is from Argentina, and we grew up eating culturally authentic Hispanic meals. Asado, an Argentine BBQ, was always a weekend event for us, and on Sundays my dad would fire up the grill while my mom made her authentic chimichurri sauce. Our family and friends would gather, enjoy the time, and at the end of the meal people would ask to take a jar of chimichurri home or for my mom to make them a special order. We were onto something.
I had been dancing abroad with the National Ballet of Croatia, and after completing my first year at Johnson & Wales University [a world class culinary school in Rhode Island] in 2014, I knew it was time to start Mesa Fresca.
My sister had been making and selling our chimichurri to friends, coworkers and family for a couple of years. I was on a summer lay-off and approached her about incorporating and starting a proper business. We took a road trip to a local chip factory for inspiration, and on that drive we came up with the name, Mesa Fresca (Fresh Table).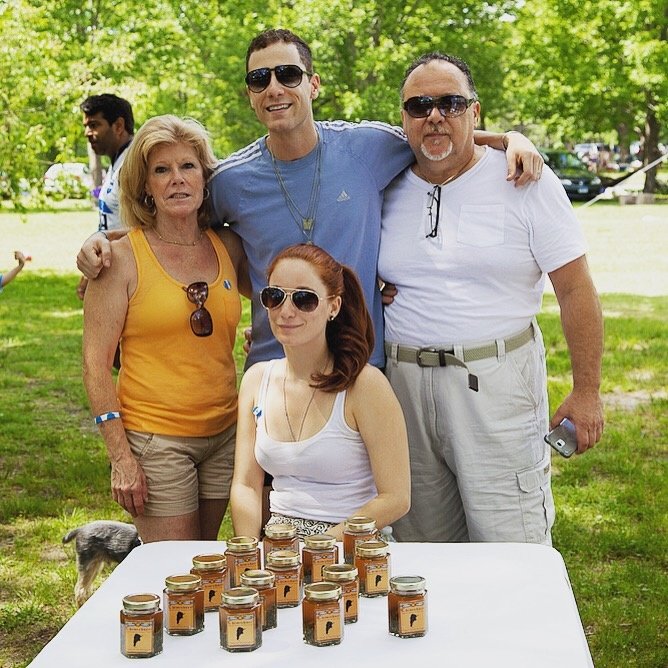 Alberto's family has always loved getting together for asado on Sundays. Photo courtesy Alberto
How do you balance your two careers?
One of the challenges of working in a regional ballet company is the long summer lay-off. I decided to use this time to my advantage. My strategy was to focus on growth and development of Mesa Fresca during the summer months, while I was free, and sustain a steady operation during the dancing season.
Does being a dancer inform the business?
Dancers are their own brand. You work to perfect your technique and artistry, audition, sign contracts and try to perform at your highest potential.
Owning a food brand is very similar. We spent time crafting, testing and perfecting our recipes, we work hard to improve brand awareness, increase sales channels and educate consumers. In a sense, we audition when we meet with buyers who can bring our products into their stores.
There are many skills that we learn as dancers that we might not even be aware we have. I believe that dancers are some of the smartest, most dedicated, hard-working, talented individuals in the workforce.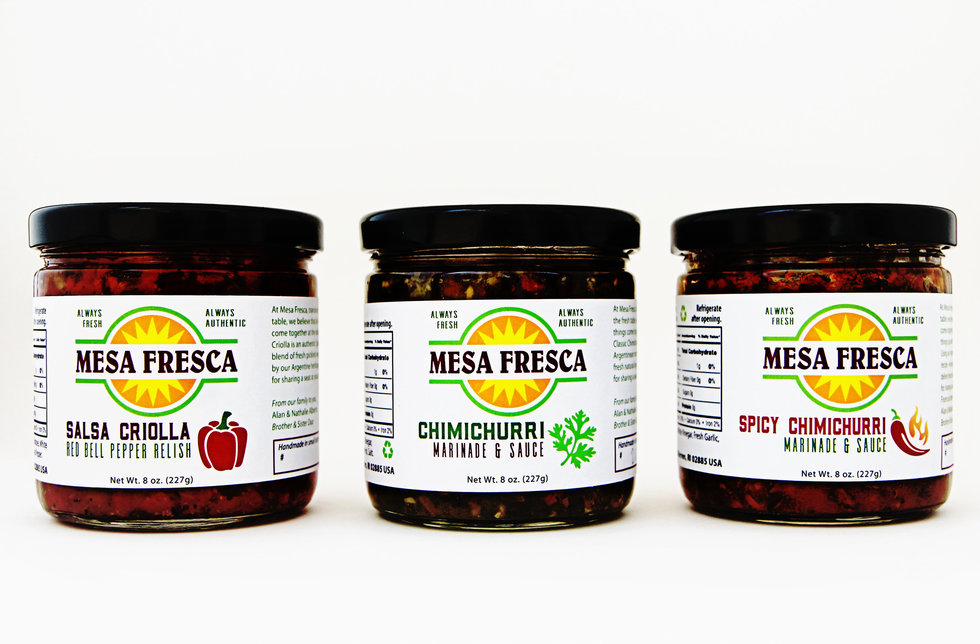 Can you elaborate on that? What makes dancers so special?
As a dancer, you're often learning several pieces at the same time, receiving and applying multiple corrections, listening to the music, thinking about choreography, and making all of those moving parts come together seamlessly. This mind/body training translates into better work habits.
My own honed skills allow me to think faster and more clearly, and to use my time efficiently and effectively. There's absolutely a relationship between my skill as a dancer and my work as a business owner.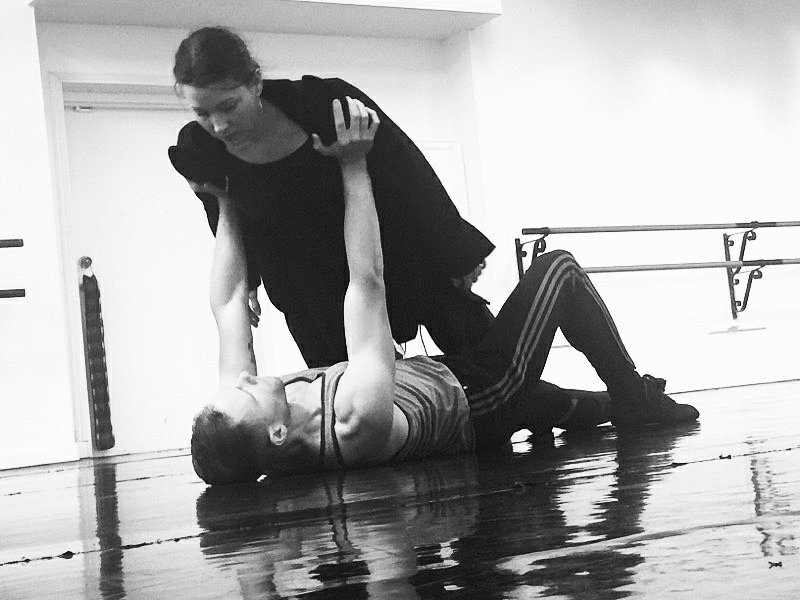 Alberto and Andrea Dawn-Shelley in rehearsal with iMEE: Infinite Movement Ever Evolving. Photo courtesy Alberto
What would you tell other dancers about your career?
It's important to explore other activities and things you're passionate about in conjunction with a dance career. Maintaining a work/life balance alongside hobbies and interests outside of dance makes you more well-rounded, and I highly encourage continuous learning.
A ballet career is relatively short; it's never too early or late to do anything in life. Go for it!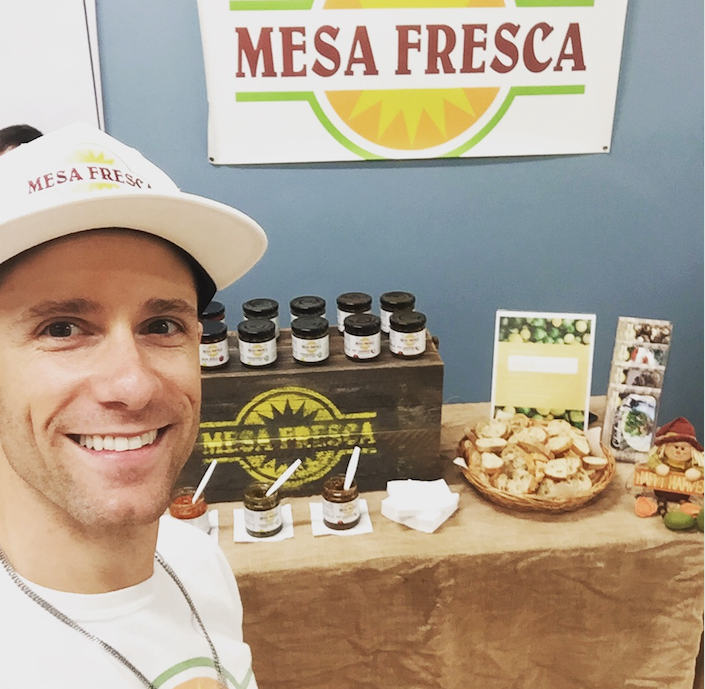 Selfie with the samples. Photo courtesy Alberto
Did The Tenant unintentionally conflate transness and mental illness? Photo by Matthew Murphy, courtesy The Joyce Theater
Last week, Arthur Pita's much-anticipated The Tenant, featuring American Ballet Theatre principal James Whiteside, had its New York City premiere at The Joyce Theater.
Based on the novel by Roland Topor and the 1976 Roman Polanski film, The Tenant follows a man who moves into an apartment that's haunted by its previous occupant (Simone, played by ABT's Cassandra Trenary) who committed suicide. Throughout the show, the man—Trelkovsky, played by Whiteside—slowly transforms into Simone, eventually committing suicide himself.
But some found the show's depiction of a trans-femme character to be troubling. Whether the issues stem from the source material or the production's treatment of it, many thought the end result reinforced transphobic stereotypes about mental illness. We gathered some of the responses from the dance community:

Keep reading...
Show less
Popular
Oct. 02, 2018 12:49PM EST
It's contest time! You could win your choice of Apolla Shocks (up to 100 pairs) for your whole studio! Apolla Performance believes dancers are artists AND athletes—wearing Apolla Shocks helps you be both! Apolla Shocks are footwear for dancers infused with sports science technology while maintaining a dancer's traditions and lines. They provide support, protection and traction that doesn't exist anywhere else for dancers, helping them dance longer and stronger. Apolla wants to get your ENTIRE studio protected and supported in Apolla Shocks! How? Follow these steps:
Keep reading...
Show less
News
Nov. 14, 2018 10:57AM EST
Raffaella Stroik. Photo via stlouisballet.org
Update: Raffaella Stroik's body was found near a boat ramp in Florida, Missouri on Wednesday morning. No information about what led to the death is currently available. Our thoughts are with her friends and family.
Raffaella Stroik, a 23-year-old dancer with the Saint Louis Ballet, went missing on Monday.

Her car was found with her phone inside in a parking lot near a boat ramp in Mark Twain Lake State Park—130 miles away from St. Louis. On Tuesday, the police began an investigation into her whereabouts.
Stroik was last seen at 10:30 am on Monday at a Whole Foods Market in Town and Country, a suburb of St. Louis. She was wearing an olive green jacket, a pink skirt, navy pants with white zippers and white tennis shoes.
Keep reading...
Show less
Harlequin Floors' home studio kit lets dancers bring the studio home with them. Image courtesy Harlequin Floors
So you're on layoff—or, let's be real, you just don't feel like going to the studio—and you decide you're going to take class from home. Easy enough, right? All you need is an empty room and some music tracks on your iPhone, right?
Wrong. Anyone who has attempted this feat can tell you that taking class at home—or even just giving yourself class in general—is easier said than done. But with the right tools, it's totally doable—and can be totally rewarding.
Keep reading...
Show less
Clockwise from top left: Crystal Pite, photo by Michael Slobodian; Lourdes Lopez, photo by Alexander Iziliaev; Michael Trusnovec, photo via Instagram; Ronald K. Brown, photo by Julieta Cervantes
Today, we are thrilled to announce the honorees of the 2018 Dance Magazine Awards. A tradition dating back to 1954, the Dance Magazine Awards celebrate the living legends who have made a lasting impact on dance. This year's honorees include:
Keep reading...
Show less
Dancemaking skills will serve you far beyond the studio, says Iyun Ashani Harrison. Photo by Willow Pinkerton, courtesy Harrison
Whether or not you see yourself choreographing in your future, you can gain a lot from studying dance composition. "Many companies ask you to generate your own content. Choreography is more collaborative now," says Autumn Eckman, a faculty member at the University of Arizona.
Look beyond the rehearsal studio, and you'll find even more benefits to having dancemaking skills. "Being a thinker as well as a mover is what creates a sustainable career," says Iyun Ashani Harrison, who teaches at Goucher College. "Viewing dance with a developed eye and being able to speak about what you're seeing is valuable whether you're a dancer, a choreographer, an artistic director or a curator."
Succeeding in composition class often has more to do with attitude than aptitude. Above all, you need "a willingness to play along and explore," says Kevin Predmore, who teaches at the Ailey/Fordham BFA program. "You have to let go of the desire to create something extraordinary, and instead be curious."
Keep reading...
Show less
Judith Lynne Hanna in a still from "Partying Alone." Image courtesy Fox Force
Egg Drop Soup's "Partying Alone" video turns a run-of-the-mill dance team audition on its head with a vision of female power from a mature woman. The panel is stunned when a gray-haired, red-lipsticked 80-something tosses aside her cane and lets loose, flipping her hair—and the bird.
Egg Drop Soup - Partying Alone (Official music video)
Take a second look at that head-banging grandma—she is none other than renowned dance researcher and anthropologist Judith Lynne Hanna. An affiliate research professor in anthropology at the University of Maryland, College Park, the author of numerous scholarly books and an expert witness in trials for exotic dancers, she has spent her career getting us to think about dance's relationship to society. Hanna, 82, said she hadn't performed since college when she got a call from a music video producer, who caught a video of her dancing with her 13-year-old grandson. The rockers of Egg Drop Soup loved her energy and flew her out to Los Angeles for a day-long video shoot. We spoke to Hanna about the experience.
Keep reading...
Show less
Dancers often make the best chefs. Photo by Quinn Wharton
Tired of the typical turkey and stuffing? For Thanksgiving this year, try something different with these personal recipes that dancers have shared with Dance Magazine. The ingredients are packed with dancer-friendly nutrients to help you recover from rehearsals and fuel up for the holiday performances ahead.

If anyone raises an eyebrow at your unconventional choices, just remind them that dancers are allowed to take some artistic license!
Keep reading...
Show less
A performance psychologist can help dancers work through barriers to peak performance. Getty Images
A dancer once contacted me because he was devastated after walking in on his girlfriend with another man. While he was distressed about ending the relationship, he was most concerned about a major performance coming up. They had to dance a romantic pas de deux. When I met with them together, she was afraid he would drop her and he didn't want to look lovingly in her eyes. My role was to help them find ways to make magic onstage and keep their personal difficulties offstage. They ended up dancing to rave reviews.
Keep reading...
Show less
Dance Magazine's December 2018 cover girl: Adji Cissoko. Photographed by Jayme Thornton
Adji Cissoko has the alchemical blend of willowy limbs and earthy musicality you expect from a dancer in Alonzo King LINES Ballet. But she also has something more—a joy in dancing that makes every step feel immediate.
"She has this soulful quality of an ancient spirit coming through her body," says LINES chief executive officer Muriel Maffre, a former prima ballerina with San Francisco Ballet. "She's fearless, which is fun to work with," says artistic director Alonzo King. "I don't know how to put it into words— she's herself."
Keep reading...
Show less
Jan Fabre's Mount Olympus pushes dancers to their limits. Photo by Wonge Bergmann, via nyuskirball.org
When Jan Fabre's troupe Troubleyn presents his Mount Olympus: To glorify the cult of tragedy (a 24 hour performance) at NYU Skirball tomorrow it does so under a heavy cloud of controversy.
Fabre is a celebrated Belgian multidisciplinary artist who has been honored as Grand Officer in the Order of the Crown, one of the country's highest honors. His visual art has been displayed at the Louvre and at the Hermitage in St. Petersburg. According to The New York Times, his dance company, Troubleyn, receives about $1 million a year from the Belgian government.
But in an open letter posted to Belgian magazine Rekto Verso just a few months ago, 20 of his company's current and former dancers outline a horrific culture of sexual harassment, bullying and coercion. This comes on the heels of similar accusations at New York City Ballet and Paris Opèra Ballet.
Keep reading...
Show less
Tiler Peck's CFDA Fashion Fund red lip also makes for the perfect
Nutcracker
makeup. Photo via Instagram,
Rebecca de Ravenel
Earlier this week, New York City Ballet principal Tiler Peck gave us some major onstage makeup inspiration while attending an offstage event. While walking the red carpet at the CFDA/Vogue Fashion Fund gala, Peck's beauty look was still perfectly suited for the ballet with her top knot hairstyle and stage-worthy red lip. Peck's makeup artist for the night, Daniel Duran, shared his exact breakdown on the look, working exclusively with beauty brand Chantecaille. So, whether you're in need of a waterproof brow pencil, volumizing mascara or long-lasting red lip this Nutcracker season, we've got you covered.

Keep reading...
Show less
Simulations of An's "Marie . T" prosthetic design, via jaehyunan.com
There's a new tool that lets amputee ballet dancers perform on pointe. As reported in Dezeen, an architecture and design magazine, industrial designer Jae-Hyun An has created a prosthesis he calls the "Marie . T" (after Marie Taglioni, of course) that allows dancers with below-the-knee amputations to do pointe work.

A carbon fiber calf absorbs shock while a stainless steel toe and rubber platform allow a dancer to both turn and grip the floor to maintain balance. What it doesn't allow the dancer to do? Roll down to demi-pointe or flat.
Keep reading...
Show less
Linda Tarnay. Photo by Chuck Delaney, Courtesy Dance Magazine Archives
Former chair of New York University's Tisch School of the Arts dance department Linda Tarnay died on Tuesday, November 6. Her wish was to have her ashes interred in the columbarium at St. Mark's Church-in-the-Bowery—the site of Danspace Project and just a few blocks away from the Tisch dance building.
Before her 35 years of teaching at NYU, Tarnay was a founding member of Dance Theater Workshop. She performed with choreographers like Anna Sokolow, Phyllis Lamhut and Jamie Cunningham. She also started her own company, Linda Tarnay and Dancers, and was an artist-in-residence at The Yard.
Keep reading...
Show less
Whoever told Emma Portner not to move to NYC probably feels silly now. Photo by Quinn Wharton
Raise your hand if you've received bad advice from well-meaning friends or family (or strangers, tbh) who don't know anything about what it really takes to be a dancer.
*everyone raises hands*
Sometimes it's even dance insiders whose advice can send you down the wrong path. We've been asking pros about the worst advice they've ever received in our "Spotlight" Q&A series, and rounded up some of the best answers:
Keep reading...
Show less
News
Sep. 17, 2018 11:46AM EST
Ramasar and Catazaro, photos via Instagram
New York City Ballet fired principal dancers Amar Ramasar and Zachary Catazaro on Saturday. Both had initially been suspended until 2019 for engaging in "inappropriate communications," while principal Chase Finlay, who was the instigator of those communications, resigned. (Although, in a statement on Saturday, NYCB made it clear they had decided to terminate Finlay prior to his resignation.)
The New York Times reports that NYCB says the change from suspension to termination resulted from hearing the concerns of dancers, staff members and others in the NYCB community. Yet it's hard to ignore the fact that a lawsuit against NYCB had been filed in the meantime. A statement from NYCB executive director Katherine Brown and interim artistic team leader Jonathan Stafford stated:
"We have no higher obligation than to ensure that our dancers and staff have a workplace where they feel respected and valued, and we are committed to providing that environment for all employees of New York City Ballet."
Since the news was announced, both Catazaro and Ramasar have spoken out publicly about being fired.
Keep reading...
Show less
Precious Adams performing
Harlequinade
pas de deux for English National Ballet's Emerging Dancer competition 2018. Photo by Laurent Liotardo via
ballet.org.uk
Recently, English National Ballet first artist Precious Adams announced that she will no longer be wearing pink tights. With the support of her artistic director Tamara Rojo, she will instead wear chocolate brown tights (and shoes) that match her flesh tone.
It may seem like a simple change, but this could be a watershed moment—one where the aesthetics of ballet begin to expand to include the presence of people of color.
Keep reading...
Show less
Margaret Selby with client Michelle Dorrance, photo by Todd Burnseed
Margaret Selby never dreamed that her passion for dance would lead her everywhere from working on live TV specials like the Macy's Thanksgiving Day Parade to producing hip-hop musical Jam on the Groove, from Columbia Artists Management, Inc., to public TV's "Great Performances: Dance in America."
Now, through her company Selby/Artists MGMT, she helps clients like Dorrance Dance, MOMIX and Pacific Northwest Ballet navigate the behind-the-scenes elements that get their work onstage, like booking tours, marketing and planning upcoming seasons.
Keep reading...
Show less
A still from the new documentary, DANSEUR. Image courtesy DANSEUR
According to the new documentary DANSEUR, 85% of males who study dance in the United States are bullied or harassed. A quote in the film from Dr. Doug Risner, faculty member at Wayne State University, states, "If this scope of bullying occurred in any activity other than dance, it would be considered a public health crisis by the CDC."
So why is it allowed to persist in ballet? And why aren't we talking about it more? These are the questions that DANSEUR seeks to answer. But primarily consisting of dance footage and interviews with male dancers like ABT's James Whiteside, Houston Ballet's Harper Watters and Boston Ballet's Derek Dunn, the film only addresses these issues superficially, with anecdotes about individual experiences and generalizations about what it's like to be a male dancer.
Keep reading...
Show less
You can still be learning even if you have to sit out. PC Getty Images
When you're unable to dance, it's easy to feel like you're falling behind and losing out on opportunities. But this can be a time to reset your body and come back even stronger, says Ilana Goldman, BFA program director at Florida State University's School of Dance. "Some of the greatest leaps I made in my technique happened because of injuries," she says. "Learning how to deal with them is part of being a professional dancer."

Keep reading...
Show less
Mia Michaels has learned the power of inspiring those she works with. Here, rehearsing Rockettes. Photo courtesy MSG
Dancers are human, which means they're bound to make mistakes from time to time, both on and off the stage. But what happens when those mistakes burn bridges? In an industry so small, is it possible for choreographers and performers to recover?
In a moment of vulnerability, three-time Emmy Award winning choreographer Mia Michaels opened up to
Dance Magazine
about some of the bridges she herself has burned, the lengths she's gone to in order to rebuild and the peace she's made with the new direction her career has taken because of them. —Haley Hilton
Keep reading...
Show less
Directors tend to pick dancers who fit the company's style, body type and need for a particular height. Photo by Jim Lafferty for Pointe
Are auditions rigged? Sometimes I see mediocre dancers make it into a company, and I just don't get it. The audition process is unnerving for me without feedback or any understanding of the rules.
—Madison, Santa Monica, CA
Keep reading...
Show less