6 Get-Fit Tips from an ABT Dancer Who's Also a Certified Trainer
Boren teaching a class for an Equinox event. Photo by Will Mayer for Better Half Productions, Courtesy ABT
We all know that personal trainers can help dancers condition their bodies more effectively. But trainers who are also dancers themselves? Now that's a uniquely valuable perspective.
Take Kathyrn Boren, an American Ballet Theatre corps member who got certified by the National Academy of Sports Medicine last summer, following in the footsteps of her colleagues Thomas Forster and Roman Zhurbin. Her weekly Conditioning for Dancers classes in New York City are filled with everyone from athletic men to older women (including one ABT donor who's attended every single time). But those who might get the most out of her workouts are the dance students who attend. They walk away with exercises and advice tailored for their particular challenges—coming from someone who knows those challenges intimately.
Boren recently spoke with Dance Magazine to share her best cross-training advice for dancers looking to improve their fitness.
---
1. Challenge multiple parts of your body at once.
Although traditional strength-training often isolates one muscle group at a time, Boren prefers to work several parts of the body simultaneously. For instance, rather than just balancing on a BOSU ball, she'll balance on the BOSU while holding free weights and practicing ronds de jambe en l'air.
This approach challenges your coordination, and translates more directly to what you actually do in the studio. "When you're performing a petite allégro, for example, you're using many different body parts, not just your calves," says Boren. "This is also a great way to force your mind to focus." There's no daydreaming possible when you're doing three exercises at once.
2. You're better off not cross-training than rushing through it.
Doing exercises with improper form does more harm than good, says Boren. "You're building the wrong muscles, and your body's not really getting the benefit it needs."
Dancers typically lose their form when they try to go too hard too fast, and have to cheat to get through it. Boren suggests doing fewer reps so you can strengthen the correct muscles—which will help you eventually take on bigger challenges.
3. Strengthen your parallel position.
Ballet dancers love hanging around with their legs in turnout, and, more often than not, over-rotating their ankles and knees. Boren emphasizes that strength-training is really the time to work in parallel. The body needs to be balanced to be truly strong and to stay injury-free.
4. Work your weaknesses.
"Everybody has a strength, and it feels good to work that strength because it feels like you're doing something great," says Boren. "I'm guilty of it, too: If given the chance, I'd do a million core exercises and skip upper-body work completely."
Rather than strengthening the things you can already do well, work on improving your weaknesses—even if it's not as much fun. Boren suggests building a library of exercises that tackle your core, upper body, lower body and coordination so you make sure you're getting well-rounded workouts.
"After studying how the body works, I started incorporating more upper-body exercises into my own routine," she says. "I'd never paid too much attention to it before because I figured it wasn't as important as a ballet dancer, but then I learned about how our strength is all connected."
5. Plank.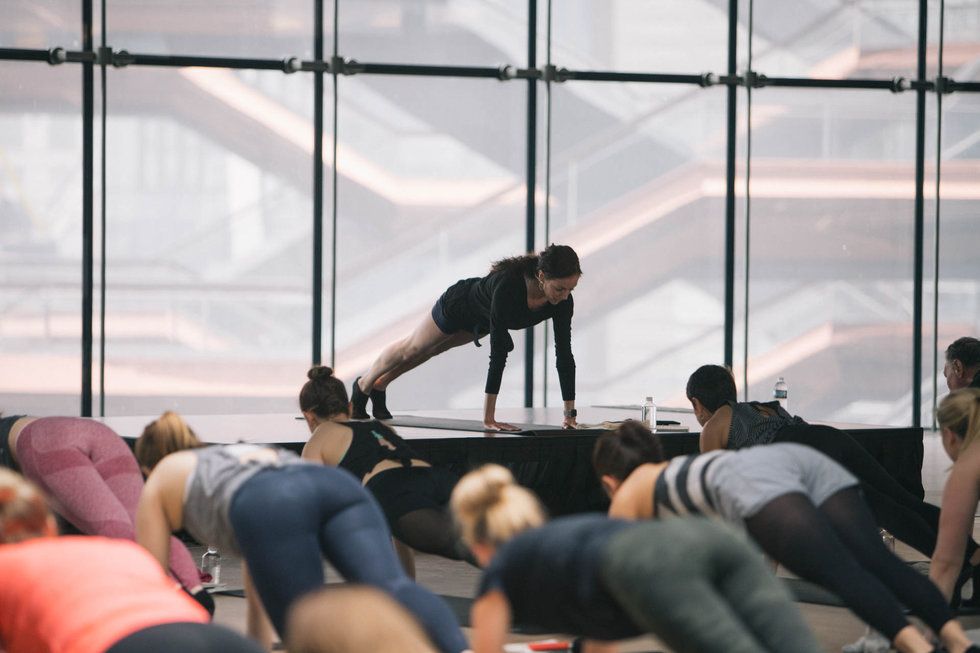 Will Mayer for Better Half Productions, Courtesy ABT
If Boren had to recommend just one exercise to dancers, it'd be a plank.
"If you do it properly—with your shoulders back, your gaze slightly in front of you, your core engaged, back straight, hips tucked, energy through the body from fingers to toes—if you do that correctly for 45 seconds, you're working every muscle. It's good for mindfulness, too, to be still for that long."
6. Learn how your body works.
Since getting her certification and becoming more aware of the science behind strength, Boren's noticed several changes in her own dancing: She now feels like she's better able to control her natural flexibility, her balance has improved, and her jumps have gotten better. "I feel like it's this extra level of strength put on top of my dancing," she says. The first step to fitness is building your base of knowledge about it.
A flyer showing Alberto Alonso, Fernando Alonso, Benjamin Steinberg and Alicia Alonso. Photo courtesy the author
Alicia has died. I walked around my apartment feeling her spirit, but knowing something had changed utterly.
My father, the late conductor Benjamin Steinberg, was the first music director of the Ballet de Cuba, as it was called then. I grew up in Vedado on la Calle 1ra y doce in a building called Vista al Mar. My family lived there from 1959 to 1963. My days were filled with watching Alicia teach class, rehearse and dance. She was everything: hilarious, serious, dramatic, passionate and elegiac. You lost yourself and found yourself when you loved her.
Keep reading...
Show less
Left: Hurricane Harvey damage in Houston Ballet's Dance Lab; Courtesy Harlequin. Right: The Dance Lab pre-Harvey; Nic Lehoux, Courtesy Houston Ballet.
"The show must go on" may be a platitude we use to get through everything from costume malfunctions to stormy moods. But when it came to overcoming a literal hurricane, Houston Ballet was buoyed by this mantra to go from devastated to dancing in a matter of weeks—with the help of Harlequin Floors, Houston Ballet's longstanding partner who sprang into action to build new floors in record time.
Keep reading...
Show less
Hansuke Yamamoto in Helgi Tomasson's Nutcracker at San Francisco Ballet, which features an exciting and respectful Chinese divertissement. Photo by Erik Tomasson, Courtesy SFB
It's Nutcracker time again: the season of sweet delights and a sparkling good time—if we're able to ignore the sour taste left behind by the outdated racial stereotypes so often portrayed in the second act.
In 2017, as a result of a growing list of letters from audience members, to New York City Ballet's ballet master in chief Peter Martins reached out to us asking for assistance on how to modify the elements of Chinese caricature in George Balanchine's The Nutcracker. Following that conversation, we founded the Final Bow for Yellowface pledge that states, "I love ballet as an art form, and acknowledge that to achieve a diversity amongst our artists, audiences, donors, students, volunteers, and staff, I am committed to eliminating outdated and offensive stereotypes of Asians (Yellowface) on our stages."
Keep reading...
Show less
Allegra Bautista in Nevertheless, by ka·nei·see | collective. Photo by Robbie Sweeny
An audience member once emailed Dallas choreographer Joshua L. Peugh, claiming his work was vulgar. It complained that he shouldn't be pushing his agenda. As the artistic director of Dark Circles Contemporary Dance, Peugh's recent choreography largely deals with LGBTQ issues.
"I got angry when I saw that email, wrote my angry response, deleted it, and then went back and explained to him that that's exactly why I should be making those works," says Peugh.
With the current political climate as polarized as it is, many artists today feel compelled to use their work to speak out on issues they care deeply about. But touring with a message is not for the faint of heart. From considerations about how to market the work to concerns about safety, touring to cities where, in general, that message may not be so welcome, requires companies to figure out how they'll respond to opposition.
Keep reading...
Show less