How This Paul Taylor Dancer Knew It Was Time To Retire
James Samson in Three Dubious Memories. Photo by Paul B. Goode, courtesy Paul Taylor Dance Company
For 17 years, James Samson has been the model Paul Taylor dancer. There is something fundamentally decent about his stage persona. He's a tall dancer—six feet—but never imposes himself. He's muscular, but gentle. And when he moves, it is his humanity that shines through, even more than his technique.
But all dancing careers come to an end, and James Samson's is no exception; now 43, he'll be retiring in August, after a final performance at the Teatro Romano in Verona, where he'll be dancing in Cloven Kingdom, Piazzolla Caldera and Promethean Fire.
---
We caught up with him to talk about the arc of his career, working with Paul Taylor and why he feels ready to retire.
So, why now?
Actually, not many people know this, but I almost gave notice a year and a half ago. But I realized it wasn't for the right reasons. I wasn't in the best place mentally, so I gave myself more time to get over my own issues. This season included so many wonderful dances that I love doing: Esplanade, Musical Offering, Runes. I feel so artistically satisfied. I've done almost everything I can do in Paul's company. And I have to say, to be honest, even though we have all these new choreographers coming in, I don't have an interest in doing other people's work. I love Paul's work so much. Nothing really compares.
Might you try choreography?

I'm not a choreographer; it's not anything I strive to do. I'm so stuck in the Paul Taylor way of moving that I don't have my own artistic style.
How do you feel physically? Paul Taylor's dances can be quite punishing.
I feel so good. I think it's another reason I decided to retire. I want to end on a good note—happy and healthy—not because I'm in pain with an injury.
I always notice the way the Taylor dancers look at and touch each other onstage. It seems special.
Yeah, he's really adamant about that. He says, if you're going to touch someone onstage, I want you to really touch them. People are afraid, and will do this kind of fake touch. And he says no, I want you to touch them, like a person would.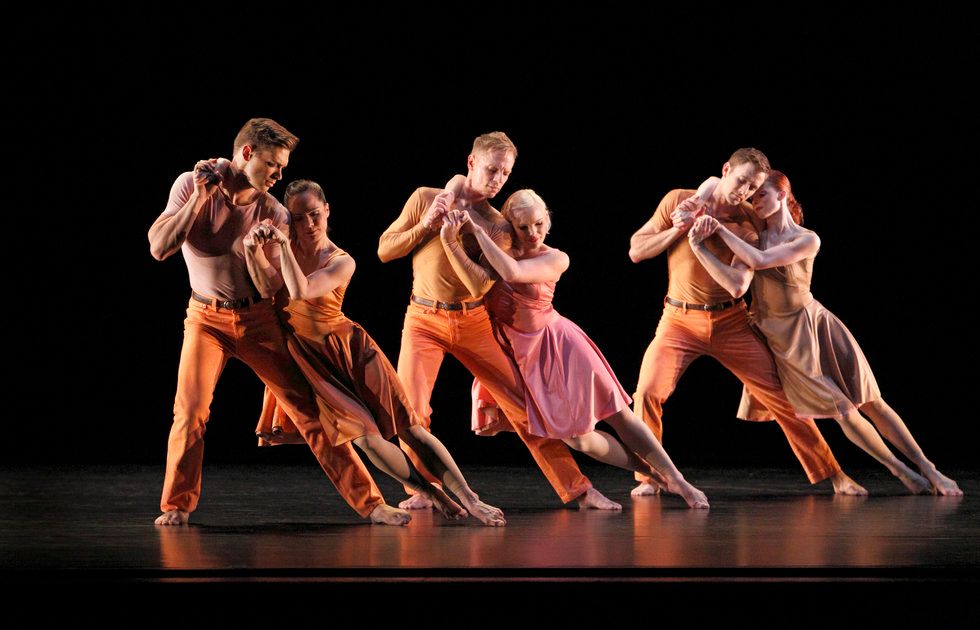 Esplanade (with Samson second from right). Photo by Paul B. Goode, courtesy PTDC
What will you do now?
I'll enjoy creating my own schedule. I've been taking classes in interior design online at Penn Foster College, working toward my associate degree, and I only have one semester left. My business partner is Jamie-Rae Walker [also of Paul Taylor Dance Company]. We've already done a lot of projects together. We have a groove going. Our company is called J-Shui, because we dabble in Feng Shui.
How did you discover this interest?
I always loved design. Even as a kid, I would change my room around maybe once a month. I'd move my bed, my night stands. And my mom had a knack for design. She had good taste.
You're from a small town in Missouri, and I understand your family loved to participate in social dancing.
Yes, it was a lot of country dancing, two-step, waltz, some line dancing, jitterbug. I did a little bit of square dancing. My mom's family loves to dance. She's one of five and they all grew up with their parents social dancing.
When did you start taking dance lessons?
I started studying tap when I was 8. Mom took classes with me at this little studio that's no longer there, The Academy of Dance in Jefferson City. I was the only boy.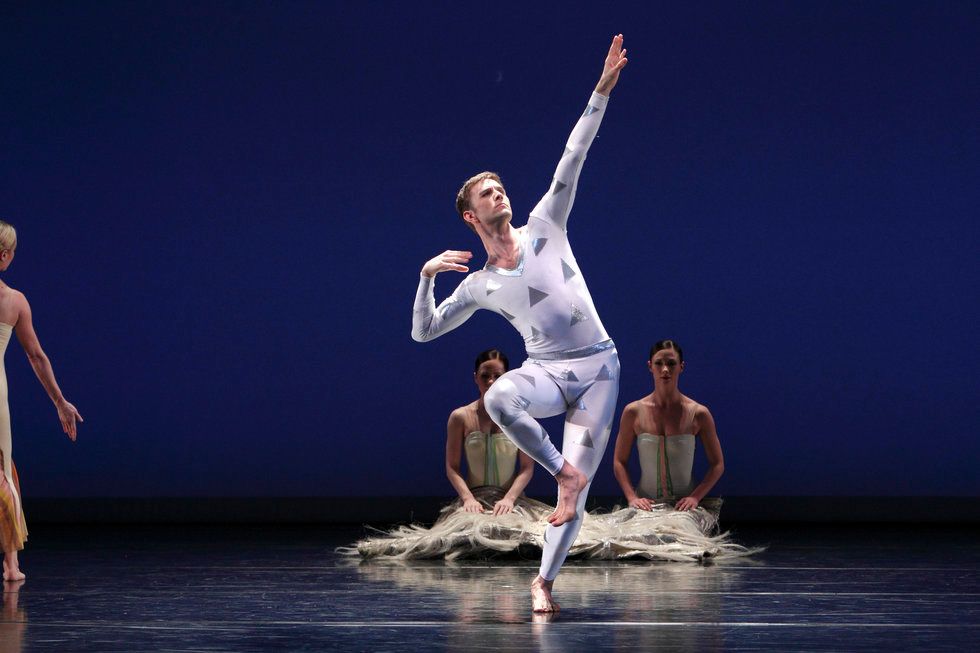 Samson in Orbs. Photo by Paul B. Goode, courtesy PTDC
Was it hard being a boy taking dance classes?

Not at all. I got a lot of attention. I don't remember ever getting made fun of. I did jazz, too, at the same school. But I was really young. I didn't really dance much after fifth grade. In high school, I was always in the musicals.
When did you pick up dance again?
College. I'm not sure I remember why. I wanted to study pre-med at first. I was planning to be an OB-GYN. But I also knew I wanted to study dance. I went to South West Missouri State University, now Missouri State. They had a small theater and dance program. I spoke to the counselor and told him I wanted to do pre-med and dance, and he said I kind of had to do one or the other. So I majored in dance.
How did you encounter the Paul Taylor rep?
The teachers would tell me I looked like a Paul Taylor dancer. We watched a lot of videos of Paul Taylor in class and I loved the way they moved. When I left college, I got a scholarship in the Alvin Ailey summer intensive and took some open classes at Paul Taylor. I was pretty hooked.
But you didn't audition for the company until a while later.
I went to Charleston Ballet because I met a girl there who said they were looking for men. I was an apprentice one year, and a member of the corps the second year.
Were you tempted to continue in ballet?
No, I knew it wasn't for me. I was sort of going through the motions. But it's funny—in hindsight, I would love to be a ballet dancer. I think it's so fascinating. All the tricks. I love turning. But the double tour is my nemesis. [laughs]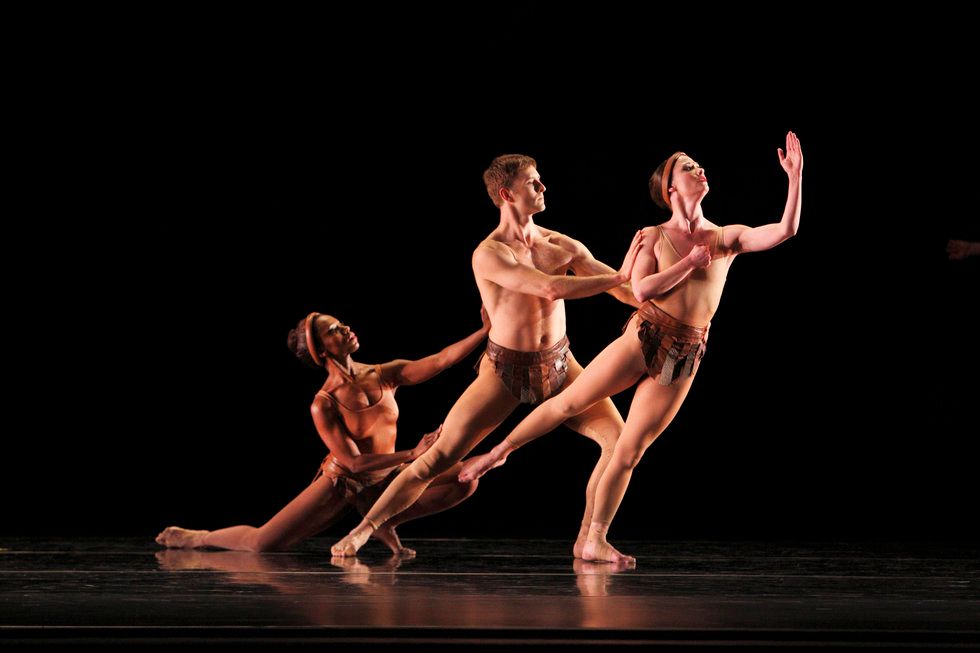 Samson (center) in Musical Offering. Photo by Paul B. Goode, courtesy PTDC
How did you end up at Paul Taylor?
After I left Charleston, I knew I wanted to dance for Paul Taylor. I was dancing for smaller companies, and taking 10 a.m. class at the studio for about a year and a half. Lo and behold my now husband, Andy, who I didn't know, was out for the City Center season with a major back injury. So Paul had this informal audition for men. And he hired me. I was 27.
What is it like working with him in the studio on a new piece?
He'll tell you what he wants from you as far as content, or shape, but you just have to keep asking questions. Like, what does that mean? Can you explain? It's intimidating to do that, but it helps to get a clear idea in your head.
Is there a certain freedom in that approach?
If he creates a solo on you, you can let it grow and mature into something that looks good on you. He lets you be creative. Especially now, he's very collaborative with us.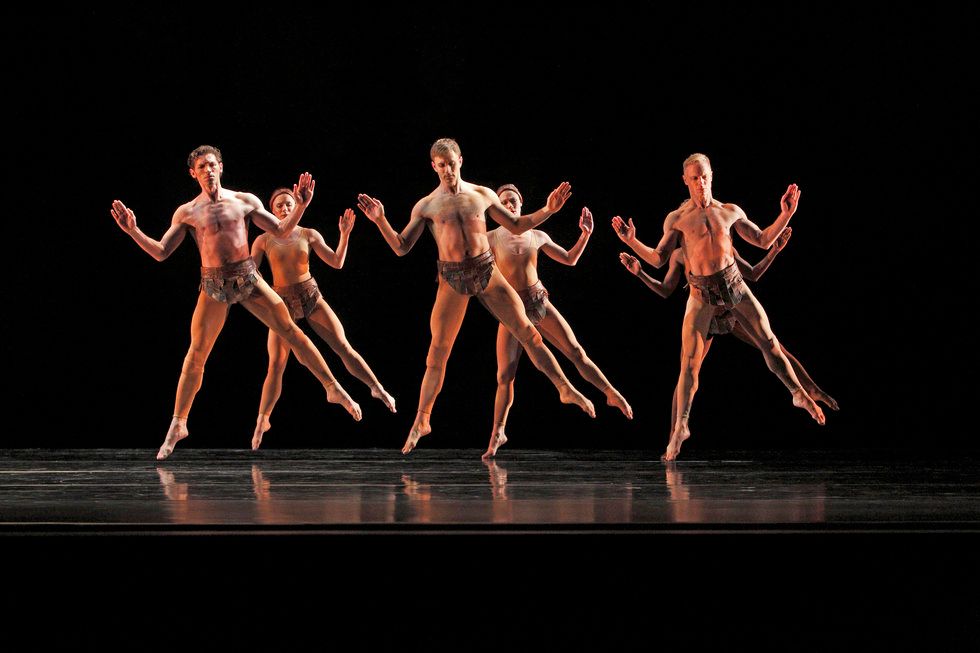 Musical Offering. Photo by Paul B. Goode, courtesy PTDC
Do you have a sense of how he sees you?

If it were a color, I would definitely say blue. Blue is versatile. Dependable, I guess. I feel like he can always depend on me. I want to make him proud and I'll do what I can to get it right. I think he sees me—maybe it's not so flattering—as a bit aloof, maybe? I don't always pay attention. I get distracted.
I understand you suffer from diabetes, type 1. How has it affected your dancing?
I found out when I was 27, very soon after I got into the company. I didn't know anything about it, but I didn't let it freak me out. I'm happy to say it hasn't affected my dancing at all. I keep on top of it. I always check my glucose before going onstage.
Are there any roles that got away?

One role that I'm so glad I got was the male duet in Piazzolla Caldera. Francisco Graciano left last year and they put me in that duet. I wish I could have done it longer. I got to perform Paul's role in Orbs and Paul was so gracious to me. He told me one day, "You were so good in it and I want to bring it back." But between then and the next year, I had irritated him somehow, I'm not quite sure why. I think it was around when I raised my concern about wanting to dance new roles in Piazzolla and Eventide. Maybe I put my foot in my mouth. So when Orbs came around again, he took me out, and I was devastated.
What roles have defined your time at the company?
Definitely Three Dubious Memories. Just having that one-on-one process with Paul. That was the closest I ever worked with him. It was a great collaboration. And we made each other happy. Of course I have to mention Esplanade. I've done it so much, and I love it every time I do it. By now I can do this dance in my sleep. I can't believe I can say that. I can just enjoy every minute of it.
Peter Smith, courtesy of University Musical Society
What happens during a performance is the product of the painstaking process of realizing an artistic vision. Whether held beforehand, afterward, offsite or online, audience discussions tend not to be so preordained, easily thrown off track without a skilled moderator at the helm.
"I'm someone who dreaded talkbacks and Q&As," admits Bill Bragin, former director of public programming at Lincoln Center. "While I was in New York, a lot of the time it was just audience members trying to show off how smart they were."
These events present a pile of difficult questions: How much do you reveal about a piece before it's shown? How can a conversation designed to hit key points feel casual and spontaneous? How do you cater to the needs of diverse attendees, from novice dancegoers to lifelong fans to scholars and critics? And how do you avoid smothering dance with language, flattening all its complexity?
Keep reading...
Show less
UA Dance Ensemble members Candice Barth and Gregory Taylor in Jessica Lang's "Among the Stars." Photo by Ed Flores, courtesy University of Arizona
If you think becoming a trainee or apprentice is the only path to gaining experience in a dance company environment, think again.
The University of Arizona, located in the heart of Tucson, acclimates dancers to the pace and rigor of company life while offering all the academic opportunities of a globally-ranked university. If you're looking to get a head-start on your professional dance career—or to just have a college experience that balances company-level training and repertory with rigorous academics—the University of Arizona's undergraduate and graduate programs have myriad opportunites to offer:
Keep reading...
Show less
Alice Sheppard/Kinetic Light in DESCENT, which our readers chose as last year's "Most Moving Performance." Photo by Jay Newman, courtesy Kinetic Light
Yes, we realize it's only August. But we can't help but to already be musing about all the incredible dance happenings of 2019.
We're getting ready for our annual Readers' Choice feature, and we want to hear from you about the shows you can't stop thinking about, the dance videos that blew your mind and the artists you discovered this year who everyone should know about.
Keep reading...
Show less
Silas Farley in his Songs from the Spirit at the Metropolitan Museum of Art. Rosalie O'Connor, Courtesy Farley
I dance to encourage others. The longer I dance, the more I see that much of my real work is to speak life-giving words to my fellow artists. This is a multidimensionally grueling profession. I count it a privilege to remind my colleagues of how they are bringing beauty into the world through their craft. I recently noticed significant artistic growth in a fellow dancer, and when I verbalized what I saw, he beamed. The impact of positive feedback is deeper than we realize.
Keep reading...
Show less