What Does it Mean to Have a "Sponsor"?
Lilyan Vigo Ellis and Marcelo Martinez. Photo by 20/20 Photo Video, courtesy Carolina Ballet
Now more than ever, ballet companies are searching for creative ways to build revenue. One tactic has stood out: patrons choosing to donate via the sponsorship of a particular dancer. Often implemented by large troupes like American Ballet Theatre (all of its principals and most soloists have sponsors), the trend has now reached smaller companies such as Cincinnati Ballet and Carolina Ballet.

The History of the Tradition
The custom of bankrolling dancers goes back at least to the 19th century and the Paris Opéra. The right amount of money guaranteed a patron a visitation to the foyer de la danse, built as a space for the men to mingle with the ballerinas. (The foyer was off limits to wives and male dancers.) Louis Véron, a director of the Paris Opéra in the 1830s, observed that "attending the Opéra was fashionable; keeping a ballet girl even more so." Fortunately, 21st-century patrons aren't allowed to indulge such salacious intentions.
---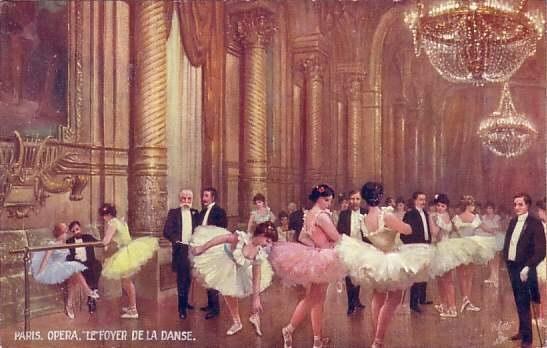 How It Works Now
So what is assumed in patron relationships today? "Nothing is expected," says Lilyan Vigo Ellis, who retired from Carolina Ballet last season after a 20-year career there, six of which were sponsored by Dr. and Mrs. Malcolm Brown. "We became like family. Every time they came to a show, they let me know they were coming and we'd go out to dinner. One year they invited me to their beach house and I spent a couple of days there. They treat my sons like grandkids. I wrote a personal note to them that I was retiring, so they were among the first people I notified."
To be clear, patrons almost never pay the dancers' salaries directly. The donations go to the company, not to the dancer. "The sponsors give the company money in honor of me," says Vigo Ellis. The artistic director and staff decide where the money goes.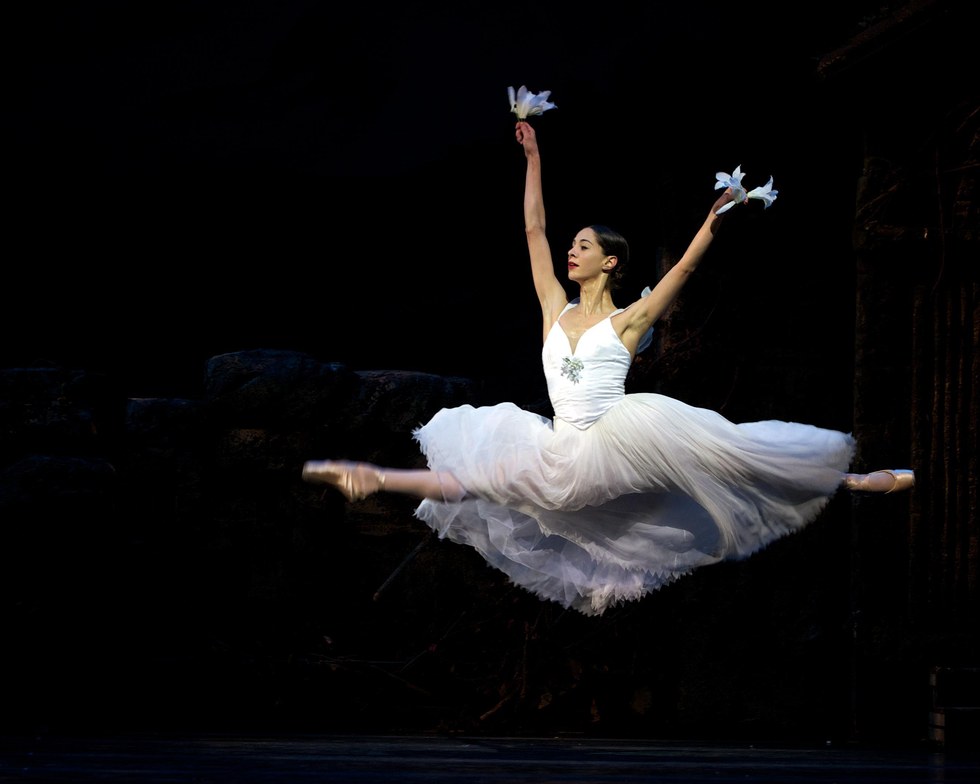 Lilyan Vigo Ellis in Giselle. Photo by Chris Walt Photography, courtesy Carolina Ballet
Ethical Issues
Some sponsor/dancer relationships create complications, however. Before joining Carolina Ballet in 2007, Marcelo Martinez danced lead roles with another midsized company. "One sponsor asked for their dancer to be cast in some ballets for the performance they were attending," says Martinez. He also heard about a patron who paid for a specific ballet and then requested that the male dancer he sponsored dance the principal role. "It brings up questions," he says.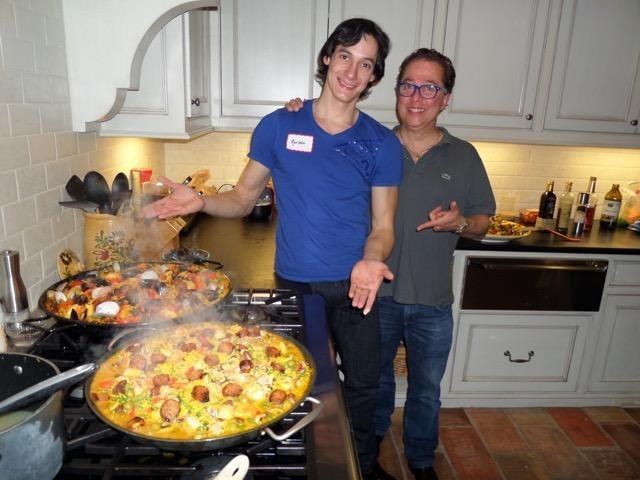 Marcelo Martinez cooking his famous paella in the home of his Carolina Ballet sponsor for a company fundraiser.
How Do Companies Find Sponsors?
Cincinnati Ballet, which has had a successful sponsorship program since the early 2000s, hosts gatherings at the beginning of the season to introduce new and returning dancers to current and prospective sponsors. Some patrons are also drawn to sponsorship through the company website or the program. Cincinnati Ballet's minimum sponsorship for 2016–17 was $500 for a trainee. Its current goal is to seek two sponsors for each dancer.
"It's important we set the tone and expectations for the relationship," says Sara Pomeroy, Cincinnati Ballet's director of major giving. "The dancers are encouraged to participate in ballet-specific, hosted gatherings while sponsors receive perks, including advance notice of casting and special-event invitations."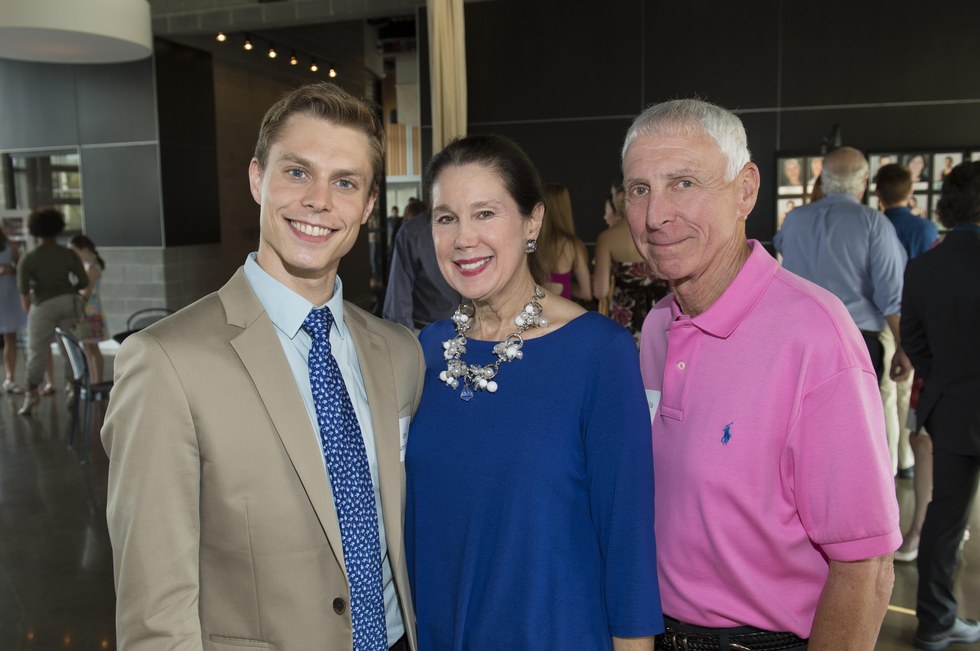 Carolina Ballet soloist James Cunningham with sponsors Ronna and Dr. James B. Willis
Why It Works

The reason for the popularity of sponsorship programs? "Storytelling is compelling," says Pomeroy. "When you know something about a dancer that's more personal, it exposes how they became who they are onstage. The insight creates a connection that deepens the experience for the patron."
For Martinez, a Paraguayan who has no family in the area, the benefit is mutual: "Everything I accomplish in my career, including the hard dedication that gets you there, is shared with my sponsors. I don't know who is more proud—me or them."
Dance in Pop Culture
May. 25, 2018 01:48PM EST
Ne-Yo, Jennifer Lopez and Derek Hough return to "World of Dance" on May 29
Season 2 of World of Dance is almost here! The new season officially kicks off on Tuesday on NBC, and it's bringing a whole new crew of talented dancers with it (plus, some old favorites). Dance pro judges Jennifer Lopez, Derek Hough and Ne-Yo are back, too, with Jenna Dewan serving as the show's host.
Obviously we'll be watching, but just in case you're not completely sold, here's why you're not going to want to miss out:
JLo Might Be Performing
Earlier this week, JLo (who serves as the show's executive producer) posted this insane promo clip to her Instagram. Dancing to a mashup of Cardi B's "Bodak Yellow" and her new single "Dinero," JLo reminded us all of her dance skills while also leading us to believe she might just hit the stage herself for a performance.

Keep reading...
Show less
May. 25, 2018 12:14PM EST
Travis Wall draws inspiration from dancers Tate McCrae, Timmy Blankenship and more.
One often-overlooked relationship that exists in dance is the relationship between choreographer and muse. Recently two-time Emmy Award Winner Travis Wall opened up about his experience working with dancers he considers to be his muses.
"My muses in choreography have evolved over the years," says Wall. "When I'm creating on Shaping Sound, our company members, my friends, are my muses. But at this current stage of my career, I'm definitely inspired by new, fresh talent."
Wall adds, "I'm so inspired by this new generation of dancers. Their teachers have done such incredible jobs, and I've seen these kids grown up. For many of them, I've had a hand in their exposure to choreography."

Keep reading...
Show less
Rant & Rave
May. 23, 2018 04:25PM EST
Jessica Lang's Her Notes, one of ABT's few recent commissions from women. Photo by Rosalie O'Connor
A few weeks ago, American Ballet Theatre announced the A.B.T. Women's Movement, a new program that will support three women choreographers per season, one of whom will make work on the main company.
"The ABT Women's Movement takes inspiration from the groundbreaking female choreographers who have left a lasting impact on ABT's legacy, including Agnes de Mille and Twyla Tharp," said artistic director Kevin McKenzie in a press release.
Hypothetically, this is a great idea. We're all for more ballet commissions for women. But the way ABT has promoted the initiative is problematic.
Keep reading...
Show less
News
May. 18, 2018 12:05PM EST
The inimitable Alicia Alonso, now 97, remains at the helm of Ballet Nacional de Cuba. Photo by Leysis Quesada, Courtesy BNC
On the occasion of its 70th anniversary, the Ballet Nacional de Cuba tours the U.S. this spring with the resolute Cuban prima ballerina assoluta Alicia Alonso a the helm. Named a National Hero of Labor in Cuba, Alonso, 97, has weathered strained international relations and devastating fiscal challenges to have BNC emerge as a world-class dance company. Her dancers are some of ballet's best. On offer this time are Alonso's Giselle and Don Quixote. The profoundly Cuban company performs in Chicago May 18–20, Tampa May 23, Washington, D.C., May 29–June 3 and Saratoga, New York June 6–8.
Courtesy Soffe, Dicsount Dance Supply, Danskin. LeaMarie leotard photographed by Jayme Thornton
Considering we practically live in our dance clothes, there's really no such thing as having too many leotards, tights or leggings (no matter what our mom or friends say!). That's why we treat every sale as an opportunity to stock up. And thanks to the holiday weekend, you can shop all of your dancewear go-tos or try something totally new for as much as 50% less than the usual price.
Here are the eight sales we're most excited about—from online options to in-store retailers that will help you find the perfect fit. Happy Memorial Day (and shopping)!
Now through Monday, Danskin's site will automatically take 25% off your entire purchase at checkout. Even new items like their Pintuck Detail Floral Print Sports Bra and Pintuck Detail Legging (pictured here) are fair game.
Keep reading...
Show less
News
May. 25, 2018 12:38PM EST
Ailey dancers and stagehands rallied together yesterday. Photo by Jen Peters
"The sun may be shining brightly, but we are not in a very sunny mood today!" said New York State assemblywoman Linda Rosenthal during yesterday's rally for the Artists of Ailey.
The dancers and stage crew are demanding increased wages and more comprehensive benefits, what they have termed "reaching for the standard" and "fair wages."
Keep reading...
Show less


Get Dance Magazine in your inbox