This Standout Dancer Warms Up In An Unlikely Place: A Boxing Ring
Tamisha Guy has always loved pushing her body. The dynamic A.I.M dancer and rehearsal director performs like she has no limits. And she's recently taken up a sport that pushes her even further: boxing.
Two or three times a week, she takes a 45-minute class at New York City boxing studios Shadowbox or EverybodyFights. Workouts include a warm-up of core exercises and body-weight strength training. "Then we put the gloves on and go at it on the bag," says Guy.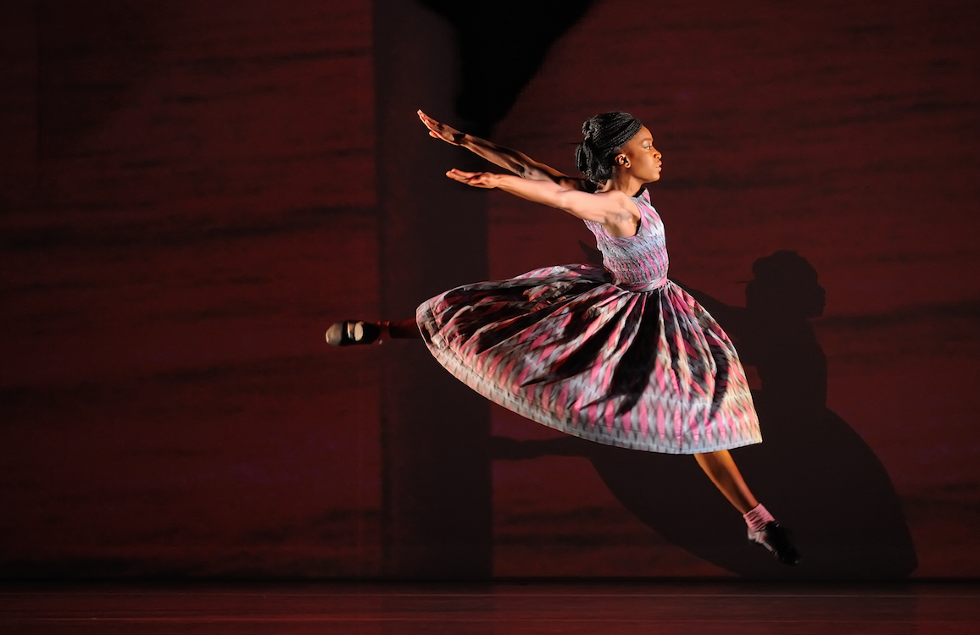 Tamisha Guy in Kyle Abraham's The Gettin'. Photo by Jerry and Lois Photography, courtesy A.I.M.
Although she was initially afraid that the workouts would bulk up her already muscular physique, she's found they've simply added definition to her arms. More importantly, they've improved her stamina.
"Thirty minutes into class is usually the point where you're like, 'I can't punch anything else,' but you have 15 more minutes to go," she says. "It's just like when you've been dancing for an hour and have to dig deeper to find something in yourself to stay present. Pushing through the uncomfortable part is so gratifying." She feels boxing has put extra fire in her to keep up the intensity onstage.
Her favorite time to box is in the morning. "I find I have more energy going into rehearsals after boxing," she says. "I feel so ready to take on my day."
But if she's got more than four hours of rehearsal, she'll wait to box until after dancing so that her arms aren't overly fatigued. "Then, if I still have a little fight in me, I might take an evening class."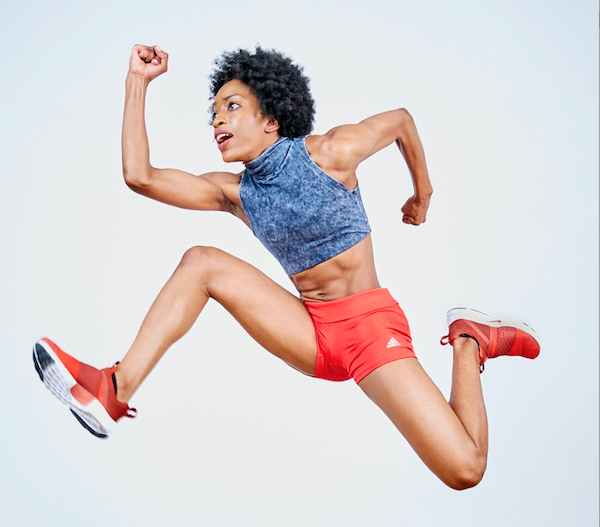 Tamisha Guy is also working to start a side hustle as a fitness model. "You're only young once," she says. Photo by Whitney Browne, courtesy Guy.
For now, she's not looking to enter any fights. "I think I'm gonna stick with the bag," she says, laughing.
Though she admits she loves the feeling of being in a ring. "I've had a few private training sessions inside it, with my trainer calling out sequences," she says. "But he wasn't hitting me back!
Related Articles Around the Web
From Your Site Articles
Wayne McGregor. Photo by Johan Persson, Courtesy ROH
It's no surprise that dancers make some of the best TED Talk presenters. Not only are they great performers, but they've got unique knowledge to share. And they can dance!
If you're in need of a midweek boost, look no further than these eight presentations from some incredibly inspiring dance artists.
Keep reading...
Show less
News
Jul. 16, 2019 03:58PM EST
Including this extraordinary Travis Wall number for "So You Think You Can Dance" (Adam Rose/FOX)
The Primetime Emmy Award nominations are out! Congrats to the seven choreographers who earned nods for their exceptional TV work this year. Notably, that work was made for just two shows, "So You Think You Can Dance" and "World of Dance."
And there was a particularly remarkable snub: While the dance-filled hit "Fosse/Verdon" earned 17 nominations across many of the major categories, Andy Blankenbuehler's fabulous Fosse remixes weren't recognized in the Outstanding Choreography field.
Here are all the dance routines up for Emmys:
Keep reading...
Show less

abezikus/Getty Images
"Dancers can do everything these days," I announced to whoever was in earshot at the Jacob's Pillow Archives during a recent summer. I had just been dazzled by footage of a ballet dancer performing hip hop, remarkably well. But my very next thought was, What if that isn't always a good thing? What if what one can't do is the very thing that lends character?
Keep reading...
Show less
News
Jul. 15, 2019 12:30PM EST
Courtesy Ritzel
Capezio, Bloch, So Dança, Gaynor Minden.
At the top of the line, dancers have plenty of quality footwear options to choose from, and in most metropolitan areas, stores to go try them on. But for many of North America's most economically disadvantaged dance students, there has often been just one option for purchasing footwear in person: Payless ShoeSource.
Keep reading...
Show less