This Standout Dancer Warms Up In An Unlikely Place: A Boxing Ring
Photo by Whitney Browne, Courtesy Guy
Tamisha Guy has always loved pushing her body. The dynamic A.I.M dancer and rehearsal director performs like she has no limits. And she's recently taken up a sport that pushes her even further: boxing.
Two or three times a week, she takes a 45-minute class at New York City boxing studios Shadowbox or EverybodyFights. Workouts include a warm-up of core exercises and body-weight strength training. "Then we put the gloves on and go at it on the bag," says Guy.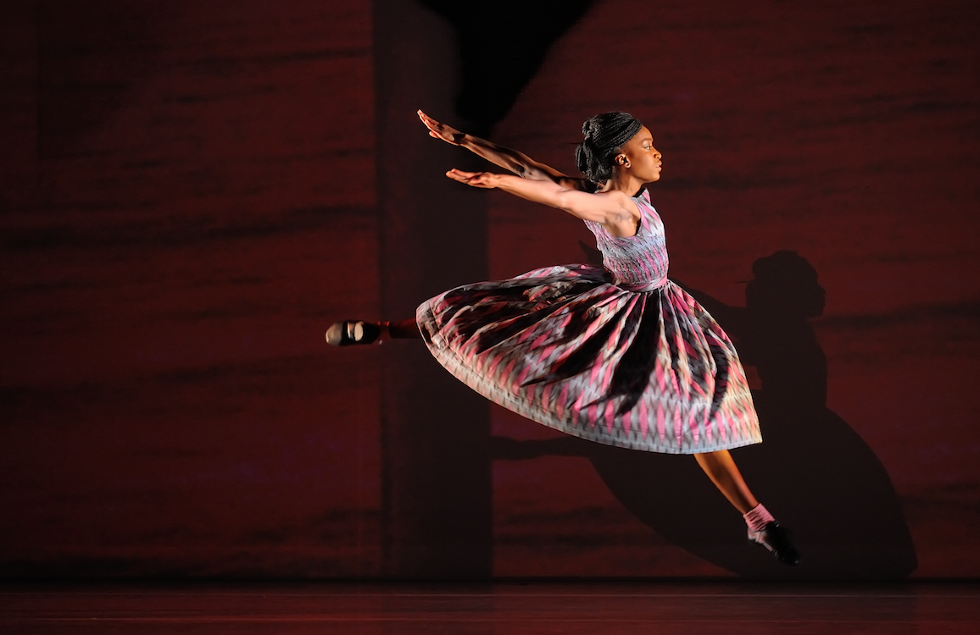 Tamisha Guy in Kyle Abraham's The Gettin'. Photo by Jerry and Lois Photography, courtesy A.I.M.
Although she was initially afraid that the workouts would bulk up her already muscular physique, she's found they've simply added definition to her arms. More importantly, they've improved her stamina.
"Thirty minutes into class is usually the point where you're like, 'I can't punch anything else,' but you have 15 more minutes to go," she says. "It's just like when you've been dancing for an hour and have to dig deeper to find something in yourself to stay present. Pushing through the uncomfortable part is so gratifying." She feels boxing has put extra fire in her to keep up the intensity onstage.
Her favorite time to box is in the morning. "I find I have more energy going into rehearsals after boxing," she says. "I feel so ready to take on my day."
But if she's got more than four hours of rehearsal, she'll wait to box until after dancing so that her arms aren't overly fatigued. "Then, if I still have a little fight in me, I might take an evening class."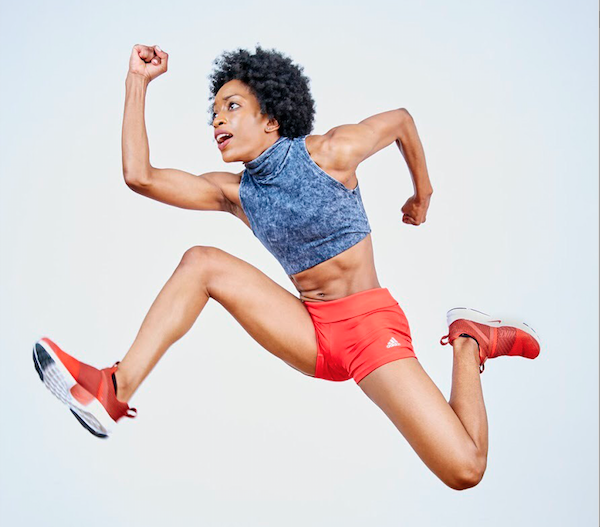 Tamisha Guy is also working to start a side hustle as a fitness model. "You're only young once," she says. Photo by Whitney Browne, courtesy Guy.
For now, she's not looking to enter any fights. "I think I'm gonna stick with the bag," she says, laughing.
Though she admits she loves the feeling of being in a ring. "I've had a few private training sessions inside it, with my trainer calling out sequences," she says. "But he wasn't hitting me back!
From Your Site Articles
Related Articles Around the Web
Rosalie O'Connor, Courtesy Mark Morris Dance Group
You know compelling musicality when you see it. But how do you cultivate it? It's not as elusive as it might seem. Musicality, like any facet of dance, can be developed and honed over time—with dedicated, detailed practice. At its most fundamental, it's "respect for the music, that this is your partner," says Kate Linsley, academy principal of the School of Nashville Ballet.
Keep reading...
Show less
Ross Parkes, right, teaching in Shanghai in 1983. Lan-Lan Wang is at left. Courtesy Lan-Lan Wang.
Notable dancer and beloved teacher, Ross Parkes, 79, passed away on August 5, 2019 in New York City. He was a founding faculty member at Taipei National University of the Arts in Taiwan, where he taught from 1984 to 2006. Lin Hwai-min, artistic director of Cloud Gate Dance Theater, said: "He nurtured two generations of dancers in Taiwan, and his legacy will continue."
About his dancing, Tonia Shimin, professor emerita at UC Santa Barbara and producer of Mary Anthony: A Life in Modern Dance, said this: "He was an exquisite, eloquent dancer who inhabited his roles completely."
Keep reading...
Show less
The USC Kaufman graduating class with Mikhail Baryshnikov. Gus Ruelas/USC
Just four years ago, the University of Southern California's Glorya Kaufman School of Dance welcomed its first class of BFA students. The program—which boasts world-class faculty and a revolutionary approach to training focused on collaboration and hybridity—immediately established itself as one of the country's most prestigious and most innovative.
Now, the first graduating class is entering the dance field. Here, six of the 33 graduates share what they're doing post-grad, what made their experience at USC Kaufman so meaningful and how it prepared them for their next steps:
Keep reading...
Show less
Lindsay Martell at a class performance. Courtesy Martell.
More than once, when I'm sporting my faded, well-loved ballet hoodie, some slight variation of this conversation ensues:
"Is your daughter the dancer?"
"Actually," I say, "I am."
"Wow!" they enthuse. "Who do you dance with? Or have you retired...?"
"I don't dance with a company. I'm not a professional. I just take classes."
Insert mic drop/record scratch/quizzical looks.
Keep reading...
Show less