Proof We Need to Talk about Dancers' Mental Health
Quinn Wharton
Is the dance world doing enough for dancers' mental health? Judging from the incredible reaction to Kathleen McGuire's recent story on the topic, it seems that the answer is a resounding "no."
Not only did the piece quickly become one of our most-read, readers shared it hundreds of times, and many reached out to us directly with their own stories. On Facebook, Twitter and through email, several people offered up suggestions for how the dance field could improve. We wanted to share some of the top comments we got—because it's obviously a conversation we all need to have.
---
Some of you offered smart suggestions:

Boston Ballet School has had a close relationship with a mental health professional for a several years now, in addition to a Nutritionist and Physical Therapist as part of their wellness team; services offered to families of the Boston Ballet School. Her article brings up a very important aspect of a dancer's training, and it should be known that institutions are recognizing this is so.
—Jennifer Markham, Faculty, Boston Ballet School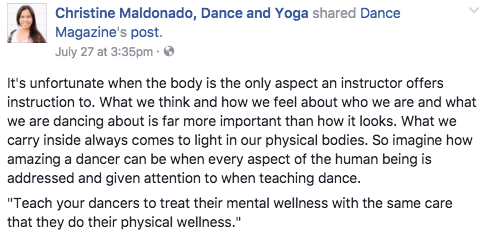 I had a career as a dancer, at the highest level and for many years have been a psychotherapist, so I too am trying rid the dance world of the mental health stigma. I have a blog, which can be reached via my website, counsellingfordancers.com.
Facebook: @counsellingfordancers
Twitter: @counselingdance
—Terry Hyde
Many related to Kathleen's story on a personal level: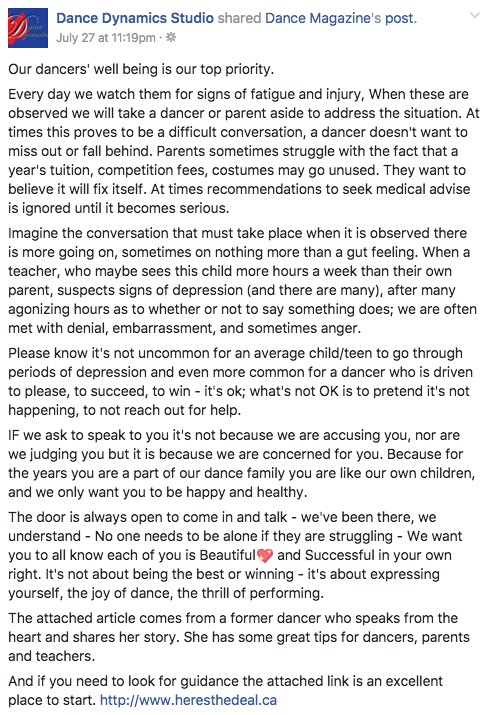 Others pointed out how studio culture can be damaging:



And a few of you offered us hope for the future:

The USC Kaufman graduating class with Mikhail Baryshnikov. Gus Ruelas/USC
Just four years ago, the University of Southern California's Glorya Kaufman School of Dance welcomed its first class of BFA students. The program—which boasts world-class faculty and a revolutionary approach to training focused on collaboration and hybridity—immediately established itself as one of the country's most prestigious and most innovative.
Now, the first graduating class is entering the dance field. Here, six of the 33 graduates share what they're doing post-grad, what made their experience at USC Kaufman so meaningful and how it prepared them for their next steps:
Keep reading...
Show less
Rena Most at work backstage. Photo courtesy ABT
Every dancer knows there's as much magic taking place backstage as there is in what the audience sees onstage. Behind the scenes, it takes a village, says American Ballet Theatre's wig and makeup supervisor, Rena Most. With wig and makeup preparations happening in a studio of their own as the dancers rehearse, Most and her team work to make sure not a single detail is lost.
Dance Magazine recently spoke to Most to find out what actually goes into the hair and makeup looks audiences see on the ABT stage.
Keep reading...
Show less
James Yoichi Moore and Noelani Pantastico warm up onstage. Angela Sterling, Courtesy SDC.
On a sunny July weekend, hundreds of Seattle-area dance fans converged on tiny Vashon Island, a bucolic enclave in Puget Sound about 20 miles from the city. They made the ferry trek to attend the debut performance of the fledgling Seattle Dance Collective.
SDC is not a run-of-the-mill contemporary dance company; it's the brainchild of two of Pacific Northwest Ballet's most respected principal dancers: James Yoichi Moore and Noelani Pantastico. The duo wanted to create a nimble organization to feature dancers and choreographers they felt needed more exposure in the Pacific Northwest.
Keep reading...
Show less