Proof We Need to Talk about Dancers' Mental Health
Quinn Wharton
Is the dance world doing enough for dancers' mental health? Judging from the incredible reaction to Kathleen McGuire's recent story on the topic, it seems that the answer is a resounding "no."
Not only did the piece quickly become one of our most-read, readers shared it hundreds of times, and many reached out to us directly with their own stories. On Facebook, Twitter and through email, several people offered up suggestions for how the dance field could improve. We wanted to share some of the top comments we got—because it's obviously a conversation we all need to have.
---
Some of you offered smart suggestions:

Boston Ballet School has had a close relationship with a mental health professional for a several years now, in addition to a Nutritionist and Physical Therapist as part of their wellness team; services offered to families of the Boston Ballet School. Her article brings up a very important aspect of a dancer's training, and it should be known that institutions are recognizing this is so.
—Jennifer Markham, Faculty, Boston Ballet School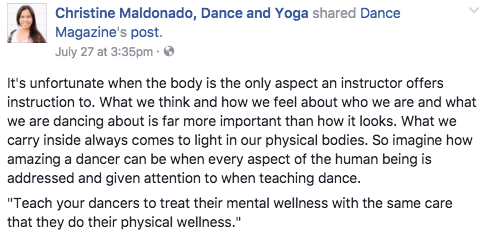 I had a career as a dancer, at the highest level and for many years have been a psychotherapist, so I too am trying rid the dance world of the mental health stigma. I have a blog, which can be reached via my website, counsellingfordancers.com.
Facebook: @counsellingfordancers
Twitter: @counselingdance

—Terry Hyde
Many related to Kathleen's story on a personal level: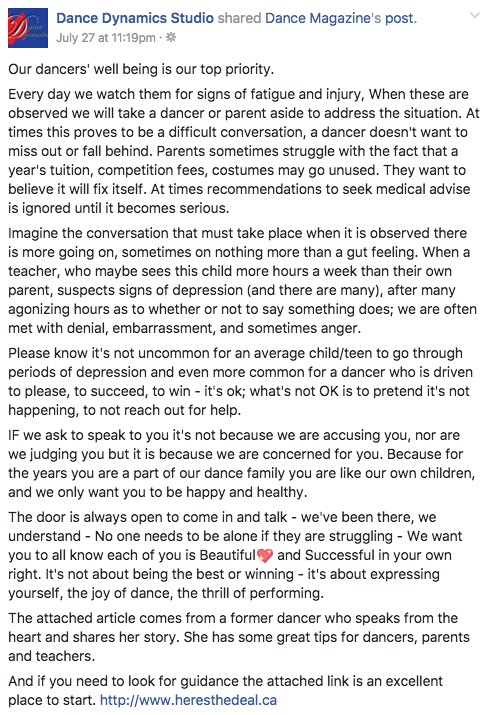 Others pointed out how studio culture can be damaging:



And a few of you offered us hope for the future:

Looking for your next audition shoe? Shot at and in collaboration with Broadway Dance Center, Só Dança has launched a new collection of shoes working with some pretty famous faces of the musical theater world! Offered in two different styles and either 2.5" or 3" heels, top industry professionals are loving how versatile and supportive these shoes are! Pro tip: The heel is centered under the body so you can feel confident and stable!
Photo via the Hammer Museum
Keep reading...
Show less
StockSnap
When I wrote about my struggle with depression, and eventual departure from dance because of it, I expected criticism. I was prepared to be challenged. But much to my relief, and horror, dancers from all over the world responded with support and stories of solidarity. The most critical response I saw was this one:
"Dance isn't for everyone."
This may as well be a mantra in the dance world. We have become entrenched in the Darwinian notion that the emotionally weak will be weeded out. There is no room for them anyway.
Keep reading...
Show less
Cover Story
Apr. 16, 2018 04:00PM EST
Robert Fairchild is jumping into the next phase of his career feet-first. Photo by Jayme Thornton
In his final bow at New York City Ballet, during what should have been a heroic conclusion to a celebrated ballet career, Robert Fairchild slipped and fell. His reaction? To lie down flat on his back like he meant to do it. Then start cracking up at himself.
"He's such a ham," says his sister Megan Fairchild, with a laugh. "He's really good at selling whatever his body is doing that day. He'll turn a moment that I would totally go home and cry about into something where the audience is like, 'That's the most amazing thing ever!' "

Keep reading...
Show less
"There is a palpable sense of hope for the future." Photo by Devin Alberda via
Instagram
New York City Ballet continues its first year without Peter Martins at the helm as our spring season opens tonight.
When he retired at the start of the new year, we plunged headfirst into unknown, murky waters. Who would the new director be? When would we know? Would we dancers get some say in the decision? Who would oversee the Balanchine ballets? Who would be in charge of casting? Would a new director bring along huge upheaval? Could some of us be out of a job?
Keep reading...
Show less
Broad is Orlando Ballet's first dancer named artist in residence. Photo by Michael Cairns, Courtesy Orlando Ballet.
In the world of ballet, Arcadian Broad is a one-stop shop: He'll come up with a story, compose its music, choreograph the movement and dance it himself. But then Broad has always been a master of versatility. As a teenager he juggled school, dance and—after the departure of his father—financial responsibility. It was Broad's income from dancing that kept his family afloat. Fast-forward six years and things are far more stable. Broad now lives on his own in an apartment, but you can usually find him in the studio.
Keep reading...
Show less


Get Dance Magazine in your inbox