The Case Against Sharing Everything on Social Media
Danielle Agami. Photo by Cheryl Mann
When Joffrey Ballet dancer Rory Hohenstein first created an Instagram account, the choice to make it private was merely incidental. This was before the platform became such a powerful tool for self-promotion in the dance world, and he was concerned about strangers having an inside look at his life and younger dancers seeing him use the occasional curse word.
Years later, he still hasn't gone public, and has come to value Instagram as a place where he can stay in touch with friends and family or relive favorite memories, not as a tool to advance his career.
Though social media has become a powerful way for dancers and choreographers to connect with audiences, land gigs and promote their work, not everyone is taking part.
---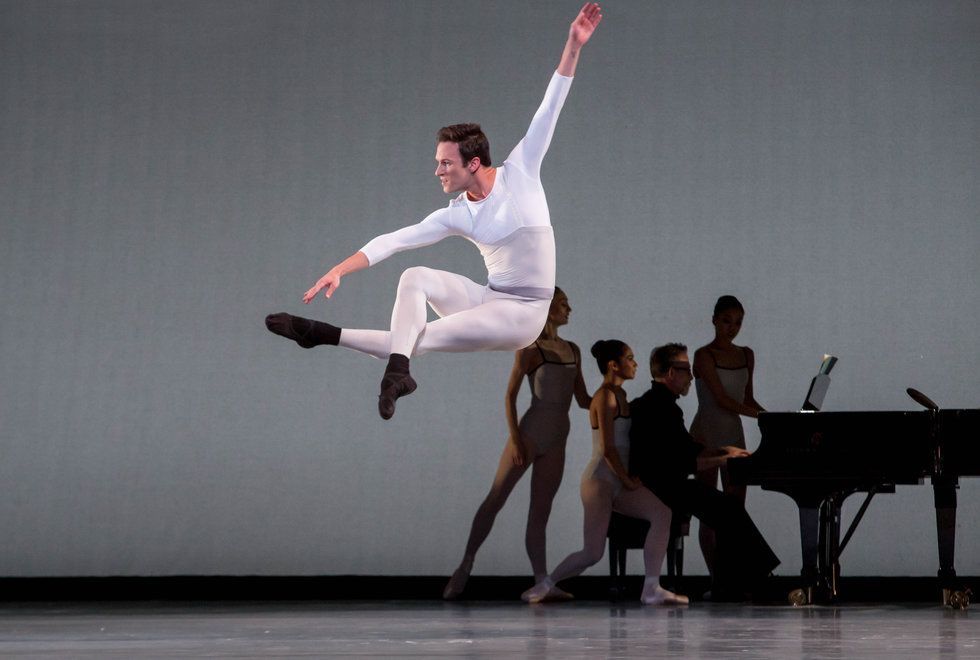 Rory Hohenstein in Justin Peck's In Creases
Cheryl Mann, Courtesy Joffrey Ballet
Choreographer Danielle Agami abstains from social media completely, citing her general ideological opposition to the platforms.
"I feel a lot of sorrow for people who are buried under this idea that social media is going to decide their future or the amount of love they might experience," she says. "I know I don't miss anything by not participating in that."
Agami feels that social media distracts from the artistic process of choreographers, and says that she gets the gigs she does because she's always "working hard in the studio instead of being on Facebook." But she has the advantage of having someone to run the accounts for her company, Ate9, which she says she never looks at.
Many dancers use Instagram to forge a deeper relationship with audiences, posting about their touring schedule, cross-training routine and injury recovery. But that sense of intimacy makes some dancers uncomfortable.
"I never identified with the feeling of wanting to be seen by the public," says Pacific Northwest Ballet principal Leta Biasucci, who has a private Instagram account where she's only posted five times. "I haven't found a way to do that that has felt authentic and meaningful."

And while some artists post snippets of their work in hopes of seducing followers into experiencing it live, Agami worries that this often has the opposite effect: Making potential audience members feel like they've already seen the work. "I think the last thing dancers should be talking about is how they can be visible on social media," she says.
But choosing not to post has its costs. Artists risk losing out on potentially lucrative brand partnerships and press opportunities—and perhaps even jobs. "I recognize that I'm not doing myself any favors," says Biasucci.
Do young dancers who haven't yet established themselves have the luxury of opting out of social media? "I don't want to believe that it is necessary to achieve success," says Biasucci. "I have put confidence in the idea of allowing one's work to speak for itself."
From Your Site Articles
Related Articles Around the Web
Chantelle Pianetta competing at a West Coast swing event. Courtesy Pianetta.
Just hearing the word "improvisation" is enough to make some ballet dancers shake in their pointe shoes. But for Chantelle Pianetta, it's a practice she relishes. Depending on the weekend, you might find her gracing Bay Area stages as a principal with Menlowe Ballet or sweeping in awards at West Coast swing competitions.

She specializes in Jack and Jill events, which involve improvised swing dancing with an unexpected partner in front of a panel of judges. (Check her out in action below.) While sustaining her ballet career, over the past four years Pianetta has quickly risen from novice to champion level on the WCS international competition circuit.
Keep reading...
Show less
Jayme Thornton
Sean Dorsey was always going to be an activist. Growing up in a politically engaged, progressive family in Vancouver, British Columbia, "it was my heart's desire to create change in the world," he says. Far less certain was his future as a dancer.
Like many dancers, Dorsey fell in love with movement as a toddler. However, he didn't identify strongly with any particular gender growing up. Dorsey, who now identifies as trans, says, "I didn't see a single person like me anywhere in the modern dance world." The lack of trans role models and teachers, let alone all-gender studio facilities where he could feel safe and welcome, "meant that even in my wildest dreams, there was no room for that possibility."
Keep reading...
Show less
Getty Images
It's hour three of an intense rehearsal, you're feeling mentally foggy and exhausted, and your stomach hurts. Did you know the culprit could be something as simple as dehydration?
Proper hydration helps maintain physical and mental function while you're dancing, and keeps your energy levels high. But with so many products on the market promising to help you rehydrate more effectively, how do you know when it's time to reach for more than water?
Keep reading...
Show less
James Beaudreau, Courtesy Roberto Lara
Inside a bustling television studio in Los Angeles, Lindsay Arnold Cusick hears the words "Five minutes to showtime." While dancers and celebrities covered head to toe in sequins whirl around preparing for their live performances on "Dancing with the Stars," Cusick pauses to say a prayer to God and express her gratitude.
"I know that it's not a given, and I'm grateful for the opportunity to do what I love for a living," says Cusick, a member of The Church of Jesus Christ of Latter-day Saints. For her, prayer is a ritualized expression of her faith that she has maintained since she was a girl in Provo, Utah. Even with her seven-plus years of industry experience, she always takes a moment to steady herself and close her prayer in Christ's name before rushing onto the stage.
Keep reading...
Show less