Royal Winnipeg Ballet Has Invited a Former Student with Brain Cancer to Perform with the Company
Heather Milne, Courtesy RWB
When Catherine Wreford found out that she had brain cancer in June 2013, with doctors predicting she had only two to six years left to live, there was one thing she knew she wanted to do: dance.
She had grown up training in the recreational division at the Royal Winnipeg Ballet School, then went on to perform on Broadway and in musical theater productions around the country. She eventually left the stage to find more stable work, running a mortgage company and later getting a nursing degree because, she says, "I knew that I could do that for a long time."
But a diagnosis of anaplastic astrocytoma meant she didn't have a long time left.
---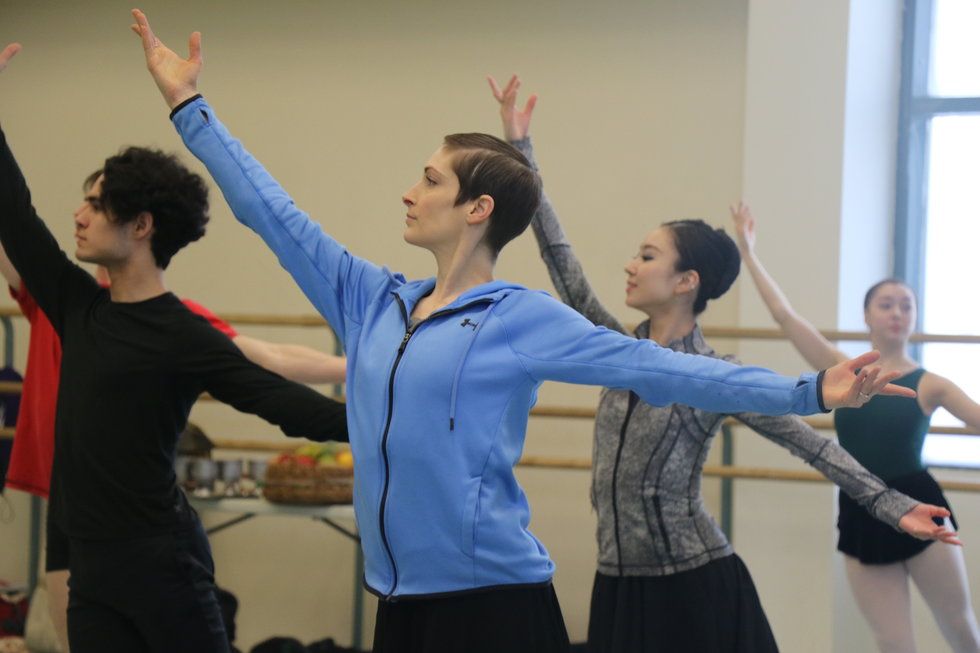 Wreford in rehearsal at Royal Winnipeg Ballet. Photo by Heather Milne, Courtesy RWB
"When I was diagnosed, I got the opportunity to discover what truly makes me happy," she says. "Being onstage and performing and teaching and expressing my love of dance and just being able to be present was the answer."
After nine years away from the studio, she's once again taken to performing, appearing in Winnipeg's outdoor Rainbow Stage for five different musicals, choreographing for Royal Manitoba Theatre Centre, among other organizations, and teaching musical theater classes at a local dance school.
This month, a longtime dream is also coming true: She's performing with her best friend Craig Ramsay. The pair originally met at RWBS, and bonded closely over their shared love of musical theater. (Like a line out of "Center Stage," she didn't quite have the feet for ballet, while he didn't have the heart.)
RWB invited the pair to perform as Lady and Lord Capulet in the company's upcoming production of Romeo & Juliet, after Wreford and Ramsay (who also went on to perform on Broadway, and is now a reality TV star on Bravo) visited their old stomping grounds last summer.
"Not only is dance good for her soul, but it's good for her survival," says Ramsay of watching the rehearsal process. "I believe dance has been an outlet that has allowed her to keep going and stay with us."
Case in point: This June will mark six years since her diagnosis, the upper limit of her doctors' original predictions for life expectancy. Yet she's still going strong.
Although Wreford is wearing character shoes rather than pointe shoes, her and Ramsay's roles are far more involved than mere supernumeraries. "There's much more dancing than we expected," says Wreford, with a wry laugh. Even after years away from the barre, both say the classical ballet steps are still ingrained in their bodies.
"Once a dancer, always a dancer," adds Ramsay.
While some in the ballet community have wondered whether this casting is merely a publicity stunt, other well-wishers have made heartfelt videos for the pair, with the hashtag #merdecraigandcath.
For her part, Wreford remains grateful for the chance to show her two kids the power of determination. "I want to inspire them, and I want them to know that just because I have brain cancer, it is not going to stop me."
From Your Site Articles
Related Articles Around the Web
News
Oct. 18, 2019 11:54AM EST
Photo by Gabriel Davalos, Courtesy Valdés
For decades the name Alicia Alonso has been virtually synonymous with Ballet Nacional de Cuba, the company she co-founded in Havana in 1948. Alonso died on October 17, just shy of what would have been her 99th birthday. In recent years, she had stepped back from day-to-day decision-making in the company. As if preparing for the future, in January, the company's leading ballerina, 42-year-old Viengsay Valdés, was named deputy director, a job that seems to encompass most of the responsibilities of a traditional director. Now, presumably, she will step into her new role as director of the company. Her debut as curator of the repertory comes in November, when the troupe will perform three mixed bills selected by her at the Gran Teatro de la Habana Alicia Alonso. The following has been translated from a conversation conducted in Spanish, Valdés' native tongue.
Keep reading...
Show less
Left: Hurricane Harvey damage in Houston Ballet's Dance Lab; Courtesy Harlequin. Right: The Dance Lab pre-Harvey; Nic Lehoux, Courtesy Houston Ballet.
"The show must go on" may be a platitude we use to get through everything from costume malfunctions to stormy moods. But when it came to overcoming a literal hurricane, Houston Ballet was buoyed by this mantra to go from devastated to dancing in a matter of weeks—with the help of Harlequin Floors, Houston Ballet's longstanding partner who sprang into action to build new floors in record time.
Keep reading...
Show less
Sara Mearns in the gym. Photo by Kyle Froman.
New York City Ballet principal Sara Mearns wasn't sure she was strong enough. A ballerina who has danced many demanding full-length and contemporary roles, she was about to push herself physically more than she thought was possible.
"I said, 'I can't. My body won't,' " she says. "He told me, 'Yes, it will.' "
She wasn't working with a ballet coach, but with personal trainer Joel Prouty, who was asking her to do squats with a heavier barbell than she'd ever used.
Keep reading...
Show less
Alicia Alonso with Igor Youskevitch. Sedge Leblang, Courtesy Dance Magazine Archives.
Her Dying Swan was as fragile as her Juliet was rebellious; her Odile, scheming, her Swanilda, insouciant. Her Belle was joyous, and her Carmen, both brooding and full-blooded. But there was one role in particular that prompted dance critic Arnold Haskell to ask, "How do you interpret Giselle when you are Giselle?"
At eight, Alicia Alonso took her first ballet class on a stage in her native Cuba, wearing street clothes. Fifteen years later, put in for an ailing Alicia Markova in a performance of Giselle with Ballet Theatre, she staked her claim to that title role.
Alonso received recognition throughout the world for her flawless technique and her ability to become one with the characters she danced, even after she became nearly blind. After a career in New York, she and her then husband Fernando Alonso established the Cuban National Ballet and the Cuban National Ballet School, both of which grew into major international dance powerhouses and beloved institutions in their home country. On October 17, the company announced that, after leading the company for a remarkable 71 years, Alonso died from cardiovascular disease at the age of 98.
Keep reading...
Show less