Royal Winnipeg Ballet Has Invited a Former Student with Brain Cancer to Perform with the Company
Heather Milne, Courtesy RWB
When Catherine Wreford found out that she had brain cancer in June 2013, with doctors predicting she had only two to six years left to live, there was one thing she knew she wanted to do: dance.
She had grown up training in the recreational division at the Royal Winnipeg Ballet School, then went on to perform on Broadway and in musical theater productions around the country. She eventually left the stage to find more stable work, running a mortgage company and later getting a nursing degree because, she says, "I knew that I could do that for a long time."
But a diagnosis of anaplastic astrocytoma meant she didn't have a long time left.
---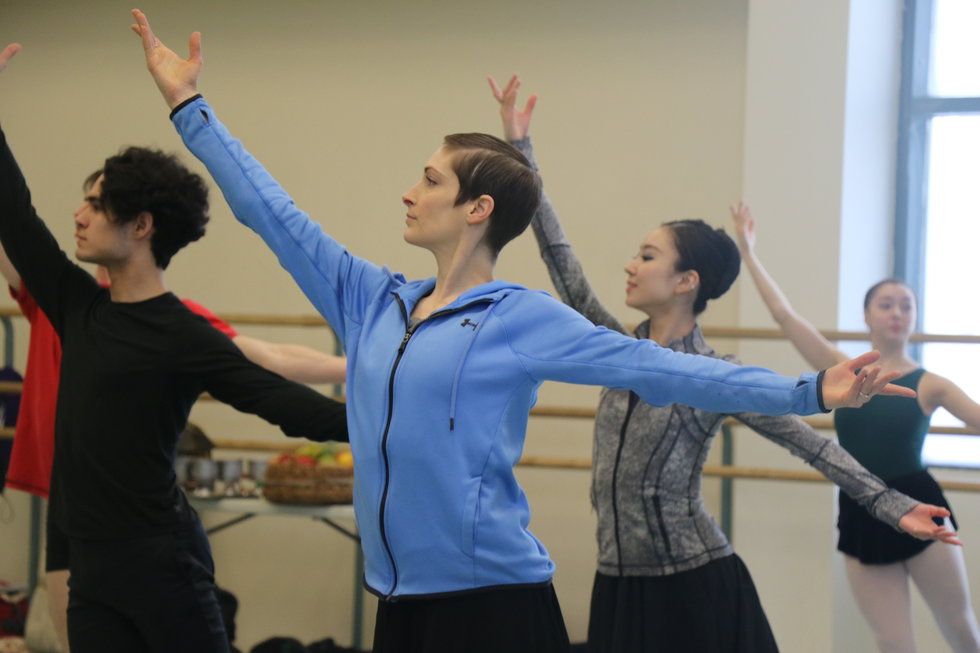 Wreford in rehearsal at Royal Winnipeg Ballet. Photo by Heather Milne, Courtesy RWB
"When I was diagnosed, I got the opportunity to discover what truly makes me happy," she says. "Being onstage and performing and teaching and expressing my love of dance and just being able to be present was the answer."
After nine years away from the studio, she's once again taken to performing, appearing in Winnipeg's outdoor Rainbow Stage for five different musicals, choreographing for Royal Manitoba Theatre Centre, among other organizations, and teaching musical theater classes at a local dance school.
This month, a longtime dream is also coming true: She's performing with her best friend Craig Ramsay. The pair originally met at RWBS, and bonded closely over their shared love of musical theater. (Like a line out of "Center Stage," she didn't quite have the feet for ballet, while he didn't have the heart.)
RWB invited the pair to perform as Lady and Lord Capulet in the company's upcoming production of Romeo & Juliet, after Wreford and Ramsay (who also went on to perform on Broadway, and is now a reality TV star on Bravo) visited their old stomping grounds last summer.
"Not only is dance good for her soul, but it's good for her survival," says Ramsay of watching the rehearsal process. "I believe dance has been an outlet that has allowed her to keep going and stay with us."
Case in point: This June will mark six years since her diagnosis, the upper limit of her doctors' original predictions for life expectancy. Yet she's still going strong.
Although Wreford is wearing character shoes rather than pointe shoes, her and Ramsay's roles are far more involved than mere supernumeraries. "There's much more dancing than we expected," says Wreford, with a wry laugh. Even after years away from the barre, both say the classical ballet steps are still ingrained in their bodies.
"Once a dancer, always a dancer," adds Ramsay.
While some in the ballet community have wondered whether this casting is merely a publicity stunt, other well-wishers have made heartfelt videos for the pair, with the hashtag #merdecraigandcath.
For her part, Wreford remains grateful for the chance to show her two kids the power of determination. "I want to inspire them, and I want them to know that just because I have brain cancer, it is not going to stop me."
From Your Site Articles
Related Articles Around the Web
Peter Smith, courtesy of University Musical Society
What happens during a performance is the product of the painstaking process of realizing an artistic vision. Whether held beforehand, afterward, offsite or online, audience discussions tend not to be so preordained, easily thrown off track without a skilled moderator at the helm.
"I'm someone who dreaded talkbacks and Q&As," admits Bill Bragin, former director of public programming at Lincoln Center. "While I was in New York, a lot of the time it was just audience members trying to show off how smart they were."
These events present a pile of difficult questions: How much do you reveal about a piece before it's shown? How can a conversation designed to hit key points feel casual and spontaneous? How do you cater to the needs of diverse attendees, from novice dancegoers to lifelong fans to scholars and critics? And how do you avoid smothering dance with language, flattening all its complexity?
Keep reading...
Show less
UA Dance Ensemble members Candice Barth and Gregory Taylor in Jessica Lang's "Among the Stars." Photo by Ed Flores, courtesy University of Arizona
If you think becoming a trainee or apprentice is the only path to gaining experience in a dance company environment, think again.
The University of Arizona, located in the heart of Tucson, acclimates dancers to the pace and rigor of company life while offering all the academic opportunities of a globally-ranked university. If you're looking to get a head-start on your professional dance career—or to just have a college experience that balances company-level training and repertory with rigorous academics—the University of Arizona's undergraduate and graduate programs have myriad opportunites to offer:
Keep reading...
Show less
Alice Sheppard/Kinetic Light in DESCENT, which our readers chose as last year's "Most Moving Performance." Photo by Jay Newman, courtesy Kinetic Light
Yes, we realize it's only August. But we can't help but to already be musing about all the incredible dance happenings of 2019.
We're getting ready for our annual Readers' Choice feature, and we want to hear from you about the shows you can't stop thinking about, the dance videos that blew your mind and the artists you discovered this year who everyone should know about.
Keep reading...
Show less
Silas Farley in his Songs from the Spirit at the Metropolitan Museum of Art. Rosalie O'Connor, Courtesy Farley
I dance to encourage others. The longer I dance, the more I see that much of my real work is to speak life-giving words to my fellow artists. This is a multidimensionally grueling profession. I count it a privilege to remind my colleagues of how they are bringing beauty into the world through their craft. I recently noticed significant artistic growth in a fellow dancer, and when I verbalized what I saw, he beamed. The impact of positive feedback is deeper than we realize.
Keep reading...
Show less