Royal Winnipeg Ballet Has Invited a Former Student with Brain Cancer to Perform with the Company
Heather Milne, Courtesy RWB
When Catherine Wreford found out that she had brain cancer in June 2013, with doctors predicting she had only two to six years left to live, there was one thing she knew she wanted to do: dance.
She had grown up training in the recreational division at the Royal Winnipeg Ballet School, then went on to perform on Broadway and in musical theater productions around the country. She eventually left the stage to find more stable work, running a mortgage company and later getting a nursing degree because, she says, "I knew that I could do that for a long time."
But a diagnosis of anaplastic astrocytoma meant she didn't have a long time left.
---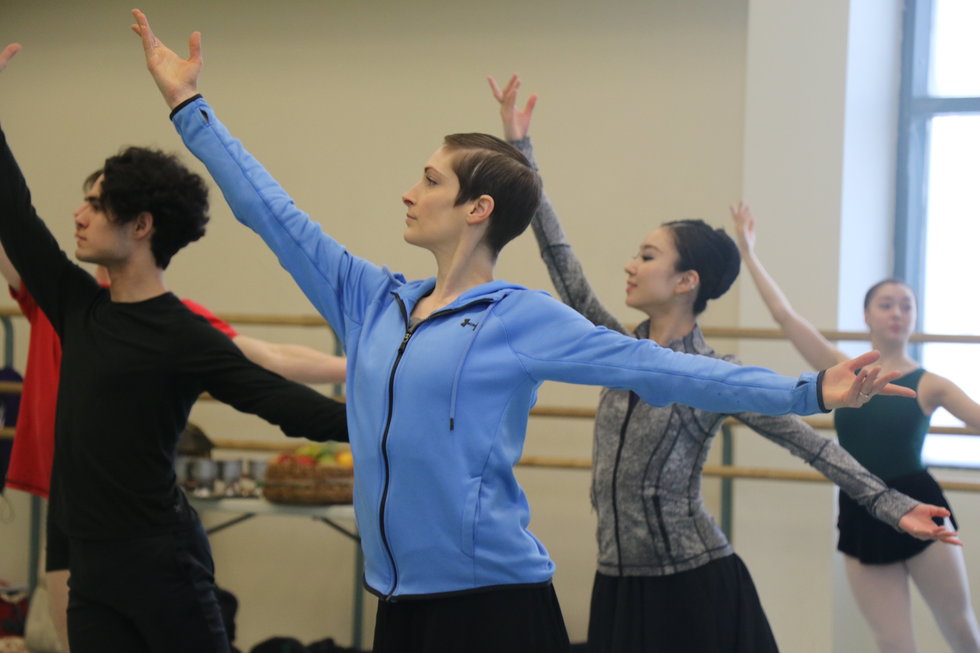 Wreford in rehearsal at Royal Winnipeg Ballet. Photo by Heather Milne, Courtesy RWB
"When I was diagnosed, I got the opportunity to discover what truly makes me happy," she says. "Being onstage and performing and teaching and expressing my love of dance and just being able to be present was the answer."
After nine years away from the studio, she's once again taken to performing, appearing in Winnipeg's outdoor Rainbow Stage for five different musicals, choreographing for Royal Manitoba Theatre Centre, among other organizations, and teaching musical theater classes at a local dance school.
This month, a longtime dream is also coming true: She's performing with her best friend Craig Ramsay. The pair originally met at RWBS, and bonded closely over their shared love of musical theater. (Like a line out of "Center Stage," she didn't quite have the feet for ballet, while he didn't have the heart.)
RWB invited the pair to perform as Lady and Lord Capulet in the company's upcoming production of Romeo & Juliet, after Wreford and Ramsay (who also went on to perform on Broadway, and is now a reality TV star on Bravo) visited their old stomping grounds last summer.
"Not only is dance good for her soul, but it's good for her survival," says Ramsay of watching the rehearsal process. "I believe dance has been an outlet that has allowed her to keep going and stay with us."
Case in point: This June will mark six years since her diagnosis, the upper limit of her doctors' original predictions for life expectancy. Yet she's still going strong.
Although Wreford is wearing character shoes rather than pointe shoes, her and Ramsay's roles are far more involved than mere supernumeraries. "There's much more dancing than we expected," says Wreford, with a wry laugh. Even after years away from the barre, both say the classical ballet steps are still ingrained in their bodies.
"Once a dancer, always a dancer," adds Ramsay.
While some in the ballet community have wondered whether this casting is merely a publicity stunt, other well-wishers have made heartfelt videos for the pair, with the hashtag #merdecraigandcath.
For her part, Wreford remains grateful for the chance to show her two kids the power of determination. "I want to inspire them, and I want them to know that just because I have brain cancer, it is not going to stop me."
Related Articles Around the Web
From Your Site Articles
News
Jul. 18, 2019 05:02PM EST
Frozen put profit-sharing arrangements in place prior to the Equity deal. Photo by Deen van Meer, Courtesy Disney Theatrical Group
For a Broadway dancer, few opportunities are more exciting than being part of the creation of an original show. But if that show goes on to become wildly successful, who reaps the benefits? Thanks to a new deal between Actors' Equity Association and The Broadway League, performers involved in a production's development will now receive their own cut of the earnings.
Keep reading...
Show less
NBCUniversal
Jellicle obsessives, rejoice: There's a new video out that offers a (surprisingly substantive) look at the dancing that went down on the set of the new CATS movie.
Keep reading...
Show less
Via Wikimedia Commons
When Dr. Mae Jemison was growing up, she was obsessed with space. But she didn't see any astronauts who looked like her.
"I said, Wait a minute. Why are all the astronauts white males?" she recounts in a CNN video. "What if the aliens saw them and said, Are these the only people on Earth?"
Keep reading...
Show less
Wayne McGregor. Photo by Johan Persson, Courtesy ROH
It's no surprise that dancers make some of the best TED Talk presenters. Not only are they great performers, but they've got unique knowledge to share. And they can dance!
If you're in need of a midweek boost, look no further than these eight presentations from some incredibly inspiring dance artists.
Keep reading...
Show less