Inside Daniil Simkin's New Guggenheim Project
Jim Lafferty
Late one Friday night, Daniil Simkin and Cassandra Trenary are running a new duet inside the Frank Lloyd Wright–designed rotunda in New York City's Guggenheim Museum. Trenary drops her weight back into Simkin's arms and lets him slide her, spinning, into the ground. They clasp hands like children to pull each other close, an intimate moment that lasts for a breath before it slips away, lost in a cascade of slippery, detailed movement.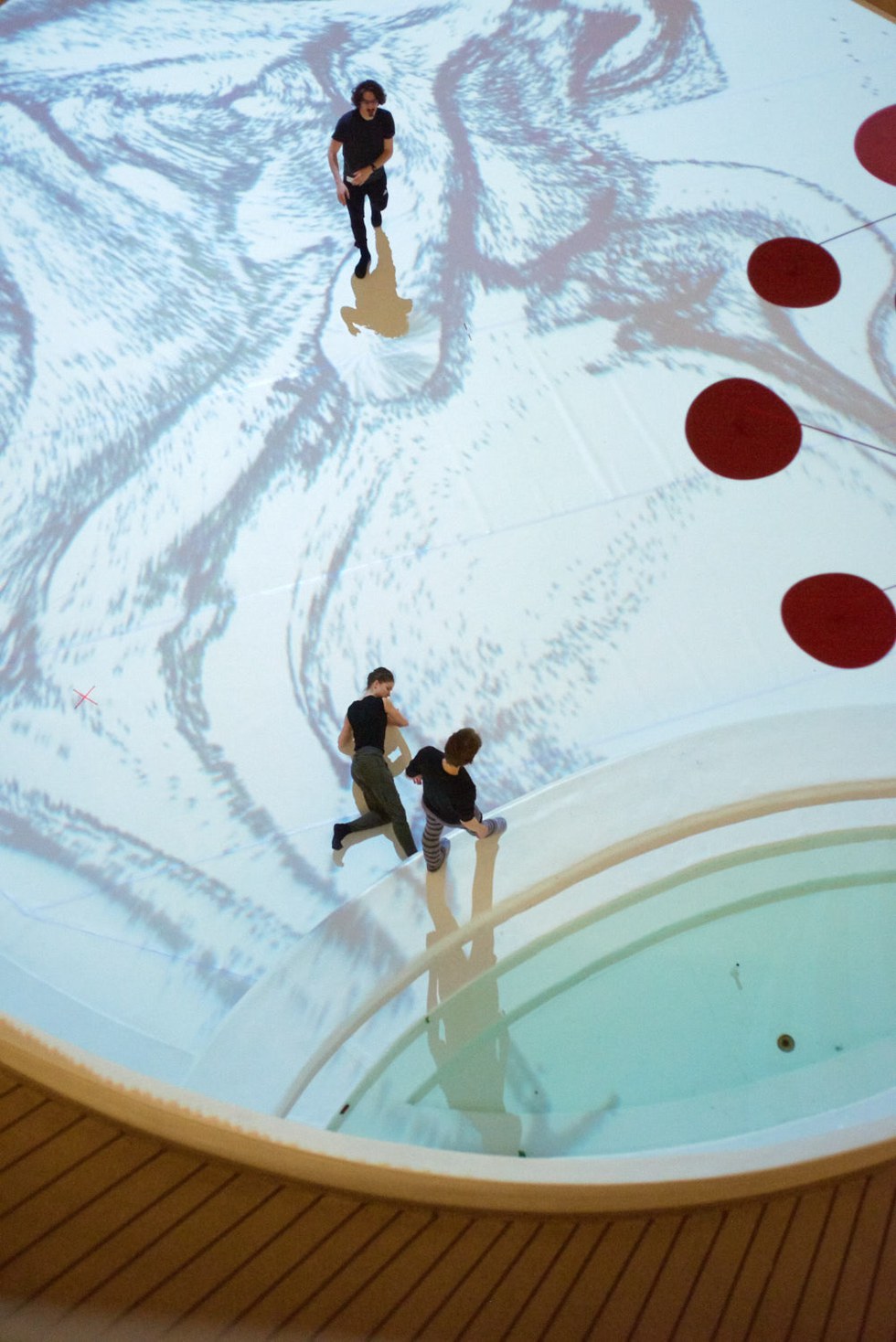 Alejandro Cerrudo (top) directing Simkin and Trenary. Photo by Jim Lafferty
Viewed from several stories up, Alejandro Cerrudo's gliding, seamless partnering becomes otherworldly. The dancers stir vaporous clouds or cast multi-hued shadows which battle each other for primacy—depending on what effect the video team is experimenting with at the moment.
---
The two American Ballet Theatre dancers, alongside Hubbard Street Dance Chicago's Ana Lopez and Andrew Murdock, are at work on Falls the Shadow, set to premiere September 4-5. (Brett Conway has stepped in for Murdock, who appears in these rehearsal images.) The site-specific piece, which will feature costumes designed for the project by Dior, was commissioned by Works & Process at the Guggenheim as part of its new Rotunda Projects initiative.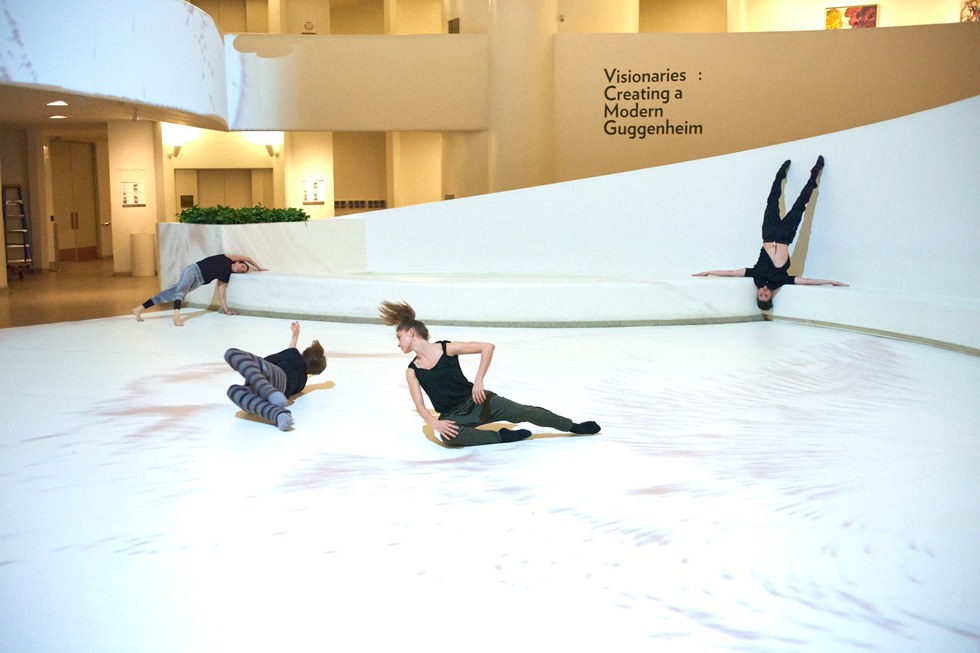 Jim Lafferty
Though Simkin's project is the second to premiere since the program was announced last summer (Michelle Dorrance performed the inaugural work in February), in some ways it's the original: Simkin and his father, Dmitrij, helped spark the push for new dance works created in and for the rotunda when they asked about 3-D–mapping at the Guggenheim.
The idea is for video designed by the elder Simkin to be projected onto the floor and the ramp that spirals up the edges of the space, reacting in real-time to the dancers and amplifying their movement to fill the massive seven-story structure as the audience looks down from above. Though Cerrudo had not previously worked with multimedia, the choreographer leapt at the chance to work with the ABT star and was intrigued by the possibilities presented by this particular project in which video and dance "have reason for coexisting together and enhancing each other."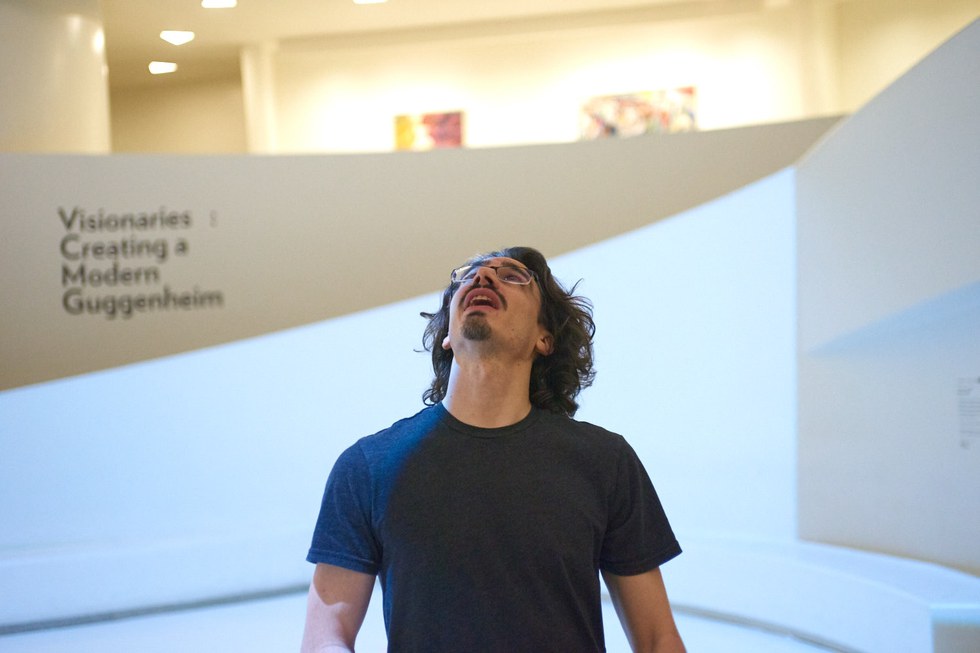 Alejandro Cerrduo. Photo by Jim Lafferty
The projections add another layer of complexity to an already intricate set of logistics. Though Cerrudo and the dancers have created substantial movement material in studios both in New York and Chicago, rehearsals in the rotunda are vital to making the marriage of the choreography, projections and space work. But these are entirely contingent upon the museum's opening hours, after-hour events and load-in/striking schedule for exhibitions—in other words, limited. They enter the museum at 6 pm so the marley and video projectors can be set up; the dancers get into the space around 7 pm, and Cerrudo spends the following five hours switching between working with the dancers on the floor and watching from above, conferring with Dmitrij on new projection designs.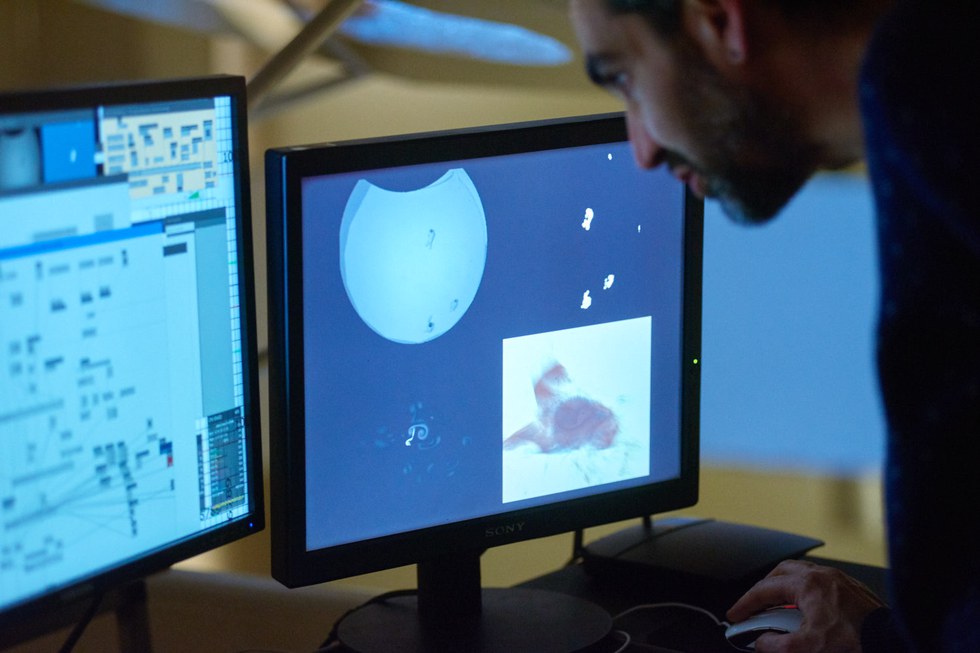 At work on the real-time projections. Photo by Jim Lafferty
The peculiar acoustics of the space make communication between the floor and the ramp challenging; there's an additional lag caused by the security caveat that Cerrudo must be accompanied by a staff member every time he ascends the ramp. By 11 pm, the dancers are mostly marking while the video staff races against the clock to tweak designs. When midnight rolls around, everything has to be reset so the museum can open the next morning.
"It's quite draining," Daniil says matter-of-factly. "You need sort of a different energy than our usual days, when we have class in the mornings, so it's a bit of a shock to the system. But we're making it work!"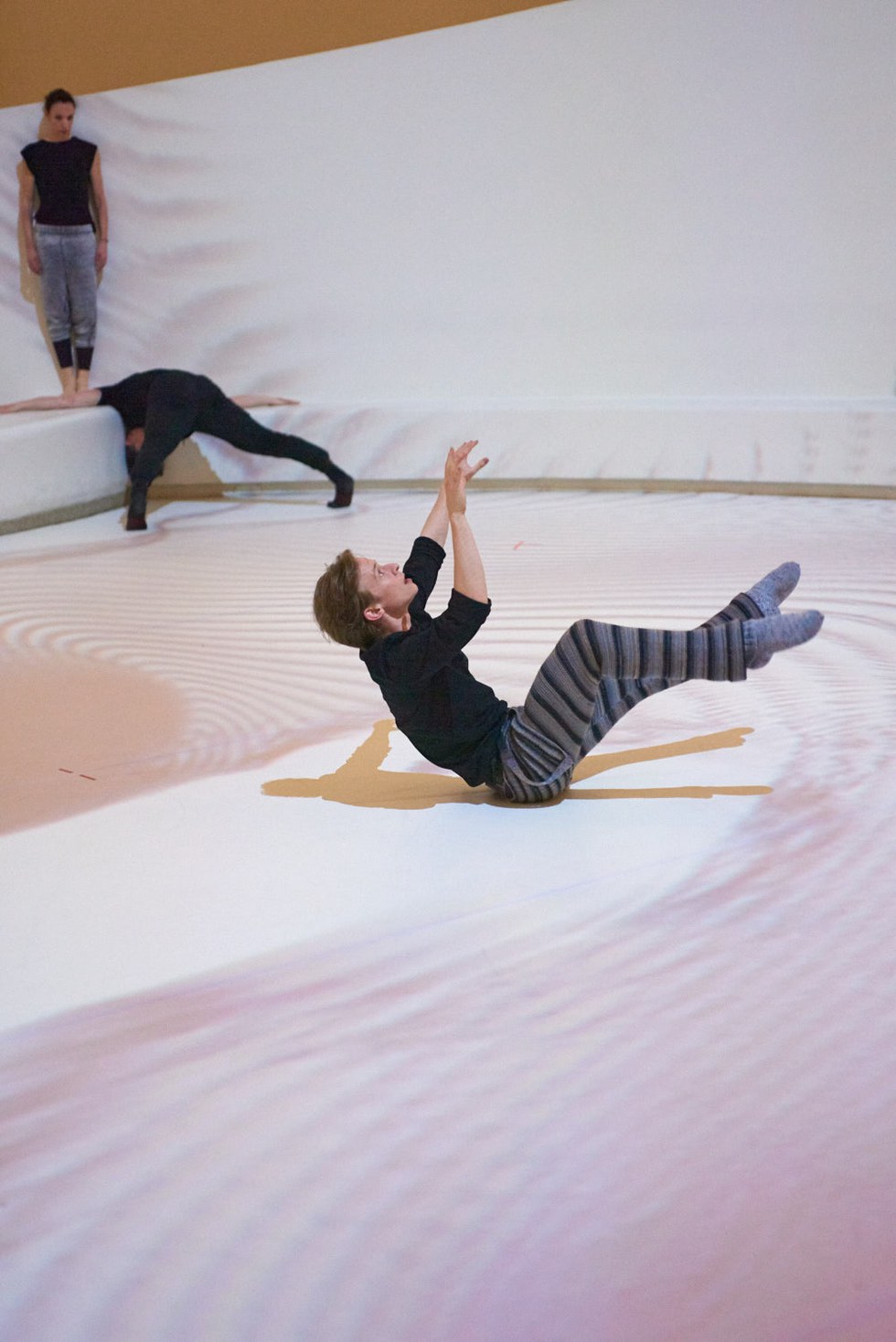 Daniil Simkin and cast. Photo by Jim Lafferty
"This is the first time that I'm rehearsing in socks! Which I'm very happy about," he adds. "You have a different traction, you've got to get into the ground a bit more, be more in tune with your core in a different sense than in ballet."
Schedules being what they are, the creative trio have much left to do entering their final block of rehearsals in late August. "There's still a lot to figure out, and many things could drastically change," Cerrudo says. "I don't set things one day and it stays like that until the premiere. I change—and change my mind—a lot. We're discovering an atmosphere, a world, that we're creating."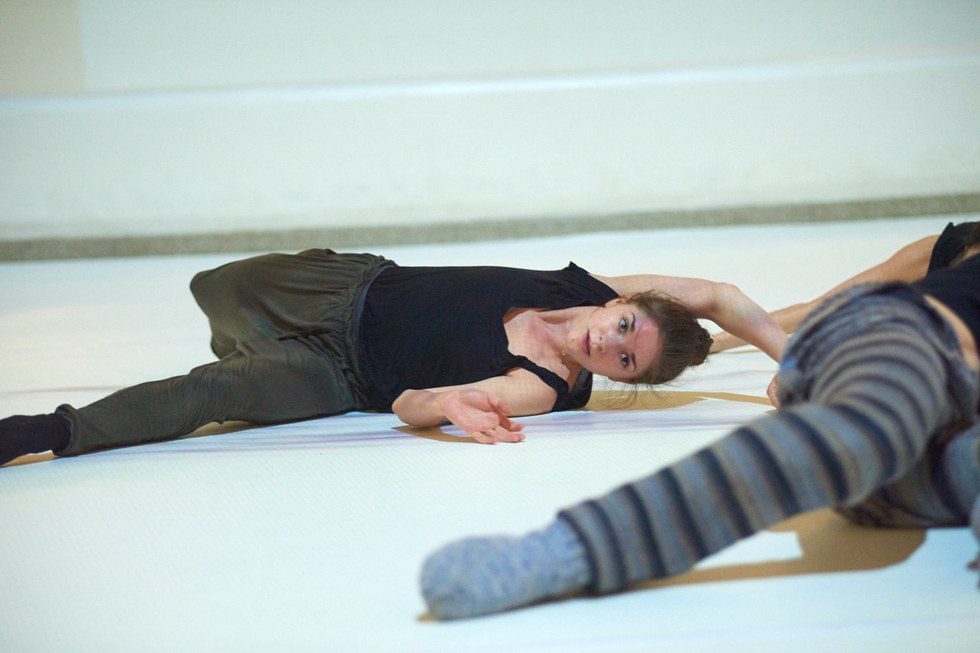 Cassandra Ternary. Photo by Jim Lafferty
Rant & Rave
May. 23, 2018 04:25PM EST
Jessica Lang's Her Notes, one of ABT's few recent commissions from women. Photo by Rosalie O'Connor
A few weeks ago, American Ballet Theatre announced the A.B.T. Women's Movement, a new program that will support three women choreographers per season, one of whom will make work on the main company.
"The ABT Women's Movement takes inspiration from the groundbreaking female choreographers who have left a lasting impact on ABT's legacy, including Agnes de Mille and Twyla Tharp," said artistic director Kevin McKenzie in a press release.
Hypothetically, this is a great idea. We're all for more ballet commissions for women. But the way ABT has promoted the initiative is problematic.
Keep reading...
Show less
Cloud in Beth Gill's Catacomb. Photo by Brian Rogers, Courtesy Gill
Some dancers move to New York City with their sights set on a dream job: that one choreographer or company they have to dance for. But when Maggie Cloud graduated from Florida State University in 2010, she envisioned herself on a less straightforward path.
"I always had in mind that I would be dancing for different people," she says. "I knew I had some kind of range that I wanted to tap into."

Keep reading...
Show less
News
May. 18, 2018 12:05PM EST
The inimitable Alicia Alonso, now 97, remains at the helm of Ballet Nacional de Cuba. Photo by Leysis Quesada, Courtesy BNC
On the occasion of its 70th anniversary, the Ballet Nacional de Cuba tours the U.S. this spring with the resolute Cuban prima ballerina assoluta Alicia Alonso a the helm. Named a National Hero of Labor in Cuba, Alonso, 97, has weathered strained international relations and devastating fiscal challenges to have BNC emerge as a world-class dance company. Her dancers are some of ballet's best. On offer this time are Alonso's Giselle and Don Quixote. The profoundly Cuban company performs in Chicago May 18–20, Tampa May 23, Washington, D.C., May 29–June 3 and Saratoga, New York June 6–8.
Dance in Pop Culture
May. 17, 2018 10:12AM EST
Participants show off their plié. Screenshot via YouTube
We all know that the general population's knowledge of ballet is sometimes...a bit skewed. (See: people touching their fingertips to the top of their head, and Kendall Jenner hopping around at the barre.)
Would your average Joe know how to do ballet's most basic step: a plié? Or, more to the point, even know what it is?
SELF decided to find out.
Keep reading...
Show less
What Wendy's Watching
May. 22, 2018 02:50PM EST
PC Paul Kolnik
New York City Ballet is celebrating the Jerome Robbins Centennial with twenty (20!) ballets. The great American choreographer died in 1998, so very few of today's dancers have actually worked with him. There are plenty of stories about how demanding (at times brutally so) he could be in rehearsal. But Peter Boal has written about Robbins in a more balanced, loving way. In this post he writes about how Robbins' crystal clear imagery helped him approach a role with clarity and purpose.
Keep reading...
Show less
92Y Harkness Dance Center is hosting the first festival dedicated to dance films captured on mobile devices. Photo by Adam Grannick, Courtesy 92Y
Who says you need fancy equipment to make a festival-worthy dance film? Right now, two New York City–based dance film festivals are calling for aspiring filmmakers to show their stuff—and you don't need anything more cumbersome than a smartphone to get in on the action.

Here's everything you need to know about how to submit:
Keep reading...
Show less


Get Dance Magazine in your inbox