Is David Hallberg the New Misty Copeland?
Hallberg modeling Nike's new poncho. Photo via WWD.com
Over the past week, David Hallberg has been up to something unusual: He's started to become the next Misty Copeland.
I know, I know. Hear me out. While he's obviously not a black woman in a field where that population is sorely underrepresented, he seems to be taking a few pages out of Copeland's playbook, and making a go at reaching household name status.
---
For starters, this happened (just saying):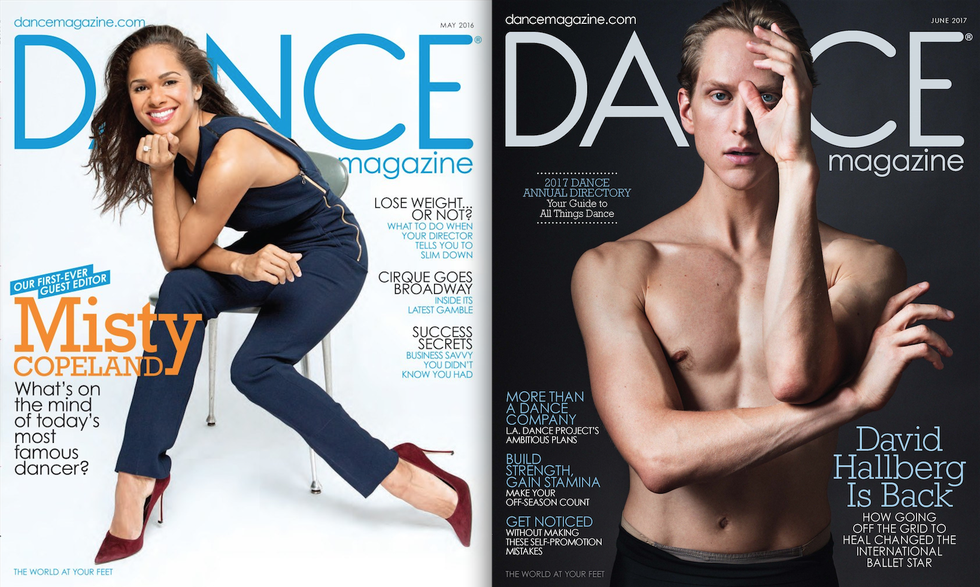 Last week, we learned Hallberg was working on a memoir, titled A Body of Work: Dancing to the Edge and Back. It's set to join Copeland's Life in Motion on bookshelves November 7.
(Of course, he's still a children's book and a health and diet book away from matching his ABT counterpart, but it's not a shabby start.)

Now, Women's Wear Daily just announced that Hallberg will be one-upping Copeland's Under Armour contract as the newest face of Nike(!). The $32 billion sports brand has asked him to model for its latest campaign for NikeLab's all conditions gear in both still and video ads. The images will officially premiere tonight in a exhibition called "Objects of Desire," featuring 20 years of "brand-defining" Nike campaigns.
Hallberg told WWD that Nike had been pursuing him for over five years, but this felt like the right fit at the right time: "Working with the ACG poncho, which signified weathering the outer elements, clicked with me right away. I've weathered a lot in my career, so it spoke to me."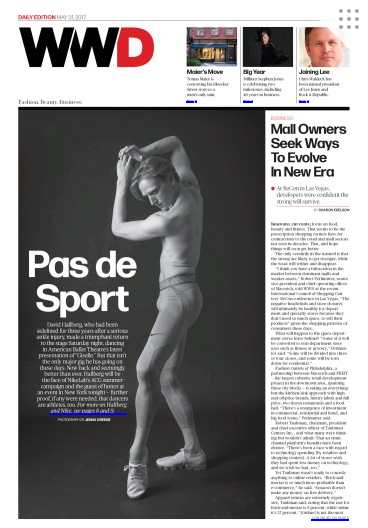 Today's front page of WWD
Like Copeland, he'll be showcasing dance's unique blend of artistry and athleticism, and breaking long-held stereotypes about ballet being a "sissy" pastime. "We train like athletes and we push ourselves to the limit. It's great we're gaining awareness of how dancers hone their craft," he tells WWD.
So what's next? (Aside from ABT's spring season at the Met, of course.) Don't count us surprised if you hear about a movie offer.
Maria Kochetkova blatantly breaks the not-eating-in-your-
Serenade
-costume rules with a personal pint backstage. Photo via
Instagram
One of the biggest myths about ballet dancers is that they don't eat. While we all know that, yes, there are those who do struggle with body image issues and eating disorders, most healthy dancers love food—and eat plenty of it to fuel their busy schedules.
Luckily for us, they're not afraid to show it:
Keep reading...
Show less
Popular
Apr. 24, 2018 03:00PM EST
Looking for your next audition shoe? Shot at and in collaboration with Broadway Dance Center, Só Dança has launched a new collection of shoes working with some pretty famous faces of the musical theater world! Offered in two different styles and either 2.5" or 3" heels, top industry professionals are loving how versatile and supportive these shoes are! Pro tip: The heel is centered under the body so you can feel confident and stable!
StockSnap
When I wrote about my struggle with depression, and eventual departure from dance because of it, I expected criticism. I was prepared to be challenged. But much to my relief, and horror, dancers from all over the world responded with support and stories of solidarity. The most critical response I saw was this one:
"Dance isn't for everyone."
This may as well be a mantra in the dance world. We have become entrenched in the Darwinian notion that the emotionally weak will be weeded out. There is no room for them anyway.
Keep reading...
Show less
Name calling, physical intimidation and cyberbullying are all-too-common experiences among male dancers. Photo by Goh Rhy Yan/Unsplash
Growing up in a family-owned dance studio in Missouri had its perks for tap dancer Anthony Russo. But it also earned him constant taunting, especially in high school.
"There was a junior in my sophomore year health class who was absolutely relentless," he says. "I'd get tripped on my way to the front of the classroom and he'd say, 'Watch out, twinkle toes.' If I raised my hand and answered a question incorrectly, I'd hear a patronizing 'Nice one, Bojangles.' "
Keep reading...
Show less
Acosta Danza in Jorge Crecis' Twelve. Photo by Johan Persson, Courtesy Sadler's Wells
What does a superstar like Carlos Acosta do after bidding farewell to his career in classical ballet? In Acosta's case, he returns to his native country, Cuba, to funnel his fame, connections and prodigious energies back into the dance scene that formed him. Because of its top-notch, state-supported training programs and popular embrace of the art of dance, Cuba is brimming with talented dancers. What it has been short on, until recently, are opportunities outside of the mainstream companies, as well as access to a more international repertoire. That is changing now, and, with the creation of Acosta Danza, launched in 2016, Acosta is determined to open the doors even wider to new ideas and audiences.
Keep reading...
Show less
University of Kentucky students travel to Arts Advocacy Day in DC each year. PC Dana Rogers Photography
There's so much more to the dance world than making and performing dances. Arts administrators do everything from raising money to managing companies to building new audiences. With the growing number of arts administration programs in colleges, dancers have an opportunity to position themselves for a multifaceted career on- or offstage—and to bring their unique perspective as artists to administrative work.
Keep reading...
Show less


Get Dance Magazine in your inbox