Ditch the Gym: 10 Top Outdoor Cross-Training Options for Dancers
Getty Images
If dancing across a stage is the greatest way to break a sweat, pounding a treadmill under fluorescent lighting has to be among the worst.
"A lot of people hate the gym," says Lauren McIntyre, an athletic trainer and clinical specialist at the Harkness Center for Dance Injuries at NYU Langone Health. Luckily, you don't need a gym membership to cross-train effectively.
---
Working out outside boosts your mood and self-esteem, improves cognitive function and reduces stress, according to Jo Barton, head of the Green Exercise research program at the University of Essex. It's also an easy way to get vitamin D, which dancers run notoriously low on.
Cross-training outside also just feels more fun: Barton says people report enjoying the activity more and are more willing to do it again. Her group's research even shows people often work harder outdoors but feel like the task is easier than if it's done inside. "Sometimes, you don't even feel like you're getting a workout because you're enjoying it so much," McIntyre says.
Outdoor exercise can be a particularly good choice for building aerobic fitness, which can lag in dancers, says McIntyre. "You can do outdoor activities that enhance your cardio-respiratory health all year long." She suggests choosing whatever activity you like most—just be smart. For instance, the week before a performance may not be the time for downhill skiing, and if you're prone to ankle injuries, skip trail running.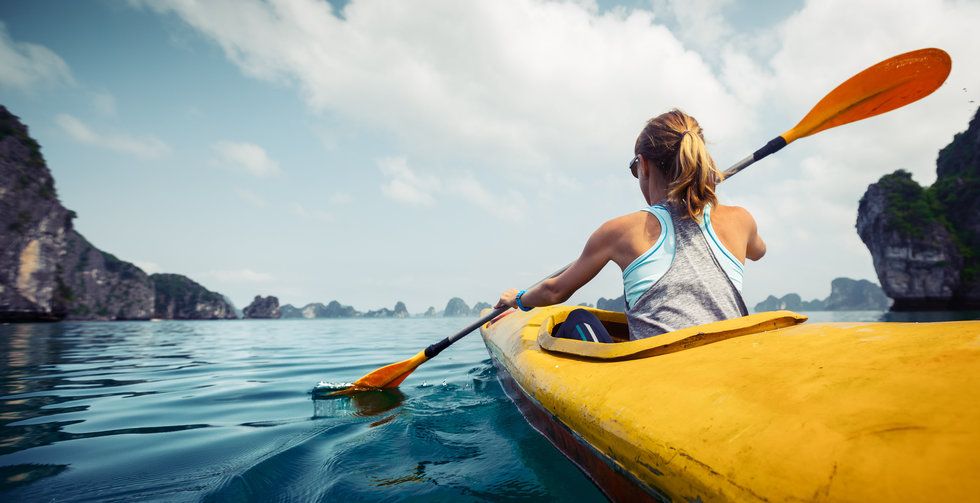 Getty Images
• Running: If you're not hurting and your form is fluid, running is a cheap cardio workout you can do almost anywhere.

• Hiking or trail running: Improves leg strength, balance and proprioception. "It can be almost like doing a StairMaster when you're going uphill," McIntyre says.
• Biking: Excellent nonimpact cardio.
• Rollerblading: Serious work for your hip abductors.
• Basketball: "You're going to get a great workout," McIntyre says. "If you enjoy it—and you have that hand-eye coordination—rock on."
• Swimming: The total-body workout. No impact, all conditioning.
• Stand-up paddle boarding: Strengthens your core and stabilizing muscles.
• Kayaking: The rare arm-focused cardio workout.
• Skiing: Cross-country and downhill will get your heart and lungs pumping.
• Snowshoeing: "If you get motoring pretty quickly, you can work up quite a sweat," McIntyre says.
From Your Site Articles
Related Articles Around the Web
Robin Worrall via Unsplash
Social media has made the dance world a lot smaller, giving users instant access to artists and companies around the world. For aspiring pros, platforms like Instagram can offer a tantalizing glimpse into the life of a working performer. But there's a fine line between taking advantage of what social media can offer and relying too heavily on it.
Keep reading...
Show less
UA Dance Ensemble members Candice Barth and Gregory Taylor in Jessica Lang's "Among the Stars." Photo by Ed Flores, courtesy University of Arizona
If you think becoming a trainee or apprentice is the only path to gaining experience in a dance company environment, think again.
The University of Arizona, located in the heart of Tucson, acclimates dancers to the pace and rigor of company life while offering all the academic opportunities of a globally-ranked university. If you're looking to get a head-start on your professional dance career—or to just have a college experience that balances company-level training and repertory with rigorous academics—the University of Arizona's undergraduate and graduate programs have myriad opportunites to offer:
Keep reading...
Show less
Alice Sheppard/Kinetic Light in DESCENT, which our readers chose as last year's "Most Moving Performance." Photo by Jay Newman, courtesy Kinetic Light
Yes, we realize it's only August. But we can't help but to already be musing about all the incredible dance happenings of 2019.
We're getting ready for our annual Readers' Choice feature, and we want to hear from you about the shows you can't stop thinking about, the dance videos that blew your mind and the artists you discovered this year who everyone should know about.
Keep reading...
Show less
Sergei Diaghilev, who was terrified of the sea, posing with a life preserver aboard a ship. Photo courtesy DM Archives
On August 19, 1929, shockwaves were felt throughout the dance world as news spread that impresario Sergei Diaghilev had died. The founder of the Ballets Russes rewrote the course of ballet history as the company toured Europe and the U.S., championing collaborations with modernist composers, artists and designers such as Igor Stravinsky, Pablo Picasso and Coco Chanel. The company launched the careers of its five principal choreographers: Michel Fokine, Vaslav Nijinsky, Léonide Massine, Bronislava Nijinska and George Balanchine.
Keep reading...
Show less