News
Apr. 09, 2018 12:00PM EST
Donald McKayle Dies At Age 87
Donald McKayle in 1963, via Dance Magazine Archives
Over the weekend, Twitter and Facebook filled with tributes to dance icon Donald McKayle, who passed away at age 87 on Saturday.
Revered for his passion and humanism, McKayle powerfully showcased the depth of the human condition through dance. He not only broke barriers as the first black man to direct and choreograph a Broadway show, he brought the black experience to the stage, highlighting social injustices as well as the struggles and triumphs he witnessed around him.
---
The legendary choreographer created more than 70 modern dance works during his life, including 1959's groundbreaking Rainbow 'Round My Shoulder about the frustrations and aspirations of a chain gang in the American South. He was nominated for five Tony Awards for his work on Broadway in musicals including Sophisticated Ladies and Raisin, and he also made his mark on TV and in films like The Jazz Singer.
McKayle began dancing as a teenager, studying under Pearl Primus and Sophie Maslow at the politically-active collective New Dance Group. He made his choreographic debut at age 18, co-founded the Contemporary Dance Group with Danial Nagrin at age 21, and started dancing for Martha Graham at age 25. He later went on to dance with Anna Sokolow and Charles Weidman.
Most recently, he was beloved as a teacher, encouraging students everywhere from Jacob's Pillow to the Juilliard School to dig deeper inside themselves. Although he officially retired as a professor from the University of California Irvine in 2010, he returned to the dance department annually to choreograph and teach.
When Dance Magazine interviewed him for our Teacher's Wisdom column in 2008, he told writer Rose Eichenbaum:
"You have to have a focus. I work with dancers on movement ideas but I always stress intention: What are you dancing about? Why are you doing it the way you're doing it? What are you bringing to this movement? I want them to think about these things and come back to me with real answers."
We honored him with a Dance Magazine Award in 2005, writing, "McKayle's choreography, humanism and teaching have left a giant footprint on the dance world." McKayle will be sorely missed, but his impact will never leave us.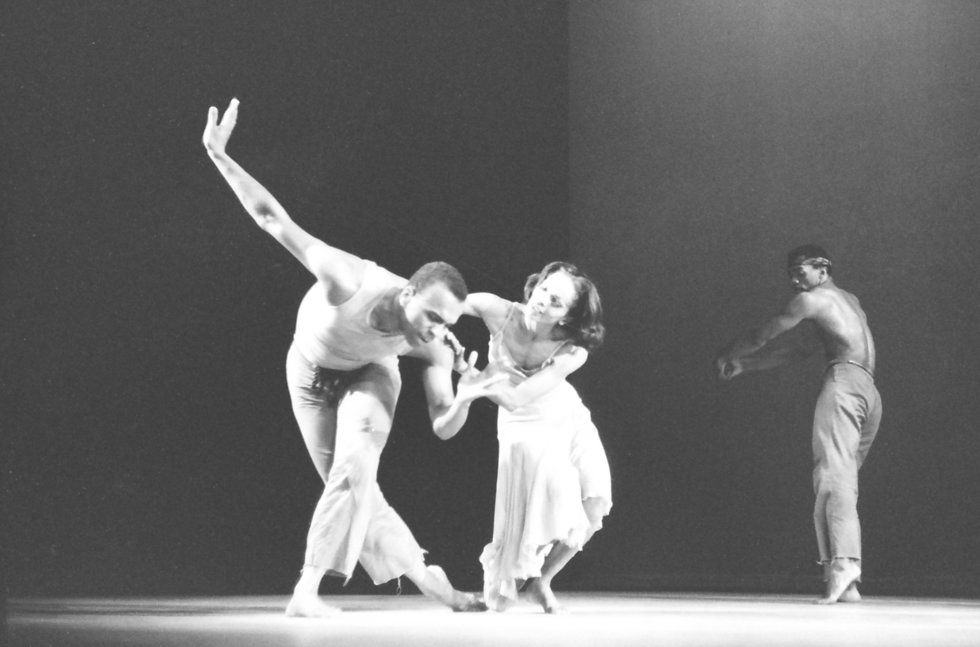 Donald McKayle performing with Mary Hinkson in 1961. Photo by Van Lund, via DM Archives
Related Articles Around the Web
Michelle Dorrance. Photo by Jayme Thornton
What do Percy Jackson, Princess Diana and Tina Turner have in common? They're all characters on Broadway this season. Throw in Michelle Dorrance's choreographic debut, Henry VIII's six diva-licious wives and the 1990s angst of Alanis Morissette, and the 2019–20 season is shaping up to be an exciting mix of past-meets-pop-culture-present.
Here's a look at the musicals hitting Broadway in the coming months. We're biding our time until opening night!

Keep reading...
Show less
UA Dance Ensemble members Candice Barth and Gregory Taylor in Jessica Lang's "Among the Stars." Photo by Ed Flores, courtesy University of Arizona
If you think becoming a trainee or apprentice is the only path to gaining experience in a dance company environment, think again.
The University of Arizona, located in the heart of Tucson, acclimates dancers to the pace and rigor of company life while offering all the academic opportunities of a globally-ranked university. If you're looking to get a head-start on your professional dance career—or to just have a college experience that balances company-level training and repertory with rigorous academics—the University of Arizona's undergraduate and graduate programs have myriad opportunites to offer:
Keep reading...
Show less
Alice Sheppard/Kinetic Light in DESCENT, which our readers chose as last year's "Most Moving Performance." Photo by Jay Newman, courtesy Kinetic Light
Yes, we realize it's only August. But we can't help but to already be musing about all the incredible dance happenings of 2019.
We're getting ready for our annual Readers' Choice feature, and we want to hear from you about the shows you can't stop thinking about, the dance videos that blew your mind and the artists you discovered this year who everyone should know about.
Keep reading...
Show less
Getty Images
Ah, stretching. It seems so simple, and is yet so complicated.
For example: You don't want to overstretch, but you're not going to see results if you don't stretch enough. You want to focus on areas where you're tight, but you also can't neglect other areas or else you'll be imbalanced. You were taught to hold static stretches growing up, but now everyone is telling you never to hold a stretch longer than a few seconds?
Considering how important stretching correctly is for dancers, it's easy to get confused or overwhelmed. So we came up with 10 common stretching scenarios, and gave you the expert low-down.
Keep reading...
Show less