News
Apr. 09, 2018 12:00PM EST
Donald McKayle Dies At Age 87
Donald McKayle in 1963, via Dance Magazine Archives
Over the weekend, Twitter and Facebook filled with tributes to dance icon Donald McKayle, who passed away at age 87 on Saturday.
Revered for his passion and humanism, McKayle powerfully showcased the depth of the human condition through dance. He not only broke barriers as the first black man to direct and choreograph a Broadway show, he brought the black experience to the stage, highlighting social injustices as well as the struggles and triumphs he witnessed around him.
---
The legendary choreographer created more than 70 modern dance works during his life, including 1959's groundbreaking Rainbow 'Round My Shoulder about the frustrations and aspirations of a chain gang in the American South. He was nominated for five Tony Awards for his work on Broadway in musicals including Sophisticated Ladies and Raisin, and he also made his mark on TV and in films like The Jazz Singer.
McKayle began dancing as a teenager, studying under Pearl Primus and Sophie Maslow at the politically-active collective New Dance Group. He made his choreographic debut at age 18, co-founded the Contemporary Dance Group with Danial Nagrin at age 21, and started dancing for Martha Graham at age 25. He later went on to dance with Anna Sokolow and Charles Weidman.
Most recently, he was beloved as a teacher, encouraging students everywhere from Jacob's Pillow to the Juilliard School to dig deeper inside themselves. Although he officially retired as a professor from the University of California Irvine in 2010, he returned to the dance department annually to choreograph and teach.
When Dance Magazine interviewed him for our Teacher's Wisdom column in 2008, he told writer Rose Eichenbaum:
"You have to have a focus. I work with dancers on movement ideas but I always stress intention: What are you dancing about? Why are you doing it the way you're doing it? What are you bringing to this movement? I want them to think about these things and come back to me with real answers."
We honored him with a Dance Magazine Award in 2005, writing, "McKayle's choreography, humanism and teaching have left a giant footprint on the dance world." McKayle will be sorely missed, but his impact will never leave us.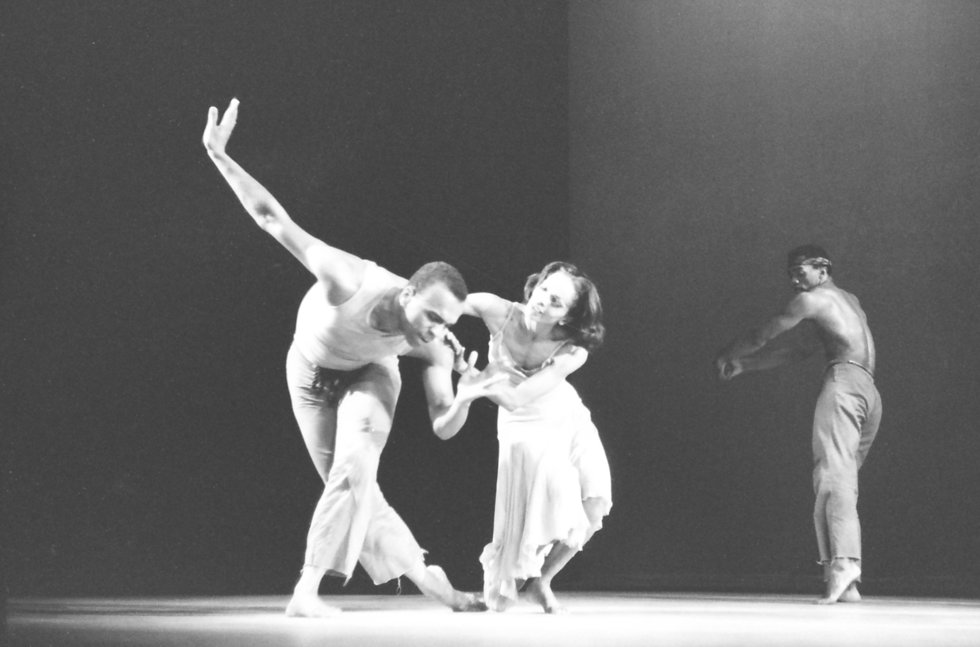 Donald McKayle performing with Mary Hinkson in 1961. Photo by Van Lund, via DM Archives
Related Articles Around the Web
Cherkaoui is happy dedicating his time to projects he's invested in. Photo by Koen Broos, courtesy Michelle Tabnick PR
Sidi Larbi Cherkaoui is a busy man. These days, when he's not directing Royal Ballet of Flanders or his contemporary company Eastman, he's working on a new duet with Irish dancer Colin Dunne, creating a premiere for the Göteborg Opera, or choreographing on Beyoncé like it's NBD.
Next week, he's also taking a trip to New York City to perform in Sutra, his hit collaboration with a group of 20 Shaolin monks. In the 10 years since its premiere, the work has been performed in 60 cities across 28 countries to rave reviews and sold-out audiences. The New York performances at the White Light Festival mark a homecoming to the same festival where the piece received its US premiere.
We recently caught up with Cherkaoui to hear his thoughts on performing on the opening night of the run, what he's learned from the monks and how he manages to juggle so many projects at once.
Keep reading...
Show less
Stephanie Williams, Cory Stearns, Catherine Hurlin and Duncan Lyle rehearsing In the Upper Room. PC Kelsey Grills
Waves of sheer dance inventiveness come rolling toward you. Dancers in sneakers, pointe shoes or ballet slippers mingle: it looks like a free-for-all but is carefully plotted out. Philip Glass' music lets the dancers ride his gorgeous momentum.
This is In the Upper Room, the celestial yet kinetically charged ballet made by Twyla Tharp in 1986. It hasn't been done by American Ballet Theatre since 2012 and now it's coming back with full force.

Keep reading...
Show less
Anna Rogovoy in her dual roles of toy shop manager and dancer/choreographer. Left photo by Olympia Shannon; right photo by Kathryn Butler
Few dancers are able to make a comfortable living from their creative pursuits alone. Many rely on non-dance freelance work or multiple part-time gigs, fearing that a full-time job would take too much time away from their dancing. However, plenty of artists manage to balance full-time day jobs with fulfilling dance careers, opting for the security, benefits and opportunity to learn new skills.
Keep reading...
Show less


Get Dance Magazine in your inbox