There are many reasons why fans are loving the groundbreaking film Black Panther, but here's one more for dance fans: two of the eight female warriors protecting Wakanda and King T'Challa are dancers.
Zola Williams and Marija Abney are both former The Lion King ensemble dancers, and Abney was also part of the original Broadway cast of After Midnight. The rest of the bald, badass female warriors—known as the Dora Milaje—are stuntwomen and martial artists.
"The director, Ryan Coogler, was having trouble finding actors to fulfill the physical requirements needed for a Dora Milaje," says Abney. When she got the audition invite, she immediately knew she wanted to be one of those women. "I already feel like a warrior on the streets of New York City every day," she says. "I felt confident with the physicality of the role, I'm an aggressive dancer—one of the few dancers I know that does pull-ups in the gym!"
---
Abney gave Dance Magazine a behind-the-scenes look at becoming a Dora Milaje.
What the Audition Was Like
"We worked with the stunt team learning punches and kicks, and then had to work with the bow staff to see how we would handle the weapon. The director wanted to see our skills as dancers, but also needed to make sure we wouldn't soften the movement so it no longer looked like realistic fighting."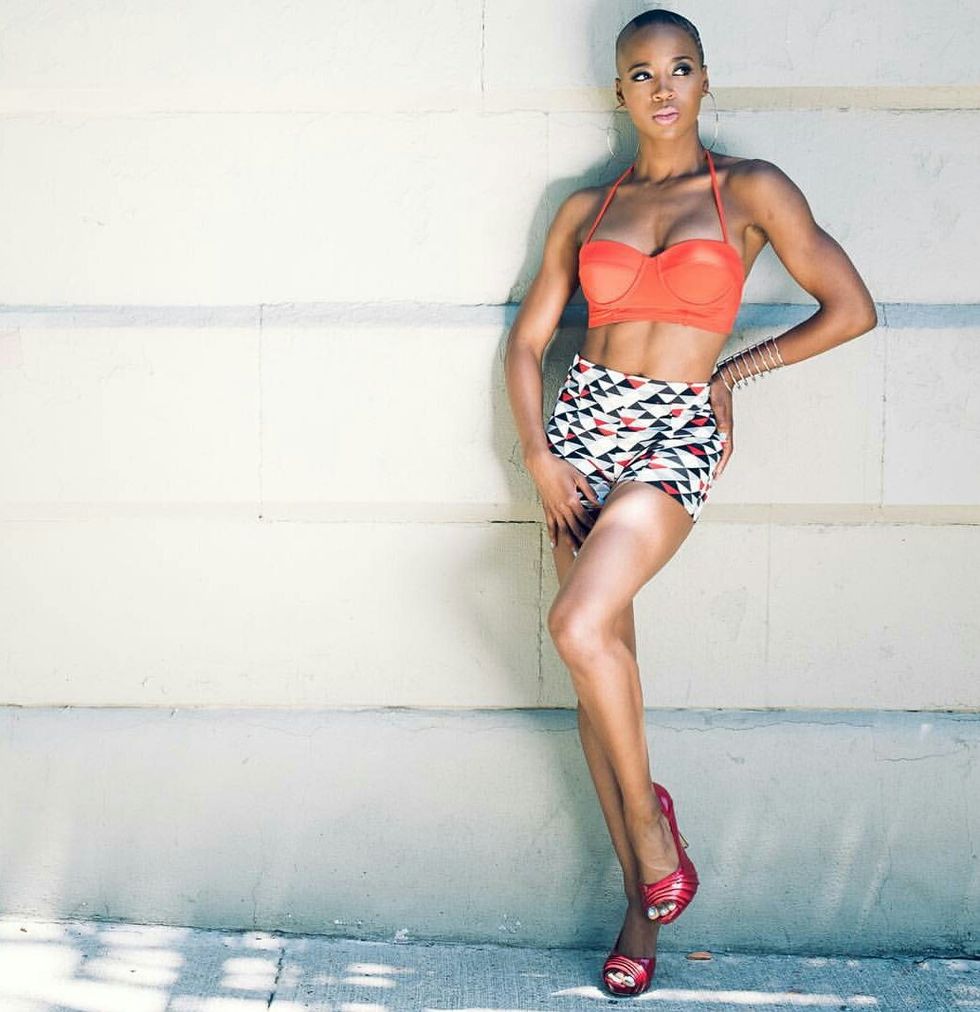 Marija Abney. Photo by Justin Patterson, courtesy Abney
How Her Dance Background Helped Her Learn Fight Choreography
"We spent a majority of training with the bow staff. It was like ballet, how exact each angle had to be. We would learn one angle and then literally do it 100 times, then the second angle, then put them together—for eight hours a day. We had to build musculature to support the movements because during filming you have no idea how many times you'll repeat a sequence.
"We were each able to infuse our individual style into fight scenes. I actually did pirouettes with my staff and spun on my knees. Working with the men for the battle scene was like improv partnering; we got to build a movement vocabulary with our partners, which was thrilling for me."
Going Completely Bald
"Each department—wardrobe, hair, makeup—did so much research, so we gained an understanding of why we wore what we wore, we learned the oral history. The baldness solidified us an army.
"I originally shaved my head in 2011 because I wanted to know that my femininity had nothing to do with my hair. I was able to support the other women through the process; it was a big adjustment for them. We had our heads shaved clean every morning! But walking around downtown Atlanta with 8 bald women was amazing, people always told us how beautiful we were."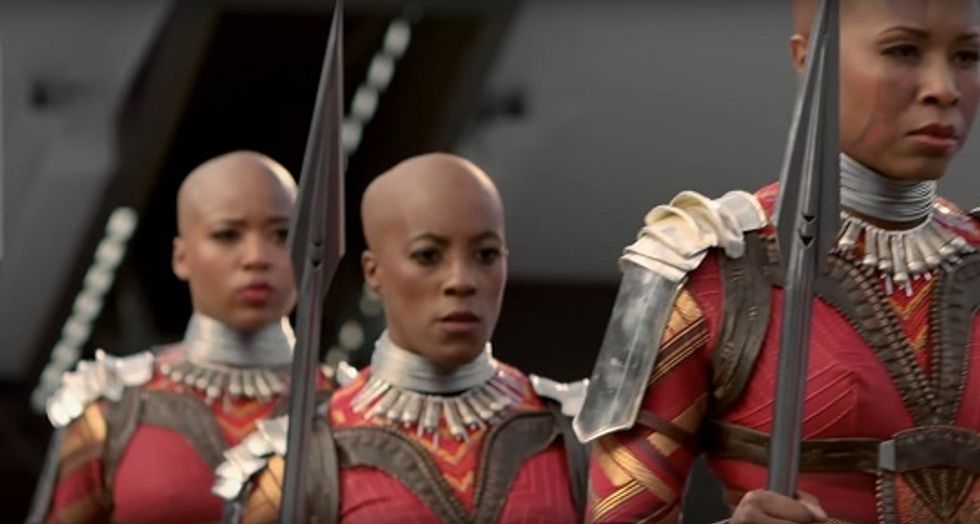 The Dora Milaje. Photo via Marvel Studios
Wait, Is Wakanda In Atlanta?
"All of our scenes as Dora were filmed in Atlanta. They built a massive, four-story waterfall for the Challenge-Day scenes. The battle scene took place on a beautiful farm outside of Atlanta."
On That Stunning Purple Carpet Premiere Look
"I made my own jewelry, did my own makeup, no publicist or stylist. The dress was a vintage piece I found over a year ago (I can't shop under pressure). I was saving it for a special occasion."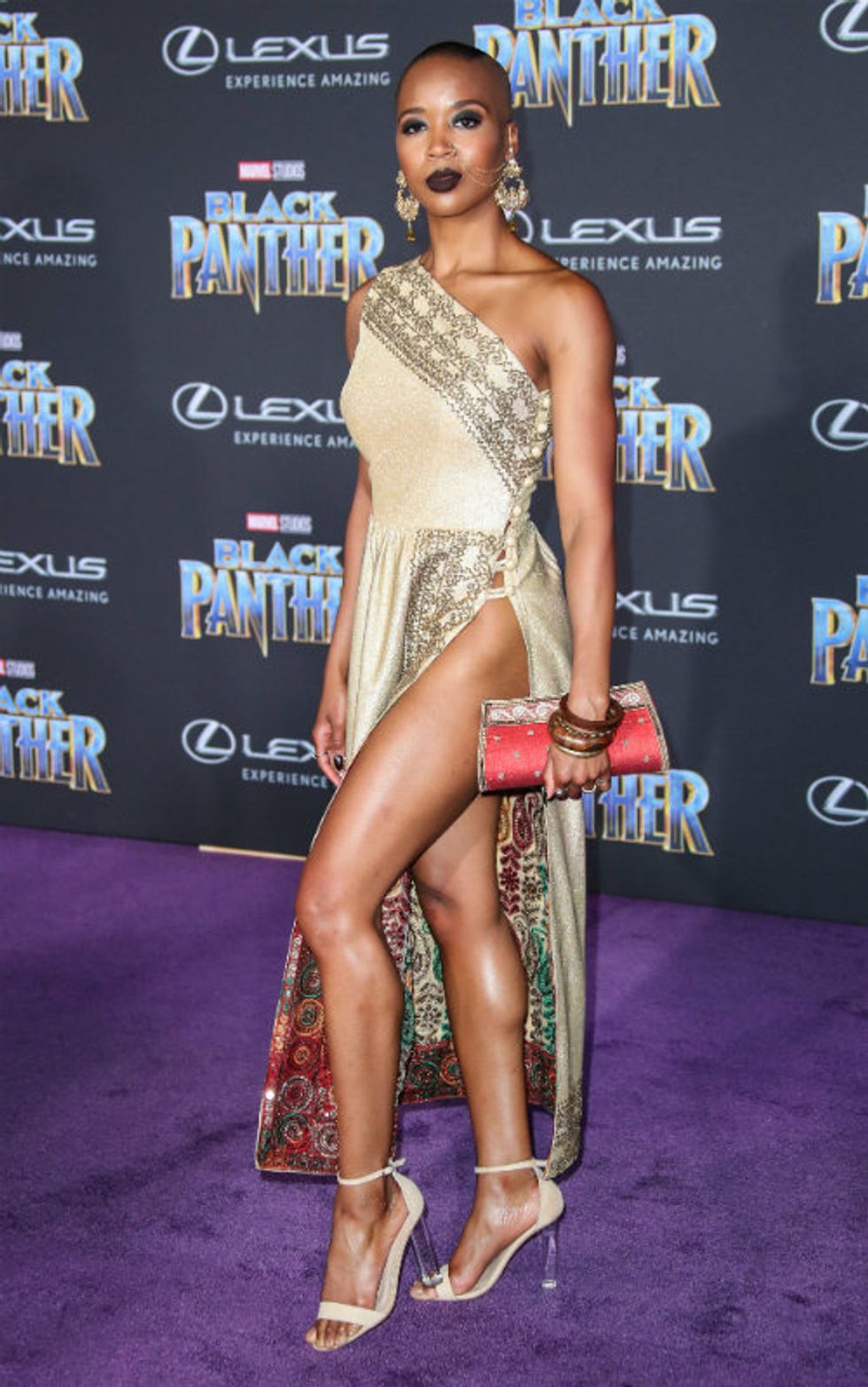 Abney's purple carpet look
Being Part of Such a Huge Success
"I knew I was part of something monumental for black culture and for women, but I'm just now starting to glimpse the true impact this film will have on the next generation. I posted a picture on social media of a group of little black and brown girls in Detroit, all dressed as Dora Milaje. I love that they were able to see women that look like them, who are strong and well spoken, seeing that they can be represented. It is so empowering."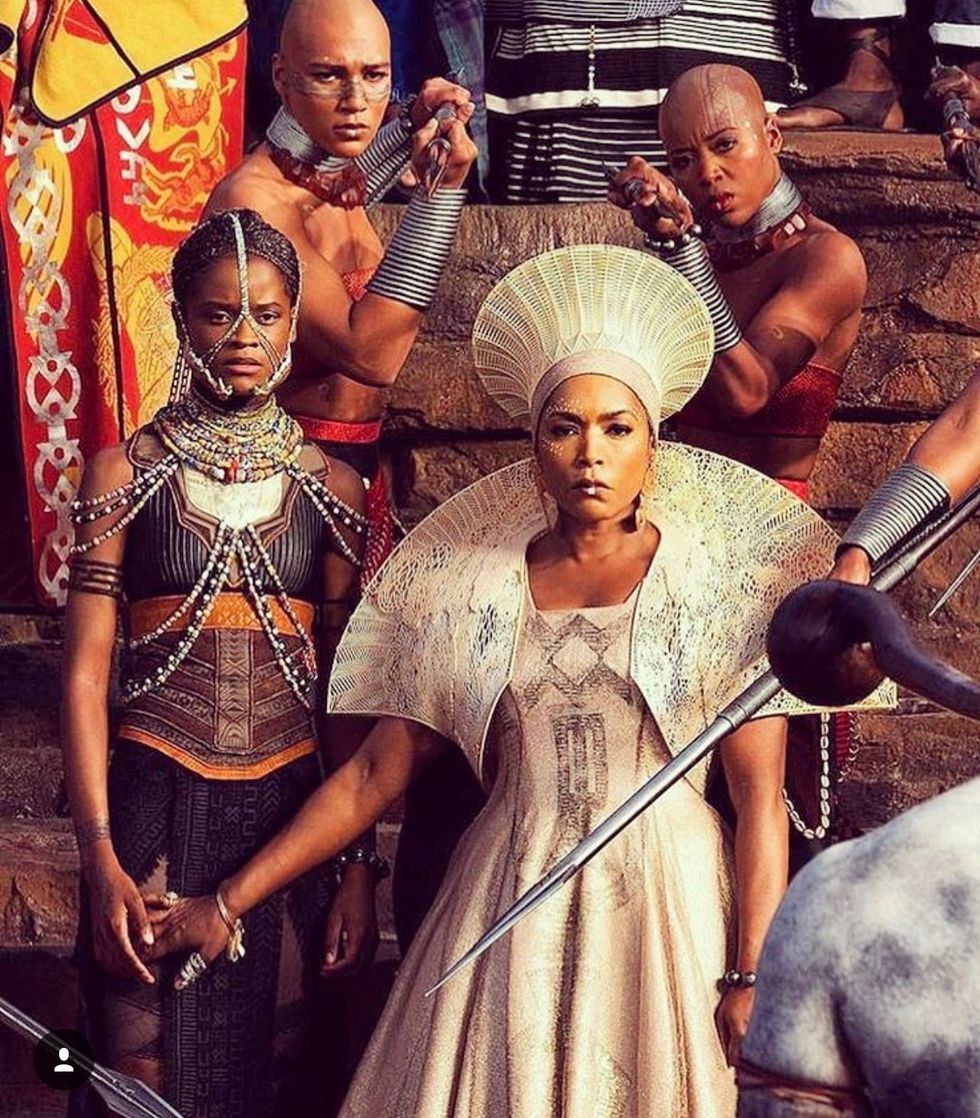 Abney at top right. Photo via Marvel Studios
Look for Abney and the other Dora Milaje in Marvel's upcoming Avengers: Infinity War (releases April 27). And with Black Panther already crossing $1 billion in box office sales this weekend, we'll definitely be seeing more of the dancer warriors in BP sequels.