What This Graham Star Learned from Training in Martial Arts for a New Akram Khan-Choreographed Show
PeiJu Chien-Pott rehearsing in Beijing for the role of Xiao Lian in Dragon Spring Phoenix Rise. Photo by An Rong Xu
When dancers kick their legs, they typically try to avoid hitting their colleagues. But the performers in the upcoming show Dragon Spring Phoenix Rise, choreographed by Akram Khan, have had to train to do just the opposite.
"It's not a grand battement. You're kicking someone's face. It has to have intention," says Martha Graham Dance Company star PeiJu Chien-Pott, who plays the role of Xiao Lian, a mother fighting to protect her family.
---
At the same time, the trick of performing martial arts onstage is, of course, to not actually hurt the other person. To pull this off convincingly, the six lead performers recently spent two weeks in Beijing training with a kung fu master. Chien-Pott shared with Dance Magazine what she got took away from the experience.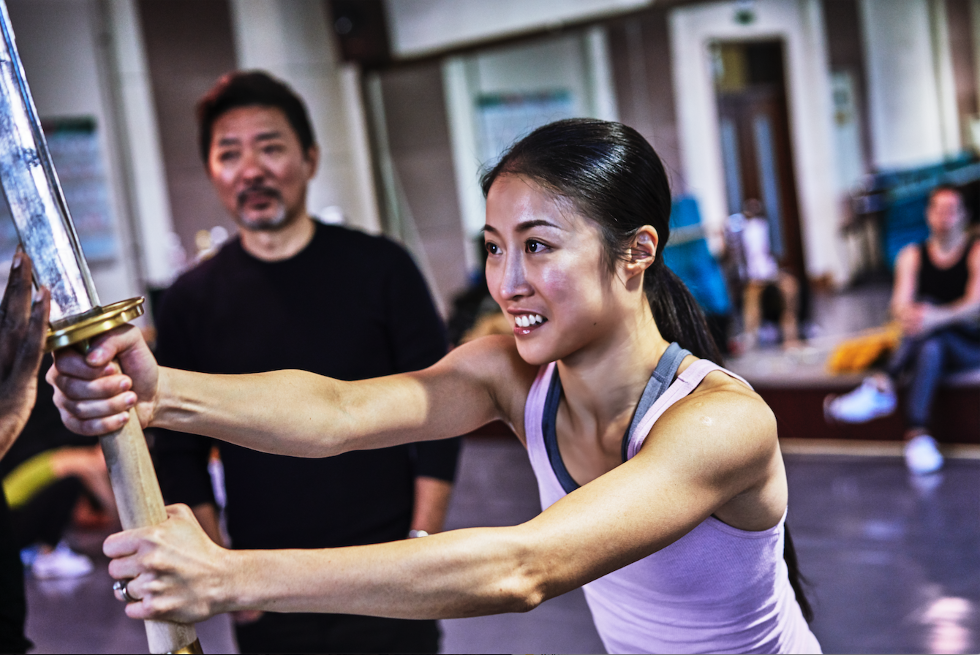 PeiJu Chien-Pott rehearsing in Beijing, with director Chen Shi-Zheng and martial arts assistant, Child G, in the background.
An Rong Xu
Becoming One with a Knife
The type of martial arts she studied is called bagua, which was developed in the mountains of China.
"Each of the main characters has a different superpower, different weapons that he or she's good at," says Chien-Pott. "My weapon is a long, metal knife. Ideally, I'll make it look like part of my limb."
The show's director Chen Shi-Zheng and master martial arts choreographer Yuen Woo-Ping sent her a video from 1983 of a woman moving so fluidly that the knife looks like it weighs no more than a feather. "That's my reference—that's my goal."
What She's Learned
It turns out that kung fu is ultimately less physical than Chien-Pott assumed.
"It's about speed and control and eye contact," she says. "The master told me that eye contact takes 60 percent of the effort, the body movement takes 40 percent. It's about pulling the audience in with intention and strong focus."
Chien-Pott realized it's also about taking pauses between movements to breathe and let the audience digest what just happened. "Learning this technique taught me to be patient; naturally, I always want to keep moving. But then it just looks like messy street fighting."
The Challenges
The training didn't come easily: Over the course of two weeks in Beijing, Chien-Pott sprained both an inner thigh muscle and an ankle.
The other unexpected difficulty? Getting her knife back home. "Well before even entering the airport I was called and asked, what is that for?" (She ended up having to wrap it with towels and ship it back to New Jersey).
What's Next
The bulk of rehearsals for the production don't start until May (for a July premiere), so in the meantime, Chien-Pott is practicing sequences on her own to increase her arm and wrist strength, and to maintain the martial arts movements in her muscle memory.
But she's not done learning new skills. Next up? Aerial silks.
Related Articles Around the Web
Lindsay Martell at a class performance. Courtesy Martell.
More than once, when I'm sporting my faded, well-loved ballet hoodie, some slight variation of this conversation ensues:
"Is your daughter the dancer?"
"Actually," I say, "I am."
"Wow!" they enthuse. "Who do you dance with? Or have you retired...?"
"I don't dance with a company. I'm not a professional. I just take classes."
Insert mic drop/record scratch/quizzical looks.
Keep reading...
Show less
Taylor Stanley in Apollo. Photo by Erin Baiano, Courtesy New York City Ballet
You nominated your favorite dance moments so far in 2019, and we narrowed them down to this list. Now it's time to cast your vote to help decide who will be deemed our Readers' Choice picks for the year!
Voting is open until September 17th. Only one vote per person will be counted.
Keep reading...
Show less
The USC Kaufman graduating class with Mikhail Baryshnikov. Gus Ruelas/USC
Just four years ago, the University of Southern California's Glorya Kaufman School of Dance welcomed its first class of BFA students. The program—which boasts world-class faculty and a revolutionary approach to training focused on collaboration and hybridity—immediately established itself as one of the country's most prestigious and most innovative.
Now, the first graduating class is entering the dance field. Here, six of the 33 graduates share what they're doing post-grad, what made their experience at USC Kaufman so meaningful and how it prepared them for their next steps:
Keep reading...
Show less
News
Sep. 16, 2019 11:00AM EST
Teaċ Daṁsa in Michael Keegan-Dolan's Loch na hEala. Photo by Marie-Laure Briane, courtesy Walker Art Center
The 2019–20 season is here, and with it more performances than any one person could reasonably catch. But fear not: We polled our writers and editors and selected the 31 most promising tickets, adding up to one endlessly intriguing year of dance.
Keep reading...
Show less