What This Graham Star Learned from Training in Martial Arts for a New Akram Khan-Choreographed Show
PeiJu Chien-Pott rehearsing in Beijing for the role of Xiao Lian in Dragon Spring Phoenix Rise. Photo by An Rong Xu
When dancers kick their legs, they typically try to avoid hitting their colleagues. But the performers in the upcoming show Dragon Spring Phoenix Rise, choreographed by Akram Khan, have had to train to do just the opposite.
"It's not a grand battement. You're kicking someone's face. It has to have intention," says Martha Graham Dance Company star PeiJu Chien-Pott, who plays the role of Xiao Lian, a mother fighting to protect her family.
---
At the same time, the trick of performing martial arts onstage is, of course, to not actually hurt the other person. To pull this off convincingly, the six lead performers recently spent two weeks in Beijing training with a kung fu master. Chien-Pott shared with Dance Magazine what she got took away from the experience.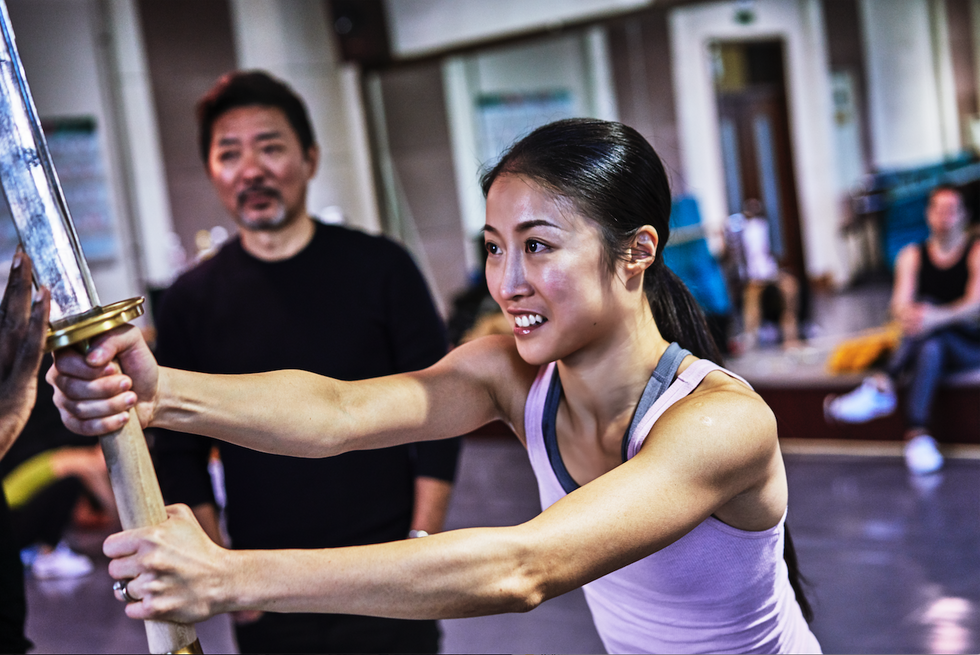 PeiJu Chien-Pott rehearsing in Beijing, with director Chen Shi-Zheng and martial arts assistant, Child G, in the background.
An Rong Xu
Becoming One with a Knife
The type of martial arts she studied is called bagua, which was developed in the mountains of China.
"Each of the main characters has a different superpower, different weapons that he or she's good at," says Chien-Pott. "My weapon is a long, metal knife. Ideally, I'll make it look like part of my limb."
The show's director Chen Shi-Zheng and master martial arts choreographer Yuen Woo-Ping sent her a video from 1983 of a woman moving so fluidly that the knife looks like it weighs no more than a feather. "That's my reference—that's my goal."
What She's Learned
It turns out that kung fu is ultimately less physical than Chien-Pott assumed.
"It's about speed and control and eye contact," she says. "The master told me that eye contact takes 60 percent of the effort, the body movement takes 40 percent. It's about pulling the audience in with intention and strong focus."
Chien-Pott realized it's also about taking pauses between movements to breathe and let the audience digest what just happened. "Learning this technique taught me to be patient; naturally, I always want to keep moving. But then it just looks like messy street fighting."
The Challenges
The training didn't come easily: Over the course of two weeks in Beijing, Chien-Pott sprained both an inner thigh muscle and an ankle.
The other unexpected difficulty? Getting her knife back home. "Well before even entering the airport I was called and asked, what is that for?" (She ended up having to wrap it with towels and ship it back to New Jersey).
What's Next
The bulk of rehearsals for the production don't start until May (for a July premiere), so in the meantime, Chien-Pott is practicing sequences on her own to increase her arm and wrist strength, and to maintain the martial arts movements in her muscle memory.
But she's not done learning new skills. Next up? Aerial silks.
Related Articles Around the Web
We knew that Ivo van Hove and Anne Teresa de Keersmaeker's production of West Side Story would challenge our preconceived notions about the show.
But a recent Vogue story gives us a taste of just how nontraditional the Broadway revival will be. Most notably, van Hove is cutting "I Feel Pretty" and the "Somewhere" ballet, condensing the show into one act to better reflect the urgency of the 48-hour plot. (The choice has been approved by the West Side Story estate, including Sondheim, who has "long been uncomfortable" with some of the "I Feel Pretty" lyrics.)
Keep reading...
Show less
Ailey II artistic director Troy Powell teaching an Ailey Workshop at NYCDA. Courtesy NYCDA
Back in 2011 when Joe Lanteri first approached Katie Langan, chair of Marymount Manhattan College's dance department, about getting involved with New York City Dance Alliance, she was skeptical about the convention/competition world.
"But I was pleasantly surprised by the enormity of talent that was there," she says. "His goal was to start scholarship opportunities, and I said okay, I'm in."
Today, it's fair to say that Lanteri has far surpassed his goal of creating scholarship opportunities. But NYCDA has done so much more, bridging the gap between the convention world and the professional world by forging a wealth of partnerships with dance institutions from Marymount to The Ailey School to Complexions Contemporary Ballet and many more. There's a reason these companies and schools—some of whom otherwise may not see themselves as aligned with the convention/competition world—keep deepening their relationships with NYCDA.
Now, college scholarships are just one of many ways NYCDA has gone beyond the typical weekend-long convention experience and created life-changing opportunities for students. We rounded up some of the most notable ones:
Keep reading...
Show less
Jayme Thornton
It's a much-repeated part of Francesca Hayward's origin story that she discovered ballet at age 3, when her grandparents bought a video of The Nutcracker to keep her occupied and she immediately started dancing around the room. What's less well-known is that there was another video lined up next to The Nutcracker that Hayward liked to dance along to: Cats. "I really just did the White Cat bit and fast-forwarded the rest," she remembers. "I'd make my friends who came around be the other cats."
Twenty-four years later, she's not only become a Royal Ballet principal, but has been cast as Victoria the White Cat in Tom Hooper's new movie adaptation of the Andrew Lloyd Webber musical, out in theaters on December 20. "I remember the director telling me I'd got the part: 'Just to let you know you're the lead in a Hollywood film,' he said." Hayward laughs. "This is crazy!"
Keep reading...
Show less
Left: Hurricane Harvey damage in Houston Ballet's Dance Lab; Courtesy Harlequin. Right: The Dance Lab pre-Harvey; Nic Lehoux, Courtesy Houston Ballet.
"The show must go on" may be a platitude we use to get through everything from costume malfunctions to stormy moods. But when it came to overcoming a literal hurricane, Houston Ballet was buoyed by this mantra to go from devastated to dancing in a matter of weeks—with the help of Harlequin Floors, Houston Ballet's longstanding partner who sprang into action to build new floors in record time.
Keep reading...
Show less