What This Graham Star Learned from Training in Martial Arts for a New Akram Khan-Choreographed Show
PeiJu Chien-Pott rehearsing in Beijing for the role of Xiao Lian in Dragon Spring Phoenix Rise. Photo by An Rong Xu
When dancers kick their legs, they typically try to avoid hitting their colleagues. But the performers in the upcoming show Dragon Spring Phoenix Rise, choreographed by Akram Khan, have had to train to do just the opposite.
"It's not a grand battement. You're kicking someone's face. It has to have intention," says Martha Graham Dance Company star PeiJu Chien-Pott, who plays the role of Xiao Lian, a mother fighting to protect her family.
---
At the same time, the trick of performing martial arts onstage is, of course, to not actually hurt the other person. To pull this off convincingly, the six lead performers recently spent two weeks in Beijing training with a kung fu master. Chien-Pott shared with Dance Magazine what she got took away from the experience.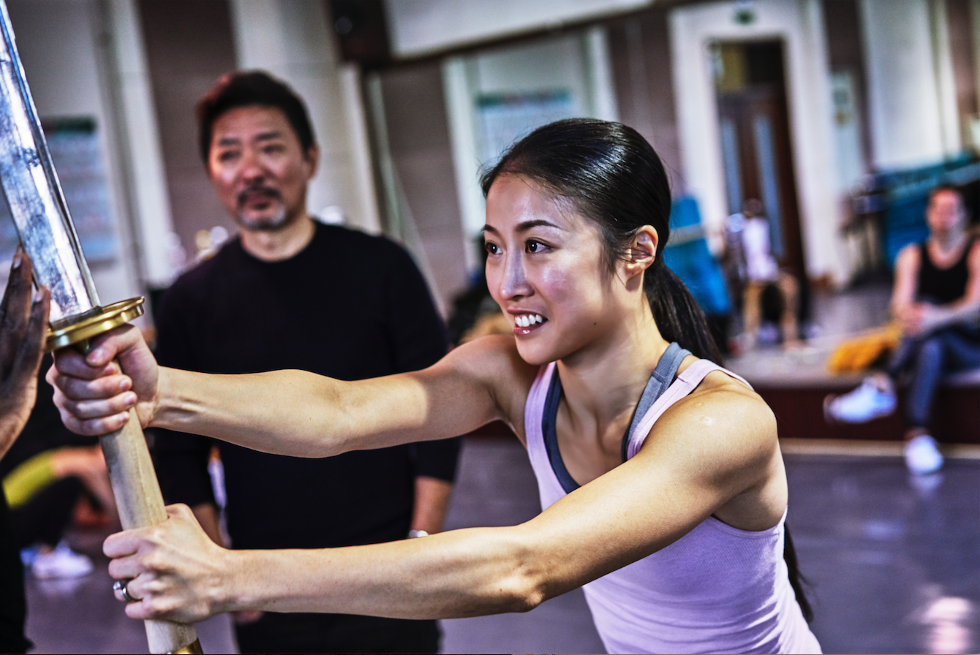 PeiJu Chien-Pott rehearsing in Beijing, with director Chen Shi-Zheng and martial arts assistant, Child G, in the background.
An Rong Xu
Becoming One with a Knife
The type of martial arts she studied is called bagua, which was developed in the mountains of China.
"Each of the main characters has a different superpower, different weapons that he or she's good at," says Chien-Pott. "My weapon is a long, metal knife. Ideally, I'll make it look like part of my limb."
The show's director Chen Shi-Zheng and master martial arts choreographer Yuen Woo-Ping sent her a video from 1983 of a woman moving so fluidly that the knife looks like it weighs no more than a feather. "That's my reference—that's my goal."
What She's Learned
It turns out that kung fu is ultimately less physical than Chien-Pott assumed.
"It's about speed and control and eye contact," she says. "The master told me that eye contact takes 60 percent of the effort, the body movement takes 40 percent. It's about pulling the audience in with intention and strong focus."
Chien-Pott realized it's also about taking pauses between movements to breathe and let the audience digest what just happened. "Learning this technique taught me to be patient; naturally, I always want to keep moving. But then it just looks like messy street fighting."
The Challenges
The training didn't come easily: Over the course of two weeks in Beijing, Chien-Pott sprained both an inner thigh muscle and an ankle.
The other unexpected difficulty? Getting her knife back home. "Well before even entering the airport I was called and asked, what is that for?" (She ended up having to wrap it with towels and ship it back to New Jersey).
What's Next
The bulk of rehearsals for the production don't start until May (for a July premiere), so in the meantime, Chien-Pott is practicing sequences on her own to increase her arm and wrist strength, and to maintain the martial arts movements in her muscle memory.
But she's not done learning new skills. Next up? Aerial silks.
Related Articles Around the Web
Chantelle Pianetta competing at a West Coast swing event. Courtesy Pianetta.
Just hearing the word "improvisation" is enough to make some ballet dancers shake in their pointe shoes. But for Chantelle Pianetta, it's a practice she relishes. Depending on the weekend, you might find her gracing Bay Area stages as a principal with Menlowe Ballet or sweeping in awards at West Coast swing competitions.

She specializes in Jack and Jill events, which involve improvised swing dancing with an unexpected partner in front of a panel of judges. (Check her out in action below.) While sustaining her ballet career, over the past four years Pianetta has quickly risen from novice to champion level on the WCS international competition circuit.
Keep reading...
Show less
Jayme Thornton
Sean Dorsey was always going to be an activist. Growing up in a politically engaged, progressive family in Vancouver, British Columbia, "it was my heart's desire to create change in the world," he says. Far less certain was his future as a dancer.
Like many dancers, Dorsey fell in love with movement as a toddler. However, he didn't identify strongly with any particular gender growing up. Dorsey, who now identifies as trans, says, "I didn't see a single person like me anywhere in the modern dance world." The lack of trans role models and teachers, let alone all-gender studio facilities where he could feel safe and welcome, "meant that even in my wildest dreams, there was no room for that possibility."
Keep reading...
Show less
Getty Images
It's hour three of an intense rehearsal, you're feeling mentally foggy and exhausted, and your stomach hurts. Did you know the culprit could be something as simple as dehydration?
Proper hydration helps maintain physical and mental function while you're dancing, and keeps your energy levels high. But with so many products on the market promising to help you rehydrate more effectively, how do you know when it's time to reach for more than water?
Keep reading...
Show less