Toasted almond, caramel, nutmeg and mocha aren't craft ice creams or flavored coffees. They're among the choices in colored tights at the boutique in Dance Theatre of Harlem's headquarters in upper Manhattan.
And for Tru Annafi, an 11-year-old first-timer at the DTH summer intensive, those brown hues matter. At her former summer program, in Chicago, "I was the only African American, and they made us wear pink tights," she says. Chloe Edwards understands. A 13-year-old from suburban New York, she points out that the skin-toned tights "help you keep your line. In ballet, line is so important."
---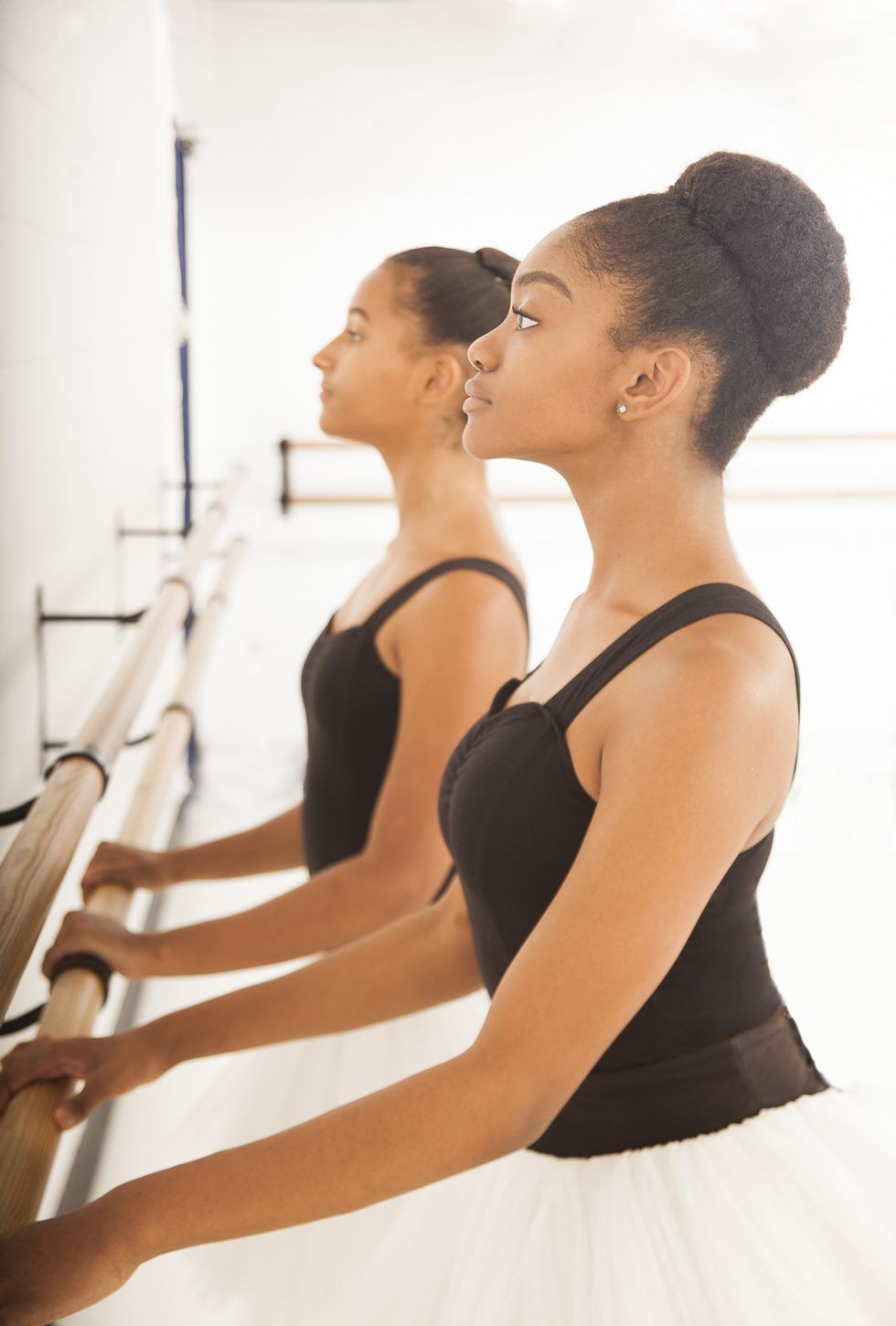 Working on line at DTH's summer intensive. Photo by Joseph Rodman, courtesy DTH
The impromptu discussion, which includes two other 2017 summer intensive students, Patrick Jefferson, 18, and Sherwayne Carter, 16, is convened by DTH's resident choreographer, Robert Garland, who also heads the company's school. The students are among the 118 dancers in the four-week intermediate-advanced session. Their day began with a 9 am technique class, and Garland has pulled them out of their afternoon stretch-and-strength class for the benefit of a reporter.
Elsewhere, students are doing West African and hip hop, part of a typical day's schedule along with pointe, contemporary, men's classes and others. At lunchtime, they'd listened to former DTH dancer Anjali Austin discuss the company's historic 1988 Russia tour at one of the intensive's "Lemonade on the Terrace" talks with professionals.
Garland and DTH's artistic director, Virginia Johnson, both underscore the importance of the curriculum's historical elements. Students take classes that cover the history of ballet and, in particular, the history of black dancers in ballet. They watch videos of DTH's groundbreaking prima ballerinas as well as Margot Fonteyn.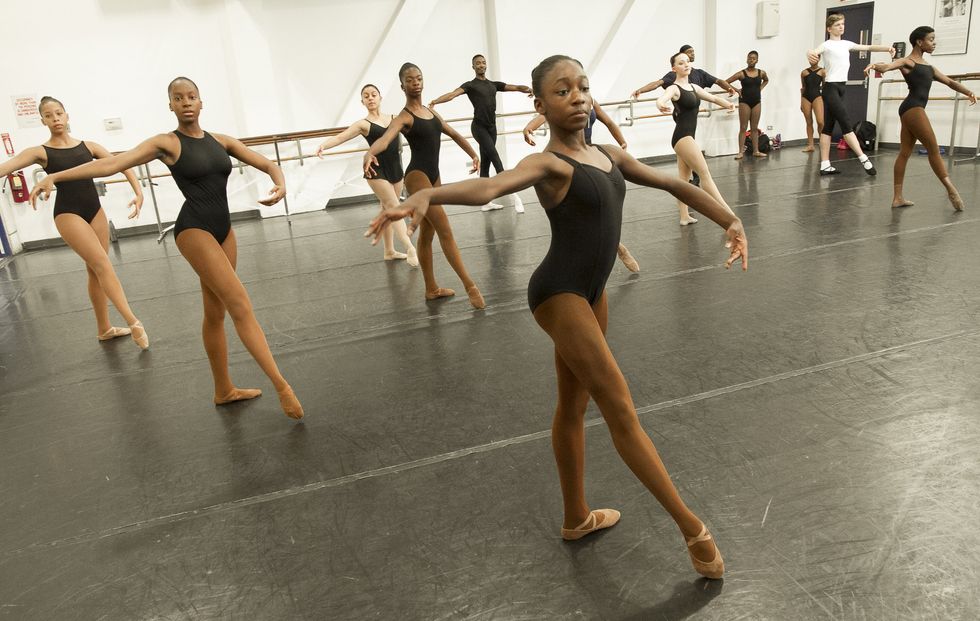 Photo by Joseph Rodman, courtesy DTH
"History is just so important for children from the African-American community," says Garland, and Annafi's on board with that. "We talked about all the African-American Firebirds that came before Misty," she says, "and I was really surprised. Nobody ever talked about them."
Everybody does talk about Misty Copeland, and the visibility she has given ballet in the black community and elsewhere (especially in light of DTH's absence from the stage between 2004 and 2012, which left a generation of young dancers without role models). Garland, who's choreographed on Copeland, credits her celebrity for inspiring increased summer enrollment, which includes students from 31 states and three countries.
"What's different," he believes, "is that it's a much more well-defined idea in the African-American community that this art form called ballet is open to them."
Johnson also recognizes the "genuine interest" in ballet among young dancers of color, and credits Copeland with helping to dispel the "antique" stereotype of ballerinas as remote and untouchable. But the sea change she sees beginning is "only partly the Misty effect," she points out. "Boards of directors are saying, 'We need to reflect our audiences, and our audiences need to reflect our country.' " That puts pressure on artistic directors to seek out African-American dancers.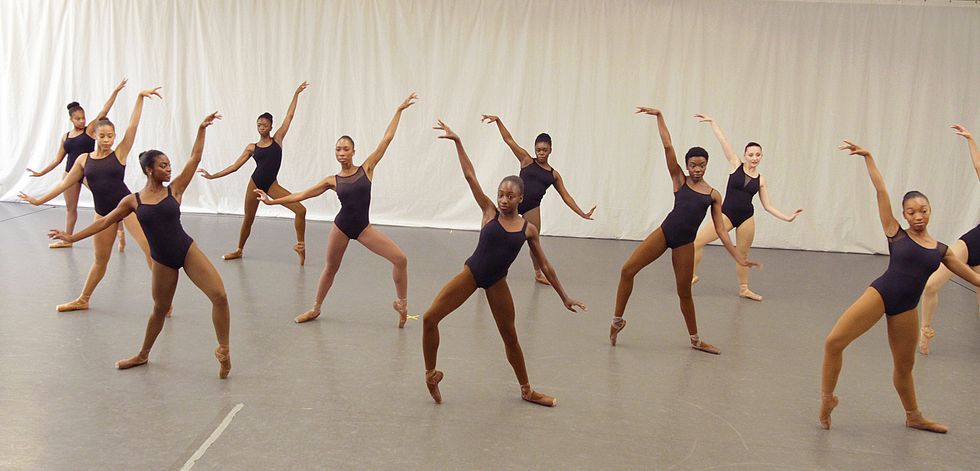 DTH students train in a variety of techniques. Photo by Joseph Rodman, courtesy DTH.
But, she adds, economics exert pressure in the other direction: "We're still a very specialized art form in a crazy world. Are there going to be companies for them to go to after they spend so much time preparing?" Offsetting that, she says DTH's summer programs are designed to make participants "better, stronger individuals" as well as better artists. "We have a distinctive program—the nurturing quality is part of its value."
The students appear to recognize it. Edwards, who's been training at DTH since she was 4, says, "DTH is like my second home." It's by design, says Garland. "We really want the kids to feel that once they've come to a Dance Theatre of Harlem summer intensive, this will always be a home."
The theme pops up again when Bethania Gomes, a former DTH dancer who's been teaching at the summer sessions since 2014, talks about her methods. "I don't just go to the studio to teach steps and technique. I also see the students as children who might be having a bad day, or a bad month. We take care of them as a whole, not just as ballet students." But in her intermediate-level class, there's no coddling. "That's diving, not penché," she tells one. "Show your face," she orders another.
The students welcome the rigor: Carter has attended the intensive twice, and he's back because "they're really specific on details, and that's what I need."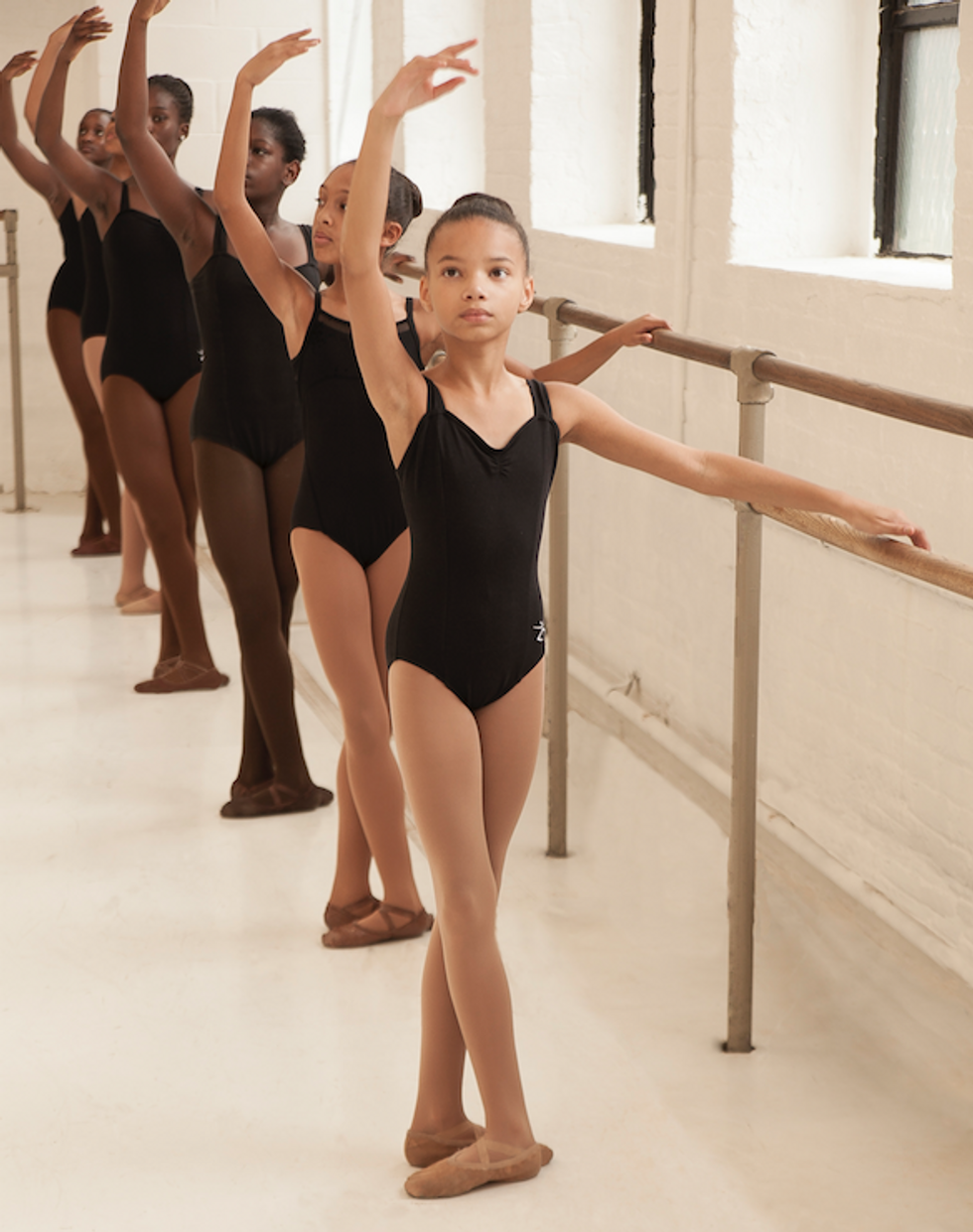 DTH students. Photo by Joseph Rodman, courtesy DTH
But the seriousness is accompanied by a light mood, apparent when Gomes corrects a girl's hip placement by saying, "Squeeze the boum-boum." The Brazilian-born teacher, having used her native slang for rear end, adds, "You're learning a little Portuguese!"
After Nya Bowman's modern class, Sam Ogunde, 16, thanks her effusively for introducing him to Graham technique. Away from home for the first time, he chose DTH because he hopes to go to college in New York, then get into a company there. "I wanted to get the feel of the city," he explains. Later, back home near Philadelphia, he credits his DTH summer not just with improving his technique but with teaching him all about the subways on weekend excursions with his dorm mates.
Jefferson, Edwards, Carter and Annafi all see professional careers ahead as well, with dream destinations that include DTH and "a big, city ballet company." Their classes are sprinkled with white, Asian and Hispanic students, but Garland says there's no special push for diversity. "We take it as it comes," he notes.
Diversity was a goal for Jefferson, from Baton Rouge: "I wanted to be around more people of color. My studio has people of color, but not that many." He also wanted instruction from more men. "At my studio, we don't have any male teachers," he says. Edwards, Annafi and Carter agree with Jefferson that it helps being in an environment where so many people look like them. And it's more than just the tights. "Everyone," Edwards observes, "embraces everybody else's culture."