This Israeli Company Rehearses in An Eco Village—And Brings Its Vision of Sustainability to the U.S.
Vertigo Dance Company. Photo by Rune Abro
Imagine dancing in a large studio, with windows on two sides, mountains in the distance and flowers right up close. You take a shower outdoors with "grey water" that's been collected from the roof and recycled into the plants. You use compost toilets to avoid using water in the desert and you might even stay overnight in a "mud room."
This is Vertigo Dance Company's Eco-Art Village in the Elah Valley (where, in biblical times, David fought Goliath). It is not only a beautiful spot on earth but also a model of ecologically sustainable living and working. And a place where the company of fierce yet gentle dancers, create new work in the partly improvised approach guided by Wertheim.
---
This month, Vertigo's One. One & One, a compelling 25th-anniversary production choreographed by artistic director Noa Wertheim, comes to the Baryshnikov Arts Center, DANCECleveland and the Clarice Smith Performing Arts Center at the University of Maryland, College Park.
I recently spoke with Wertheim about her work, and how it's been shaped by the Eco-Art Village she runs with her extended family.
The New Work Looks at Oneness and Separation
"This is very intimate, about feelings. To put feeling into movement is an interesting task. In Hebrew, the title One. One & One, describes oneness but also a separation between people. We are always defining ourselves. It seems like more and more the separation is also happening inside of ourselves. In one duet with two women, they are mirroring each other. It's nice when people are similar, to show that our self can be understood through each other."
How The Village Affects The Dance
"I love nature and am influenced by nature. The Eco-Art Village is trying to behave ecologically—saving water in the desert, collecting it from the roof in big buckets. We have a compost center for the kitchen and toilet, and after a few months, we get plenty of black earth, rich earth, from it. I felt that material, earth at its most condensed, should be in the piece."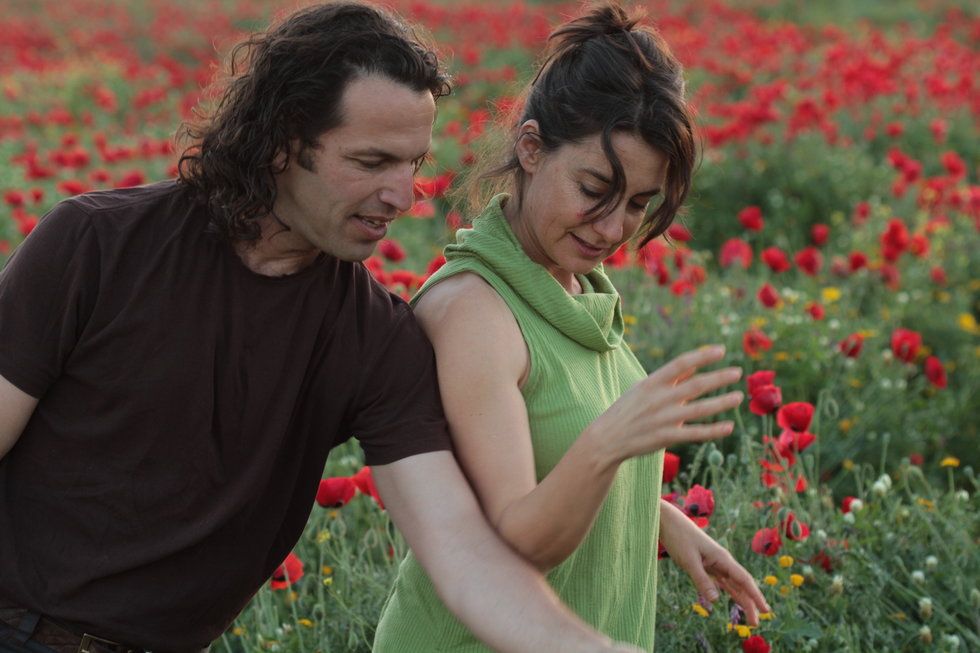 Noa Wertheim and her husband Adi Shaal
Elad Debi
Why She Uses Dirt Onstage
"Two years ago, I got an image of a man walking with a bucket in a line, delineating, putting limits, making the separating. We are not endless. Maybe our soul is endless but the body is not. We are moving beyond the edges even though we are stuck inside of it.
The first time I used earth onstage, 14 years ago, it was outdoors and I got really connected to ecology. I understood how we are behaving to the planet, raping our own land, the poison we put in. Then we started with the Eco-Art Village. It's all connected. The choreography I'm creating always has conflict or dilemma. Even in nature, the lion eats the sheep or deer. One is taking from another in order to survive. Human beings always have strong feelings, willpower, conflicts."
The Extended Family Runs The Village
"My mom passed away 17 years ago. We are four sisters, four husbands and babies—altogether a tribe of 13. After one year, Adi, my husband and the father our three children, said, "When you four sisters are together, something is complete." Then we started thinking about it. We came to this Kibbutz. Every night for a few years, like pioneers in the beginning of the country, we sat, asking what will be the essence of the place. We started putting these ideas into action, like turning the chicken coop into a dance studio. Now it's growing. This year we are building a third studio."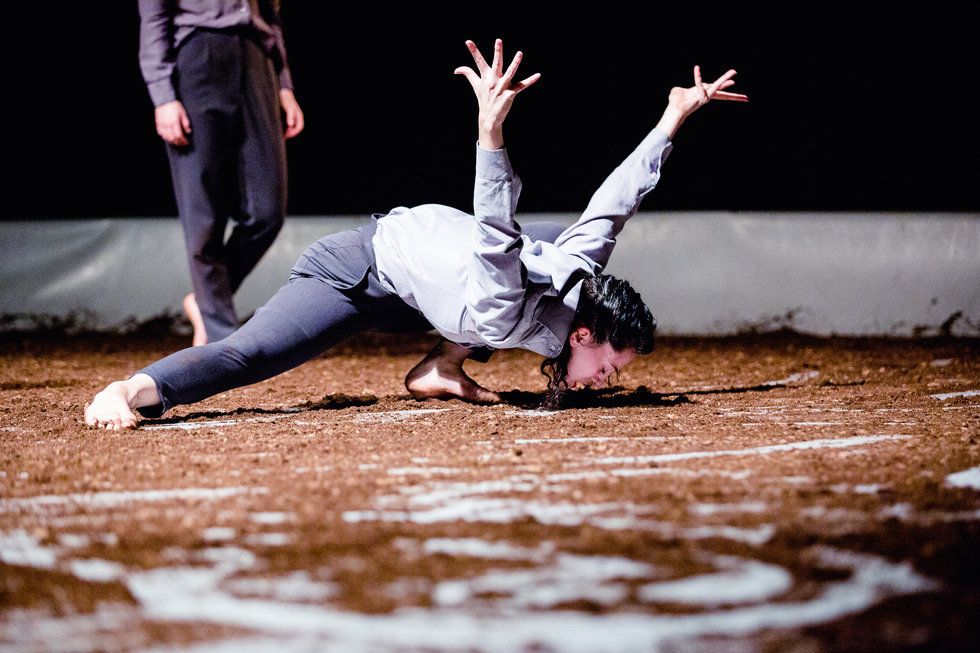 Rune Abro
How She Shapes Her Ensemble
"The dancers train in contact improvisation and release technique, with ballet once or twice a week. We do a little bit of centering, using the energy of martial arts. Our studio in Jerusalem is the school for studying the Vertigo language. It's very versatile, what we give them. It takes some time for the dancers to go deep.
"You have to fall in love with your dancers. I mostly have Israeli dancers, but I like sometimes two or three from different countries. Israelis understand their roots, but it's beautiful to have more flavors. Sometime Europeans are more patient. Of our nine dancers, one is from Hungary, one from Portugal and one from France."
Her Feelings On Israel
"I don't bring the music that came to Israel 50 years ago. The togetherness of a nation can be joyful, but it can be also stepping on the other. Somebody is celebrating and somebody else is being stepped on. It's an endless story."
Related Articles Around the Web
From Your Site Articles
News
Jul. 15, 2019 12:30PM EST
Courtesy Ritzel
Capezio, Bloch, So Dança, Gaynor Minden.
At the top of the line, dancers have plenty of quality footwear options to choose from, and in most metropolitan areas, stores to go try them on. But for many of North America's most economically disadvantaged dance students, there has often been just one option for purchasing footwear in person: Payless ShoeSource.
Keep reading...
Show less
Jayme Thornton
When Sonya Tayeh saw Moulin Rouge! for the first time, on opening night at a movie theater in Detroit, she remembers not only being inspired by the story, but noticing the way it was filmed.
"What struck me the most was the pace, and the erratic feeling it had," she says. The camera's quick shifts and angles reminded her of bodies in motion. "I was like, 'What is this movie? This is so insane and marvelous and excessive,' " she says. "And excessive is I think how I approach dance. I enjoy the challenge of swiftness, and the pushing of the body. I love piling on a lot of vocabulary and seeing what comes out."
Keep reading...
Show less
Robbie Fairchild in a still from In This Life, directed by Bat-Sheva Guez. Photo courtesy Michelle Tabnick PR
Back when Robbie Fairchild graced the cover of the May 2018 issue of Dance Magazine, he mentioned an idea for a short dance film he was toying around with. That idea has now come to fruition: In This Life, starring Fairchild and directed by dance filmmaker Bat-Sheva Guez, is being screened at this year's Dance on Camera Festival.
While the film itself covers heavy material—specifically, how we deal with grief and loss—the making of it was anything but: "It was really weird to have so much fun filming a piece about grief!" Fairchild laughs. We caught up with him, Guez and Christopher Wheeldon (one of In This Life's five choreographers) to find out what went into creating the 11-minute short film.
Keep reading...
Show less
Terry Notary in a movement capture suit during the filming of Rise of the Planet of the Apes. Photo by Sigtor Kildal, Courtesy Notary
When Hollywood needs to build a fantasy world populated with extraordinary creatures, they call Terry Notary.
The former gymnast and circus performer got his start in film in 2000 when Ron Howard asked him to teach the actors how to move like Whos for How the Grinch Stole Christmas. Notary has since served as a movement choreographer, stunt coordinator and performer via motion capture technology for everything from the Planet of the Apes series to The Hobbit trilogy, Avatar, Avengers: Endgame and this summer's The Lion King.
Since opening the Industry Dance Academy with his wife, Rhonda, and partners Maia and Richard Suckle, Notary also offers movement workshops for actors in Los Angeles.
Keep reading...
Show less