This Israeli Company Rehearses in An Eco Village—And Brings Its Vision of Sustainability to the U.S.
Vertigo Dance Company. Photo by Rune Abro
Imagine dancing in a large studio, with windows on two sides, mountains in the distance and flowers right up close. You take a shower outdoors with "grey water" that's been collected from the roof and recycled into the plants. You use compost toilets to avoid using water in the desert and you might even stay overnight in a "mud room."
This is Vertigo Dance Company's Eco-Art Village in the Elah Valley (where, in biblical times, David fought Goliath). It is not only a beautiful spot on earth but also a model of ecologically sustainable living and working. And a place where the company of fierce yet gentle dancers, create new work in the partly improvised approach guided by Wertheim.
---
This month, Vertigo's One. One & One, a compelling 25th-anniversary production choreographed by artistic director Noa Wertheim, comes to the Baryshnikov Arts Center, DANCECleveland and the Clarice Smith Performing Arts Center at the University of Maryland, College Park.
I recently spoke with Wertheim about her work, and how it's been shaped by the Eco-Art Village she runs with her extended family.
The New Work Looks at Oneness and Separation
"This is very intimate, about feelings. To put feeling into movement is an interesting task. In Hebrew, the title One. One & One, describes oneness but also a separation between people. We are always defining ourselves. It seems like more and more the separation is also happening inside of ourselves. In one duet with two women, they are mirroring each other. It's nice when people are similar, to show that our self can be understood through each other."
How The Village Affects The Dance
"I love nature and am influenced by nature. The Eco-Art Village is trying to behave ecologically—saving water in the desert, collecting it from the roof in big buckets. We have a compost center for the kitchen and toilet, and after a few months, we get plenty of black earth, rich earth, from it. I felt that material, earth at its most condensed, should be in the piece."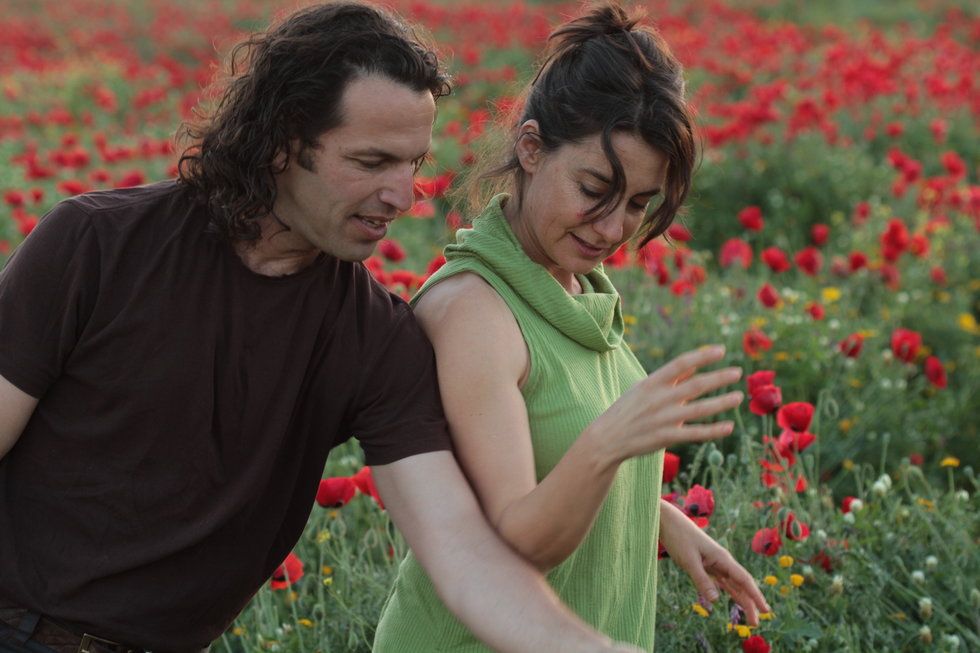 Noa Wertheim and her husband Adi Shaal
Elad Debi
Why She Uses Dirt Onstage
"Two years ago, I got an image of a man walking with a bucket in a line, delineating, putting limits, making the separating. We are not endless. Maybe our soul is endless but the body is not. We are moving beyond the edges even though we are stuck inside of it.
The first time I used earth onstage, 14 years ago, it was outdoors and I got really connected to ecology. I understood how we are behaving to the planet, raping our own land, the poison we put in. Then we started with the Eco-Art Village. It's all connected. The choreography I'm creating always has conflict or dilemma. Even in nature, the lion eats the sheep or deer. One is taking from another in order to survive. Human beings always have strong feelings, willpower, conflicts."
The Extended Family Runs The Village
"My mom passed away 17 years ago. We are four sisters, four husbands and babies—altogether a tribe of 13. After one year, Adi, my husband and the father our three children, said, "When you four sisters are together, something is complete." Then we started thinking about it. We came to this Kibbutz. Every night for a few years, like pioneers in the beginning of the country, we sat, asking what will be the essence of the place. We started putting these ideas into action, like turning the chicken coop into a dance studio. Now it's growing. This year we are building a third studio."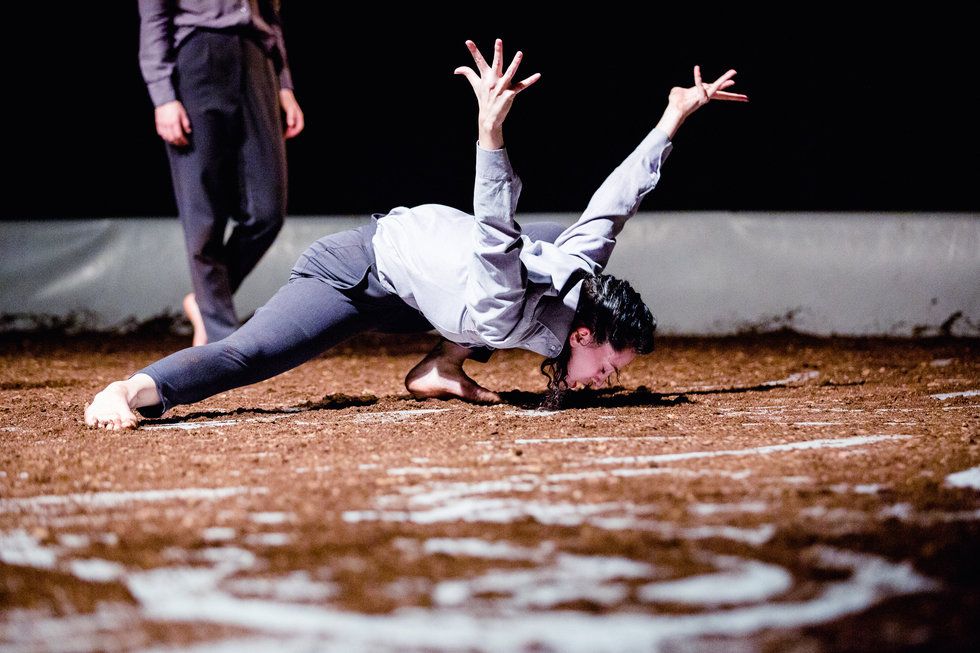 Rune Abro
How She Shapes Her Ensemble
"The dancers train in contact improvisation and release technique, with ballet once or twice a week. We do a little bit of centering, using the energy of martial arts. Our studio in Jerusalem is the school for studying the Vertigo language. It's very versatile, what we give them. It takes some time for the dancers to go deep.
"You have to fall in love with your dancers. I mostly have Israeli dancers, but I like sometimes two or three from different countries. Israelis understand their roots, but it's beautiful to have more flavors. Sometime Europeans are more patient. Of our nine dancers, one is from Hungary, one from Portugal and one from France."
Her Feelings On Israel
"I don't bring the music that came to Israel 50 years ago. The togetherness of a nation can be joyful, but it can be also stepping on the other. Somebody is celebrating and somebody else is being stepped on. It's an endless story."
Related Articles Around the Web
A flyer showing Alberto Alonso, Fernando Alonso, Benjamin Steinberg and Alicia Alonso. Photo courtesy the author
Alicia has died. I walked around my apartment feeling her spirit, but knowing something had changed utterly.
My father, the late conductor Benjamin Steinberg, was the first music director of the Ballet de Cuba, as it was called then. I grew up in Vedado on la Calle 1ra y doce in a building called Vista al Mar. My family lived there from 1959 to 1963. My days were filled with watching Alicia teach class, rehearse and dance. She was everything: hilarious, serious, dramatic, passionate and elegiac. You lost yourself and found yourself when you loved her.
Keep reading...
Show less
Left: Hurricane Harvey damage in Houston Ballet's Dance Lab; Courtesy Harlequin. Right: The Dance Lab pre-Harvey; Nic Lehoux, Courtesy Houston Ballet.
"The show must go on" may be a platitude we use to get through everything from costume malfunctions to stormy moods. But when it came to overcoming a literal hurricane, Houston Ballet was buoyed by this mantra to go from devastated to dancing in a matter of weeks—with the help of Harlequin Floors, Houston Ballet's longstanding partner who sprang into action to build new floors in record time.
Keep reading...
Show less
Hansuke Yamamoto in Helgi Tomasson's Nutcracker at San Francisco Ballet, which features an exciting and respectful Chinese divertissement. Photo by Erik Tomasson, Courtesy SFB
It's Nutcracker time again: the season of sweet delights and a sparkling good time—if we're able to ignore the sour taste left behind by the outdated racial stereotypes so often portrayed in the second act.
In 2017, as a result of a growing list of letters from audience members, to New York City Ballet's ballet master in chief Peter Martins reached out to us asking for assistance on how to modify the elements of Chinese caricature in George Balanchine's The Nutcracker. Following that conversation, we founded the Final Bow for Yellowface pledge that states, "I love ballet as an art form, and acknowledge that to achieve a diversity amongst our artists, audiences, donors, students, volunteers, and staff, I am committed to eliminating outdated and offensive stereotypes of Asians (Yellowface) on our stages."
Keep reading...
Show less
Allegra Bautista in Nevertheless, by ka·nei·see | collective. Photo by Robbie Sweeny
An audience member once emailed Dallas choreographer Joshua L. Peugh, claiming his work was vulgar. It complained that he shouldn't be pushing his agenda. As the artistic director of Dark Circles Contemporary Dance, Peugh's recent choreography largely deals with LGBTQ issues.
"I got angry when I saw that email, wrote my angry response, deleted it, and then went back and explained to him that that's exactly why I should be making those works," says Peugh.
With the current political climate as polarized as it is, many artists today feel compelled to use their work to speak out on issues they care deeply about. But touring with a message is not for the faint of heart. From considerations about how to market the work to concerns about safety, touring to cities where, in general, that message may not be so welcome, requires companies to figure out how they'll respond to opposition.
Keep reading...
Show less