News
Jan. 08, 2018 11:18AM EST
What's New in the Windy City? 3 Big Takeaways from Elevate Chicago Dance
NIC Kay performs pushit: an exercise in getting well soon at the Dorchester Art + Housing Collaborative during Elevate Chicago Dance. Photo by Zachary Whittenburg.
Having spent most of the past 15 years in Chicago, I can confidently say that Elevate Chicago Dance was the most comprehensive celebration of the city's dance scene this century. A dozen events packed 10 venues for three full days, featuring the work of more than 150 performers, representing nearly 40 locally-based dance artists and organizations. Nearly all were recipients of Lab Artist Awards from Chicago Dancemakers Forum, or had been selected to participate in a Regional Dance Development Initiative that CDF and the New England Foundation for the Arts launched in partnership in 2015.
It was an occasion to recognize how vibrant and diverse Chicago's contemporary dance community is today, spurred in large part by CDF's Lab Artist Program, which awards to up to six dancemakers $15,000 each and will mark its 15th anniversary later this year. (Choreographers can apply now through February 6.)
---
While avid dance fans were likely familiar with at least some of the works presented during Elevate—most of them being current repertory or in-progress, as opposed to premieres—certain things only came into focus once I had an opportunity to take in the bigger picture all at once.
1. Trendwatch: No Trends
More than ever, Chicago dance artists resist the urge to follow each others' leads. Sure, the ensembles ATOM-r and The Humans are both working with video projections, but you'd be hard-pressed to name even one way in which they're using them in the same manner. NIC Kay and Zephyr Dance both presented site-specific pieces, but while Kay used movement to transform indoor and outdoor spaces from the body outward, Zephyr's dancers explored limitations imposed upon them by architect David Sundry's installation. Ginger Krebs, also an accomplished visual artist working in multiple media, creates and builds props and costume pieces to more specifically illustrate her choreographic ideas; Onye Ozuzu's current project begins in many ways within objects and tools, which in turn generate and inform her movement material.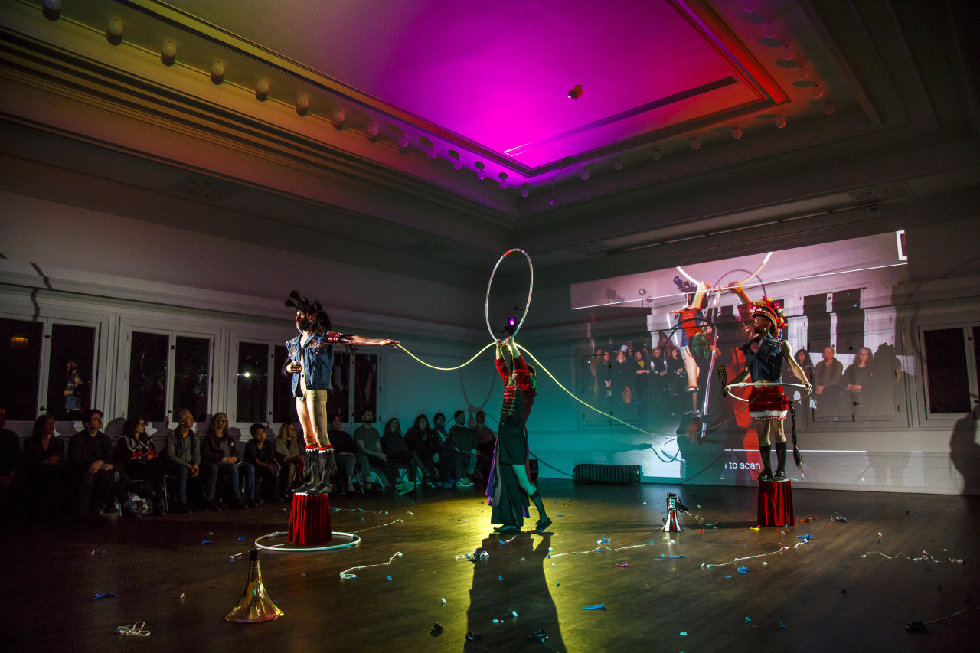 ATOM-r in Kjell Theøry at the Graham Foundation for Advanced Studies in the Fine Arts with, from left, Justin Deschamps, Judd Morrissey, and Christopher Knowlton. Photo © Grace DuVal.
2. No Single Center of Gravity
Those who, like me, sought to experience as much of Elevate as they could spent a lot of time traveling from place to place, in one of the biggest cities in the country. Elevate's producers intentionally avoided bestowing "hub status" on any one venue or institution, in order to underscore the geographic spread of places where dance happens in Chicago, and to highlight the many ways in which the works reflect and live within different communities and neighborhoods.
Elevate's first day included performances at the South Shore Cultural Center, a majestic Chicago Park District fieldhouse closer to Indiana than to downtown; studio showings the following morning were at Loyola Park, equally far north of the Loop. In between, on the West Side, we visited Defibrillator Performance Gallery (dfbrl8r) and Links Hall, in addition to events at the Dorchester Art + Housing Collaborative and High Concept Labs—two strong examples of the adaptive reuse craze that's a key driver of this city's building boom.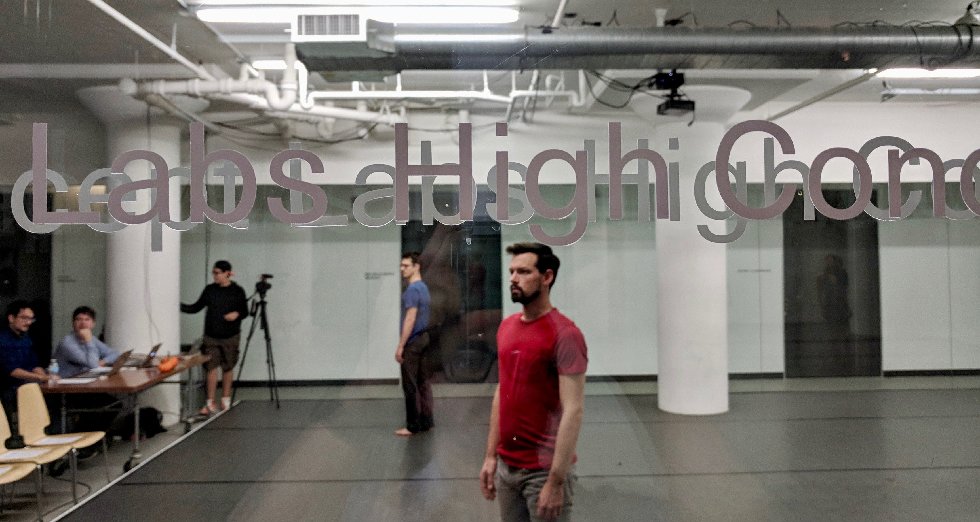 Christopher Knowlton, foreground, and Matthew McMunn at High Concept Labs with, seated at left, Hugh Sato and Ryan Ingebritsen. Photo by Zachary Whittenburg.
3. Versatility in Vogue
One of the great pleasures of Elevate Chicago Dance was seeing busy freelance artists reappear throughout the festival, in works by multiple choreographers. Since these pieces more often than not had very little in common (see point number one), Elevate served as a useful reminder of how versatile Chicago's dancers are—and need to be.
In Mycelial: Street Parliament from Erica Mott Productions, Christopher Knowlton was the responsive avatar of digital information being processed live; in ATOM-r's Kjell Theøry the night before, he was extravagantly costumed in a bicorne hat, spinning dervishly with a giant hoop. Nejla Yatkin returned for Mycelial: Street Parliament after showing her own solo, What Dreams May Come, and videos from her many collaborations overseas. Zachary Nicol performed two works back-to-back, fighting for glory while wearing an acid-green sash in Krebs' Soft Parade, then switching gears to execute tasks and structured improvisations in Joanna Furnans' Genuine Fake. (Nicol also appeared onscreen in The Startled Faction, a new film by Catherine Sullivan.)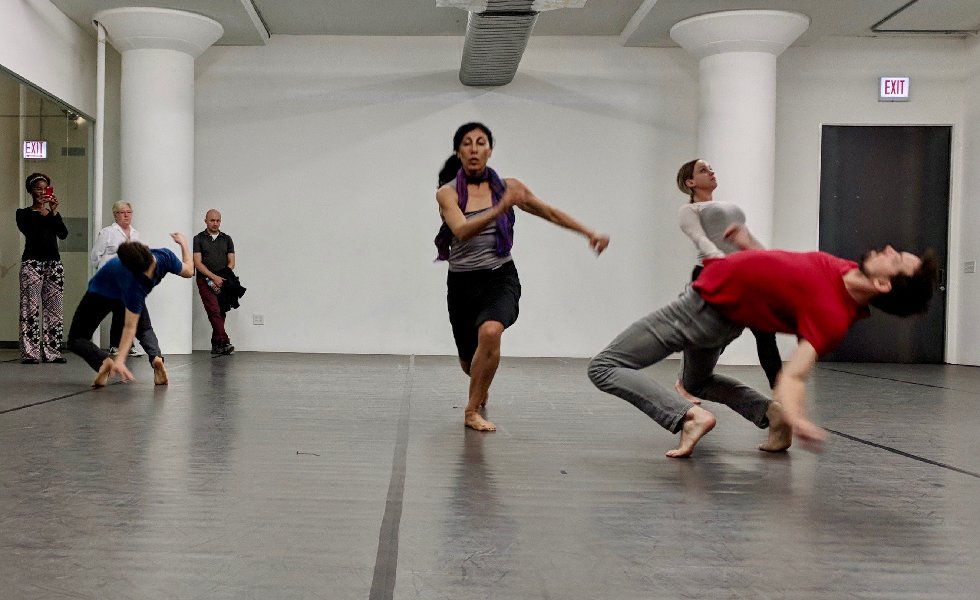 Erica Mott Productions, Mycelial: Street Parliament with, from left, Matthew McMunn, Nejla Yatkin, Michelle Broecker, and Christopher Knowlton. Photo by Zachary Whittenburg.
For a detailed rundown of each event, and further conclusions, click here to read a Summary Journal of Elevate Chicago Dance online at chicagodancemakers.org.
Related Articles Around the Web
Dance in Pop Culture
May. 25, 2018 01:48PM EST
Ne-Yo, Jennifer Lopez and Derek Hough return to "World of Dance" on May 29
Season 2 of World of Dance is almost here! The new season officially kicks off on Tuesday on NBC, and it's bringing a whole new crew of talented dancers with it (plus, some old favorites). Dance pro judges Jennifer Lopez, Derek Hough and Ne-Yo are back, too, with Jenna Dewan serving as the show's host.
Obviously we'll be watching, but just in case you're not completely sold, here's why you're not going to want to miss out:
JLo Might Be Performing
Earlier this week, JLo (who serves as the show's executive producer) posted this insane promo clip to her Instagram. Dancing to a mashup of Cardi B's "Bodak Yellow" and her new single "Dinero," JLo reminded us all of her dance skills while also leading us to believe she might just hit the stage herself for a performance.

Keep reading...
Show less
May. 25, 2018 12:14PM EST
Travis Wall draws inspiration from dancers Tate McCrae, Timmy Blankenship and more.
One often-overlooked relationship that exists in dance is the relationship between choreographer and muse. Recently two-time Emmy Award Winner Travis Wall opened up about his experience working with dancers he considers to be his muses.
"My muses in choreography have evolved over the years," says Wall. "When I'm creating on Shaping Sound, our company members, my friends, are my muses. But at this current stage of my career, I'm definitely inspired by new, fresh talent."
Wall adds, "I'm so inspired by this new generation of dancers. Their teachers have done such incredible jobs, and I've seen these kids grown up. For many of them, I've had a hand in their exposure to choreography."

Keep reading...
Show less
Rant & Rave
May. 23, 2018 04:25PM EST
Jessica Lang's Her Notes, one of ABT's few recent commissions from women. Photo by Rosalie O'Connor
A few weeks ago, American Ballet Theatre announced the A.B.T. Women's Movement, a new program that will support three women choreographers per season, one of whom will make work on the main company.
"The ABT Women's Movement takes inspiration from the groundbreaking female choreographers who have left a lasting impact on ABT's legacy, including Agnes de Mille and Twyla Tharp," said artistic director Kevin McKenzie in a press release.
Hypothetically, this is a great idea. We're all for more ballet commissions for women. But the way ABT has promoted the initiative is problematic.
Keep reading...
Show less
News
May. 18, 2018 12:05PM EST
The inimitable Alicia Alonso, now 97, remains at the helm of Ballet Nacional de Cuba. Photo by Leysis Quesada, Courtesy BNC
On the occasion of its 70th anniversary, the Ballet Nacional de Cuba tours the U.S. this spring with the resolute Cuban prima ballerina assoluta Alicia Alonso a the helm. Named a National Hero of Labor in Cuba, Alonso, 97, has weathered strained international relations and devastating fiscal challenges to have BNC emerge as a world-class dance company. Her dancers are some of ballet's best. On offer this time are Alonso's Giselle and Don Quixote. The profoundly Cuban company performs in Chicago May 18–20, Tampa May 23, Washington, D.C., May 29–June 3 and Saratoga, New York June 6–8.
Courtesy Soffe, Dicsount Dance Supply, Danskin. LeaMarie leotard photographed by Jayme Thornton
Considering we practically live in our dance clothes, there's really no such thing as having too many leotards, tights or leggings (no matter what our mom or friends say!). That's why we treat every sale as an opportunity to stock up. And thanks to the holiday weekend, you can shop all of your dancewear go-tos or try something totally new for as much as 50% less than the usual price.
Here are the eight sales we're most excited about—from online options to in-store retailers that will help you find the perfect fit. Happy Memorial Day (and shopping)!
Now through Monday, Danskin's site will automatically take 25% off your entire purchase at checkout. Even new items like their Pintuck Detail Floral Print Sports Bra and Pintuck Detail Legging (pictured here) are fair game.
Keep reading...
Show less
News
May. 25, 2018 12:38PM EST
Ailey dancers and stagehands rallied together yesterday. Photo by Jen Peters
"The sun may be shining brightly, but we are not in a very sunny mood today!" said New York State assemblywoman Linda Rosenthal during yesterday's rally for the Artists of Ailey.
The dancers and stage crew are demanding increased wages and more comprehensive benefits, what they have termed "reaching for the standard" and "fair wages."
Keep reading...
Show less


Get Dance Magazine in your inbox