News
Jan. 08, 2018 11:18AM EST
What's New in the Windy City? 3 Big Takeaways from Elevate Chicago Dance
NIC Kay performs pushit: an exercise in getting well soon at the Dorchester Art + Housing Collaborative during Elevate Chicago Dance. Photo by Zachary Whittenburg.
Having spent most of the past 15 years in Chicago, I can confidently say that Elevate Chicago Dance was the most comprehensive celebration of the city's dance scene this century. A dozen events packed 10 venues for three full days, featuring the work of more than 150 performers, representing nearly 40 locally-based dance artists and organizations. Nearly all were recipients of Lab Artist Awards from Chicago Dancemakers Forum, or had been selected to participate in a Regional Dance Development Initiative that CDF and the New England Foundation for the Arts launched in partnership in 2015.
It was an occasion to recognize how vibrant and diverse Chicago's contemporary dance community is today, spurred in large part by CDF's Lab Artist Program, which awards to up to six dancemakers $15,000 each and will mark its 15th anniversary later this year. (Choreographers can apply now through February 6.)
---
While avid dance fans were likely familiar with at least some of the works presented during Elevate—most of them being current repertory or in-progress, as opposed to premieres—certain things only came into focus once I had an opportunity to take in the bigger picture all at once.
1. Trendwatch: No Trends
More than ever, Chicago dance artists resist the urge to follow each others' leads. Sure, the ensembles ATOM-r and The Humans are both working with video projections, but you'd be hard-pressed to name even one way in which they're using them in the same manner. NIC Kay and Zephyr Dance both presented site-specific pieces, but while Kay used movement to transform indoor and outdoor spaces from the body outward, Zephyr's dancers explored limitations imposed upon them by architect David Sundry's installation. Ginger Krebs, also an accomplished visual artist working in multiple media, creates and builds props and costume pieces to more specifically illustrate her choreographic ideas; Onye Ozuzu's current project begins in many ways within objects and tools, which in turn generate and inform her movement material.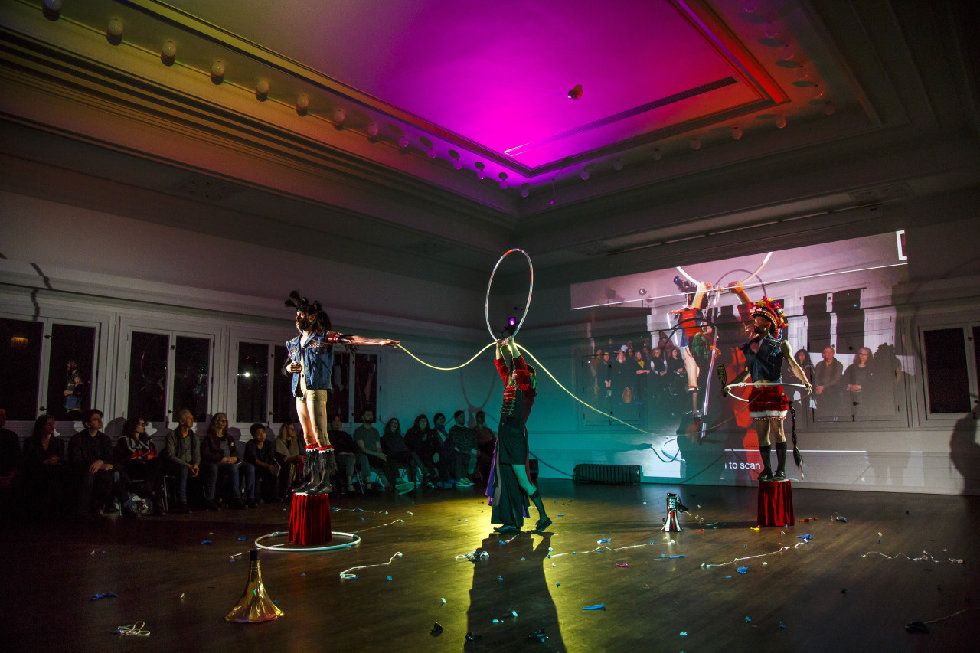 ATOM-r in Kjell Theøry at the Graham Foundation for Advanced Studies in the Fine Arts with, from left, Justin Deschamps, Judd Morrissey, and Christopher Knowlton. Photo © Grace DuVal.
2. No Single Center of Gravity
Those who, like me, sought to experience as much of Elevate as they could spent a lot of time traveling from place to place, in one of the biggest cities in the country. Elevate's producers intentionally avoided bestowing "hub status" on any one venue or institution, in order to underscore the geographic spread of places where dance happens in Chicago, and to highlight the many ways in which the works reflect and live within different communities and neighborhoods.
Elevate's first day included performances at the South Shore Cultural Center, a majestic Chicago Park District fieldhouse closer to Indiana than to downtown; studio showings the following morning were at Loyola Park, equally far north of the Loop. In between, on the West Side, we visited Defibrillator Performance Gallery (dfbrl8r) and Links Hall, in addition to events at the Dorchester Art + Housing Collaborative and High Concept Labs—two strong examples of the adaptive reuse craze that's a key driver of this city's building boom.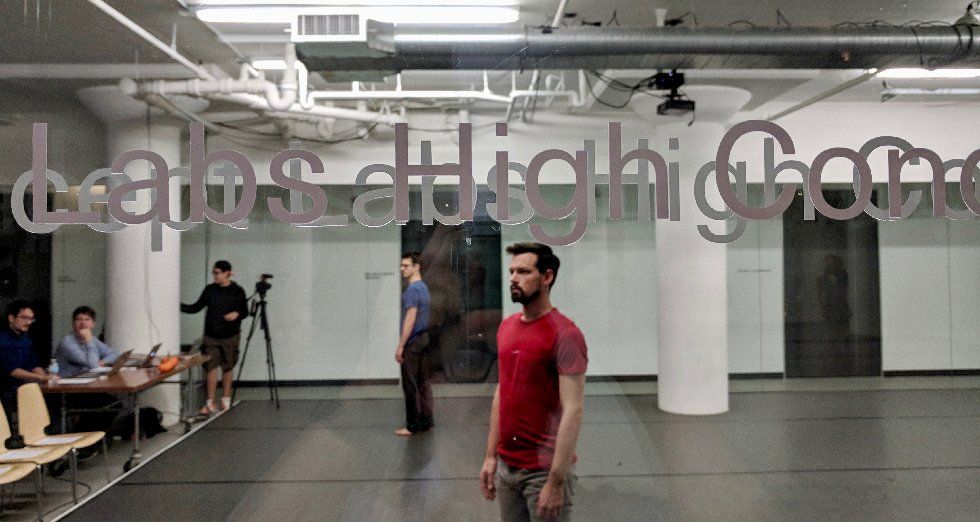 Christopher Knowlton, foreground, and Matthew McMunn at High Concept Labs with, seated at left, Hugh Sato and Ryan Ingebritsen. Photo by Zachary Whittenburg.
3. Versatility in Vogue
One of the great pleasures of Elevate Chicago Dance was seeing busy freelance artists reappear throughout the festival, in works by multiple choreographers. Since these pieces more often than not had very little in common (see point number one), Elevate served as a useful reminder of how versatile Chicago's dancers are—and need to be.
In Mycelial: Street Parliament from Erica Mott Productions, Christopher Knowlton was the responsive avatar of digital information being processed live; in ATOM-r's Kjell Theøry the night before, he was extravagantly costumed in a bicorne hat, spinning dervishly with a giant hoop. Nejla Yatkin returned for Mycelial: Street Parliament after showing her own solo, What Dreams May Come, and videos from her many collaborations overseas. Zachary Nicol performed two works back-to-back, fighting for glory while wearing an acid-green sash in Krebs' Soft Parade, then switching gears to execute tasks and structured improvisations in Joanna Furnans' Genuine Fake. (Nicol also appeared onscreen in The Startled Faction, a new film by Catherine Sullivan.)
Erica Mott Productions, Mycelial: Street Parliament with, from left, Matthew McMunn, Nejla Yatkin, Michelle Broecker, and Christopher Knowlton. Photo by Zachary Whittenburg.
For a detailed rundown of each event, and further conclusions, click here to read a Summary Journal of Elevate Chicago Dance online at chicagodancemakers.org.
Related Articles Around the Web
Kate Torline via Unsplash
New York City–based choreographer and director Jennifer Weber once worked on a project with a strict social media policy: " 'Hire no one with less than 10K, period'—and that was a few years ago," she says. "Ten thousand is a very small number now, especially on Instagram."
The commercial dance world is in a period of transition, where social media handles and follower counts are increasingly requested by casting directors, but rarely offered by dancers up front. "I can see it starting to show up on resumés, though, alongside a dancer's height and hair color," predicts Weber.
Keep reading...
Show less
UA Dance Ensemble members Candice Barth and Gregory Taylor in Jessica Lang's "Among the Stars." Photo by Ed Flores, courtesy University of Arizona
If you think becoming a trainee or apprentice is the only path to gaining experience in a dance company environment, think again.
The University of Arizona, located in the heart of Tucson, acclimates dancers to the pace and rigor of company life while offering all the academic opportunities of a globally-ranked university. If you're looking to get a head-start on your professional dance career—or to just have a college experience that balances company-level training and repertory with rigorous academics—the University of Arizona's undergraduate and graduate programs have myriad opportunites to offer:
Keep reading...
Show less
Alice Sheppard/Kinetic Light in DESCENT, which our readers chose as last year's "Most Moving Performance." Photo by Jay Newman, courtesy Kinetic Light
Yes, we realize it's only August. But we can't help but to already be musing about all the incredible dance happenings of 2019.
We're getting ready for our annual Readers' Choice feature, and we want to hear from you about the shows you can't stop thinking about, the dance videos that blew your mind and the artists you discovered this year who everyone should know about.
Keep reading...
Show less
Peter Smith, courtesy of University Musical Society
What happens during a performance is the product of the painstaking process of realizing an artistic vision. Whether held beforehand, afterward, offsite or online, audience discussions tend not to be so preordained, easily thrown off track without a skilled moderator at the helm.
"I'm someone who dreaded talkbacks and Q&As," admits Bill Bragin, former director of public programming at Lincoln Center. "While I was in New York, a lot of the time it was just audience members trying to show off how smart they were."
These events present a pile of difficult questions: How much do you reveal about a piece before it's shown? How can a conversation designed to hit key points feel casual and spontaneous? How do you cater to the needs of diverse attendees, from novice dancegoers to lifelong fans to scholars and critics? And how do you avoid smothering dance with language, flattening all its complexity?
Keep reading...
Show less