Can We Stop Calling Choreographers "Emerging" Already?
Will Rawls in The Planet-Eaters: Seconds. Photo by Darial Sneed, Courtesy Rawls
"Do away with it."
"Over it."
"How about just plain old 'artist' or 'choreographer'?"
These are a few of the comments that popped up when, on a recent morning, I posted a query on Facebook fielding thoughts about the term "emerging"—as in "emerging choreographer." I can't remember when I first sensed disgruntlement toward the E-word. But in speaking with dancers and choreographers over the years, I've noticed that more often than not it elicits an eye roll, head shake, groan, sigh or shrug of "whatever that means."
---
On its surface, "emerging" may seem like an unobjectionable adjective describing someone new to making work, a word connoting promise, potential, discovery. Like many writers, presenters and others in the dance field, I've been known to use it as shorthand for "young" or "just starting out" or—
Well, that's part of the problem. What exactly does "emerging" mean? And how about its similarly contested cousins, "mid-career" and "established"? What determines whether a choreographer is emerging or has emerged: age, experience, number of dances created, institutional criteria? Does an artist ever stop emerging? In what cases, if any, is "emerging" useful or beneficial? Should we do as the choreographer Alexandra Beller suggested and do away with it altogether?
One irksome aspect of "emerging" is that it tends to be foisted upon artists—for programming or fundraising or journalistic purposes—rather than chosen. As Beller notes, it "takes away autonomy from artists defining themselves and their process and their intentions for their own future." The notion of a professional ladder ascending from "emerging" to "mid-career" to "established" assumes a linear path that few dancemakers actually follow, maintaining, as the choreographer Jeanine Durning puts it, "a myth of upward mobility in a field that has none."
"Emerging" Emerges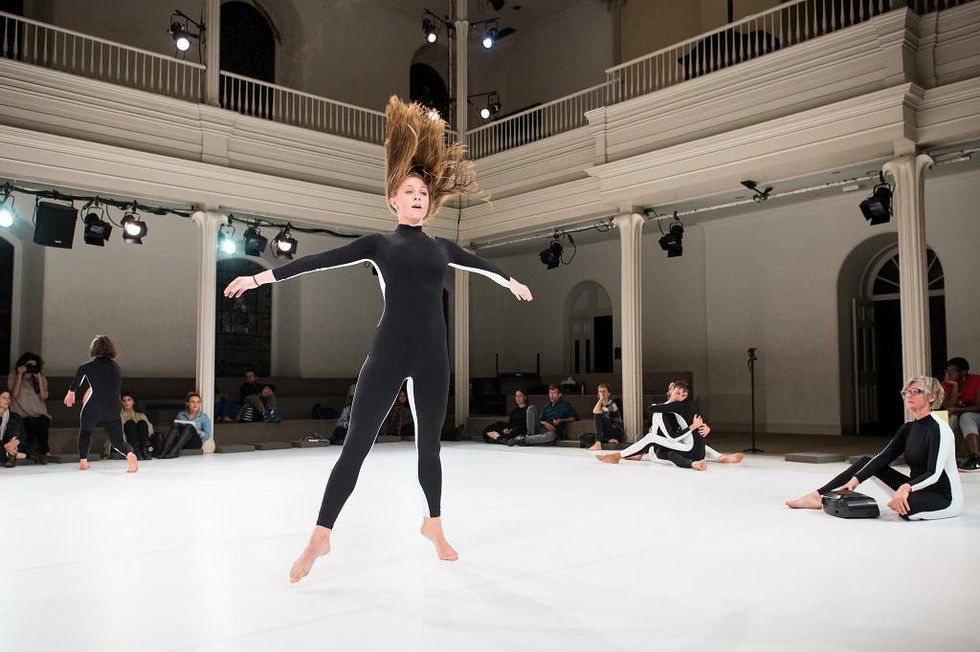 Moriah Evans' Social Dance 9-12: Encounter"at Danspace Project. Photo by Ian Douglas
"Emerging" as a modifier for "choreographer" is a relatively modern phenomenon. Judy Hussie-Taylor, the executive director of Danspace Project, estimates that it came into use in the 1980s. "I believe that at that time funders were supporting only well-known or established dance companies," she says, explaining that presenters began to advocate on behalf of lesser-known work. "I think the case was made, and certain funders now adhere to it as a value—a way to say, 'We're not just going to fund Paul Taylor or Martha Graham.' "
Supporting artists early in their careers is essential and should, of course, continue. But according to Lucy Sexton, the executive director of the Bessie Awards, some artists feel that opportunities have skewed too heavily in that direction.
"It's a completely laudable impulse," she says, "but what's happened more recently is people saying, 'Well, how about the person who's been doing good work for 20 years and still doesn't have major support?' " Championing so-called mid-career artists "might not be as sexy as supporting a young artist who's gonna turn into Mark Morris," she says, "but it's worthwhile, and we need it for a healthy dance ecosystem."
Many Meanings
If institutions and granting organizations decide who's "emerging," how do they define the term? The Minnesota-based Jerome Foundation, one of the country's chief funders of "early career/emerging" artists (its own phrasing), includes the following criteria in its eligibility requirements: "Artists who are in the early stages of their creative development" and "artists, collectives or ensembles who have yet to be substantially celebrated within their field, the media, funding circles or the public at large." (It's hard not to wonder: What constitutes "substantially celebrated"?)
A more flexible approach can be found at the Bessies, which have granted awards for Outstanding Emerging Choreographer since 2011. Here the task of defining "emerging" falls to subcommittees focused on specific sectors of the field.
"It's a malleable term," says Sexton. "It can mean different things when you're looking at different parts of the field and different types of work happening in different circumstances." The award has honored artists as disparate as the ballet choreographer Jessica Lang, deemed "emerging" in 2014 for her newly founded troupe—though she had been making dances since 1999 for companies including the Joffrey Ballet and Birmingham Royal Ballet—and the younger, more elusive flex dancer Storyboard P.
Cultural factors can also shape how "emerging" is defined. Phil Chan, an advisor to the Asian American Arts Alliance, was a member of the review panel for the alliance's Jadin Wong Award for Emerging Asian American Choreographer. He said that the award's funder initially placed an age limit on "emerging" (30 and under) but that this proved to be "an arbitrary definition" given the applicant pool.
"We've found that it's harder for Asian Americans, especially among recent immigrant families, to pursue a creative career," Chan says. As a result, "it's not unusual for dancers of immigrant families to discover dance later"—and thus to "emerge" at a more advanced age. Through discussions with the funder, Chan and his colleagues were able to expand the award's parameters.
Never Not Emerging
No matter how broadly or specifically defined, "emerging," like most labels, still has a way of both hemming in and excluding. This past July at a Bessies press conference, the performer, writer, curator and dancemaker Will Rawls accepted the 2017 award for Outstanding Emerging Choreographer. I was delighted to see him earning recognition but also puzzled by his nomination in the first place. Having followed his work at least since 2009, at multiple well-known theaters and museums around New York City, I sort of thought he had already "emerged."
Did he think so too? "I'm super-honored to be recognized for the work that I'm doing," he told me, adding that the citation for the award "was very sensitive about acknowledging both my choreography and my curatorial and writing work." But he also notes the complexities and limitations of being anointed "emerging."
"I think often the term makes people see the work through the lens of something that's not fully cooked," he says. "It can be a little bit juvenilizing. And I think artists who are really established also want to feel the freedom to present ideas that are newer"—the freedom to not arrive at a fixed style.

For the choreographer Elena Rose Light, "emerging" is vexing for similar reasons, perpetuating what she calls "ageism in both directions."
"The stagnation that's implied by 'established' and the generative, lively movement implied by 'emerging' creates a binary that I'm uninterested in," she says.
Choreographer Elena Rose Light. Photo by Em Watson, courtesy Light
As the choreographer Jodi Melnick puts it, citing her work with endlessly curious legends like Sara Rudner and the late Trisha Brown, "When are an artist's ideas not emerging? When is an artist not discovering the newness even in the sameness of their work?"
Hussie-Taylor says that while she understands the resistance to "emerging"—who wants to be labeled?—the term remains useful in garnering support for "early work or new work or innovative work or work that doesn't neatly fit into an established dance company model."
" 'Emerging' for me isn't a way of writing someone off," she says. "It's a way of continuing to advocate for them and saying, 'Yes, this person has had a 13-year career, but she's still working on becoming known.' "
As for the future of "emerging," I think it might be here to stay, entrenched as it is in systems of funding and presenting dance. But that doesn't mean we can't keep searching for ways around it—and not just through easy alternatives like "rising" or "early-career," but through language that describes rather than quantifies, that doesn't fall back on the convenience of a category.
Related Articles Around the Web
From Your Site Articles
News
May. 22, 2019 05:57PM EST
Fox produced a live broadcast of Rent in January—but could an original musical be next? Photo by Kevin Estrada, Courtesy Fox
When a musical prepares to make the transfer from a smaller, lesser-known venue to Broadway (where theaters hold 500-plus seats), often there's a collective intake of breath from all involved. After all, a bigger house means more tickets to sell in order to stay in the black, and sometimes shows with even the most tenacious fan bases can't quite navigate such a jump. But what about the transfer from stage…to screen? Is Broadway ready to be consumed from the comfort of your couch?
Keep reading...
Show less
Hive by Boston Conservatory student Alyssa Markowitz. Photo by Jim Coleman
The way we create and consume dance is changing every day. Now more than ever, the field demands that dancers not only be able to perform at the highest level, but also collaborate with choreographers to bring their artistic visions to life. Dancers who miss out on choreographic training may very well find themselves at a disadvantage as they try to launch their careers.

Keep reading...
Show less
Courtesy Lee
Daphne Lee was dancing with Collage Dance Collective in Memphis, Tennessee, when she received two difficult pieces of news: Her mother had been diagnosed with multiple myeloma cancer, and her father had Parkinson's disease, affecting his mobility and mental faculties.
The New Jersey native's reaction: "I really need to move home."
Keep reading...
Show less
Bruce Mars via Unsplash
Summer is almost upon us, and whether you're a student about to go on break or a pro counting the days till layoff, don't forget that with warm weather comes a very serious responsibility: To maintain your cross-training routine on your own.
Those of us who've tried to craft our own cross-training routine know it's easier said than done. So we consulted the stars, and rounded up the best options for every zodiac sign. (TBH, you should probably consult an expert, too—we'd recommend a physical therapist, a personal trainer or your teacher.)
Keep reading...
Show less
Last year's winner: Manuel Vignoulle's EARTH. Jack Hartin Photography, Courtesy McCallum Theatre
It's not often that a promising choreographer gets to stage work in a world-class theater, on a skillfully-curated program with professional dancers, and with the possibility of winning a substantial cash prize. But at the McCallum Theatre's Palm Desert Choreography Festival, that's been the status quo for over twenty years.
Since Shea New, the festival's artistic director, founded the festival in 1998, she's worked tirelessly with McCallum's director of education and festival producer, Kajsa Thuresson-Frary, and stage manager and festival production manager Joanna Fookes to build a festival that nurtures choreographers, highlights high quality work, powerfully engages the local community and cultivates an audience base for dance in the Coachella Valley. The trio is backed by a strong team of professionals at McCallum and the brilliant volunteers from the local and national level who serve as adjudicators.
Keep reading...
Show less
Get Dance Magazine in your inbox
It's become second nature in dance studios: The instant anyone gets hurt, our immediate reaction is to run to the freezer to grab some ice (or, more realistically, a package of frozen peas).
But as routine as icing our injuries might be, the benefits are not actually backed up by scientific studies. And some experts now believe icing could even disrupt the healing process.
Keep reading...
Show less
Getty Images
I'm a contemporary dancer, and I'm nervous about trying to get pregnant since I can't predict if it might happen during the middle of the season. We have a union contract that is supposed to protect us. But I'm scared because several of my colleagues' contracts weren't renewed for no particular reason. Having a big belly could be a big reason to get rid of me!
—Andrea, New York, NY
Keep reading...
Show less
From Dance of Urgency. © Ekvidi
When the going gets tough, the tough start dancing: That's the premise behind "Dance of Urgency," a recently opened exhibit at MuseumsQuartier Vienna that features photos, video and other documentary material relating to the use of dance as political protest or social uprising.
The groups featured in the show, largely based around clubs and electronic dance music scenes, span the globe and respond to a variety of issues—from inequality and social stratification to racial divides to crackdowns on club culture itself.
Keep reading...
Show less
News
May. 20, 2019 04:24PM EST
Last night, longtime theater legends (including Chita Rivera herself!) as well as rising stars gathered to celebrate one of Broadway's danciest events: the third annual Chita Rivera Awards.
The evening paid tribute to this season's dancer standouts, fabulous ensembles, and jaw-dropping choreography—on- and off-Broadway and on film.
As usual, several of our faves made it into the mix. (With such a fabulous talent pool of nominees to choose from, we're glad that ties were allowed.) Here are the highlights from the winner's list:
Keep reading...
Show less
Lorenzo Di Cristina/Unsplash
When you're a foreign dancer, gaining legal rights to work in the U.S. is a challenging process. It's especially difficult if you're petitioning to work as a freelance dancer without an agent or company sponsorship.
The process requires professional muscle along with plenty of resources and heart. "There's a real misnomer that it's super easy," says Neena Dutta, immigration attorney and president of Dutta Law Firm. "People need to educate themselves and talk to a professional."
Here are four things every foreign dancer who wants to work in the U.S. needs to know to build a freelance dance career here.
Keep reading...
Show less
Quinn Wharton
What does it take to "make it" in dance? It's no secret that turning this passion into a profession can be a struggle. In such a competitive field, talent alone isn't enough to get you where you want to be.
So what kinds of steps can you take to become successful? Dance Magazine spoke to 33 people from all corners of the industry to get their advice on the lessons that could help us all, no matter where we are in our careers.
Keep reading...
Show less
Still of Fonteyn from the 1972 film I Am a Dancer. Photo courtesy DM Archives
On May 18, 1919, Margot "Peggy" Hookham was born. She would grow up to become Dame Margot Fonteyn, England's first homegrown prima ballerina. She joined the Sadler's Wells School in 1934 and was performing principal roles with the precursor to The Royal Ballet the next year. Fonteyn was a company-defining figure, dancing Aurora for the re-opening of the Royal Opera House after World War II, creating numerous roles with Sir Frederick Ashton and forging a legendary partnership with Rudolf Nureyev.
Keep reading...
Show less
Courtesy #Dance4OurLives
Memorial Day is notoriously one of Chicago's bloodiest weekends. Last year, 36 people were shot and seven died that weekend. In 2017 and 2016, the number of shootings was even higher.
When Garley "GiGi Tonyé" Briggs, a dance teacher and Chicago native, started noticing this pattern, she was preparing her second annual Memorial Day workshop for local youth.
The event's original aim was simple: "I wanted the youth of Chicago to have somewhere they could come and learn from different dancers and be off the streets on the South Side on this hot holiday," she says.
Keep reading...
Show less