Rant & Rave
Oct. 16, 2017 11:04AM EST
Can We Stop Calling Choreographers "Emerging" Already?
Will Rawls in The Planet-Eaters: Seconds. Photo by Darial Sneed, Courtesy Rawls
"Do away with it."
"Over it."
"How about just plain old 'artist' or 'choreographer'?"
These are a few of the comments that popped up when, on a recent morning, I posted a query on Facebook fielding thoughts about the term "emerging"—as in "emerging choreographer." I can't remember when I first sensed disgruntlement toward the E-word. But in speaking with dancers and choreographers over the years, I've noticed that more often than not it elicits an eye roll, head shake, groan, sigh or shrug of "whatever that means."
---
On its surface, "emerging" may seem like an unobjectionable adjective describing someone new to making work, a word connoting promise, potential, discovery. Like many writers, presenters and others in the dance field, I've been known to use it as shorthand for "young" or "just starting out" or—
Well, that's part of the problem. What exactly does "emerging" mean? And how about its similarly contested cousins, "mid-career" and "established"? What determines whether a choreographer is emerging or has emerged: age, experience, number of dances created, institutional criteria? Does an artist ever stop emerging? In what cases, if any, is "emerging" useful or beneficial? Should we do as the choreographer Alexandra Beller suggested and do away with it altogether?
One irksome aspect of "emerging" is that it tends to be foisted upon artists—for programming or fundraising or journalistic purposes—rather than chosen. As Beller notes, it "takes away autonomy from artists defining themselves and their process and their intentions for their own future." The notion of a professional ladder ascending from "emerging" to "mid-career" to "established" assumes a linear path that few dancemakers actually follow, maintaining, as the choreographer Jeanine Durning puts it, "a myth of upward mobility in a field that has none."
"Emerging" Emerges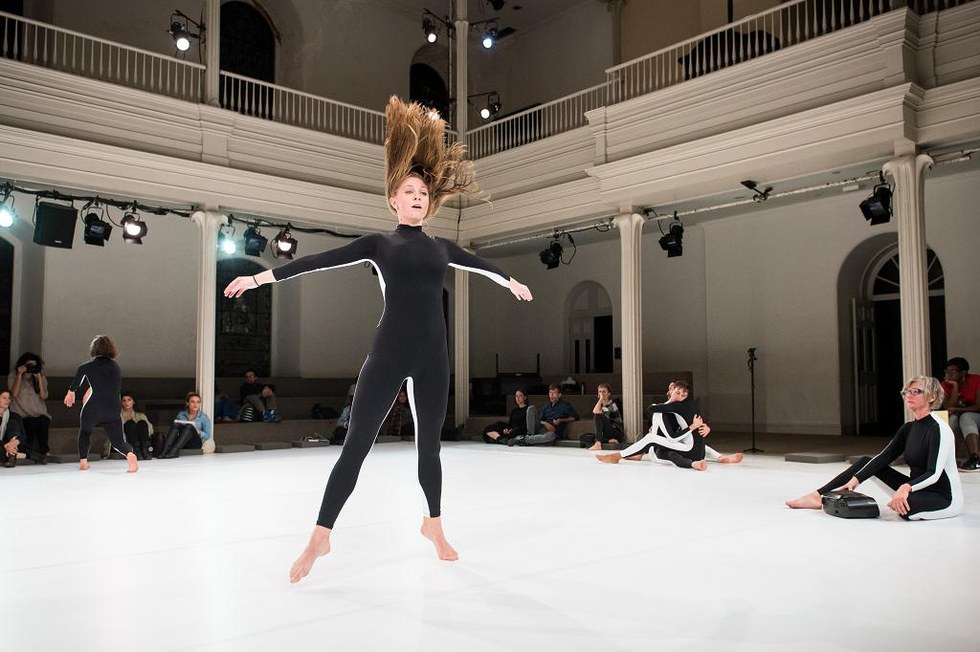 Moriah Evans' Social Dance 9-12: Encounter"at Danspace Project. Photo by Ian Douglas
"Emerging" as a modifier for "choreographer" is a relatively modern phenomenon. Judy Hussie-Taylor, the executive director of Danspace Project, estimates that it came into use in the 1980s. "I believe that at that time funders were supporting only well-known or established dance companies," she says, explaining that presenters began to advocate on behalf of lesser-known work. "I think the case was made, and certain funders now adhere to it as a value—a way to say, 'We're not just going to fund Paul Taylor or Martha Graham.' "
Supporting artists early in their careers is essential and should, of course, continue. But according to Lucy Sexton, the executive director of the Bessie Awards, some artists feel that opportunities have skewed too heavily in that direction.
"It's a completely laudable impulse," she says, "but what's happened more recently is people saying, 'Well, how about the person who's been doing good work for 20 years and still doesn't have major support?' " Championing so-called mid-career artists "might not be as sexy as supporting a young artist who's gonna turn into Mark Morris," she says, "but it's worthwhile, and we need it for a healthy dance ecosystem."
Many Meanings
If institutions and granting organizations decide who's "emerging," how do they define the term? The Minnesota-based Jerome Foundation, one of the country's chief funders of "early career/emerging" artists (its own phrasing), includes the following criteria in its eligibility requirements: "Artists who are in the early stages of their creative development" and "artists, collectives or ensembles who have yet to be substantially celebrated within their field, the media, funding circles or the public at large." (It's hard not to wonder: What constitutes "substantially celebrated"?)
A more flexible approach can be found at the Bessies, which have granted awards for Outstanding Emerging Choreographer since 2011. Here the task of defining "emerging" falls to subcommittees focused on specific sectors of the field.
"It's a malleable term," says Sexton. "It can mean different things when you're looking at different parts of the field and different types of work happening in different circumstances." The award has honored artists as disparate as the ballet choreographer Jessica Lang, deemed "emerging" in 2014 for her newly founded troupe—though she had been making dances since 1999 for companies including the Joffrey Ballet and Birmingham Royal Ballet—and the younger, more elusive flex dancer Storyboard P.
Cultural factors can also shape how "emerging" is defined. Phil Chan, an advisor to the Asian American Arts Alliance, was a member of the review panel for the alliance's Jadin Wong Award for Emerging Asian American Choreographer. He said that the award's funder initially placed an age limit on "emerging" (30 and under) but that this proved to be "an arbitrary definition" given the applicant pool.
"We've found that it's harder for Asian Americans, especially among recent immigrant families, to pursue a creative career," Chan says. As a result, "it's not unusual for dancers of immigrant families to discover dance later"—and thus to "emerge" at a more advanced age. Through discussions with the funder, Chan and his colleagues were able to expand the award's parameters.
Never Not Emerging
No matter how broadly or specifically defined, "emerging," like most labels, still has a way of both hemming in and excluding. This past July at a Bessies press conference, the performer, writer, curator and dancemaker Will Rawls accepted the 2017 award for Outstanding Emerging Choreographer. I was delighted to see him earning recognition but also puzzled by his nomination in the first place. Having followed his work at least since 2009, at multiple well-known theaters and museums around New York City, I sort of thought he had already "emerged."
Did he think so too? "I'm super-honored to be recognized for the work that I'm doing," he told me, adding that the citation for the award "was very sensitive about acknowledging both my choreography and my curatorial and writing work." But he also notes the complexities and limitations of being anointed "emerging."
"I think often the term makes people see the work through the lens of something that's not fully cooked," he says. "It can be a little bit juvenilizing. And I think artists who are really established also want to feel the freedom to present ideas that are newer"—the freedom to not arrive at a fixed style.

For the choreographer Elena Rose Light, "emerging" is vexing for similar reasons, perpetuating what she calls "ageism in both directions."
"The stagnation that's implied by 'established' and the generative, lively movement implied by 'emerging' creates a binary that I'm uninterested in," she says.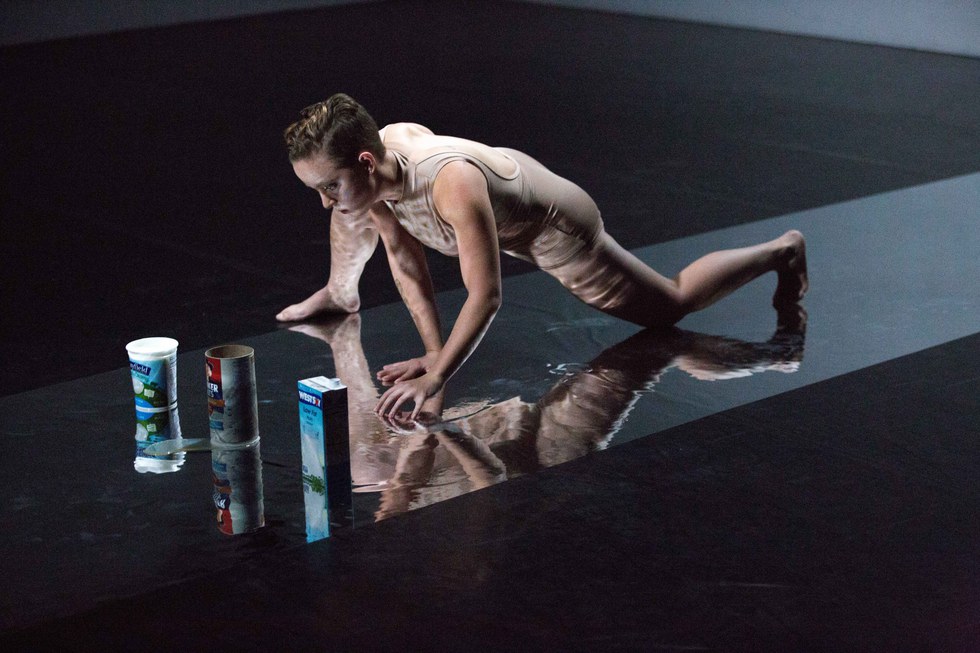 Choreographer Elena Rose Light. Photo by Em Watson, courtesy Light
As the choreographer Jodi Melnick puts it, citing her work with endlessly curious legends like Sara Rudner and the late Trisha Brown, "When are an artist's ideas not emerging? When is an artist not discovering the newness even in the sameness of their work?"
Hussie-Taylor says that while she understands the resistance to "emerging"—who wants to be labeled?—the term remains useful in garnering support for "early work or new work or innovative work or work that doesn't neatly fit into an established dance company model."
" 'Emerging' for me isn't a way of writing someone off," she says. "It's a way of continuing to advocate for them and saying, 'Yes, this person has had a 13-year career, but she's still working on becoming known.' "
As for the future of "emerging," I think it might be here to stay, entrenched as it is in systems of funding and presenting dance. But that doesn't mean we can't keep searching for ways around it—and not just through easy alternatives like "rising" or "early-career," but through language that describes rather than quantifies, that doesn't fall back on the convenience of a category.
Related Articles Around the Web
Looking for your next audition shoe? Shot at and in collaboration with Broadway Dance Center, Só Dança has launched a new collection of shoes working with some pretty famous faces of the musical theater world! Offered in two different styles and either 2.5" or 3" heels, top industry professionals are loving how versatile and supportive these shoes are! Pro tip: The heel is centered under the body so you can feel confident and stable!
Photo via the Hammer Museum
Keep reading...
Show less
StockSnap
When I wrote about my struggle with depression, and eventual departure from dance because of it, I expected criticism. I was prepared to be challenged. But much to my relief, and horror, dancers from all over the world responded with support and stories of solidarity. The most critical response I saw was this one:
"Dance isn't for everyone."
This may as well be a mantra in the dance world. We have become entrenched in the Darwinian notion that the emotionally weak will be weeded out. There is no room for them anyway.
Keep reading...
Show less
Cover Story
Apr. 16, 2018 04:00PM EST
Robert Fairchild is jumping into the next phase of his career feet-first. Photo by Jayme Thornton
In his final bow at New York City Ballet, during what should have been a heroic conclusion to a celebrated ballet career, Robert Fairchild slipped and fell. His reaction? To lie down flat on his back like he meant to do it. Then start cracking up at himself.
"He's such a ham," says his sister Megan Fairchild, with a laugh. "He's really good at selling whatever his body is doing that day. He'll turn a moment that I would totally go home and cry about into something where the audience is like, 'That's the most amazing thing ever!' "

Keep reading...
Show less
"There is a palpable sense of hope for the future." Photo by Devin Alberda via
Instagram
New York City Ballet continues its first year without Peter Martins at the helm as our spring season opens tonight.
When he retired at the start of the new year, we plunged headfirst into unknown, murky waters. Who would the new director be? When would we know? Would we dancers get some say in the decision? Who would oversee the Balanchine ballets? Who would be in charge of casting? Would a new director bring along huge upheaval? Could some of us be out of a job?
Keep reading...
Show less
Broad is Orlando Ballet's first dancer named artist in residence. Photo by Michael Cairns, Courtesy Orlando Ballet.
In the world of ballet, Arcadian Broad is a one-stop shop: He'll come up with a story, compose its music, choreograph the movement and dance it himself. But then Broad has always been a master of versatility. As a teenager he juggled school, dance and—after the departure of his father—financial responsibility. It was Broad's income from dancing that kept his family afloat. Fast-forward six years and things are far more stable. Broad now lives on his own in an apartment, but you can usually find him in the studio.
Keep reading...
Show less


Get Dance Magazine in your inbox