Dancing with the Camera: Ezra Hurwitz on Capturing Dance on Film
Still via ezrahurwitz.com
Sometimes it feels like you can't go to a ballet company's website, check Facebook, or research a new ballet without coming across one of Ezra Hurwitz's stylish dance shorts. In just a couple of years, this former Miami City Ballet dancer has become the king of the dance teaser. Already, he's worked with San Francisco Ballet, Miami City Ballet, New York City Ballet, the Kennedy Center, American Ballet Theatre and Martha Graham Dance Company. At a recent Dance/USA meeting, one of the speakers touted his work, encouraging everyone present to hire him for their marketing campaigns.
With his dance background and ease with social media platforms, Hurwitz seems to have stumbled into a vacuum that no-one had really realized was clamoring to be filled: well-produced, sophisticated short films that evoke the excitement of live performance and the creative process behind it. By showcasing ballet's athleticism and rigor, he makes it feel spontaneous and of our time.
---
I caught up with Hurwitz recently in New York, and we talked about how he got started, and where he thinks his strengths lie.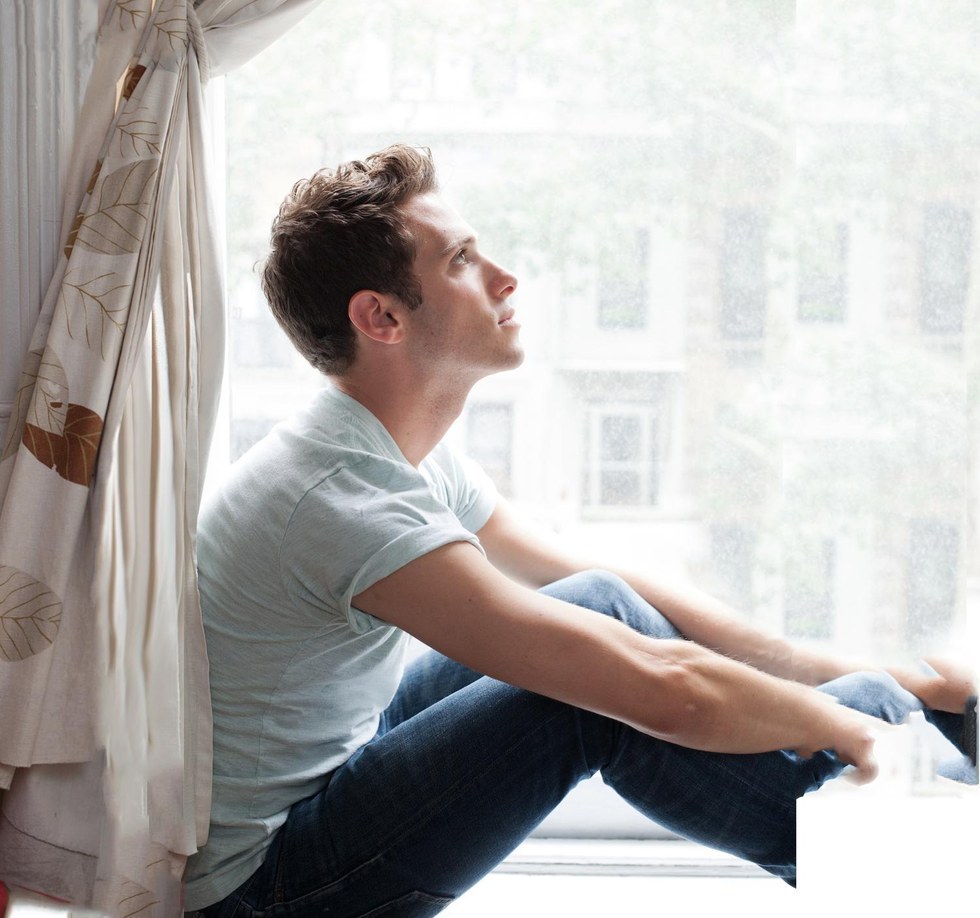 Photo via ezrahurwitz.com
How did you get into film?
I was working for a photographer in Miami while I was dancing at Miami City Ballet [2006-2014]. Later, I started shooting photography for the company.
I always knew I wasn't going to dance forever, and I had other interests, so I would use our layoffs to work in other areas.
Then, I got injured, and I came back to New York to rehab. I was bored, so I started working with Ellen Barr in the New York City Ballet video department. She had been producing content for NYCB, and I thought it was great. No other company was doing anything at that level. I was also naïve. I thought: What's the reason for that? I didn't realize there was a price tag attached; film is really expensive.
Then I left Miami City Ballet, went to Columbia University for business strategy and film, and simultaneously started taking film-specific classes at the New School for some hands-on experience.
What was your first dance film?
I made a short film with my boyfriend, Gonzalo García of NYCB. I filmed him in our apartment with our cat. He walks to the Koch and rehearses by himself. Now I look at it and I think it's terrible, but at the time, people were impressed by it. And I did something similar for Sara Mearns. That's kind of how I got started.
Are you a film buff?
Right now I'm watching 20 Stephen Spielberg films—that's my goal for the summer. I work with a lot of film buffs; a lot of directors of photography want to be directing or creating feature films. I kind of feel like because I already had a really artistically fulfilling career, I'm not as precious as some of the people I work with. I was that diehard artist trying to give everything for the art-form; and now this is a second career.
What are your favorite dance movies?
The Red Shoes. I like the cinematography because it's classic, golden age of cinema. And there are those crazy shots, and that surreal dream sequence that seamlessly transitions from performance to something more subjective. I definitely think it informs the way I plan the narrative in my dance films.
And Wim Wenders' Pina.
What do you think of dance on TV in series like Dance in America and Live at Lincoln Center?
Those kinds of things are really important because they bring dance to so many people. If you love dance and you have an awareness of the choreographers and the legacy of the work, then that content is appealing. But what the dance companies are trying to do now is bring in new audiences and new eyes.
How important is creating a narrative in your films?
Even if it's not an explicit narrative, you need an arc if you want people to remember something or take something away.
You don't necessarily tell the story the ballet is telling.
For things that haven't premiered yet, no-one knows what the ballet is going to become. You're taking a leap of faith. But I try to use the vocabulary of the ballet. For example, for Justin Peck's In the Countenance of Kings, I wanted to show examples of the movement from across the 30-minute work, all in one minute, so we had to link together steps that weren't necessarily sequential, we had to find transitions that weren't there, and set steps to music that they weren't set to in the piece.
In the films I made for Myles Thatcher's Ghost in the Machine and Peck's Heatscape, I also featured the choreographer. We wanted to engage people in the excitement of the new work being created and what that looked like. When people have more context, then they have a greater appreciation for the work when they see it for the first time.
In many ways, it sounds like you're acting as a choreographer, using pre-existing material.
Yeah. I always try to show angles you wouldn't be able to see in the theater. And that involves some restaging. For Ghost in the Machine, I wanted to film a minute and a half of uninterrupted choreography. We had a steady cam weaving through the dancers, but we didn't want the dancers to be visible as we were moving, so we had the whole cast running with us behind the camera.
Have you worked with any modern dancers?
I did a film with the Martha Graham dancers. I loved them. I was so impressed by how vulnerable and exposed they could be in a second.
How important is musicality to your approach?
It's very much informed by my training at the School of American Ballet. Especially in the editing; you want to use the editing in a way that feels musical and interprets the music as it's meant to be interpreted. It has a lot to do with rhythm. Even when you're editing in silence, you feel an internal rhythm.
How big is your team?
I don't do anything without at least 5 people. There's a director—me, most of the time. A director of photography, an assistant camera operator, usually a steady cam operator, and a producer.
What are some of your non-dance projects?
I'm working right now in live entertainment doing things for Broadway. And I'm doing something for Humana Health Insurance. I love the idea of figuring out how to make this insurance spot look beautiful, and they can afford to make it look beautiful!
What do you see as the relationship between the films that you make and the works that are the subjects of your films?
For some people, this is the closest they'll get to these dances. If you're in a flyover state and don't have the money to go to one of these metropolitan areas, I would love to offer an experience that feels directly informed by what you might see at Lincoln Center. That is always going to be a unique experience, but the stage for that kind of art is larger now and there are different ways to experience it.
Why do you think you turned to film?
I saw how beautiful things looked on film and I felt I that it would allow me to keep something for myself in a way I couldn't when I was dancing. I wanted to have something concrete and tangible to hold onto.
Alice Sheppard photographed by Jayme Thornton for Dance Magazine
It can be hard to focus when Alice Sheppard dances.
Her recent sold-out run of DESCENT at New York Live Arts, for instance, offered a constellation of stimulation. Onstage was a large architectural ramp with an assortment of peaks and planes. There was an intricate lighting and projection design. There was a musical score that unfolded like an epic poem. There was a live score too: the sounds of Sheppard and fellow dancer Laurel Lawson's bodies interacting with the surfaces beneath them.
And there were wheelchairs. But if you think the wheelchairs are the center of this work, you're missing something vital about what Sheppard creates.

Keep reading...
Show less
Omar Román De Jesús in rehearsal with Joffrey Academy trainees. Photo by Todd Rosenberg
So far, the fervor to create diversity in ballet has primarily focused on dancers. Less attention has been paid to the work that they'll encounter once they arrive.
Yet the cultivation of ballet choreographers of color (specifically black choreographers) through traditional pathways of choreographic training grounds remains virtually impossible. No matter how you slice it, we end up at the basic issues that plague the pipeline to the stage: access and privilege.
Keep reading...
Show less
Get the print edition!
Yuka Oba, Ednis Ariel Gomez Mallol and Connie Flachs in Swing by Olivier Wevers. Photo by Ryan Jackson, courtesy Flachs
"I'm sorry, but I just can't possibly give you the amount of money you're asking for."
My heart sinks at my director's final response to my salary proposal. She insists it's not me or my work, there is just no money in the budget. My disappointment grows when handed the calendar for Grand Rapids Ballet's next season with five fewer weeks of work.
Keep reading...
Show less
"Off Kilter" has real dancers playing dancers. Still courtesy CBC Arts
"It just...always looks better in my head."
While that might not be something any of us would want to hear from a choreographer, it's a brilliant introduction to "Off Kilter" and the odd, insecure character at its center, Milton Frank. The ballet mockumentary (think "The Office" or "Parks and Recreation," but with pointe shoes) follows Frank (dancer-turned-filmmaker Alejandro Alvarez Cadilla) as he comes back to the studio to try his hand at choreographing for the first time since a plagiarism scandal derailed his fledgling career back in the '90s.
We've been pretty excited about the series for a while, and now the wait is finally over. The first episode of the show, "The Denial," went live earlier today, and it's every bit as awkward, hilarious and relatable as we hoped.
Keep reading...
Show less
We suspect it will be...a thriller.
Giphy
Christopher Wheeldon is going to be giving Michael Jackson some new moves: The Royal Ballet artistic associate is bringing the King of Pop to Broadway.
The unlikely pairing was announced today by Jackson's estate. Wheeldon will serve as both director and choreographer for the new musical inspired by Michael Jackson's life, which is aiming for a 2020 Broadway opening. This will be Wheeldon's second time directing and choreographing, following 2015's Tony Award-winning An American in Paris.
Wheeldon is a surprising choice, to say the least. There are many top choreographers who worked with Jackson directly, like Wade Robson and Brian Friedman, who could have been tapped for the project. Or the production could have even hired someone who actually choreographed on Jackson when he was alive, like Buddha Stretch.
Keep reading...
Show less
Popular
Jun. 06, 2018 01:13PM EST
Stagestep's Encore hardwood flooring for full-service broadcast production facility, dance center and venue, Starwest, in Burbank, CA.
What is the right flooring system for us?

So many choices, companies, claims, endorsements, and recommendations to consider. The more you look, the more confusing it gets. Here is what you need to do. Here is what you need to know to get the flooring system suited to your needs.
Keep reading...
Show less
In rehearsal for Dreamgirls. Photo Courtesy DM Archives.
Broadway musicals have been on my mind for more than half a century. I discovered them in grade school, not in a theater but electronically. On the radio, every weeknight an otherwise boring local station would play a cast album in its entirety; on television, periodically Ed Sullivan's Sunday night variety show would feature an excerpt from the latest hit—numbers from Bye Bye Birdie, West Side Story, Camelot, Flower Drum Song.
But theater lives in the here and now, and I was in middle school when I attended my first Broadway musical, Gypsy—based, of all things, on the early life of the famed burlesque queen Gypsy Rose Lee. I didn't know who Jerome Robbins was, but I recognized genius when I saw it—kids morphing into adults as a dance number progresses, hilarious stripping routines, a pas de deux giving concrete shape to the romantic yearnings of an ugly duckling. It proved the birth of a lifelong habit, indulged for the last 18 years in the pages of this magazine. But all long runs eventually end, and it's time to say good-bye to the "On Broadway" column. It's not the last of our Broadway coverage—there's too much great work being created and performed, and you can count on hearing from me in print and online.
Keep reading...
Show less
Get the print edition!
It's already on its way to legendary status. (screenshot via YouTube)
Popular
May. 25, 2018 12:14PM EST
Travis Wall draws inspiration from dancers Tate McCrae, Timmy Blankenship and more.
One often-overlooked relationship that exists in dance is the relationship between choreographer and muse. Recently two-time Emmy Award Winner Travis Wall opened up about his experience working with dancers he considers to be his muses.
"My muses in choreography have evolved over the years," says Wall. "When I'm creating on Shaping Sound, our company members, my friends, are my muses. But at this current stage of my career, I'm definitely inspired by new, fresh talent."
Wall adds, "I'm so inspired by this new generation of dancers. Their teachers have done such incredible jobs, and I've seen these kids grown up. For many of them, I've had a hand in their exposure to choreography."

Keep reading...
Show less
News
Jun. 18, 2018 02:12PM EST
MADBOOTS DANCE in MASC. Photo by Scott Shaw, Courtesy Richard Kornberg & Associates
This week, New York City's Joyce Theater presents two companies addressing LGBTQ+ issues.
Keep reading...
Show less
Kerollis and students in his 8-week Absolute Beginner Workshop at Broadway Dance Center
When most people think of dance students, they imagine lithe children and teenagers waltzing around classrooms with their legs lifted to their ears. It doesn't often cross our minds that dance training can involve an older woman trying to build strength in her body to ward off balance issues, or a middle-aged man who didn't have the confidence to take a dance class as a boy for fear of bullying.
Anybody can begin to learn dance at any age. But it takes a particular type of teacher to share our art form with dancers who have few prospects beyond fun and fitness a few nights a week.
Keep reading...
Show less
Get the print edition!
News
Jun. 16, 2018 09:15AM EST
Gina Gibney's organization has grown invaluable to the NYC dance scene. Photo by Scott Shaw, Courtesy Gibney
New York City–based dancers know Gibney. It's a performance venue, a dance company, a rehearsal space, an internship possibility—a Rubik's Cube of resources bundled into two sites at 280 and 890 Broadway. And in March of this year, Gibney (having officially dropped "Dance" from its name) announced a major expansion of its space and programming; it now operates a total of 52,000 square feet, 23 studios and five performance spaces across the two locations.
Six of those studios and one performance space are brand-new at the 280 Broadway location, along with several programs. EMERGE will commission new works by emerging choreographic voices for the resident Gibney Dance Company each year; Making Space+ is an extension of Gibney's Making Space commissioning and presenting program, focused on early-career artists. For the next three years, the Joyce Theater Foundation's artist residency programs will be run out of one of the new Gibney studios, helping to fill the gap left by the closing of the Joyce's DANY Studios in 2016.
Keep reading...
Show less
Jay Sullivan Photography, courtesy Julie Granger
Dancers crossing over into the fitness realm may be increasingly popular, but it was never part of French-born Julie Granger's plan. Though Granger grew up a serious ballet student, taking yoga classes on the side eventually led to a whole new career. Creating her own rules along the way, Granger shares how combining the skills she learned in ballet with certifications in yoga, barre and personal training allowed her to become her own boss (and a rising fitness influencer).
Keep reading...
Show less


Get Dance Magazine in your inbox