There's no denying that 2020 has been full of tragedy, heartbreak and unimaginable difficulties. But it's also had its fair share of silver linings, with dancers leaping into action to help others or breaking boundaries within their own work. We're revisiting some of our favorite feel-good stories of the year to remember how dancers buoyed our souls when we needed it most.
---
The Helpers
Louise Cantrell with scholarship recipients at University of North Carolina School of the Arts in 2018.

Courtesy WordFarm Communications
In response to COVID-19, the dance world sure did help. Dance Magazine highlighted some of the many ways: Costume shops and dancewear manufacturers started sewing face masks; companies and individual dancers got involved with food pantries and grocery distribution; there was a blood drive, dance classes for medical workers and the elderly, and efforts to raise money for artist relief. The list goes on and on.

After suffering unthinkable loss—her two daughters and husband died in a house fire—Louise Cantrell vowed to honor her children's memory. In 2014, she established the Dancing Angels Foundation, which awards training scholarships to dancers. Dance Magazine spoke with her in March as she continued her mission. Though her annual fundraising event was postponed due to the coronavirus, she reflected on the power of dance to unite people: "We literally have motorcycle clubs there. We have military there. It's amazing how the arts bring so many different realms of people together."

Even as the pandemic raged on, Melissa Turnage, a dance artist in residence at the University of Alabama at Birmingham Hospital and a dance/movement specialist at Children's Hospital of Alabama and St. Vincent's Birmingham, found ways to keep the joy of dance in patients' lives. When she wasn't allowed to visit the hospitals any longer, she made DVDs and "dance mobility toolkits," so her work could continue. "If there is a need, you just have to figure it out," says Turnage.
The Innovators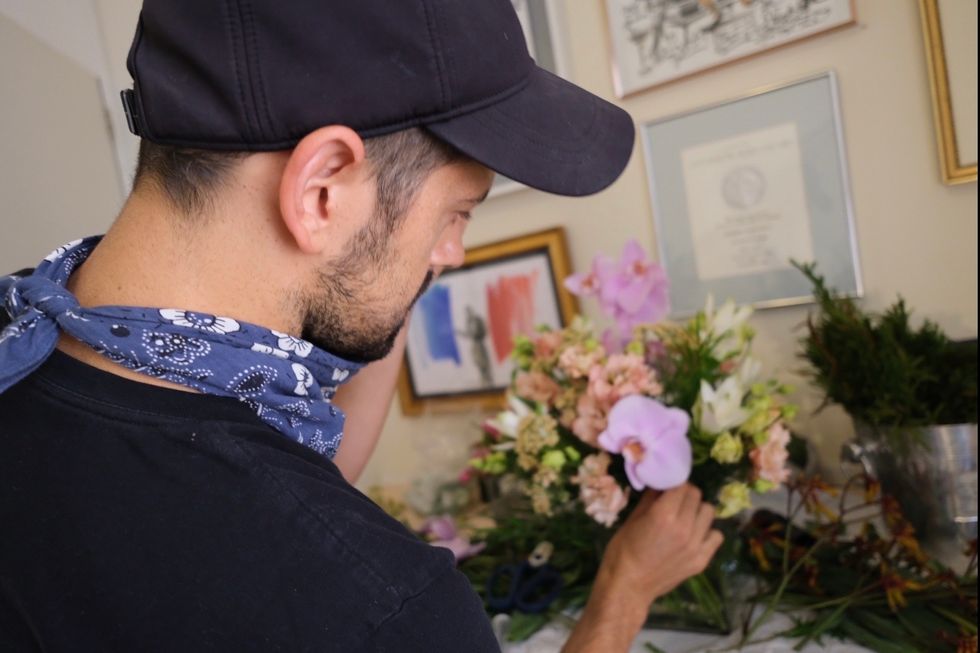 Robbie Fairchild works on a floral arrangement for his new business.
Ryan Steele, Courtesy Fairchild
With more free time on their hands, many artists pivoted and explored other interests, proving that dance skills are transferable to a range of industries.
Robbie Fairchild, star of Broadway and film and formerly with New York City Ballet, used the pandemic to channel his creativity into floral arrangements. Fairchild spoke with us about launching boo•kay nyc: "I'm in my little studio, being creative, making something ultimately for somebody's enjoyment and fulfillment. I get a lot of joy out of that, and this is giving me that performance fix."
Though Charlie Hodges has since retired from performing, his latest venture in product design is more about translating his skills rather than quitting dance. "Dance can be your tool set for the next step," he says. With the help of three former NYCB dancers—Jenifer Ringer, Janie Taylor and Kaitlyn Gilliland—Hodges has started a business that sells an environmentally sustainable, gender-neutral toy house.
The Ones Who Spoke Up
Ava Holloway and Kennedy George
Julia Rendleman/Reuters
As the country dealt with a long overdue racial reckoning, propelled by the police killings of George Floyd and Breonna Taylor, among others, many dancers embraced their voices to fight for positive changes within our community.
Pacific Northwest Ballet's Amanda Morgan, currently the company's sole Black ballerina, got candid about how the ballet field can work toward inclusion: "A lot of people say that we need to hire more Black dancers, and yes, that's important. But we also need to have more Black artistic directors, and Black female executive directors or Black board members. I also think we need to have racial equity coordinators or managers, so that if an institution does step out of bounds or something is a little iffy, that person can speak up about it."
Hip-hop choreographer Luam took her activism to the world stage, aka Instagram, hosting honest conversations with dancers about racial injustices in the field. "There are issues in the world that we have to talk about and educate ourselves on," says Luam. "...We owe it to our artist community and to the world to share that information, and that only happens when we pay attention as artists."
Younger dancers didn't shy away from the conversation, either. This summer, 14-year-old ballet dancers Ava Holloway and Kennedy George took a stand when they danced atop a Confederate monument covered in graffiti. A photograph from the event went viral. When asked about what advice she'd give to young people who want to advocate for social change, George shared wisdom beyond her years: "...know who you are, know what you stand for and be confident in that. And know that you are supported. Someone out there supports you. You are, and can be, just as powerful as anybody else."
The Victory Dancers
For many, the fact that this was a presidential election year added another layer of anxiety to 2020. And when Americans needed to let off steam while awaiting the results—and then celebrating them—they danced in the streets.
The Ones Who Broke Stereotypes
Founder Susan Avery (front middle) and the New York Pacemakers pose with guest choreographer, Afra Hines.

Courtesy New York Pacemakers
Dancers don't always fit into neat boxes—and that's a good thing. This year, we celebrated the movers and shakers who aren't limited by labels.
In March, we profiled the New York Pacemakers, a dance team whose members range in age from 50 to 81. In the fall, the team's founder, Susan Avery, let us know that they were still at it, learning a new routine over Zoom choreographed by Stephanie Klemons, associate choreographer of Hamilton.
Though Dance Magazine doesn't delve into pro sports too often, we spoke with Ryan Russell—the first active NFL player to come out publicly as bisexual—and his boyfriend, Los Angeles–based dancer Corey O'Brien. In a charming interview, the couple talked about learning about each other's fields, and the surprising similarities dance and football share. "If we don't respect each other as athletes, we can't respect each other as partners," says Russell. "And if that means trying a dance class for a day to show respect, you should do it!"
In another career crossover, we caught up with a real-life "Rockette scientist": Heather Ann Bottom, the former Rockette who's a Mars 2020 engineer for NASA's Jet Propulsion Lab. She recalls what happened after she finished undergrad. "I had this weird idea that I had to choose one," she says. "It was like, 'Heather, you've always loved astronomy and you've always loved dance. Now you need to choose. No more balance.' " She continues, "That's the worst advice I had ever given myself."
Hayden Moon, a trans dancer from Australia, spoke with Dance Magazine about the prejudice he's faced in the competitive Irish dance scene. But he also shed light on the euphoria he felt once he was able to perform as a man, and the advocacy work he's doing to make other trans dancers feel welcome. "The first way to create change in Irish dancing is representation and raising awareness," says Moon. "Because you can't create change if people aren't aware of why that change is needed."
The Trailblazers
Indigenous Enterprise performing on Season 4 of "World of Dance."

Courtesy MPRM Communications
In an incredible year of firsts, we heard from artists who've blazed entirely new trails through the intersection of dance and pop culture.
Flamenco dancer Nino de los Reyes became the first-ever dancer to win a Grammy for dancing. He contributed percussive sound to the album Antidote, by Chick Corea and The Spanish Heart Band, which won the 2020 Best Latin Jazz Album. Speaking about his win, he says, "music gave me a gift that I'll never forget, demonstrating how music and dance are one."
On the 29th season of "Dancing with the Stars," Britt Stewart became the show's first Black female pro, partnering former Olympic figure skater Johnny Weir. "I know that now I'm in a position where there are little Black girls and Black boys—anybody who thinks that they are a little bit different in a group—seeing that it's possible, and it can happen for them too," says Stewart.
Meanwhile, "World of Dance" branched out and featured the first Native American dance group to appear on the show. Kenneth Shirley, founder of Phoenix-based troupe Indigenous Enterprise, told us why accurate portrayals of his culture matters: "Oftentimes we're seen in the media and Hollywood with this picture of 'cowboys and Indians'—those old movies where they paint us looking like savages... When we come out performing and dancing, it lets people know we're real Native Americans and we have real cultures."