Feeling Nervous? These Breathwork Exercises Can Calm Stage Fright
Even the most veteran of performers can suffer from nerves before hitting the stage. While most of us feel most at home in front of a crowd once we're there, sometimes the wait to go on can be uneasy.
Breathing with intention is a simple way to calm this stage fright. According to Psychology Today, deep breathing, specifically through the diaphragm, can activate the vagus nerve, and trigger the "relaxation response" of your parasympathetic nervous system and lessen anger, anxiety, stress and even inflammation.
---
Before your next show or audition, instead of running your choreography one last time, try five minutes of of breathwork before going on stage. Over time, you can increase this amount to develop a deeper practice of meditation, but just a few minutes should do the trick to get you in a performance mindset.
Here are two common methods:
Diaphragmatic Breathing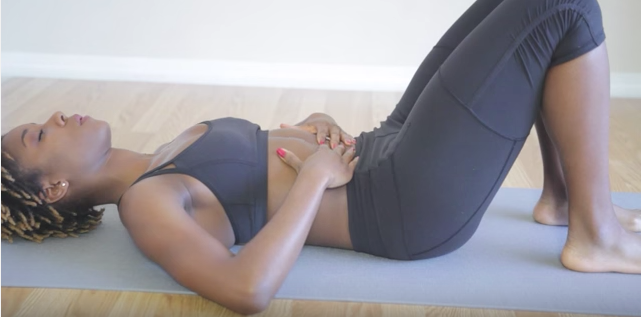 Photo via Kai Wheeler's Diaphragmatic Breathing for Beginners video
What it is: Often used in yoga, diaphragmatic breathing is a slow abdominal breath pattern.
Try it: Place one hand on your chest and the other on your belly. Inhale through the nose, feeling your bottom hand rise as your torso fills with air, while the hand on your chest should barely move, if at all. Exhale deeply out the mouth as you engage your deep transversus abdominus muscles. The hand on your abdomen should fall as the air is expelled, while the upper hand stays still.
Intercostal Breathing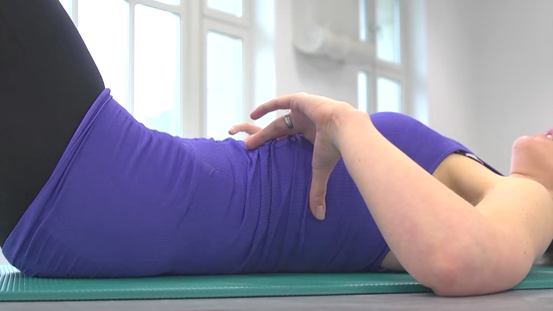 Photo via Body Balance Pilates' Lateral Breathing
What it is: Post-lateral breathing, as we refer to it in Pilates, is a focused breath sideways through the ribs while maintaining abdominal engagement.
Try it: Lay down on your back or stand against a wall, wrap your hands on your ribs, fingertips in front, thumbs around the back. Inhale in through the nose, pushing your ribs into your hands, and into the floor below you or the wall behind you, feeling them expand laterally and posteriorly. As you exhale, engage your low belly muscles by drawing your navel to your spine as the ribs shrink back inside the chest.
It's valuable to try both of these methods, and use the one that calms you the most. Ideally, make a daily practice of focusing on your breath for a few minutes. Try not to get caught up in "clearing your mind" or any of the (false) stereotypes that accompany meditation. As a dancer, you can trust what you feel in your body. You will begin to see a noticeable shift in attitude even if you only get a chance to take a few deep breaths.
News
Sep. 16, 2019 11:00AM EST
Teaċ Daṁsa in Michael Keegan-Dolan's Loch na hEala. Photo by Marie-Laure Briane, courtesy Walker Art Center
The 2019–20 season is here, and with it more performances than any one person could reasonably catch. But fear not: We polled our writers and editors and selected the 31 most promising tickets, adding up to one endlessly intriguing year of dance.
Keep reading...
Show less
Taylor Stanley in Apollo. Photo by Erin Baiano, Courtesy New York City Ballet
You nominated your favorite dance moments so far in 2019, and we narrowed them down to this list. Now it's time to cast your vote to help decide who will be deemed our Readers' Choice picks for the year!
Voting is open until September 17th. Only one vote per person will be counted.
Keep reading...
Show less
The USC Kaufman graduating class with Mikhail Baryshnikov. Gus Ruelas/USC
Just four years ago, the University of Southern California's Glorya Kaufman School of Dance welcomed its first class of BFA students. The program—which boasts world-class faculty and a revolutionary approach to training focused on collaboration and hybridity—immediately established itself as one of the country's most prestigious and most innovative.
Now, the first graduating class is entering the dance field. Here, six of the 33 graduates share what they're doing post-grad, what made their experience at USC Kaufman so meaningful and how it prepared them for their next steps:
Keep reading...
Show less
Original photos: Getty Images
Keep reading...
Show less