Feeling Nervous? These Breathwork Exercises Can Calm Stage Fright
Even the most veteran of performers can suffer from nerves before hitting the stage. While most of us feel most at home in front of a crowd once we're there, sometimes the wait to go on can be uneasy.
Breathing with intention is a simple way to calm this stage fright. According to Psychology Today, deep breathing, specifically through the diaphragm, can activate the vagus nerve, and trigger the "relaxation response" of your parasympathetic nervous system and lessen anger, anxiety, stress and even inflammation.
---
Before your next show or audition, instead of running your choreography one last time, try five minutes of of breathwork before going on stage. Over time, you can increase this amount to develop a deeper practice of meditation, but just a few minutes should do the trick to get you in a performance mindset.
Here are two common methods:
Diaphragmatic Breathing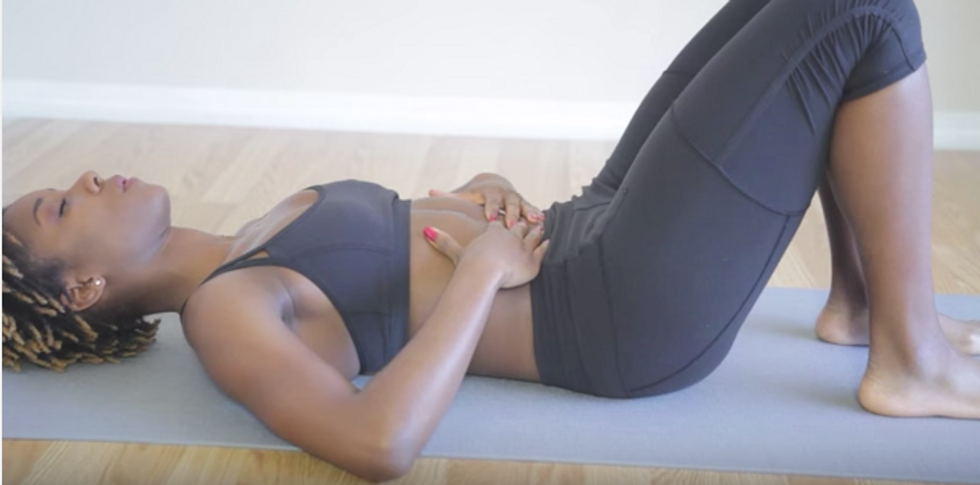 Photo via Kai Wheeler's Diaphragmatic Breathing for Beginners video
What it is: Often used in yoga, diaphragmatic breathing is a slow abdominal breath pattern.
Try it: Place one hand on your chest and the other on your belly. Inhale through the nose, feeling your bottom hand rise as your torso fills with air, while the hand on your chest should barely move, if at all. Exhale deeply out the mouth as you engage your deep transversus abdominus muscles. The hand on your abdomen should fall as the air is expelled, while the upper hand stays still.
Intercostal Breathing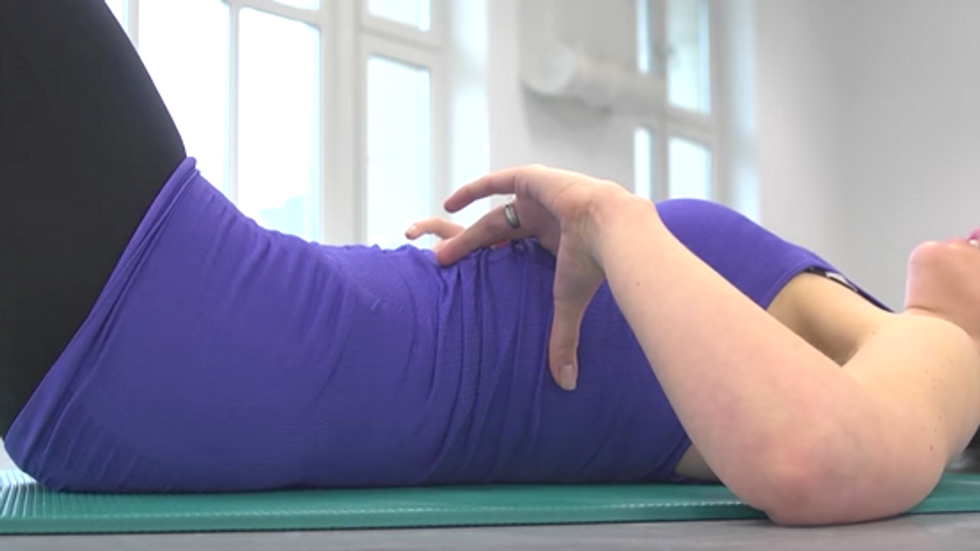 Photo via Body Balance Pilates' Lateral Breathing
What it is: Post-lateral breathing, as we refer to it in Pilates, is a focused breath sideways through the ribs while maintaining abdominal engagement.
Try it: Lay down on your back or stand against a wall, wrap your hands on your ribs, fingertips in front, thumbs around the back. Inhale in through the nose, pushing your ribs into your hands, and into the floor below you or the wall behind you, feeling them expand laterally and posteriorly. As you exhale, engage your low belly muscles by drawing your navel to your spine as the ribs shrink back inside the chest.
It's valuable to try both of these methods, and use the one that calms you the most. Ideally, make a daily practice of focusing on your breath for a few minutes. Try not to get caught up in "clearing your mind" or any of the (false) stereotypes that accompany meditation. As a dancer, you can trust what you feel in your body. You will begin to see a noticeable shift in attitude even if you only get a chance to take a few deep breaths.
Courtesy Macy's, Inc.
As you're prepping your Thanksgiving meal, why not throw in a dash of dance?
This year's Macy's Thanksgiving Day Parade is stuffed (pun intended) with performances from four stellar Broadway shows, the Radio City Rockettes and students from three New York City dance institutions.
Tune in to NBC November 28 from 9 am to noon (in all time zones), or catch the rebroadcast at 2 pm (also in all time zones). Here's what's in store:
Keep reading...
Show less
Ailey II artistic director Troy Powell teaching an Ailey Workshop at NYCDA. Courtesy NYCDA
Back in 2011 when Joe Lanteri first approached Katie Langan, chair of Marymount Manhattan College's dance department, about getting involved with New York City Dance Alliance, she was skeptical about the convention/competition world.
"But I was pleasantly surprised by the enormity of talent that was there," she says. "His goal was to start scholarship opportunities, and I said okay, I'm in."
Today, it's fair to say that Lanteri has far surpassed his goal of creating scholarship opportunities. But NYCDA has done so much more, bridging the gap between the convention world and the professional world by forging a wealth of partnerships with dance institutions from Marymount to The Ailey School to Complexions Contemporary Ballet and many more. There's a reason these companies and schools—some of whom otherwise may not see themselves as aligned with the convention/competition world—keep deepening their relationships with NYCDA.
Now, college scholarships are just one of many ways NYCDA has gone beyond the typical weekend-long convention experience and created life-changing opportunities for students. We rounded up some of the most notable ones:
Keep reading...
Show less
Sergei Polunin. Photo by British Broadcasting Corporation and Polunin Ltd., Courtesy Sundance Selects.
Last week, Variety reported that Sergei Polunin would reunite with the team behind Dancer for another documentary. "Where 'Dancer' looked at his whole life, family and influences," director Steven Cantor said, " 'Satori' will focus more squarely on his creative process as performer and, for the first time ever, choreographer." The title references a poorly received evening of work by the same name first presented by Polunin in 2017. (It recently toured to Moscow and St. Petersburg.)
I cannot be the only person wondering why we should care.
Keep reading...
Show less
Left: Hurricane Harvey damage in Houston Ballet's Dance Lab; Courtesy Harlequin. Right: The Dance Lab pre-Harvey; Nic Lehoux, Courtesy Houston Ballet.
"The show must go on" may be a platitude we use to get through everything from costume malfunctions to stormy moods. But when it came to overcoming a literal hurricane, Houston Ballet was buoyed by this mantra to go from devastated to dancing in a matter of weeks—with the help of Harlequin Floors, Houston Ballet's longstanding partner who sprang into action to build new floors in record time.
Keep reading...
Show less